I arrived back to Nairobi Monday mid-afternoon ready to get my workout in for the day. I had done some research prior to arrival and found my best option (of only two options in the country) was Nyayo National Stadium, in downtown Nairobi. I was a bit nervous about this for a few reasons.
First and most basic was actually just uncertainty about the pools advertised hours of operation. I wasn't sure if they were accurate, or if the pool even still operated. But the hotel quickly confirmed all was good and it was a fairly popular location.
Which brought me to my second concern – how to deal with possible theft. I assumed they wouldn't have lockers, which made me wonder what to do with my clothes and my little camera – plus taxi money to get back. Luckily, in this case, I was able to simply have my taxi driver wait. In Kenya it's very common for your taxi driver to simply wait for you (and it's only a few dollars). Interestingly, he actually came in and stand in the stands and watched me swim. Pretty funny.
Finally, my last concern was one of at least somewhat fitting in. I had no idea what to expect. Would it be like a giant wave pool at a theme park, or more like a fancy competition pool? Would I (likely the only white dude there) be sticking out like a sore thumb, attracting unwanted attention – or would it all be cool?
Well…with that, in I went and paid my 100 Kenyan Shillings…or roughly a dollar. From the outside the building (which I forgot to take a picture of), looks rather…sketchy. I like the bottom of the receipt where it says "Goods are not returnable"…hmm, what would I return? Perhaps all the pool water I drank…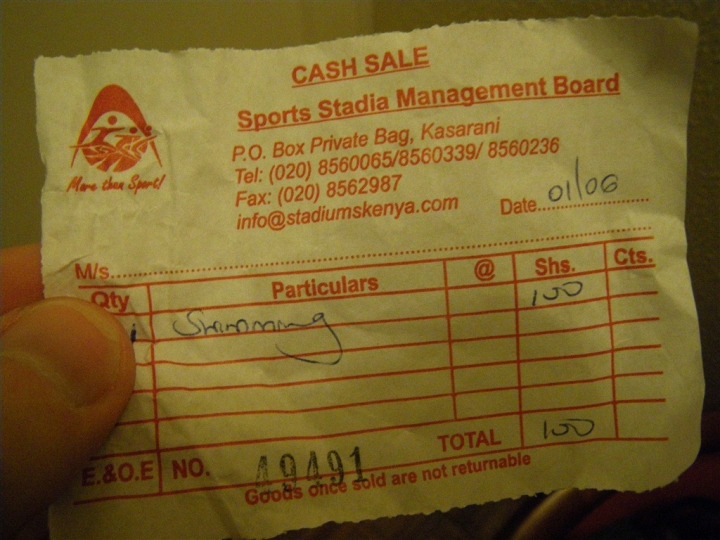 From there there was a list of 'rules' and assorted information off to the side.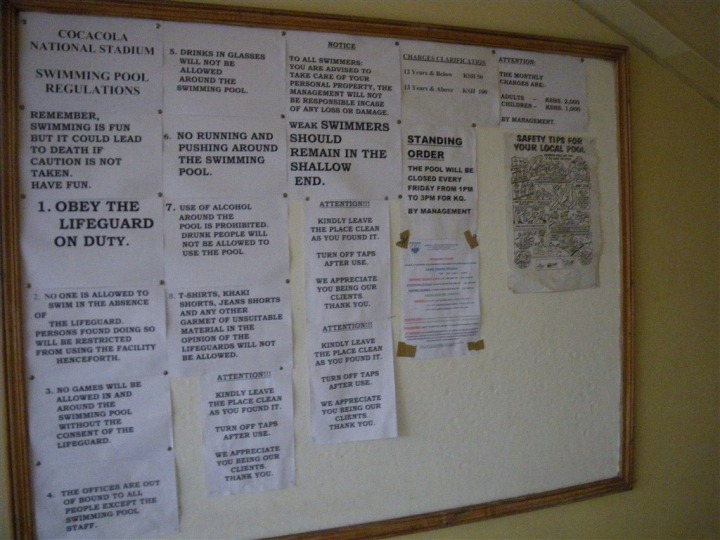 After that I headed up the steps a bit and into the main bowl of the stadium, where this sign was greeting me.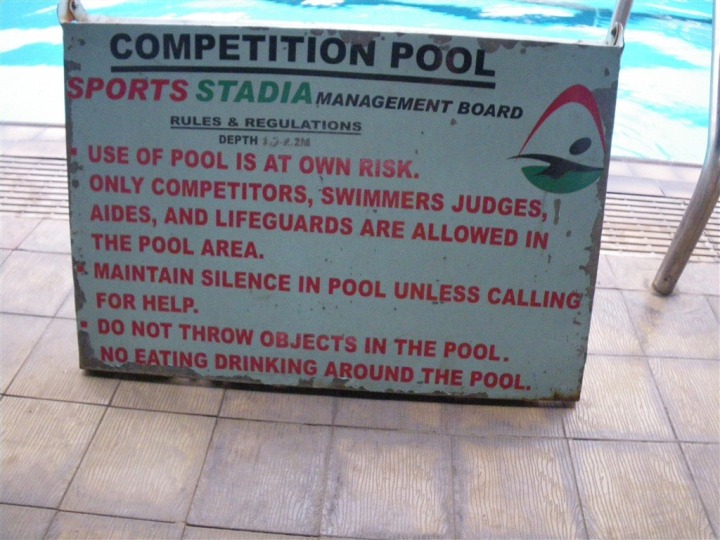 I can say with good certainty that basically all the rules were ignored. But that's OK, as it wasn't too bad. From there, I was presented with this view: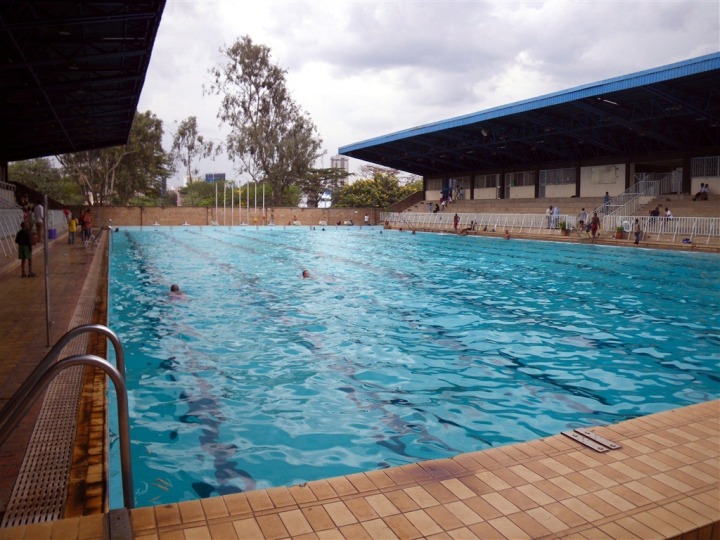 Not too bad of a pool actually. The first thing you'll note is the lack of lane ropes, though lines are painted. The second item of slight concern was the large population of kids near the pool – particularly on the far end. It was a National Holiday here today (Monday) in Kenya, so that seemed to imply more kids were present. Luckily it appeared the hundred or so kids were mostly on their way out.
The next item on the checklist was getting changed. I quickly ducked into the 'bathroom' and got into my suit. I'm not sure why I didn't take a picture of this little room as it was only a few feet big, I should have. Mostly because once you've seen this locker/dressing room you will never again complain about your local swimming pool's locker room. The best way to describe it is 1960's pure concrete, three tiny stalls, one sink, no changing area, and 'water' (or something) covering the floor. And had a solid campsite bathroom smell that likely had been aging for some time. I used all possible means to avoid touching anything, like playing a game of twister.
From there…it was time to jump into the pool and get to business. This was actually the first time I've ever swam in a 50m pool the 50m direction (long course). So the first few laps were a bit of a rush to get used to. Though, that might have been the damn-cold water causing the rush. I'm guessing perhaps 68*F or so, not really sure. But after a couple of laps it was all good.
And for the most part, people stayed out of my way. Which…may have had to do with the fact that I was definitely the only white dude there, and the only dude actually swimming. Everyone else was floating around, minus the two ladies closest in the picture above, who were doing a multi-lane drifting backstroke. The good news with them is I got really good at sighting and ducking around them when they meandered into my lane.
A lot of people were watching me swim though, in every breath I could see essentially everyone in the stadium focused on me. Not sure if it was because I didn't fit, or because I could swim. Either way…
After some 1500 continuous meters of 'warm-up', I got into a main set of 2×600 @ 50 hard and then 50 easy. It's amazing the difference between going 50m straight all out, versus 25m, with a flip and then 25m. A whole new experience. A good one though. After 300 more meters of cool down, I was good to go with 3000m essentially continuous. Which was probably good, as I was the only one left in the pool at that point. Well, except my Taxi driver, watching from the stands.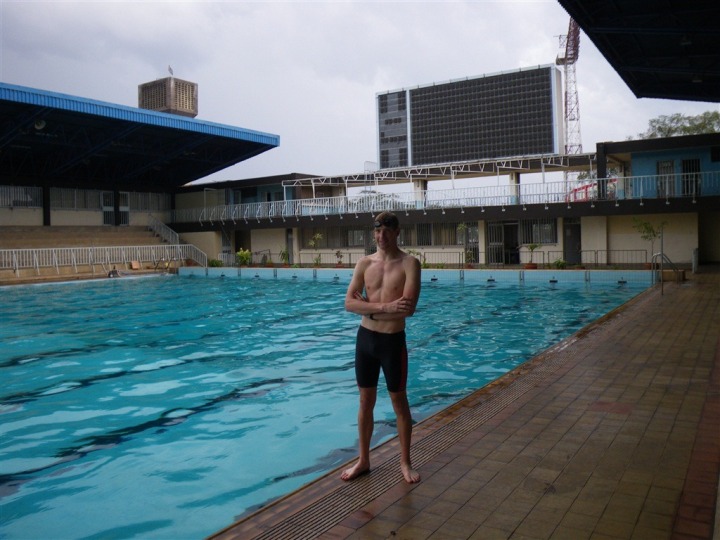 I quickly changed again in the little 'locker room' thing and got my show on the road. Though I did take one last picture from the stands, below.

Afterwards my coworkers and I went to Carnivore (a usual stop when I go to Nairobi now), which is kinda like a Brazilian steakhouse in that they bring big skewers of meat out to the table and then carve it off for ya – all you can eat style. To be fair however, while the meat was really good – the vegetarian options were incredible, and actually a bit better I think.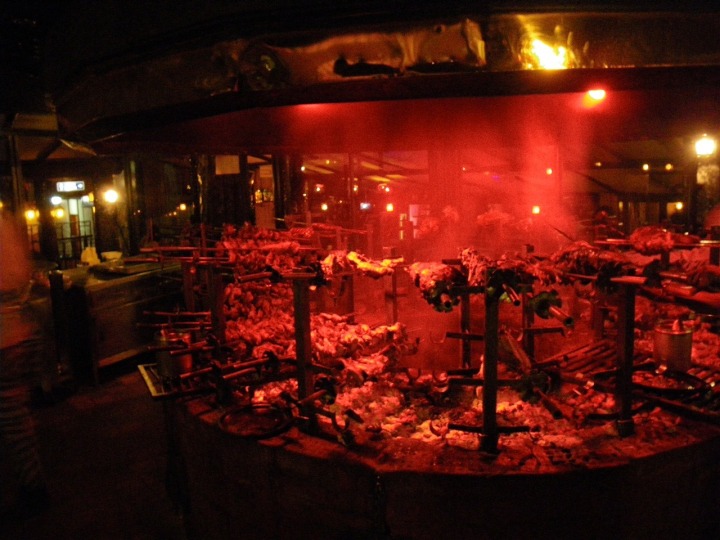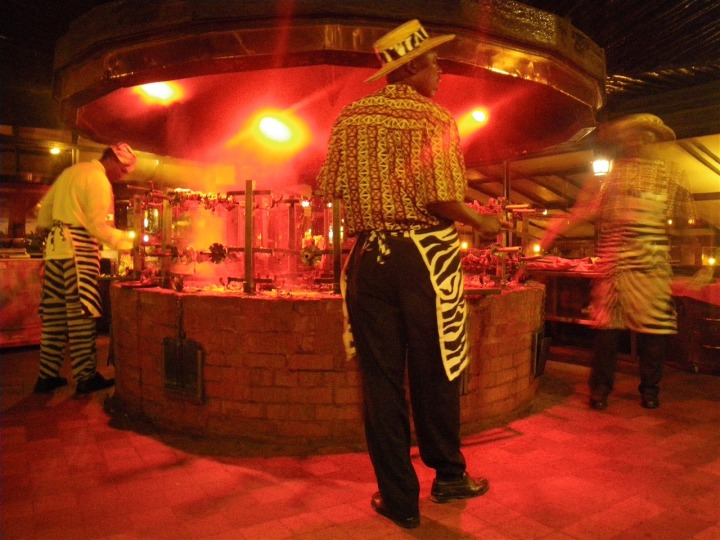 Anyway, that's it for today, onto tomorrow!
(Slightly delayed posting due to lack of Internet)