Yes folks – there is only one answer to this dilemma of refilling protein stores: Fogo de Chao.
(Public service announcement: If you're a vegetarian – this particular post is probably not exactly for you, you'll want to tune back in tomorrow)
So – all meat eaters know that sometimes it's hard to beat a good chunk of meat (focus here, I'm talking food – not anything else). But sometimes you may not be content with just one type of meat – you want to experiment with many different types of meats with different textures and sizes, all at the same time (c'mon girls, focus I said, focus). For that there is only one place to go: Fogo de Chão (pronounced Pho-go-de-Chow). Fogo is a Brazilian steakhouse that has a few locations spread around the US, mostly along the East coast.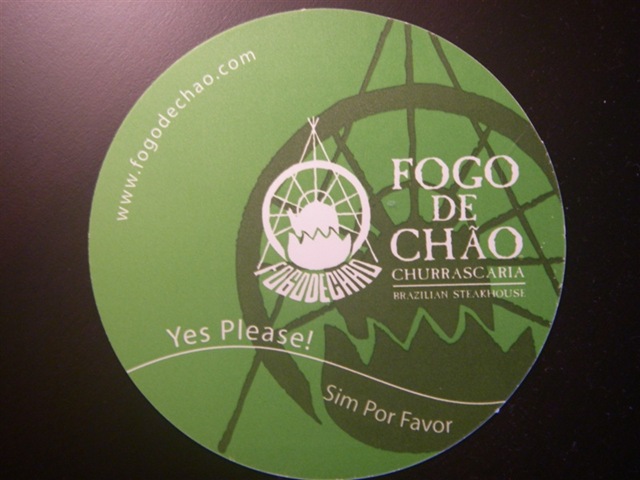 Brazilian steakhouses are a little different than your average steakhouse. Instead of ordering off of a menu a given piece of meat – waiters come around with massive slabs of meat on large metal skewers. There are about 15 different kinds of meat offered, and you just take what you like and pass on the rest.
They then cut off a piece from the main slab, and it falls onto your plate. There's stuff like garlic tenderloin, bacon wrapped steak, and non-beef items like ribs, sausages and chicken. The food is incredibly good, always juicy and tender – never overcooked.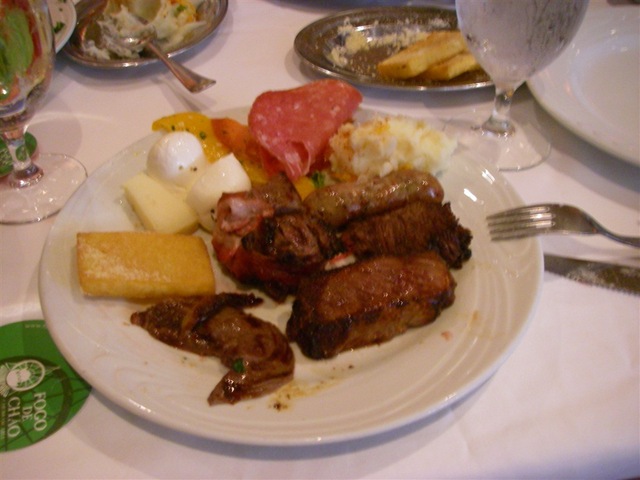 The way the system works is you have a little round signaling device (aka a drink thingy). One side is green, the other red. You place the green side facing up if you want more meat. If you need a temporary break – you flip it over to the red side to have them stop coming to you. This would be when you can't handle your meat (yes, there are endless jokes here, trust me). The second you flip it back to green, waiters wandering around the room swarm in on you and offer their meat wares. You can either accept or decline their meat. At the same time, they bring you a constant supply of super smooth mashed potatoes, friend and caramelized plantains, and little cheese filled popovers (also called Cheese Bread).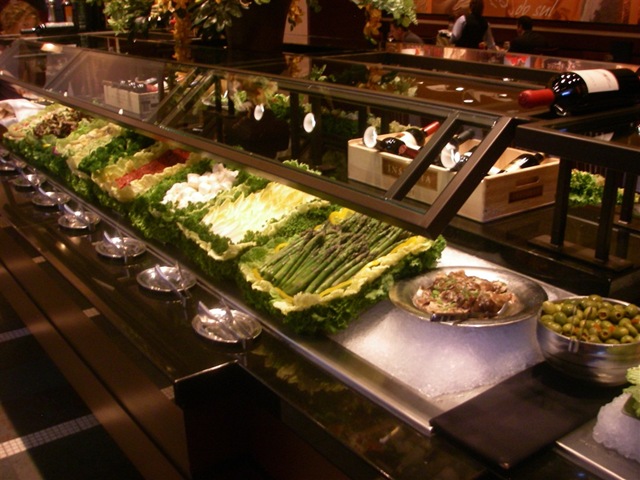 Add to that a huge salad bar with everything from smoked salmon to actual vegetables. Yes, you can bring vegetarians here and they will be thrilled with the salad bar (been there, done that). But carnivores beware! The salad bar is there to detract you from the meat. Go easy on the greens, for you won't be able to properly handle your meat if you overdo the bush…err…greens.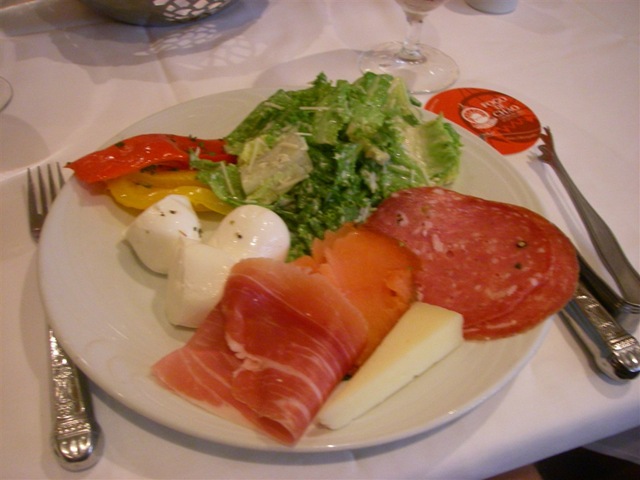 So how on earth is this related to a triathlon blog? Easy now…I might actually get there after I'm done with meat pun's. When I originally planned on writing this post, it was the day of the Nation's Tri. I had some friends in town and that night after the race we decided to go to Fogo. It was the best possible way I could think of to fill about a year's worth of protein after a hard fought race. Of course, after consuming a few pounds of meat plus sides after doing an Oly Tri, you get kinda tired and lazy – and thus the post kinda never occurred: until now (9 months later). Well…that and I went there yesterday.
*Updated Note: The best time to go to Fogo is during lunch, as it's half the price of dinner $30 instead of $50-60. The only catch is that all of the Fogo's I know of are only open for lunch on weekdays (but are open holidays, like Friday – the 4th).