After the century ride on Friday, it was time to clean up the pad and prepare for my parents to arrive painfully early Saturday morning.  I spent the weekend (and today – Monday) running around doing all sorts of interesting things.  They've been here at least once a year over the past few years, so they've seen all the 'major' DC stuff.  So we did other random things instead… starting with:
Checking out a new Coast Guard ship:
This new cutter was up in the Baltimore Inner Harbor, so we took the chance to check it out.  Given I'm familiar with the Coast Guard – it was interesting to see the latest generation of cutters.  This one just came out of the docks about 4 months ago.  VERY roomy inside.  The CGC Bertholf: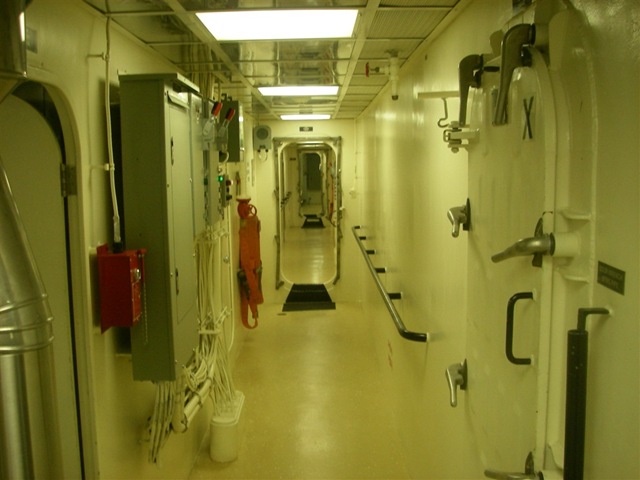 After that, we zipped down to Annapolis to wander around a bit.  We walked over to the US Naval Academy and checked out the grounds some.  My parents had last been there 10 years ago this week when I was looking into going there as a college/career.  One place we went in and checked out was the pool.  OMG it's incredible.  While technically it's no different than the 50M pool I have at my rec center – this place just looks impressive.  The stands, the awards hanging, the impeccable cleanliness.  Very cool. Here's a panoramic photo I stitched together.

After that I hit up my own pool to knock out a 4,200 yard swim.  A swim of two pools really.  Because my main pool closed down about 1,500 yards into my workout due to filter issues – so I had to switch to the Old Town Alexandria pool (outdoors).  I simply threw a shirt on, and bailed out of the building still in my swimsuit and with goggles on head.  A 10 minute drive, and 2 minutes of misc time and I was in the pool again.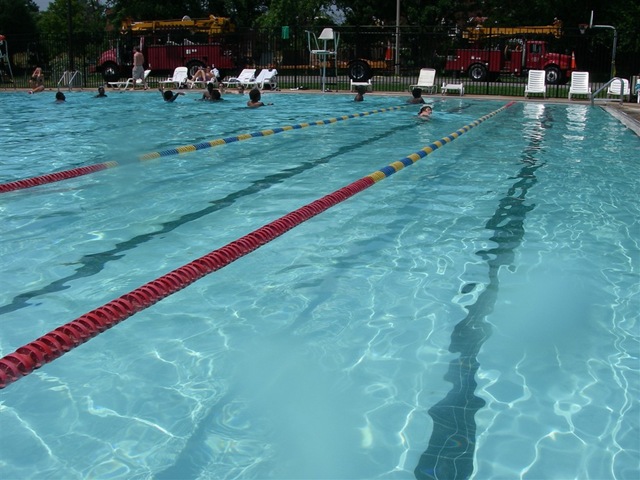 (The outdoor pool, from a few weeks ago)
I really like swimming outside at this pool.  First I get to enjoy the nice outdoors.  And then I get to enjoy all of the pool deck area scenery.  It's really rather pleasant.  Plus, both times I've been there now I've had the privilege of sharing my lane with rather attractive (and fast) female swimmers. I'm thinking more of my swims will be there from now on.
Post pool it was off to the ball game.  Nationals vs. Baltimore at Nationals (new) Stadium.  Great game…well up until the 6th inning when it decided to dump.  Actually dump wouldn't quite be the right word.  Perhaps 'the sky is flooding'.  Much water came from above.  See a before/during shot: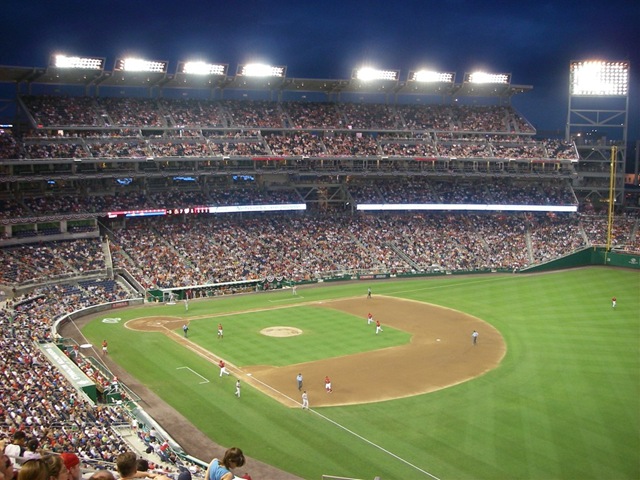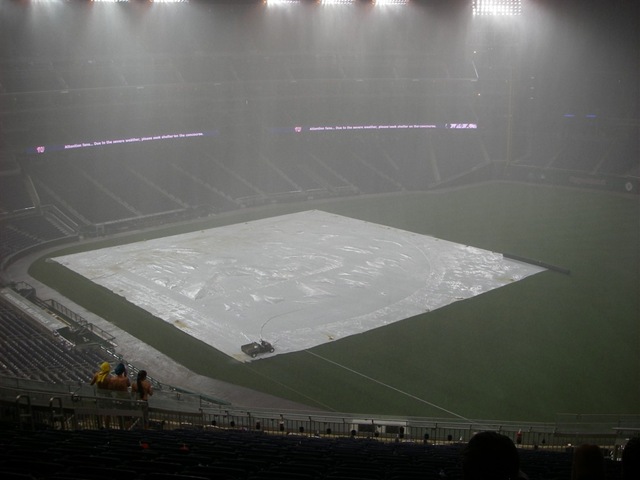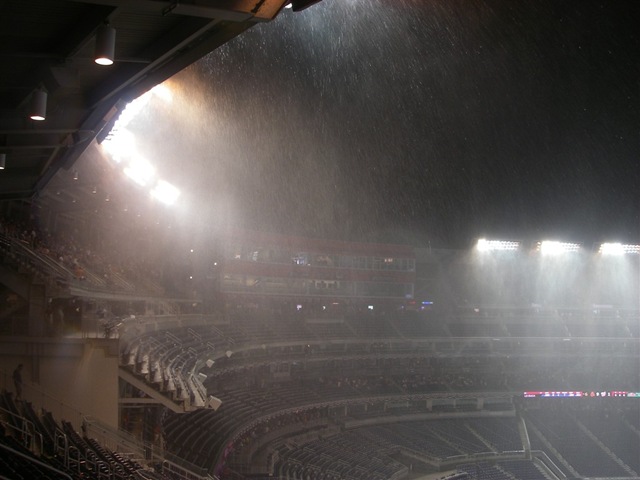 But we still had a great time.
On Sunday we headed back to Skyline drive.  While I bike there every weekend – I rarely drive it (ok, never drive it).  It was kinda cool to check it out from the car.  At which point I decided to things.
A) It's a much more civilized way to see the park (driving instead of biking)
B) Holy *@(*#U$# I biked a long way and up a lot of hills.
And I did get to see a deer with baby deer.  They both stuck their tongues out at me when I took the photo.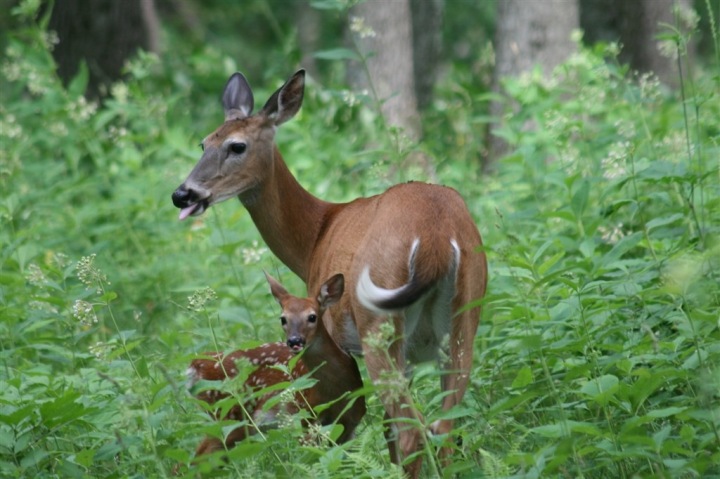 On the way home – we saw the following moving trucks.  Seriously – two road bikes, and a mountain bike are in that mess.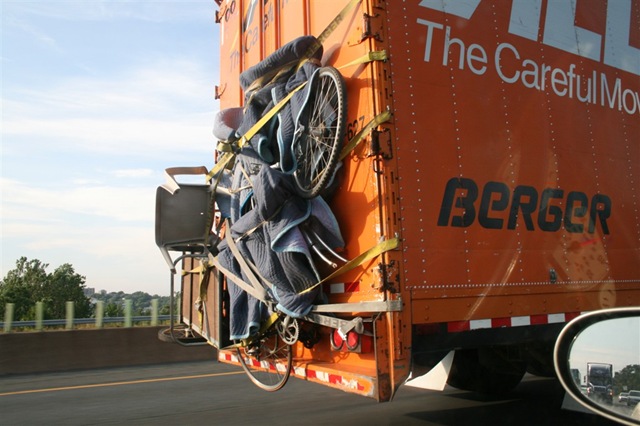 (Just remember – they're the "Careful Movers")
Monday was set aside to do downtown things.  While I'm very familiar with the monuments, I'm not so familiar with the museums.  Just never had the time.  So we checked out a few of them.  The National Gallery of Art, the Museum of Natural History, the National Museum of the American Indian and finally the new exhibit at the Air and Space Museum.  After which we swung by the United States Botanical Gardens – I love that place – sooooo peaceful, one of my favorite hidden gems in DC. And sandwiched in between it all was Fogo de Chao for lunch.  But I've got a COMPLETE, IN DEPTH carnivorous write-up on that coming tomorrow (vegetarians will want to skip tomorrow…just sayin').

(Above: Halls at the National Gallery of Art)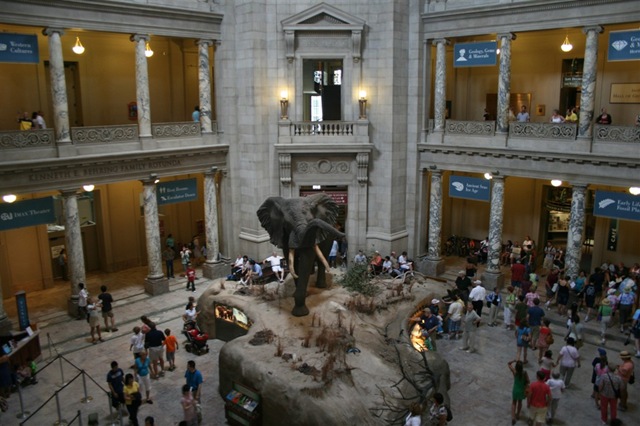 (The main 'lobby' at the Museum of Natural History)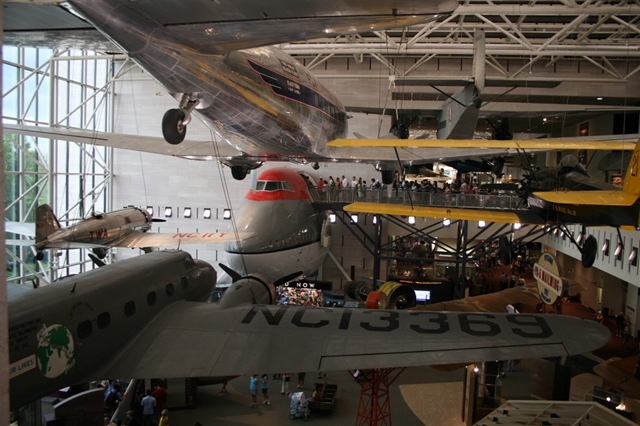 (The new exhibit at the Air and Space museum)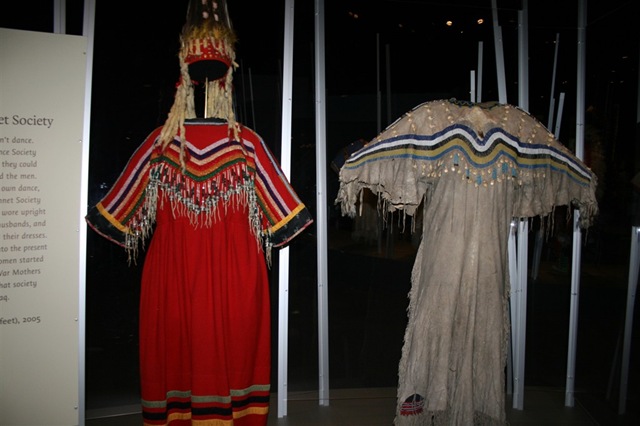 (Women's wear at the Native American Museum)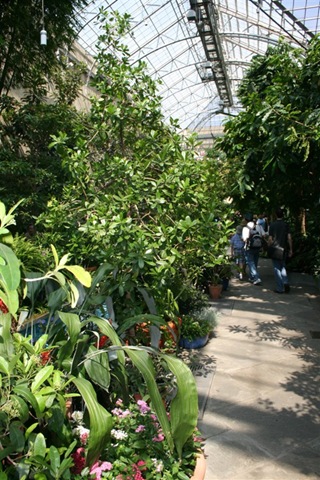 (Finally…flowers within the Botanical Gardens)
And at the end of the day – I got my July training schedule from the coach.  Looks like a rockin' month.  Tons of awesome stuff planned.  Got one last race left (Rhode Island 70.3 in mid-July) before the big game (Ironman Canada in late August). 
I'm really looking forward to Rhode Island now that so many of the pieces are starting to come together.  I'm at the point where we're really ramping up a lot of the sessions.  Swims are no less than 4,000 yards now, and all of the long rides are 100+ miles, we've got the usual Tuesday Twenty Milers (run), plus the rockin' track and trainer workouts (ok, I do hate trainer workout #2 each week, it's up to nearly 2 hours of semi-painful-though-amazingly-beneficial intensity – but besides that…I do love the track), and then all of the other workouts that makeup a typical 18+ hour training week.  Woohoo!