Last Friday I got an invited to hang out with some folks from Cervelo for a night at the local tri shop (Bonzai) going through a fairly detailed technical presentation, primarily focused on aerodynamics of bikes.  I happily accepted the invite – despite it the day and time.  You have to really enjoy this stuff in order to sit through a long detailed PowerPoint presentation on aerodynamics on a Friday evening.  But…that's exactly what I did.
The presentation started off with a bit of an introduction into how Cervelo makes bikes, and some of their general design philosophies.  They also went into a bit of history on the company.  For some reason I thought it was a much older company than they really are.  In the world of bikes, they're pretty new to the scene actually – I was still in high school when their first bike was born.
They also spent a bit of time talking about the professional Cervelo Test Team group, and how they transformed from sponsoring a team with the Cervelo brand in the past, to having their own cycling team (Cervelo Test Team), where the focus was on getting really good feedback to Cervelo – not just being 'another ride'.  In other words, they enlisted riders with backgrounds in engineering, to be able to get detailed evaluations, and move away from feedback like "Umm, it rode like a bike" – which is what they got before with the old sponsorship model.
(Side note: I didn't realize you could actually go spend a bit of time riding with the team.  They offer that sort of thing tied in with larger races (read: The Tour).  One of the guys from the tri shop got to do it last summer, which is pretty damn cool.  How do I get that trip?  And would I get to meet Bob Roll while at the "Tour Day France"?  I'm willing to slap two Cervelo stickers over the Chipotle bike shorts I have.  Though, the bike 'Hot' portion over the posterior of the ass would have to remain free and clear.  Just cause.)
From there the presentation dovetailed into a number of areas around materials – walking through the different types of composites used, and how they flexed depending on the load time and load direction.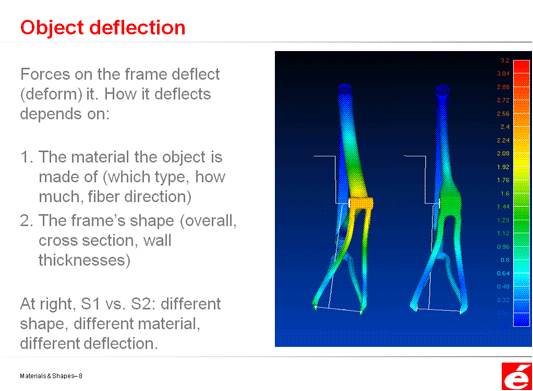 This was pretty informative, as they talked through why certain portions of the frame are made with materials that are more stiff, whereas other portions use less stiff composites.  Further, why some bikes use entirely different materials than other bikes.  For example – a bike designed to ride the Paris-Roubaix race (which includes off-road sections) would be focused on different materials than a time trial bike.
However, the most interesting part of the session was that focused on aerodynamic properties, and the impact on drag because of the shape of an object.
Drag is a relatively simple formula using a few different parameters, and even though I nearly failed AP Calculus, I can at least complete the function below…most of the time.  Just not before 9AM (and it's totally not my fault Calculus was at 7:20AM, WTF?).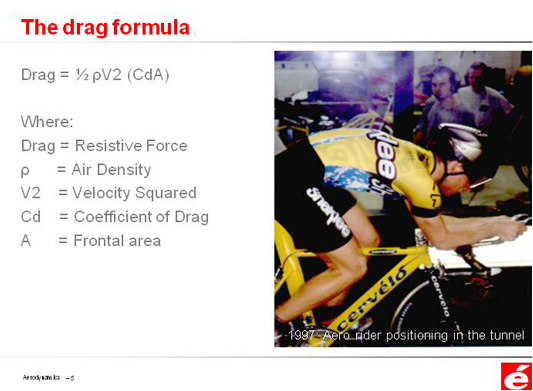 Starting with the most easiest – the square in the diagram below – you can see that it has 40 times more drag than the airfoil (bottom shape).  In other words, if you put a simple brick wall up in front of your bike, it would be 40 times more sucky than the airfoil.
As you work your way down through the different shapes below, you can see which shapes lend themselves to more aerodynamic postures.  As you do that, you probably start to notice certain shapes are utilized in fields where aerodynamics matter – such as flight and cycling.  For example, that bottom shape – the airfoil, is the same shape as an aircraft wing.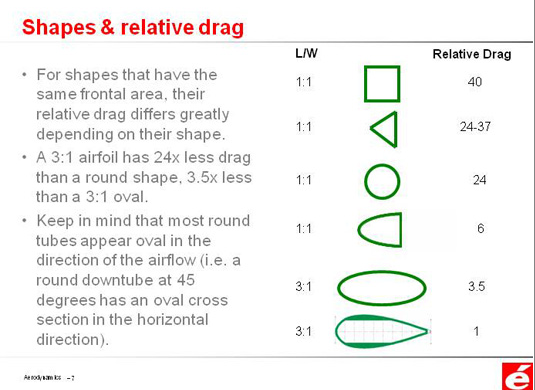 So now that we've looked at pretty pictures of circles and squares – where does it matter?  Well, it manifests itself in some places you might not think of.  For example, your aerobottle.  Many new aerobottles themselves are in an overall aero shape (like an airfoil turned sideways), such as this relatively generic one below.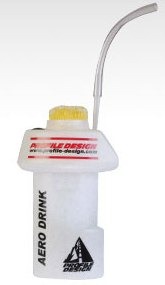 But while the bottle design itself tapers like an aerofoil, one relatively important part does not: The straw.
Now, last fall I had read a painfully long thread on Slowtwitch about this, based on research from MIT.  But deciphering all of the good from the bad in there is sorta tough.  Mostly because there's a lot of good stuff. But, the Cervelo presentation was able to really put a simple visual on the whole straw thing.
Because your typical straw is probably about a foot long, you need to take that and increase it's size by a factor of 24 (per the chart above).  So let's go with 12" long by .33" wide (these straws are not small).  So to get the base area that's (12*.3= 4sq inches).  Now we take that and multiple it by 24 (24*4).  Thus, 96sq inches.
Now, how big is 96sq inches you say?  Well, it would be a touch bit bigger than an 8×11" sheet of paper.  So, now imagine instead of the aerobottle straw, you just put up a piece of flat steal in front of you the size of a sheet of printer paper.  And then you went out and rode 112 miles…into the wind.  Kinda sucky, ehh?
Of course, the problem here is overlooking the obvious.  The obvious being that while simply not having an aerobottle may work well for your average Tour de France rider, or someone making pit stops along the way – it doesn't work well for your average Ironman triathlete.  It's been well proven through many painful bonks that if you don't have hydration directly in front of you, you're less likely to drink it.  And cutting the straw length only saves you so much before it just gets fairly annoying.
So what are some options that are aerodynamically friendly then?  Oddly enough, just simply laying a water bottle on the aerobars.  This has a profile that much more closely resembles an aerofoil than that of a brick wall.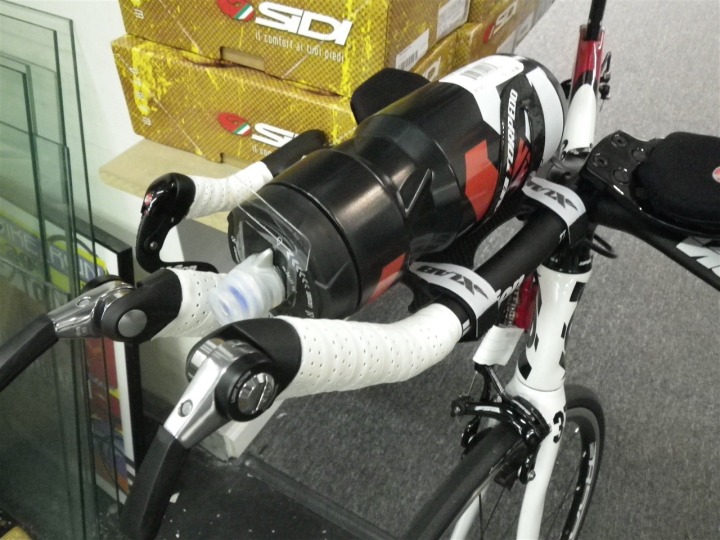 And, if you look back at this year's Kona bike gallery, you'll notice about half of the top 15 men were using the bottle in the aerobars approach (or no bottle upfront).  Same with the women.
Now, the problem here is really the attachment piece – meaning, what ensures the bottle doesn't go flying when you hit that massive pothole.  The system in the picture above and below sells for a redonkulous $95 once all the parts are included.  Seriously?  Just look at it below.  We're talking a couple of straps here and a baseboard.  This isn't rocket science.  Yes it sells for rocket fuel like prices.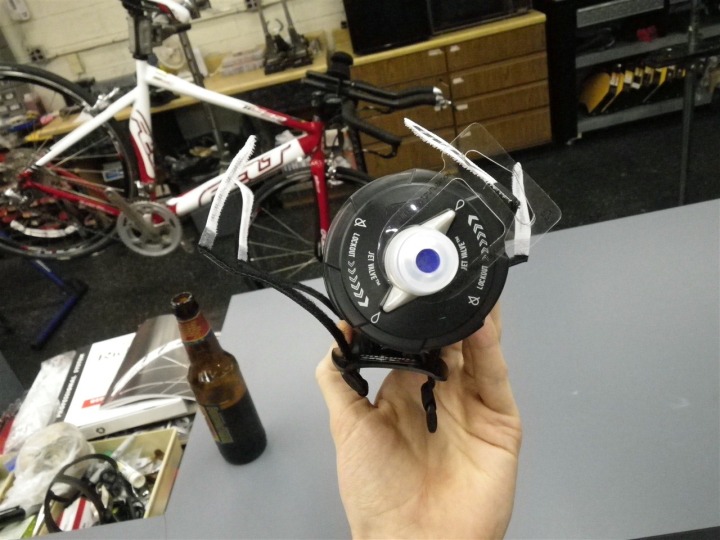 Now, bike companies are starting to build in some of these things into the frames themselves.  For example, the relatively new (and expensive) Cervelo P4 includes a much more aerodynamic water bottle:
The problem with that bottle though is refills while underway, and general logistical issues with having basically one bottle (cleaning, etc…).  But, the option is there for the taking.  There are also other options out there now that are a similarly streamlined to the frame, like the below.  Though again, they're a bit expensive.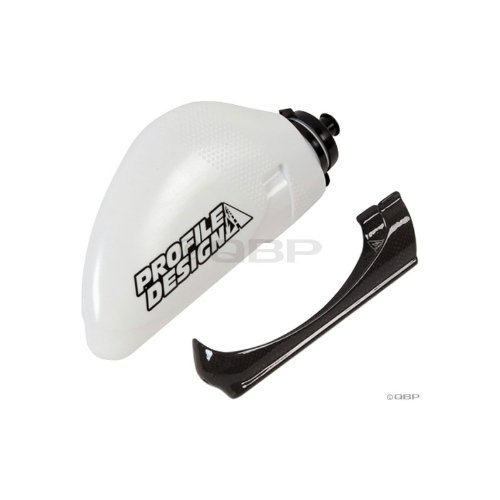 So, finally, what about those bottle cages behind you on your rear rack system?  Well, it turns out those actually aren't that bad at all.  In fact, that's a rather ideal place to put them.  That's because your body has already hosed up the airflow in that particular area, so really, it doesn't get much worse.  The best place to put them is as close as possible to the seat (and thus your ass), and tucked up behind you a bit.  You just don't want them hanging out there like a aerial refueling boom or anything.  Here's a post I wrote a while back on what I use, for those interested.
Now, the cool thing is that Cervelo publishes a fair bit of this data that you can go out and read all about the details (starting here).  Also, there's quite a bit the MIT data available as well via the Slowtwitch link above, even for other areas of the bike as well.
Hope you found this interesting (and just feel lucky I didn't dump 2.5 hours of engineering slides on ya!), thanks for reading!