Typically my weekly long ride involves a long out segment…and a long back segment – all on Skyline Drive up in da mountains.  However, this week…I'd be purchasing a one-way ticket.  Instead of normally turning around at the 50ish mile marker and riding back to the car, I'd actually just keep on trucking – all the way to the end of the drive, some 105 miles later.  Oh, and not a single stop sign along the way.
Now, this is only possible because the girl was out on the Luray Triathlon course preparing for her race in a few weeks and it made sense for her to simply drop me off at the northern end of Skyline drive, go do her workout, and then drive to the southern end and pick me up there some 6+ hours later.
So…she ditched me in the morning right at the highway's edge, and after a short jaunt I was at the main entrance to the park: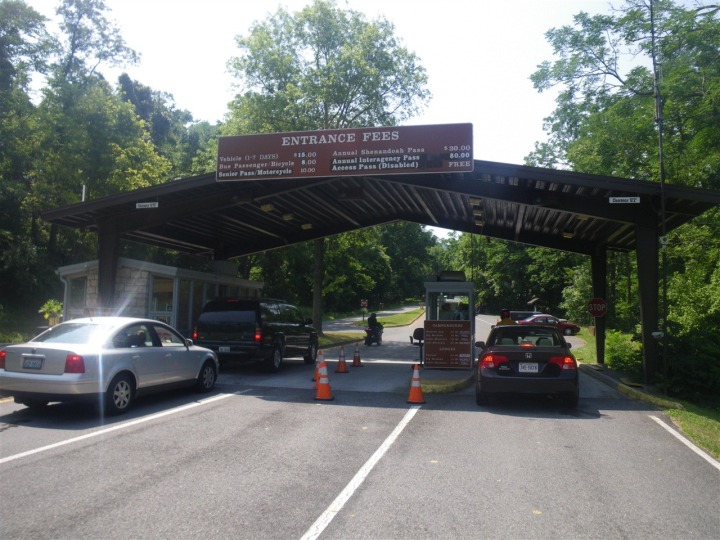 From there, it was a nice 25 or so minute climb up the initial section covering about 1,000 feet in elevation gain.  After that…I continued climbing…and more climbing, and more climbing.  Eventually I got to Elkwallow, which would be my first water refill point for the day.  I made a point though of doing them as fast as possible.  The first one took about 3 minutes to complete all the refills and make use of the bathroom.  And with that, I was on my way again.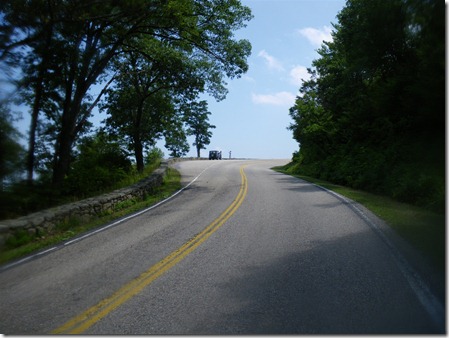 A short bit later I did my first HR change, I'd shift into Z3 (from the usual long-ride Z2) for a nice long 10 mile climb up through Pinnacles to Skyland – the highest point on the drive.  I *really* wish I had a power meter for this climb to see what my wattage looked like as the average climbing grade here is 5.3%.  It's incredible the difference in speed between Z2 and Z3 @95RPM, here's the climb at Z2 from a few weeks back:

And here's the climb at Z3 this weekend (note the split speed and split time and Avg HR):

As you can see, that's a difference of 6.5 minutes.  Solid.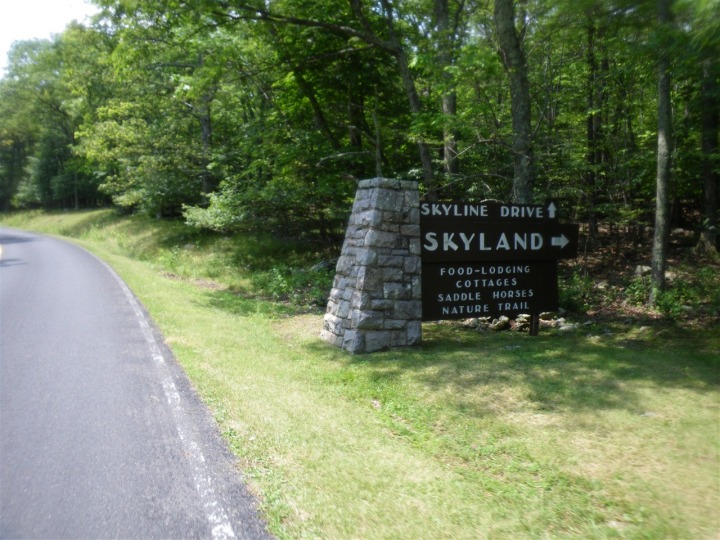 Anyway, after that, I bumbled over a few ridges when to make my way to Big Meadows – or mile marker 51.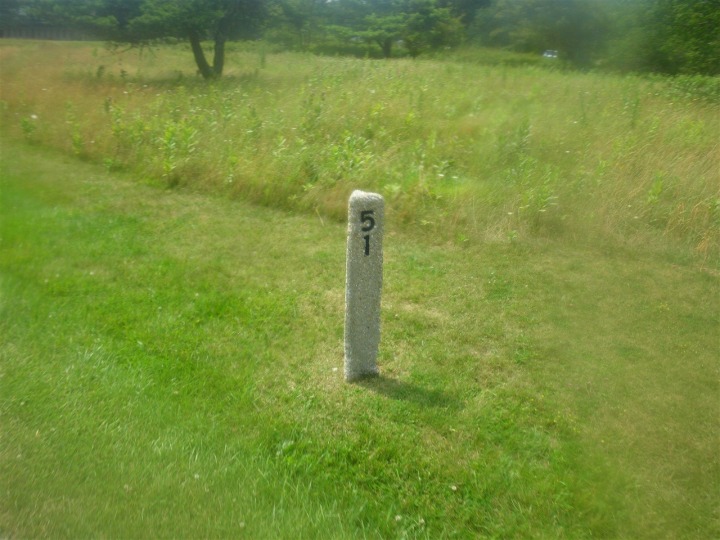 This is where I normally turn around.  But this time…well…this time I needed gas.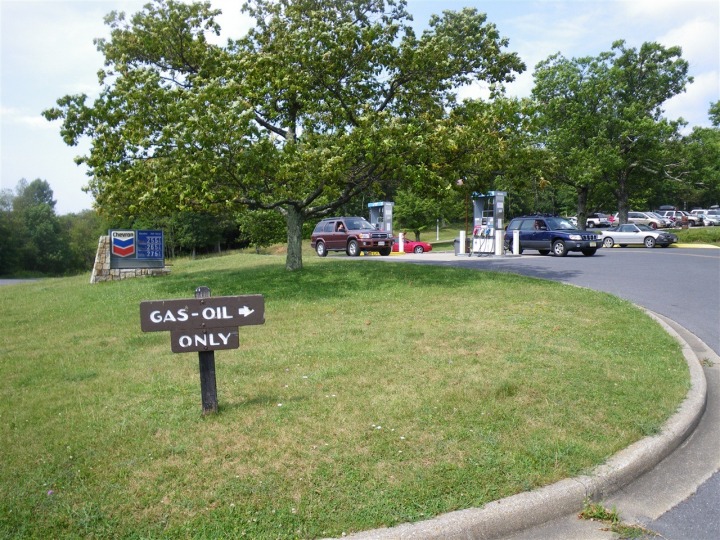 Errr…water.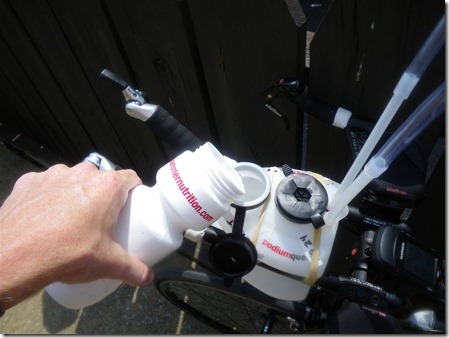 With another couple minute stop out of the way, it was time to forge on.  As a side note, I'd go through 13 bottles of water/nutrition along the way.  And on a secondary side note, I switched this week back to Infinit (from EFS).  I used Infinit last year, but switched to EFS as I was having problems keeping it down.  But now they've introduced the ability to customize the formula, so Coach Alan put together some pretty specific changes for me – and also took into account some of the issues from Rhode Island.  So hopefully things will get better.  Also, they allow you to change the taste now, so I was able to get it down to virtually nothing.  It only has the slightest hint of flavor – sorta like putting a lemon in your water.  Anyway…
Oh!!!!! At this juncture I feel compelled to point out my new cycling shorts.  I picked them up from Chipotle's store – for like 30% off.  They're really comfy, I'm quite happy – especially for trying them out the first time on a century ride!
Now, the funny thing is – I somehow didn't realize it actually had the word "Hot" on the ass.  I only saw the pepper when I bought them.  It wasn't until I was climbing away taking pictures of my ass (it took a few to get a semi-non-blurry-one) that I noticed the words hot.  Ha!  Hilarious.
Oh…right, back to the ride.
Now, from mile marker 51 until mile marker 105 it's actually a bit flatter (at least compared to the first 51 miles).  Yeah, it doesn't really look like it on the chart, but trust me – it is:

In being flatter, I was actually able to stay in aero for the majority of it, which was good because that's one of the things that bugged me a bit last year in the last hour of my Ironman ride (my lower back).  That said, the second half is kinda lame scenery wise compared to the first half.  I think it's because the second half is set into more dense forests and there are fewer cliff edges along the way.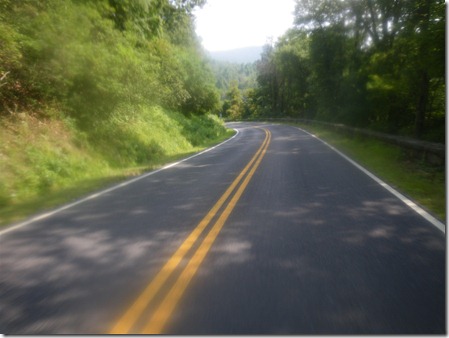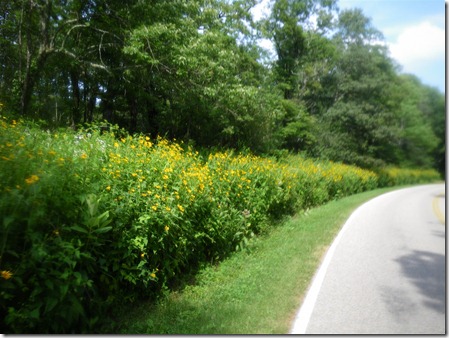 Oh – and there weren't even any naked people hanging around naked creek…kinda false advertising if you ask me.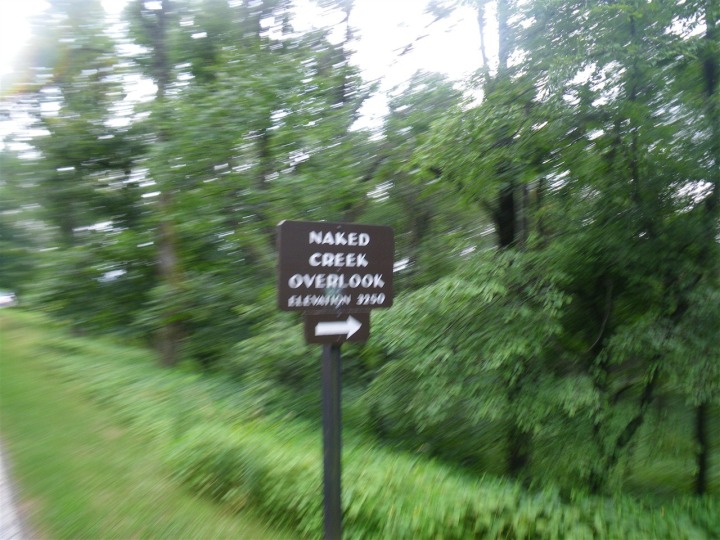 Around mile marker 75 it was time to kick it back up again to Z3 for another…15 miles.  Not too bad though and fairly enjoyable.  It was also low-cadence this time (50-60RPM) in order to 'build muscular endurance'.  Another case where I wish I had a power meter.  Soon though…soon.
By around mile 91 I wanted to hang out with Yogi and have a picnic (I saw him and bambi bit earlier).  But instead I pushed into Z4 for the remainder of the ride.  When I looked at the elevation profile that Coach had sent me prior to the ride (below), I just briefly glanced at the last few miles and noted it went downhill, and thought nothing of it. 

I figured I'd just be going back to the valley floor – and thus would drop the 1,500 or so feet from the top of that peak.  So naturally as I got to mile marker 100ish I was expecting to start descending.  Mentally…I was done with the flats and just wanted to cruise downhill.
HOWEVAH…that's not what occurred.
You know what occurred?  Nothing.  Nothing occurred.  That's right.  Cause I didn't go down.  The plane didn't descend.  The dropoff didn't happen.  There was no 'weeeeeeeee….fuuuuuuunnn…fasssssst" time.  None.
I.want.my.climbing.money.back.  And MapMyFitness elevation data is wrong on top of it.  Both my Garmin 705 (barometric altimeter) and the little sign next to where I finished noted the height at 2,000 ft.  Further, my elevation chart earlier in the post shows the correct (much higher) elevations of all the peaks, as they are marked next to each lookout – and they were always within 10-15ft of my 705. As opposed to a 1000+ foot difference on MayMyFitness.  Anyway…
Those 1,500 feet that I dragged my ass up, I want to coast back down.
(Side note, I'm at 35,000 or so feet over the middle of nowhere, I've just spotted a wind farm below me.  The large turbines look unreal slowly spinning around from 35,000 feet.  Usually you can't see anything on the ground move from this altitude, but with these you can very clearly see the giant spinning props on them, and the long sunset shadows they cast.  Very cool.  Just surprised that given how many times I've flown across the country on this route – probably 100-125 times – I've never seen this.)

Oh, back to my rant.  I'm a firm believer that anything I climb up – I should get to fly back down.  So the lack of descent can be put in the category of 'High level of suck'.  Just sayin'…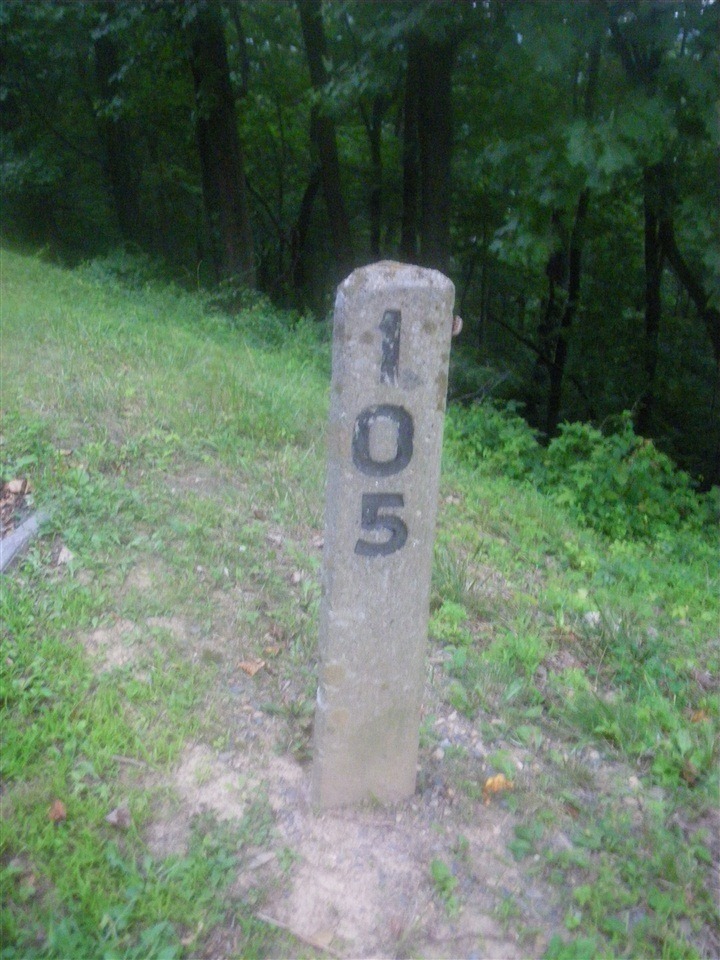 While I'm on distractions, I love it when you manage to go far enough that when you really zoom back the satellite view to show…like…the entire eastern seaboard – that it still looks like a good ways: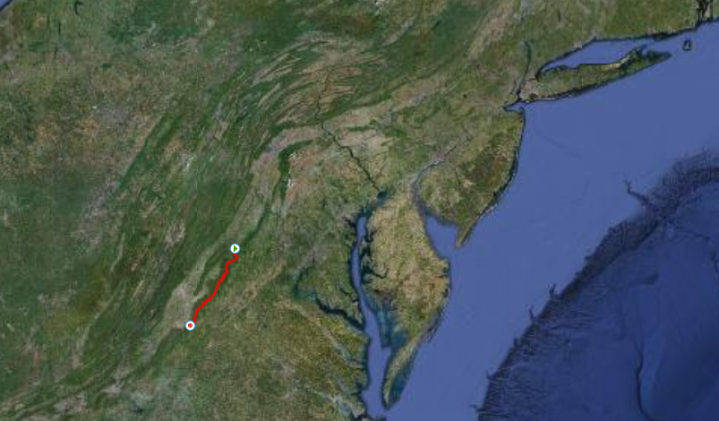 Anyway, I finished up that ride – and at the same time also knocked out the longest ride I'll do this summer leading up to Ironman Canada.  While it's 7 miles shorter than the 112 miles in the Ironman, it's a significantly more difficult ride (it had 10,000 feet of climbing), and I did it at harder paces than IMC.  So I'm all good there!
One little problemo occurred at the end of the ride.  The girl wasn't there. 🙁
She had gotten stuck in some heavy rains and was a bit delayed…which…meant I was stuck in the same heavy rains:
On the good news front, we stopped through Charlottesville on the way back home and got to eat at the White Spot.  They make a burger called the Gus Burger (which has an egg on it).  You can get a double Gus Burger, or you can get a double Gus Burger with Ham on top.  Naturally…I got it all.  And it was awesome.
Today (Sunday) – I had a nice 5,400 yard continuous swim to knock out before my flight.  We got to the pool at exactly 11:56AM – four minutes before it opened.

It included a 1,000 yard TT at the end…just in case there wasn't enough fun already.  The TT went fairly well, and it was nice to get the swim done 'early'.
And with that, I've just landed on the West Coast for the week for work (on a two way ticket).
See ya!