I've received a number of e-mails and questions about my rear hydration/rack system on my tri bike.  So this is just a quick post to explain the various components.  The reason some have asked is that the Cervelo's P2C's are a bit tricky in that they don't have an easily mountable location due to the aero seat post, hence some of the additional confusion.  See below for what I mean – there's no place to install a normal mount system.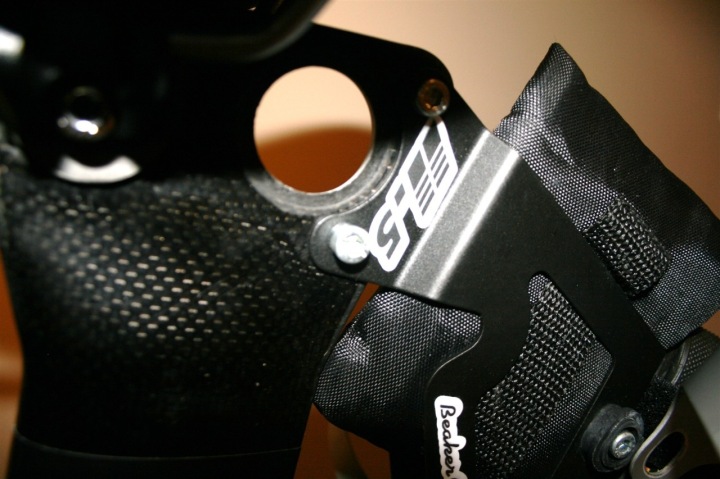 As a random disclaimer – I don't have any connection to any of the below products other than simply swiping my credit card and attaching them to my bike (cause that's about the only bike maintenance I'm actually successful at).
The Rear Mount Core System:
The core of the mount system is the Hydrotrail H.5 – which is about $50 at most online retailers, or directly through their site.
The mount kit comes with all the screws required, as well as the nifty strap-on system (yes, you didn't think I'd be able to get that word in there, did ya?).  You can see the two straps here (one undone), that allow you to strap on the spare tube/tire.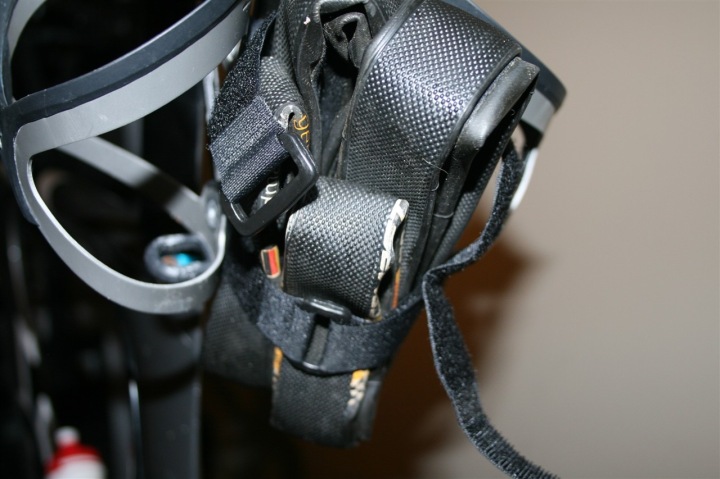 Water Bottle Cages
It doesn't come with any water bottle cages through, so you'll need to add two of your own.  I randomly choose some Tacx ones that are made of flexible rubber.  There were simply what was on the top shelf of my nearby tri store.
I know many folks worry about popping bottles off the back of their bikes.  I've rode somewhere north of 1,000 miles with this setup outside in the past couple of months, and I have only popped one bottle off the system.
And to be fair – it was the nastiest pothole out there.  In fact, it actually bent my entire seat downwards at a 45* angle upon hitting it.  And when the bottle went flying – it was because it SNAPPED the water bottle cage.  Seriously, it snapped it due to the forces exerted from the water in the bottle and the pothole.  All during a race…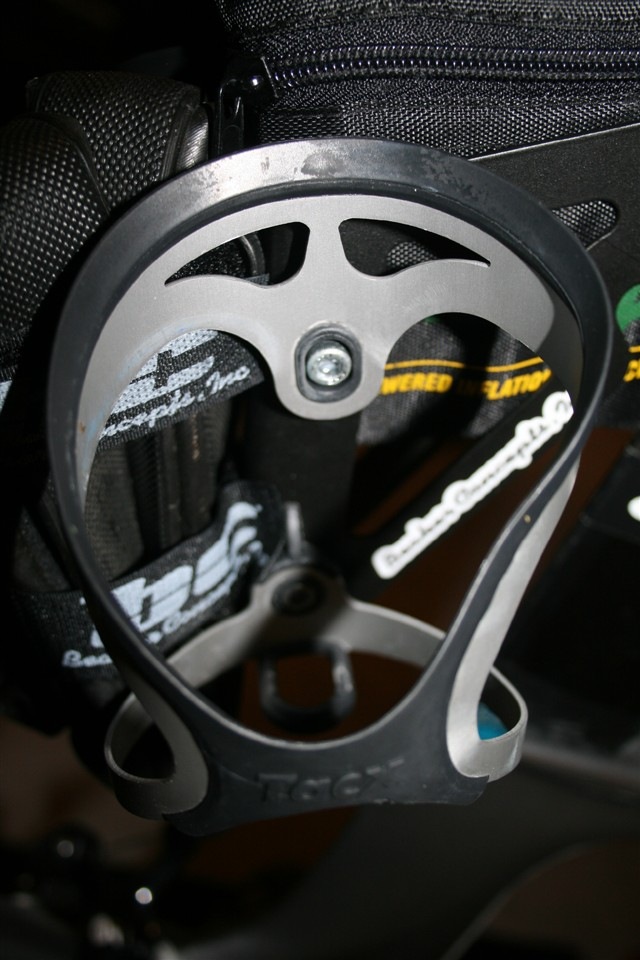 The system holds two water bottles, one on either side.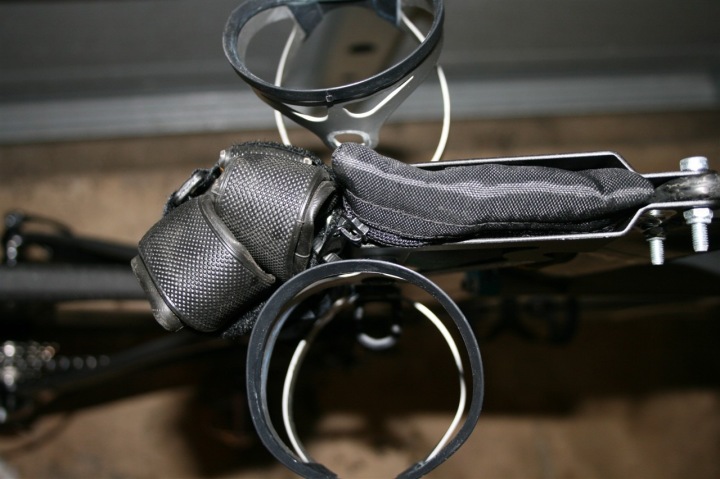 The CO2/tool bag system:
Last up is the most critical piece – my little tool/CO2 bag.  I grabbed the baggie from this system, and then tossed the contents, as I prefer a nozzle that allows you to stop/start flow as needed.  (Btw, if you didn't see my post on how to use CO2, now would be a good time).  In the bag I have two CO2 cartridges, one CO2 nozzle, one tire iron (you don't need many for tubular's), and one wrench set.  That's it.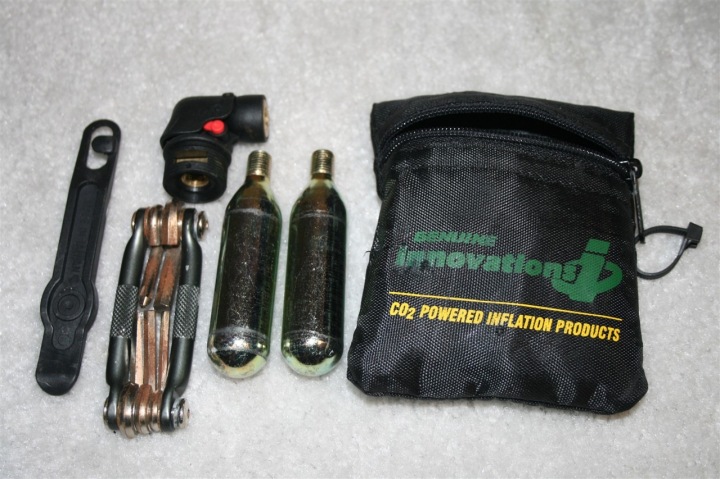 From there I took a little zip tie and made a small loop.  I then strung that loop through the upper Velcro strap.  This keeps it from going anywhere in the event it somehow falls through – although with the zip tie/Velcro it makes going anywhere or falling through impossible, as it holds it perfectly in place.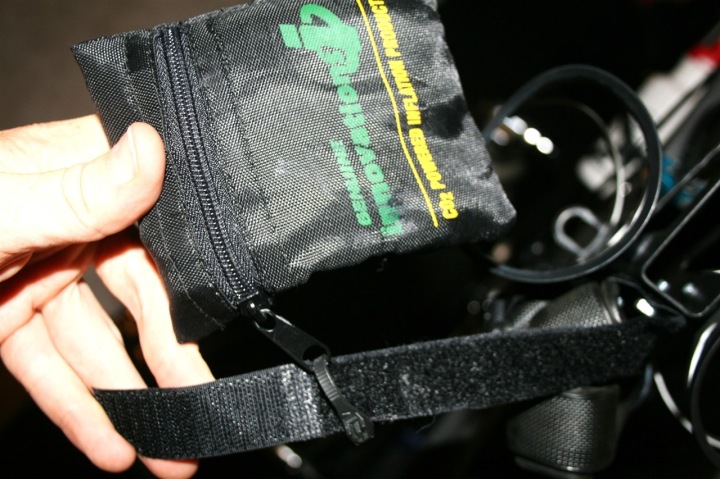 After that, I just slide it in the slot (see two photos above) and then tighten the Velcro.  It fits absolutely perfectly and doesn't go anywhere.
That's it – nice, clean and simple.