Back a bit ago I was stumbling around Garmin's site trying to find something or other and I bumped into their nifty collection of wallpapers that you can download.  From there I got curious and started poking around other companies and tri sites trying (err…tri-ing) to put together a little pile of them.  After quite a bit of searching, I found all sorts of great wallpapers.
I went directly to the source for all of these, as many times you'll get crappy 3rd party sites with backgrounds and such and all sorts of garbage on them.  So the list below is only where the main sponsor of the site hosts the files themselves.
I've gone ahead and linked directly to the sites main wallpaper page in each case, so you can go there and download all the super-duper-high-resolution files directly from them.  I've also gone ahead and included a preview pic or two from their collection as a hint of what's beyond the link.
Go forth and download!
I think the Cervelo Test Team folks just barely outrank Garmin with respect to their wallpapers.  Mostly just due to more action shots.
Garmin Wallpapers:
Garmin has a wide variety of stuff, with everything from swim & running wallpapers to those covering the professional cycling team – Team Garmin. They release them quarterly in sets, so here's the key albums you'll want:
Winter 2010: http://www.flickr.com/photos/garmin/sets/72157623234258905/
Rest of 2009/2010 sets (Including 2009 tour):
http://www.flickr.com/photos/garmin/collections/72157615036546472/
They also offer them in plain versions, and the 'calendar' version, like below: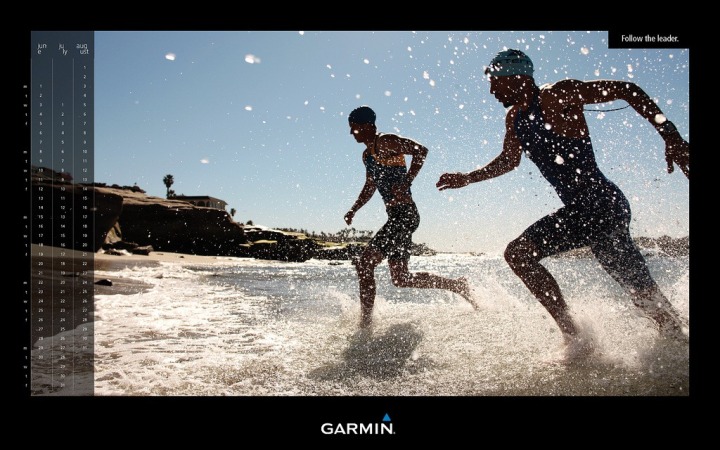 And here's the umbrella link to all their older stuff: http://www.flickr.com/photos/garmin/collections/
They have a bit of a smaller collection, though they do offer some more exposed wallpapers as well, which may appeal to certain male audiences.  They also cover everything from beach cruisers to mountain bikes: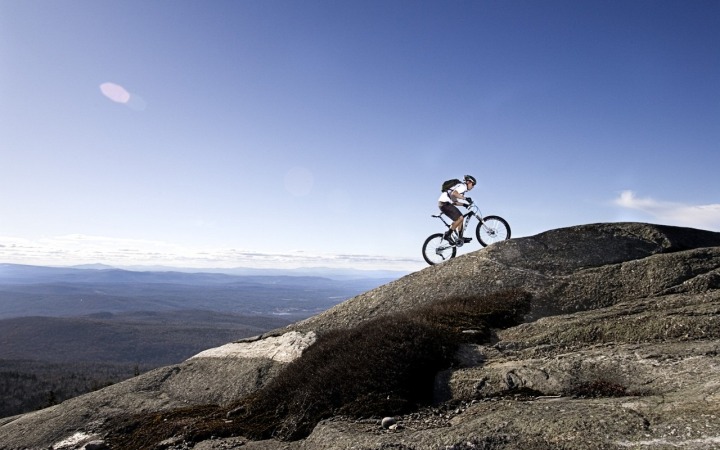 OnlineTri.com:
This French website has a ton of great and free downloadable shots.  And the best part about pictures…you don't even need to understand French!
Aside from the ginormo logo, they have quite a few very solid shots in there.  Personally, I enjoy the team ones more than the individual and podium stand ones.
Nike's US site is a mess, and only a few barely worth it shots on it.  But they've got a few really well done ones up on their European site, which you can grab from here.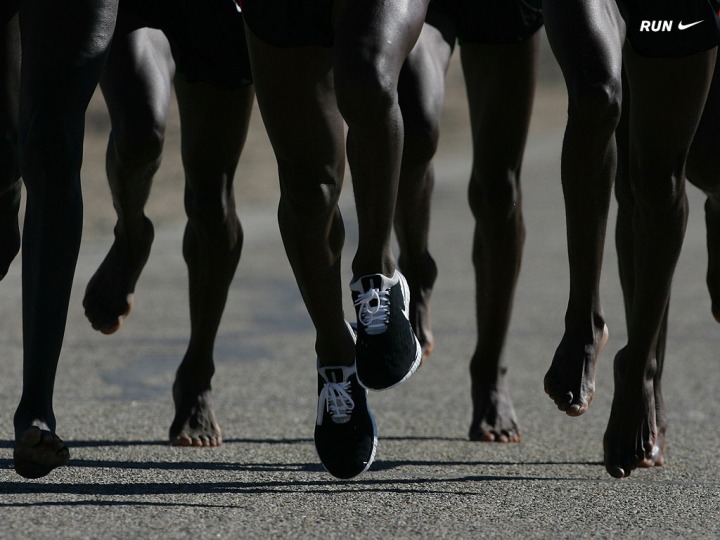 Brooks Running
While the USA site is a bit lacking, the Australia site is where the good stuff's at.  Go check it out for some more light hearted ones.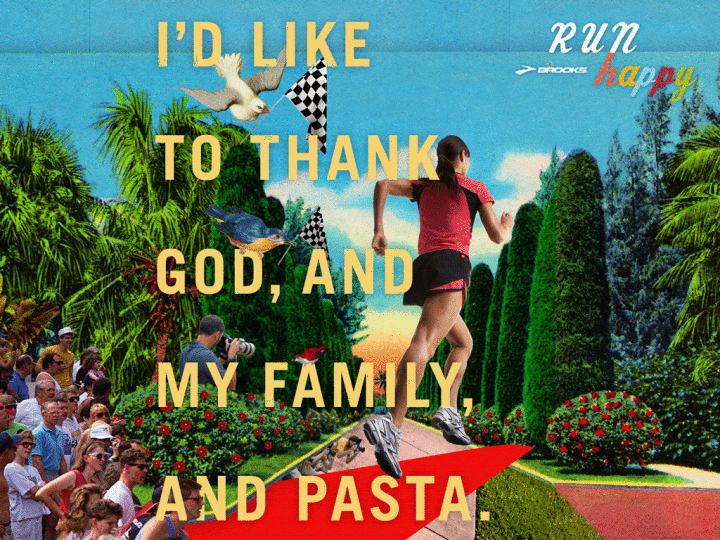 Canyon Bikes:
Sometimes the smallest companies have the better pictures.  I'll let this collection speak for itself.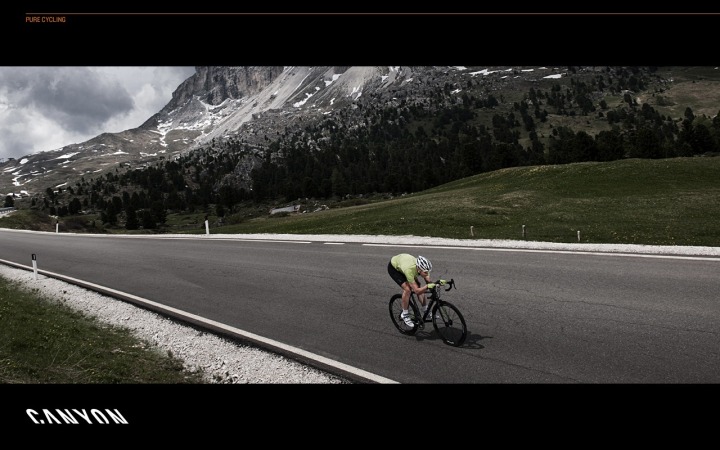 As it seems the trend, the Runners World USA site is lacking, but the overseas site kicks ass.  The South African site has the largest collection I found of awesome running shots.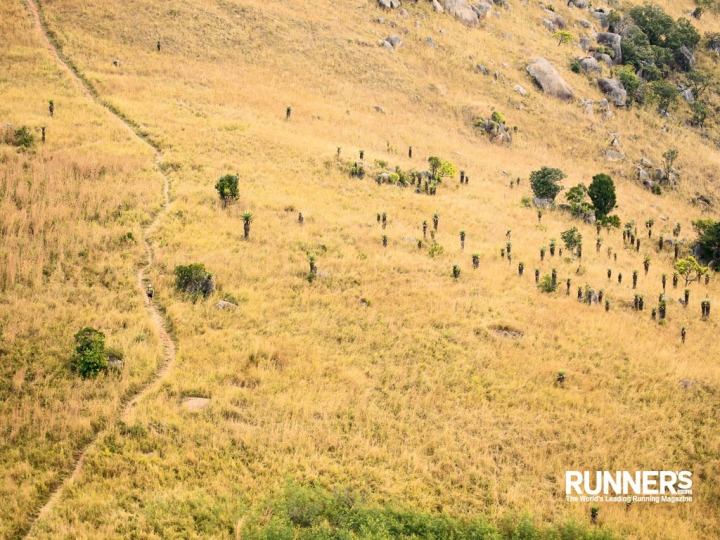 The bit bucket list:
These are places that have a handful of descent shots, but not quite at the photographic 'awe' factor as some of the above ones.
Born Skinny: A couple of good swim start ones
Underarmour – Macca:  A few, but honestly not worth the Flash site navigation you have to do.
Runners World: They have a small collection of some older ones.  They also have ones you can download if you create an account, from their Rave Run section.
Of course, I'm sure everyone out there has tons of great suggestions that I haven't unearthed, so feel free to add links to the list below.  The only favor I ask is that you ensure the links aren't R rated (meaning they would not be classified as 'NSFW').  Not that I wouldn't welcome such links…but, ya know.
Hope your week is moving along nicely!  It's almost Friday, woot!!