After last evening's 90 minute swim (back and forth a gazillion times), it was time to quickly pack up the automotive transition area and head over to the coach's place to go through transition 'refinement' and practice.
Translation: He must think my transitions suck.
Actually, to be fair – my transitions are like most others, I bumble along from the water to the mount like and again from the mount like to my shoes.  Sure, I've picked up a slew of little tips along the way to make things semi-efficient, it was time for an overhaul.
People often wonder why bother to refine transitions?  Well, it's 'free time'.  Ok…so you've heard the 'free time' thing before, but what does that really mean?  Let's look at an Oly Race where I splice off 70 seconds on T1 (swim to bike) and 20 seconds on T2 (bike to run).  That's 90 seconds total.  So how does that translate to increased speeds?
Well, if I took that 90 seconds and put it into the run (10K), that's 15 seconds/mile faster.  For example, now a 8:00/mile time is a 7:45/mile time.  See…it adds up?
Anyway, onto the evening…
First we walked through the bike racks, item by item.  Little tips – like wrapping brightly colored tape on the end of your transition row, and marking off your bike's space. (Actually, before we even started walking through – he made sure I have a checklist of stuff to bring, which I do.  If you don't…start making one and just keep updating it after every race.)
Then we talked through towel placement and exactly where to place it – off to the side of the bike so I can stand on it and wipe my feet *WHILE* also putting on sunglasses, and then my helmet. (At this point, I'm assuming you've removed your wetsuit along the way and just needed to finish it off at your final spot).
Speaking of which, my helmet is upside down and so are my sunglasses.  They are just easily pulled off the straw and straight to my head.  5-7 seconds later – done.  If I put them on my seat or handlebars they could easily get bumped off by some other peep trying to un-rack their stuff. (I could insert a joke here about simply solving that problem by being out of the water first, but I'm not a very good little Nemo…so that won't happen)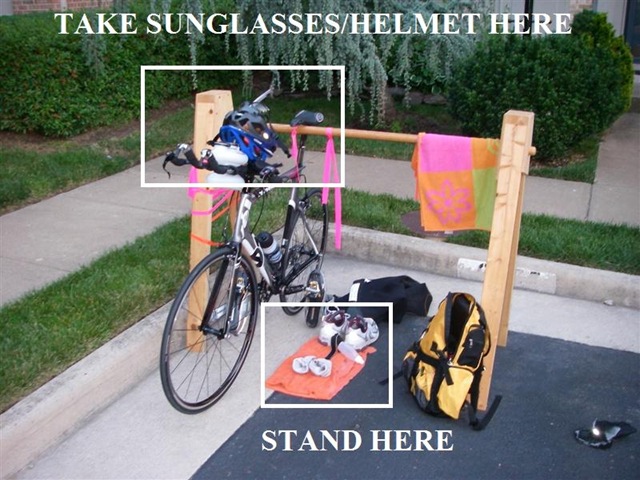 At this point, my socks are rolled back onto themselves, and I simply roll them back onto my feet.  I run with socks, I can't do it without them.  It doesn't matter if you put on the socks now (T1) or in T2 (bike to run) – but it's slightly easier to do it now because your feet are wet and will slide in easily.  Total sock time: 4-8 seconds if done correctly.
After the socks, it's off we go, grab the bike and start cruising toward the mount line.  For those not familiar, this is the point in which you are allowed to mount your bike, usually right outside the formal transition area.
Now this is where it gets fun.  As you may have noted above, my shoes are on my bike already.  I've never tried the moving mount before.  So we started easy – first trying the running mount with my shoes already on.
The key is to grab a hold of BOTH handles firmly, then place one foot (in my case, left foot on left pedal) on the bike and push off.  As you are going forward (hopefully), swing your back leg up over the back of the bike to the right pedal.  Done, now pedal your way to T2.
Ok…but now we got to do it again WITHOUT the shoes on.  Roughly speaking – same process, except this time you MUST BE SURE to NOT PEDAL until you have both feet secured on top of your shoes.  If you pedal before both feet are secured on top of the shoes, you will crash when your clamped in shoes hit the ground.
Once you've gotten your feet on your shoes and are moving forward at a good clip, then you *STOP PEDALING* and reach down and slide your foot into one shoes.  After you've succeeded in that venture, you regain speed and repeat the process for the other side.  Simple, ehh???  Just don't crash.  Massive loss of style points if you do.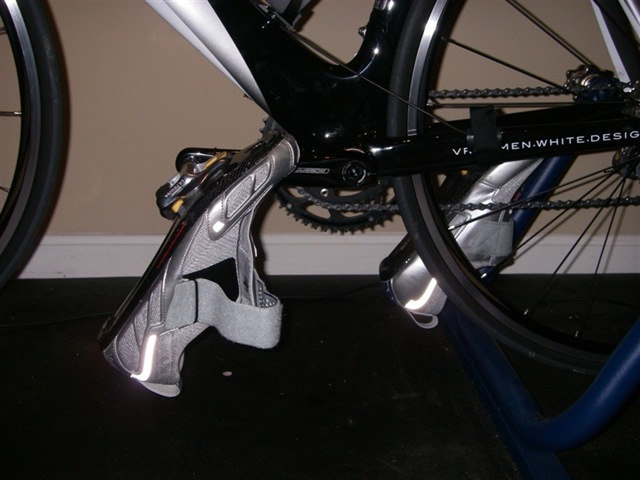 (Note in the above re-enactment photo, that my shoes are hanging down.  This is actually fine – although some folks use dental floss to keep them perfectly straight)
One key to this whole thing though is the shoes themselves.  Here are a side by side comparison of my previous shoe and my new shoe:

Note the Velcro strap – only one in the new shoe.  Now note the small little groove/notch on the strap (right edge of strap).  This keeps it EXACTLY in place until I tighten it once I'm riding.  Just one quick pull of the strap and I'm done.
Note the little pull tab on the second shoe, this allows me to grab ahold of it while I'm riding it.
Note the lack of tongue on the second shoe – nothing to get in way when I slide my foot in without looking.
When we were bike shopping a few weeks ago he saw my cycling shoes and said "Well, those aren't going to work…we need to fix that", and I didn't know what he meant until now.  Now it all makes sense.
So – there ya have it.  As for T2 – well, you basically just do the whole shoe dismount thing in reverse (again, avoid crashing to maintain those hard earned style points).   It's much easier coming in than going out.  Once off the bike, ditch the bike and helmet wherever the heck you want to, put on your shoes (and in my case, grab my gel flask, race belt and Garmin and sort out on the road) and off I go.  Just a few seconds spent at my spot.
So there ya go – that's what I did last night…over and over.  And I'll keep practicing it until I've got it completely seamless.  It's a bigger issue for my next race (an Olympic distance), because of the shorter nature of it from a time management perspective.  Those 90 seconds drop my effective run time a lot – and I'll need every second I can get.
Oh, and as usual – thanks to my coach for filling in all the little tips I didn't know of along the way – he completely rocks!