Coach Alan and I were chatting via e-mail about a variety of topics yesterday and he brought up the topic of my aero position, based on one of the pictures from my IMC race report – in particular – this one: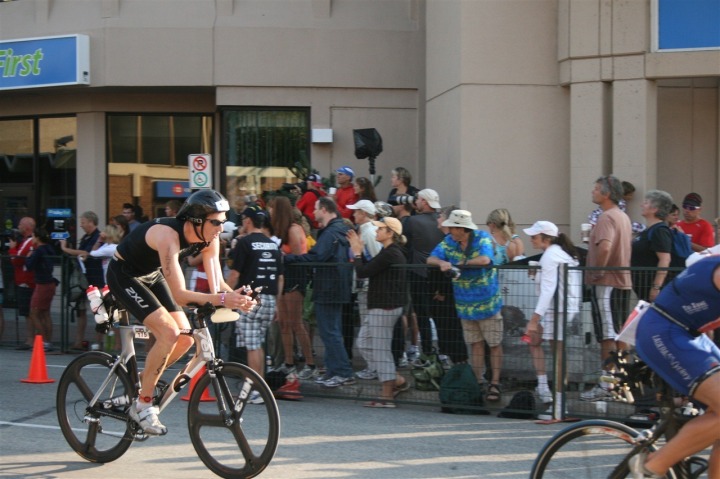 He noted that perhaps we could work on my aero position some (read: He thinks I make a better sailboat), this being in preparation for the flatter courses of upcoming races.  The above picture shows me fairly high up.  Now, in my defense it was only 45 seconds into the bike (literally), and I was mostly in 'let's keep things together and not crash on main street' mode.  That said, I'll all about fixing things…so we decided to meet up earlier this evening to poke at things a bit.
One of the cool things is that Coach actually fit my bike last year when I bought it – so he had all my measurement paperwork from then still.  So with that handy, he went to check a few things.  The first thing he noticed is my seat had slipped down some – about an inch actually.
Now, I had tape marked there – but over the course of a year the tape had slowly slid up – and each time I unpacked/packed the bike, I adjusted accordingly – thus eventually lowering my seat.  I've highlighted where the tape starts on the below picture – so you can see how far it moved.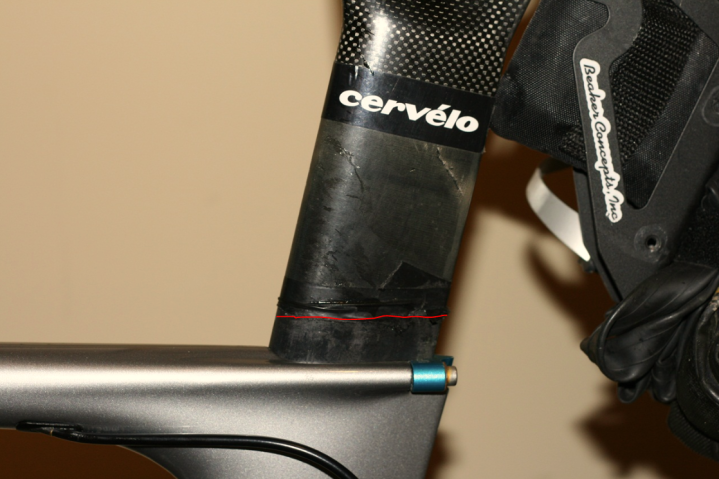 By resetting my seat, it had the effect of pushing me up – which in turn made me longer…and thus flatter.  Further – it gets me back to using a different set of muscle fibers, so I'm not tiring run-specific fiber on the bike and can save them for the run.  But, he wasn't done yet…
Next up – the spacers.  We had talked about this for quite a while, but it always got sidetracked due to not wanting to change position for any specific upcoming big race.  But now – with no big races in the immediate future – it's a perfect time.  As you can see in the below picture – there are a crapton of spacers that can be removed/moved.  Spacers are located below the step (the thing with the rust on the bolts from a weekend camping trip in a hurricane).  The spacers come with the bike to allow you to customize it to a given rider.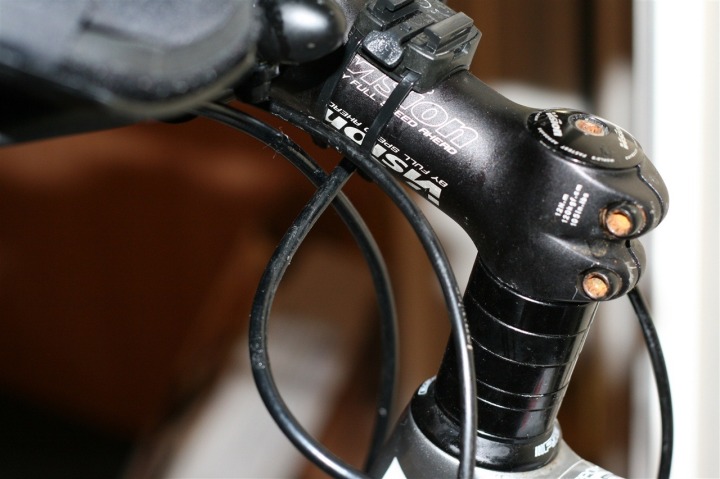 So, we played around and ended up removing most of them, as you can see below.  Now, you'll notice it looks a bit funky.  That's because we actually had to move the spacers up above to still be able to bolt everything back together.  After we give everything a few weeks to let it settle, I'll take it into Bonzai (bike shop) to have it cut so it's smooth like above (and the spacers will be fully removed).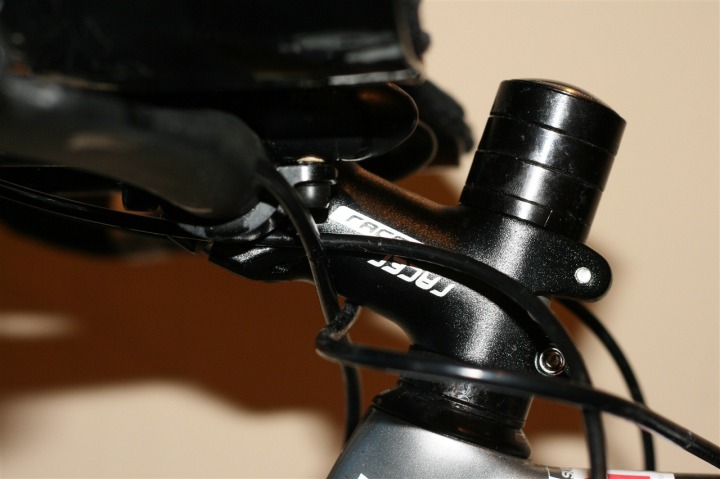 Again, like moving the seat up – this had the effect of lowering my front, while also continuing to extend me – which further lowers me.
Next up…he decided to replace the stem.  This was because the previous stem was a bit too long and my arm position on the aerobars wasn't quite where we wanted it.  Unfortunately these particular aero bars don't allow you to move the bars fore/aft – so really the only option to pull the bars in was to shortened the stem.  So, a few screws and unscrews later – tada – a shorter stem.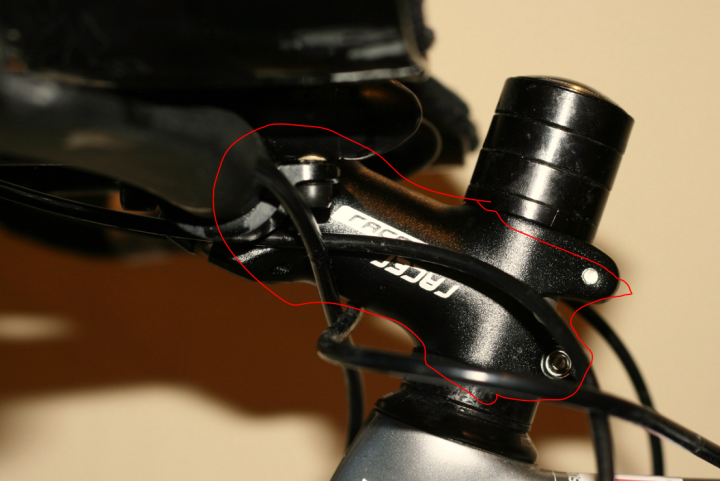 Finally, last but not least – we pulled the aero bars in closer together.  This closes my body instead of having it more open.  The obvious effect here is a more aerodynamic surface (instead of a giant flapping sail, I'm more like a medium-sized flapping sail).  The below shows where they were, and where they are now.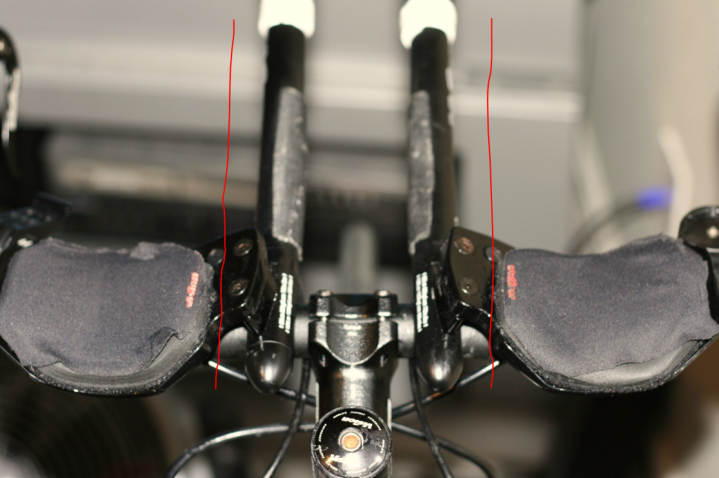 So with all those changes made – how does it feel?  Well, the entire time we were making changes we were actually on a trainer and I was pretty much constantly pedaling – so no changes were a surprise.  That said, post-aero-reconfig I had a brick to do (exactly like the brick on Tuesday).  And I did it virtually all aero to test things a bit.  By the end, I was certainly feeling it in different leg muscle fibers – not a burn per se – just 'feeling it'.  That will go away as I get used to using the different fibers and life will return to normal.
Now, the proof is in the photo-pudding of course.  Check out the new and old comparison photo below.  The cool thing is that since the trainer and photo on the wall don't move – it's easy to compare.  The left picture is today post-reconfig, and the right is the old from Tuesday.  You can see the much lower position below.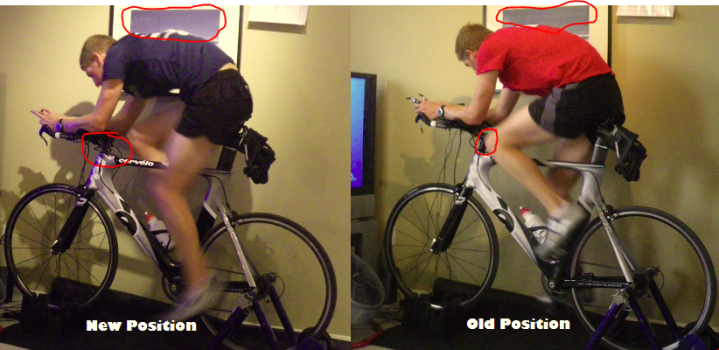 I don't expect this to make a major difference on Sunday – but every little bit helps.  Plus, Sunday isn't really a 'big-deal' race, it's more just for fun.  I don't really have any result expectations for the Nation's Tri (especially not with 6,000 people on a very slim bike course!), so I'll just be out there to enjoy the day.  Good luck to everyone else racing this weekend – either locally here in DC – or at Ironman Wisconsin!