I was chatting with the coach the other day and noted that one of my goals for 2009 is to really improve on my run off the bike.  I can run quite well independent of a triathlon, but my runs are a mixed bag when it comes to tri's.  Don't get me wrong, I recognize that my run's are still pretty good – but everyone wants improvement, right?
So naturally my first way to resolve this issue was to somehow modify or otherwise increase focus on my run.  My coach countered that I was going about it the wrong way.  To improve my running post-bike, I needed to improve my bike.  In other words, I need to increase my power and efficiency on the bike so that I come off the bike stronger – thus transferring that energy to the run.
What's even more interesting is looking at my historical run times over the past year at the Half-Iron distance (which is what I've raced the most):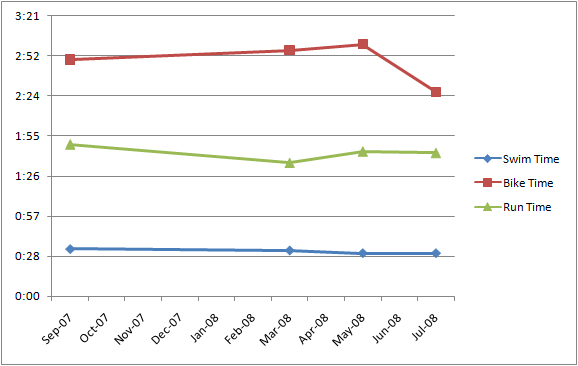 Now of course, there are differences in courses.  For example Wildflower (May 08) has a harder bike/run course than some of the others.  And that 1:36 run was at Oceanside 70.3 on a pancake flat course.


(Note: I didn't include transition times above, hence why the numbers won't add up perfectly)
So…why the graph?  What does it show?  Well – it shows my coaches point.  I started with him the first week of May (right after the Wildflower  race).  We poured a ton of time into the bike in the 11 weeks between then and July Rhode Island 70.3…and it shows.  My bike split blew my others out of the water – while my run was constant.
You might then say – well, didn't you want your run split to improve?  And to the casual observer it would look like my run split didn't improve.  However, I spent considerable time at IMRI70.3 on the side of the run at mile 2 (stopped) throwing up due to a reaction to a gel I consumed.  Nobody gets 'tired' at mile 2 of the run.  Had I not had that happen, I was on target for a 1:33-1:35 split.  Thus both improving my bike and my run – two for the price of one.
So there ya go.  With that…it's back to the trainer.  Pedal on.