Back a few weeks ago I finished up a workout, ate dinner and then sat around to watch TV and do stuff on my laptop.  At some point along the way I became bored and decided to eat half a Ben and Jerry's container (what, you didn't know I have a massive B&J thing?). Ok…so it ended up being a whole container.  It's not my fault – I just felt bad leaving it half-baked in the freezer.  That's like not cleaning your plate or something.
I noticed that while I was tired then, I didn't feel like falling asleep as it was too early.  I figured I'd go to sleep in an hour or two.  It would turn out that's not possible.  As the B&J effect kicks in.  I then noted this same phenomena a week or so later.  Thus – at 2AM – prompting me to put together this little chart after an outburst of Excel energy.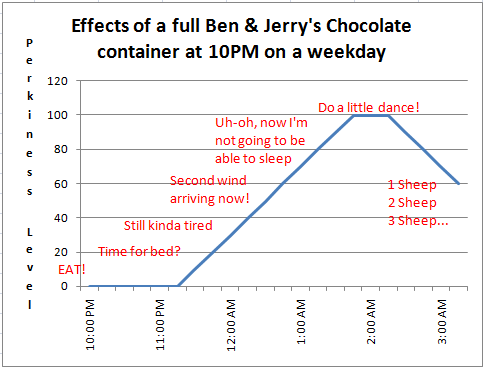 Yes…it's awesome.  The pinnacle of my Excel graphing capabilities. And yes, I apparently need a life on a weekday.  The good news is tomorrow (well, Tuesday) I do have a life, and it involves some cookin'!  Slow-cooker style.  Woohoo!  Yum-yum.