With a race just over 24 hours away, it was time to get in some much needed transition practice.  Why practice transitions you ask?  Well, it's easy free time.  Sure, people always say 'free time', but that's not exactly true of course.  You still have to do work, it's just that shaving off a minute in transition is much much easier than shaving a minute off your 10K run time.
I've talked in the past at length about my transition routine, so I won't re-hash that, but instead just relate some of the fun we had tonight at the water park…err…water park parking lot.  See I live directly next door to a giant water park, which is simply entertaining by itself.  But, the best part is actually that it has a giant parking lot that's great for all assortment of athletic endeavors when it's empty and quiet – like any given weekday.
And while in a perfect scenario we'd be able to use the Wave Pool as part of transition practice, we'd just fake the swim instead (and no, not in the river across the street).
First, we drew our mount/dismount like with some chalk.  Of course you can just pick any imaginary line, but having a very race-like line does make it feel more like race day.  Plus, a box of chalk costs about a dollar at Target.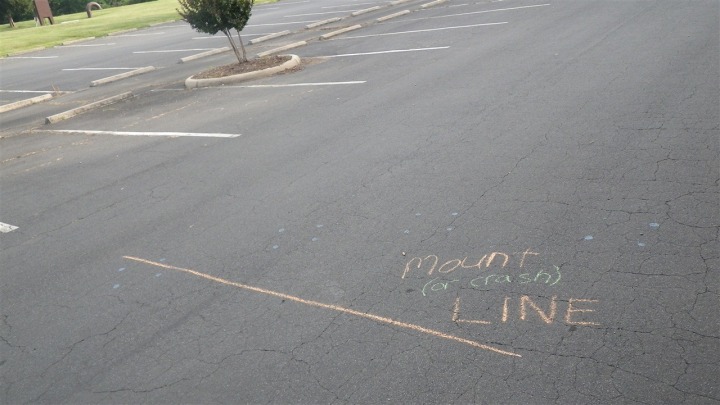 Then, we setup our transition area.  Clean and simple: Bike, Running Shoes, Helmet, Sunglasses, Bike shoes on Bike.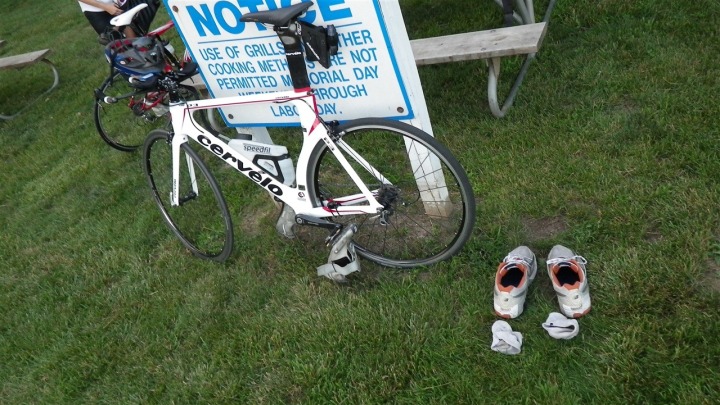 From there, we worked on each segment of the transition individually, before tying multiple segments together.  So for example, we did a number of 'loops' around the lot just practicing mounting and unmounting over and over and over again.  Run, flying mount, bike, flying dismount, run, mount, bike, dismount…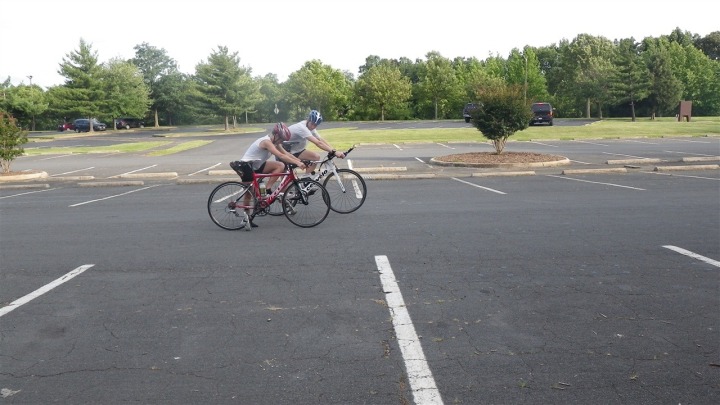 Then, we'd add in getting the shoes strapped in, and out, over and over again – at high speed.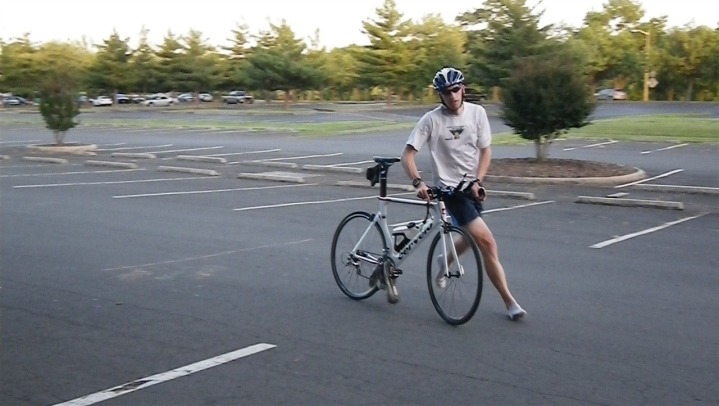 And finally, we'd tie everything together into a whole circuit.  In lieu of the swim, we did a quick barefoot circle run to get the heart rate up (making it more difficult in transition).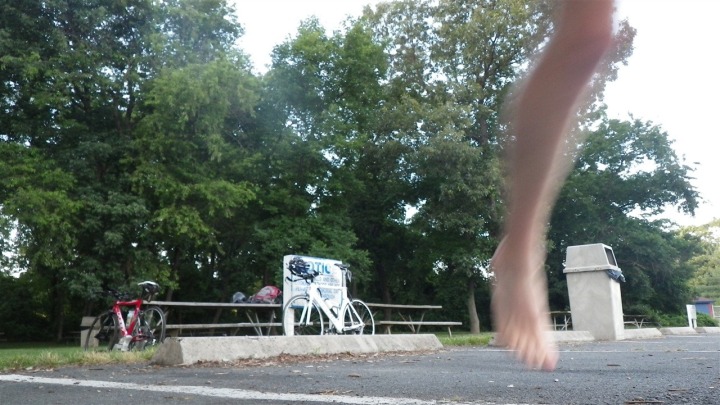 Then we'd transition to the bike: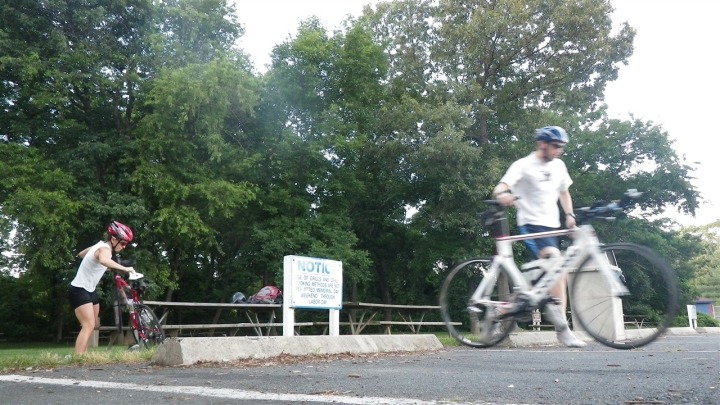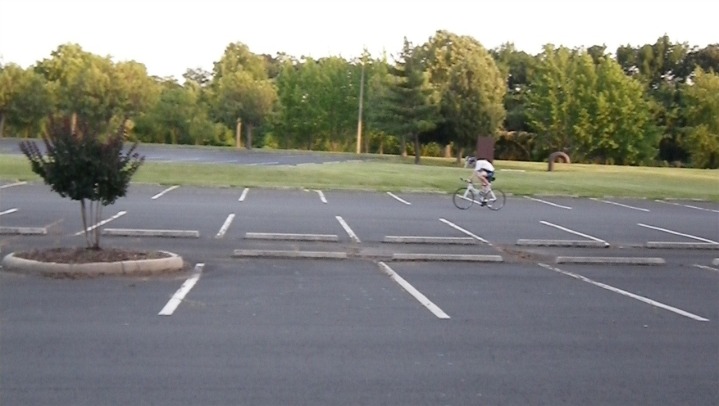 Before finally coming back around and transitioning again to the run.  On the run we'd run a little bit longer circuit before coming back in and starting over again.
And we did this many many many many times, as you can see from the little satellite graph.  The longer circle is the bike route, and the shorter circle the run route.

(That's the giant wave pool to the right there)
Oh, I used the Timex Global Trainer tonight pretty much exclusively.  One feature I found that I really like (that isn't on the Garmin's) is the ability to create laps/splits within multisport mode.  On the Garmin's, any lap button presses change to the next sport while in multisport mode.  But on the Global Trainer, the next sport is actually triggered by the stop button.  This is cool, as I was able to splice out different chunks.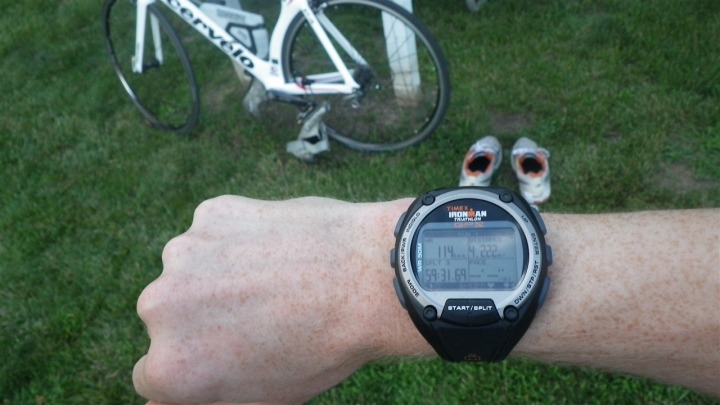 So with 4.5 miles of loops complete, we're both feeling quite confident in our transition skills for Saturday morning – hopefully allowing me to avoid a flying mount fail like last year.  We both have a race a few hours down the road near Virginia Beach, the Tidewater Triathlon (Olympic Distance).  Should be a blast, a very flat and fast course essentially along the beach.  Looking forward to it!
Enjoy your weekend, and thanks for reading!