Note: Please see the final Timex Ironman GPS Global Trainer In Depth Review posted here (it's a whole lot more detailed and in depth, and includes updates and discussions from Timex as well). – Aug 3rd, 2010
The Timex Ironman GPS Global Trainer arrived less than 24 hours ago from REI, – the only retailer currently carrying the device until September when it goes 'on the open market'.  Since its arrival I've been able to poke and prod at it a bit and get a pretty good grasp on what it's capable of.  While a full in depth review is still forthcoming in the next few weeks, here's a quick look in the meantime at how the watch is shaking out.  And if you're new around these parts…this is barely just the appetizer.
Box/Components:
The unit comes with the watch, a quick start guide, a large USB charging and data transfer device, and a wall plug to connect the USB charging device to if you don't hook it up to a computer.  If you ordered the HR strap with the unit, it also comes with that as well.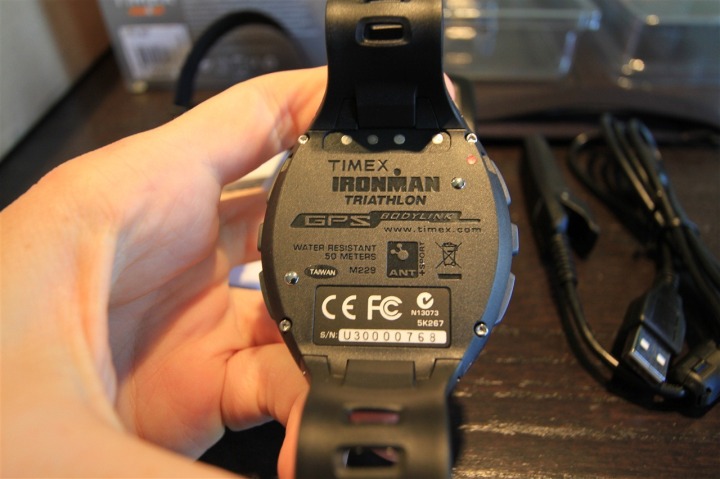 Out of the box the unit comes virtually uncharged, having only enough battery for a few minutes worth of usage.  Most devices now come charged, and the Global Trainer is specified as being able to hold a charge 'on a shelf' for 1-year.  So having to charge it first is a bit of a Debbie Downer.  Once charged though, you're ready to use.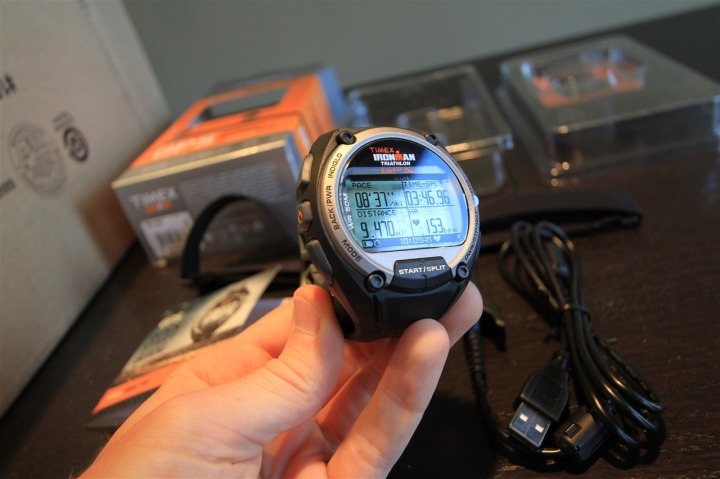 One thing I was NOT expecting was how big this thing is.  Sure, I run with Garmin devices 100% of the time, which are big.  But this is BIG!  Here's a comparison to a few other popular units:
(From left to right: Garmin Forerunner 60, 405, 305, 310XT, Timex Global Trainer…and yes, that's a kitchen rolling pin)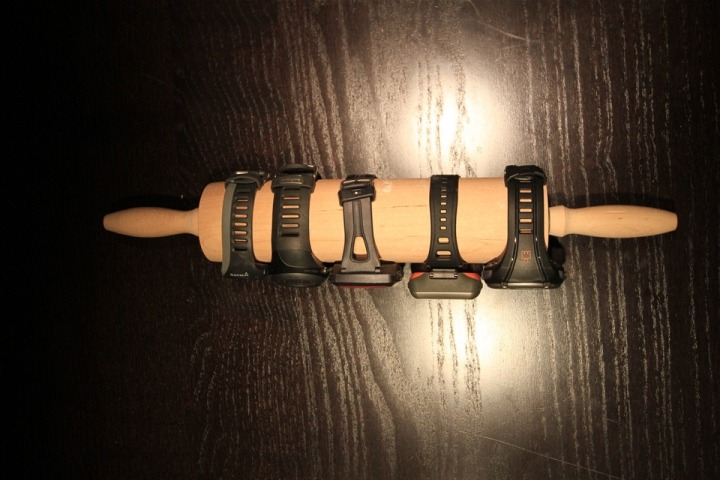 Note that the HR strap that comes with it is virtually identical to the Garmin Premium HR strap.  Here's the two right next to each other.  Garmin on top, Timex on bottom.  You can also just buy a classic Garmin one for $35 and pocket the $15 they charge for the bundled kit.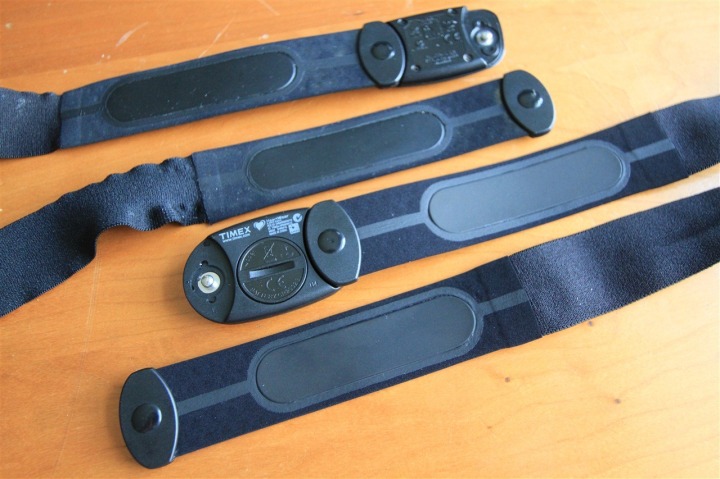 Lastly, in the box there's a bike mount.  You may miss it at first (like I did), because it's what the watch is wrapped around.  Here it is: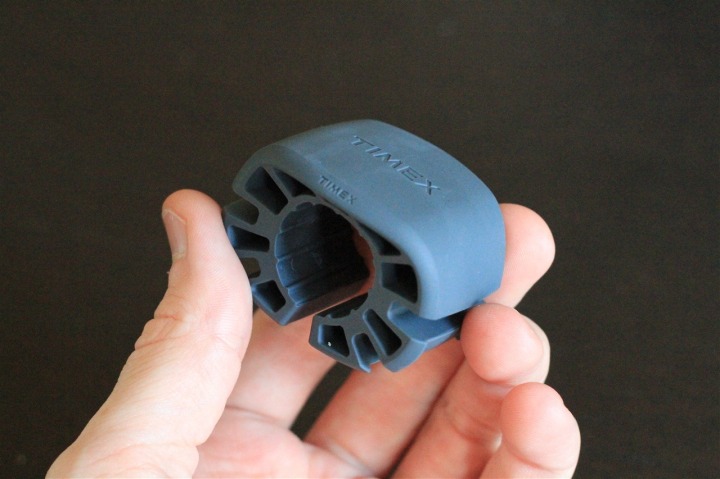 On the bike:
I started off on the bike indoors on a trainer, but also later took it out for a quick spin outdoors.  Depending on your bike, you may be able to use the included bike mount – thought it won't really work for most tri bikes, as the bar's are either too slim/wide or facing the wrong way.  Some sort of alternate mount system would be idea.
You can see how it clearly shows speed (via GPS), heart rate and distance, as well as any other data fields based on my configuration.  Of course, the primary reason to pickup a product like this instead of a simple bike computer is the recording capabilities and downloading to computer options – which we'll get into later on.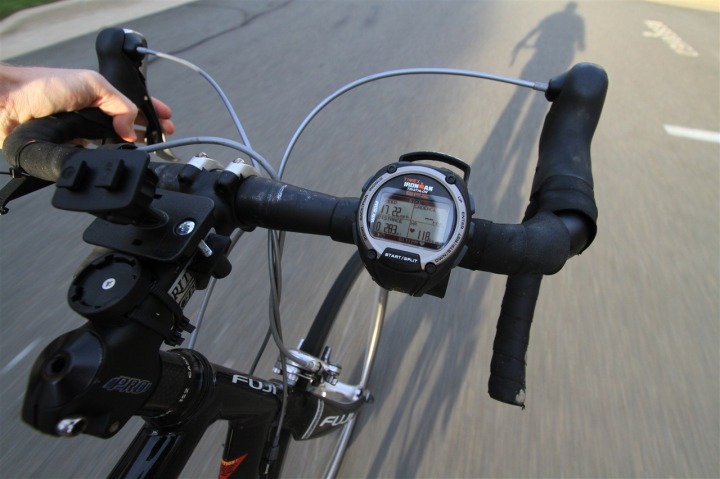 (This is a a bit of a test bike above, hence all the odd mounts on it: Garmin Edge 500, Forerunner 305, iPhone for Wahoo Fitness, Garmin Forerunner 405, etc…)
On the bike indoors, I configured my ANT+ power meter pretty easily and was off and cooking.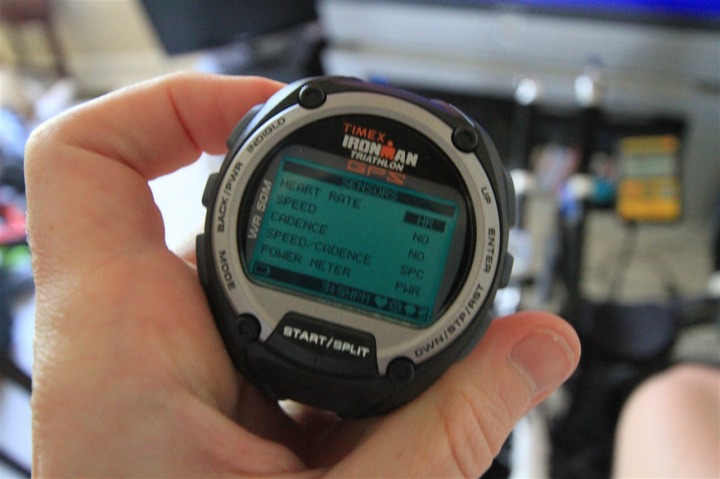 I used one set of the data screens to display power related information.  While the Global Trainer supports no power data smoothing options, it does seem to have about a 10 second smoothing display built into the 'Current power' data field, based on my testing.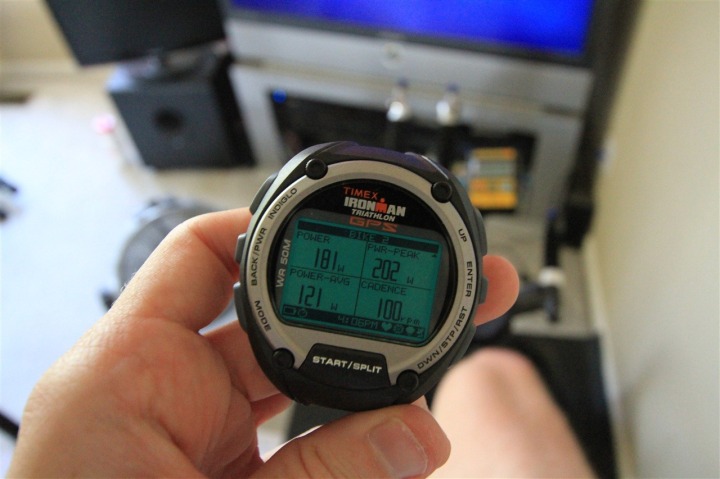 (You can see the backlight here as well, not as bright as the picture makes is seam)
Also, note that there are very few power related options on the Global Trainer.  For example, there are no Power Meter calibration settings, nor are is there any way to display NP/TSS or any other power specific metric.  And finally, there is NOT 1-second recording – generally considered to be a 'requirement' for effective analysis of power meter data.  Everything is done at the 2-second interval.  Finally, it doesn't support the cadence sensor built into many power meters (Quarq, Cinqo, etc…).
The Global Trainer utilizes any existing ANT+ speed/cadence sensors you may already have.  This is useful, because as of today, they haven't yet made available their own ANT+ Speed/Cadence sensors.  So I just use the Garmin ones for about $35 instead.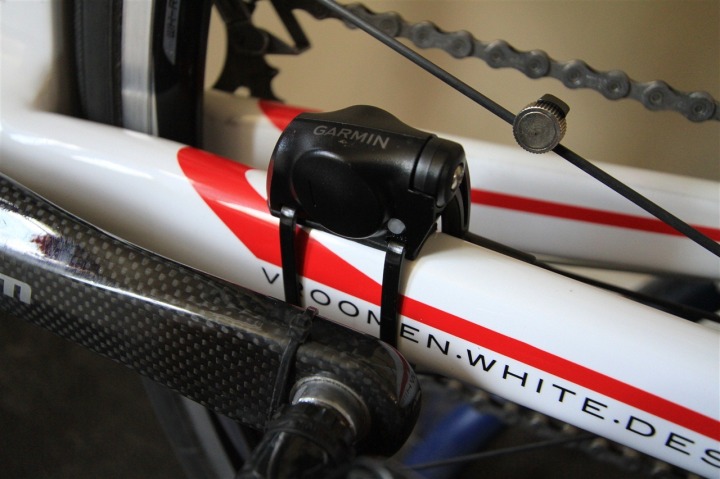 I did find though that I was seeing significant dropouts from the speed/cadence sensor.  I had another Garmin Edge 500 running at the same time in parallel and it recorded zero dropouts.  You can see all of the dropouts below though in the Global Trainer file for the speed/cadence sensor: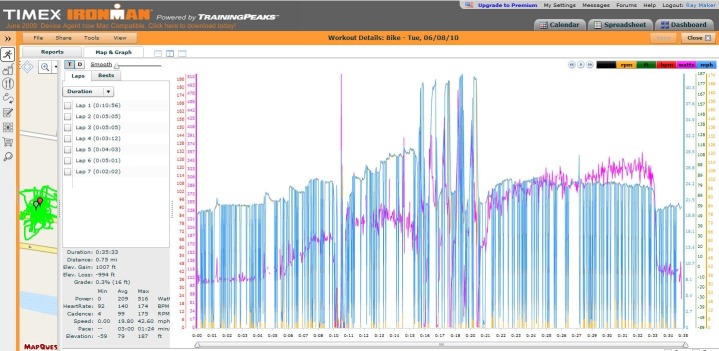 The Global Trainer does have a auto-pause function, which is very useful if you ride either in the city, or on trails with many start/stops.  This function will automatically start/stop the watch when you go below a customizable speed.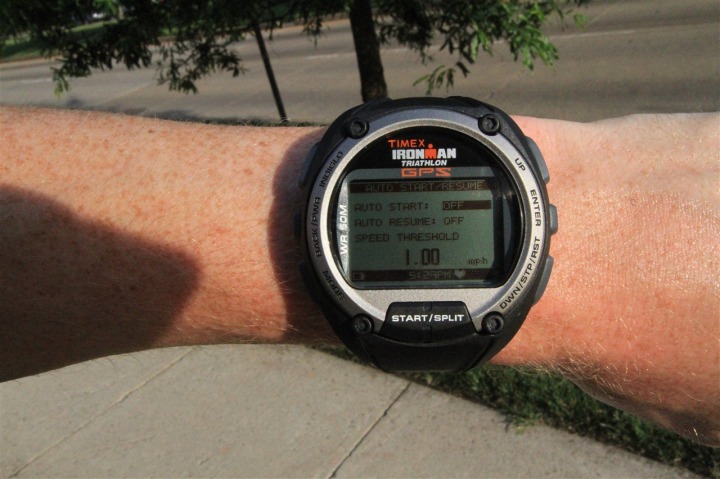 Finally, as I talk about later on, you can customize a number of bike fields to display any number of different screens and data fields.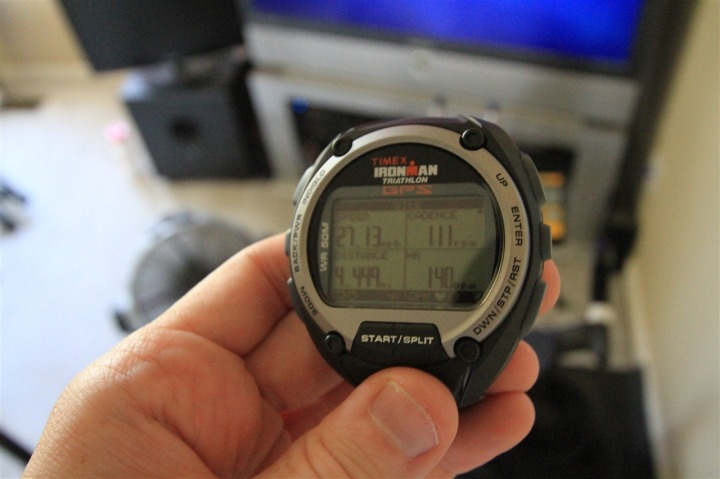 On the run: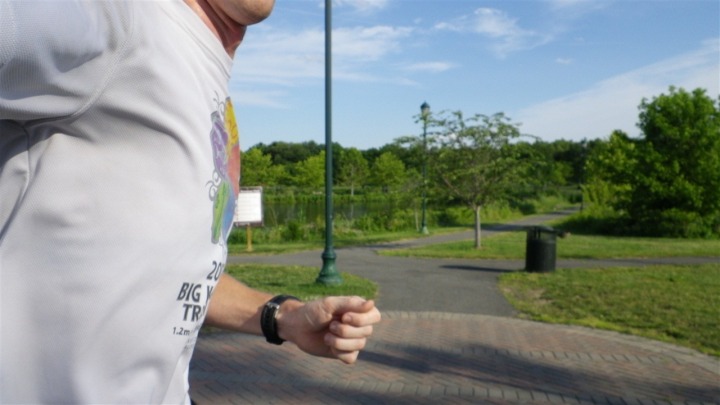 For the most part the watch acts as you'd expect a typical stopwatch to act on the run.  You can start/stop/lap at any time.  Each time you press lap it'll record that lap for later analysis.  Meanwhile, because it's GPS enabled, it will also show you pace at any given point in time, along with current distance.  There are tons of data fields that you can configure, which I outline in the settings section later on.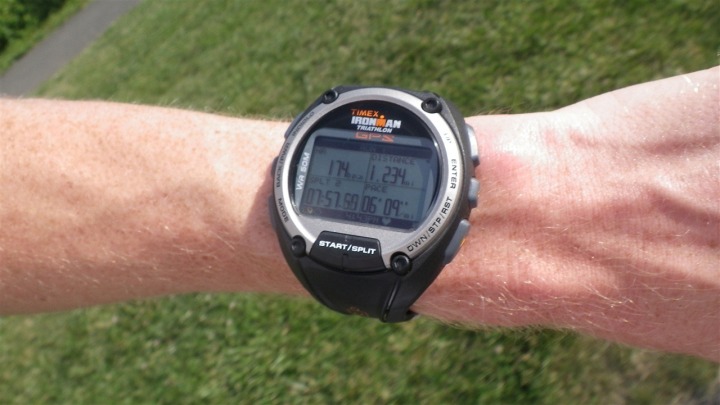 You can also utilize features such as auto split to automatically create laps not only on a given distance interval – but also on a given time interval.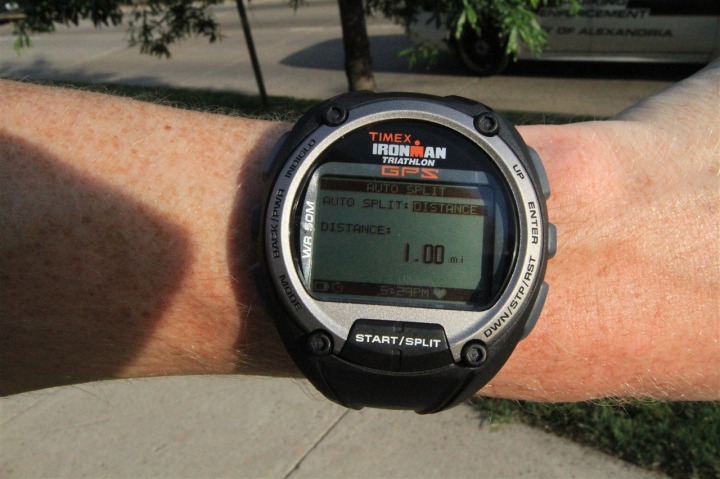 The watch does support a virtual partner type-mode, but it's a little weird.  You set a given distance, and then set a goal time.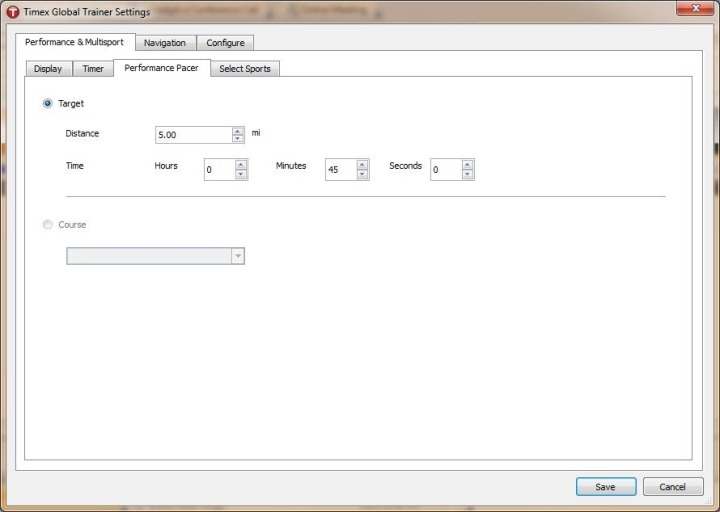 This is problematic though if you want to either change the pace on the fly, or want to have different goal times.  For example, I use the Garmin Virtual Partner feature quite often to pace against, and I can just change the pace at any point in the run with a single button press and it recalculates.  Here…not so much.  This means that even though I was wanting to use it to pace 6:00/mile intervals, it was also including my 2 minute 'easy jog' in between, thus making everything out of whack and showing me eventually some 8 minutes behind – even though I was executing my intervals spot on.
One area I really like is the split counting and lap viewing features that are a bit harder to recreate on the Garmin 310XT.  For example, in the header of the lap time it shows you which lap number you're on – useful if you have to do something like 10×1 Mile repeats.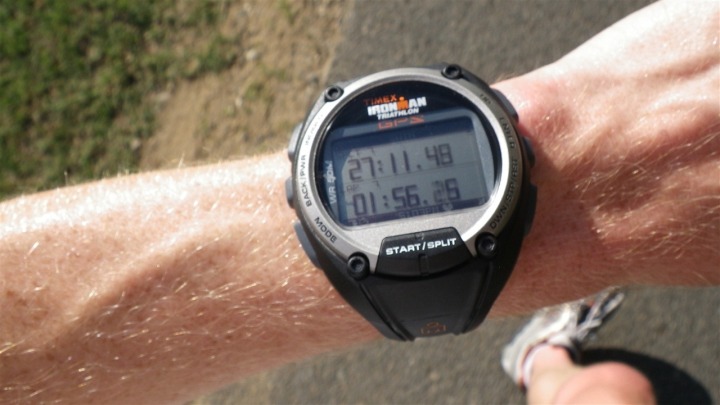 I did find the lack of 'Distance-Lap/Split' a strange oversight.  I often use that to go for a set distance on an interval, and almost all running watches have this.  It's missing here, hopefully it'll get added.
One issue I did notice on the run, were occasional warning messages briefly popping up about was loss of communication to the Heart Rate strap.  I thought this was a bit odd in that I was also wearing a Garmin 310XT at the same time, and that device never gave any data loss messages – nor did it record dropouts.  After getting back, I was able to confirm the Global Trainer did record a significant number of dropouts, some for up to a minute in length.
Excluding the dropouts, the Timex Global Trainer is easy to run with and I really didn't notice the size on my wrist once I started running – pretty much just like the larger Garmin Forerunners.
In the water: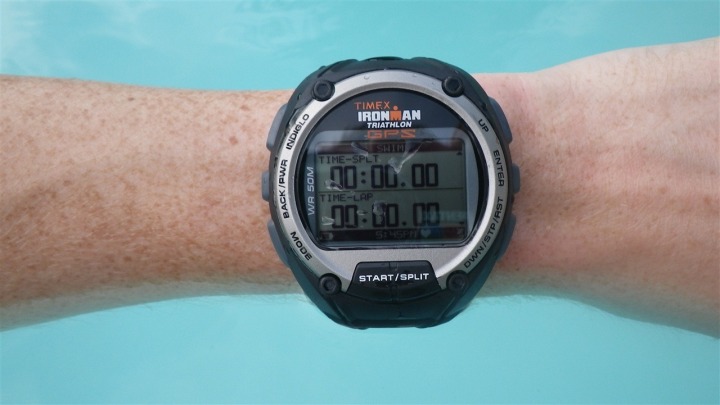 I didn't have a swim scheduled today, but I spent a little bit of time playing with it in the pool.  The unit is waterproofed to 50 meters, which means you won't have to be concerned about drowning it.  But like all other GPS watches out there, the GPS signal will dropout about 2" below the surface of the water.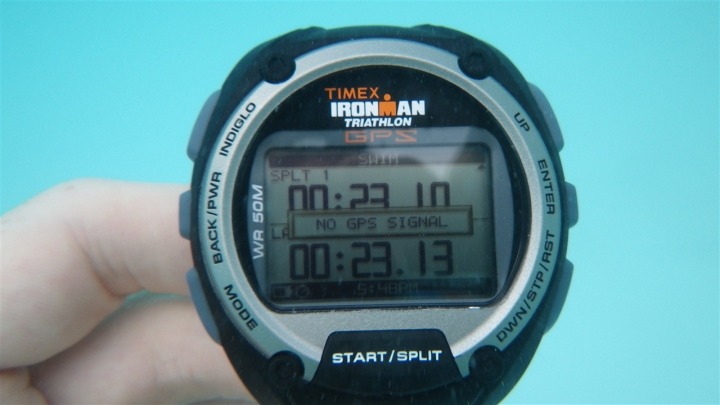 This means that for swimming, it won't measure your swim distance when worn on your wrist.  Unlike Garmin's 310XT, this does not have an openwater swim mode.  However, the tried and true swimcap method should work just fine here.
Also note that because it uses 2.4Ghz ANT+ signals between the heart rate strap and the watch, those too don't work underwater (just like all Garmin Fitness units), only the Polar T-31 coded straps with Polar units will work underwater.  You lose HR signal on the Global Trainer less than 1" away from the HR strap, roughly in line with the Garmin units.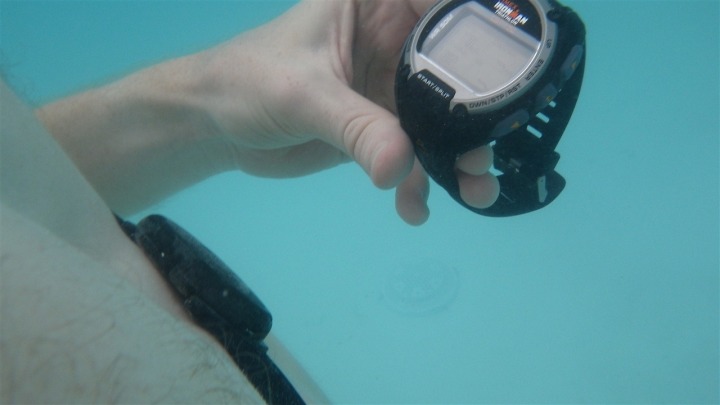 But, as a simple stopwatch in the water…it works great. 😉
Multisport Mode:
The Timex Global Trainer has a very customizable multisport mode, easily toping that of the Garmin 310XT.  You can twist and tweak the features numerous different ways, which is awesome.
And here's a quick view of the multisport configuration screen – which you can do from the desktop software, or on the unit itself.  In fact, that's an important item to note.  EVERY setting I could find was configurable from both the unit, as well as the software on the desktop.  That's awesome!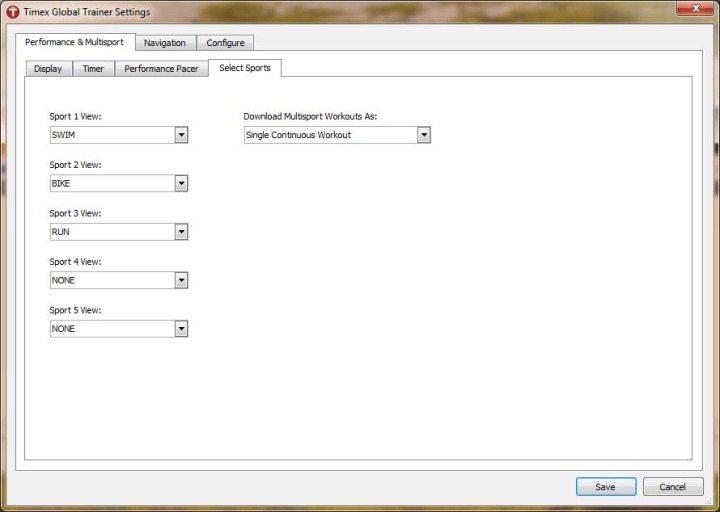 Software:
Once you're done playing outdoors, it's time to bring the thing in and hook it all up to a computer.  Currently Mac's are not supported (until August), so beware if you're a user of the fruit!  The software side is always my favorite, as it's where things get fun.  Timex basically outsourced the whole kit to Training Peaks, who put together everything from the device agent to the backend system (Training Peaks online).  In order to view the data, you'll need to use Training Peaks.  The good news though is that you're able to create a free Training Peaks account (using their basic service) and then install the device agent on your computer.  You can later upgrade to their premium service if you want additional analysis capabilities.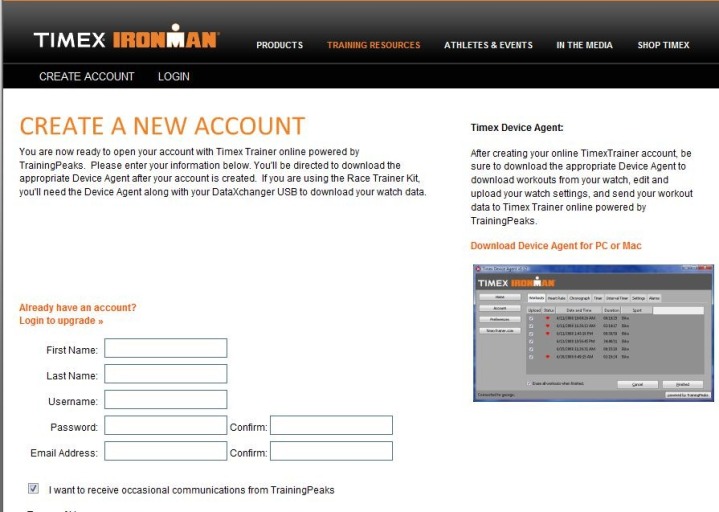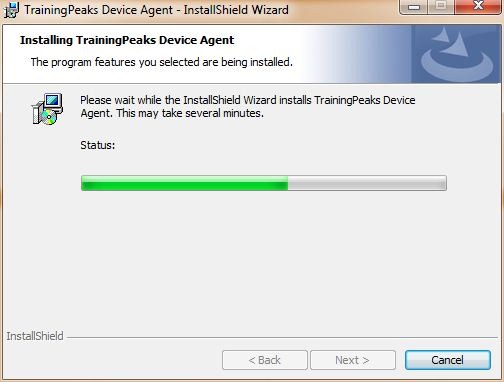 Once you've changed mode on the watch it'll allow you to connect it to a computer – sorta like a Polar watch, but different from a Garmin device where it's happy to talk to the computer regardless of mode.  After that, it'll go ahead and download the workout to the Device Agent, which in turn uploads it to Training Peaks online.
Once in Training Peaks you can play with it all day long there.  Here's a bike and run from tonight if you'd like to explore things a bit.  They have a fantastic toolset  for really digging into data – far more than most free sites (including Garmin Connect) allow.  For example, one of my favorite features is the one below where I can select any given lap and it'll show me the stats for that lap on the lower left side.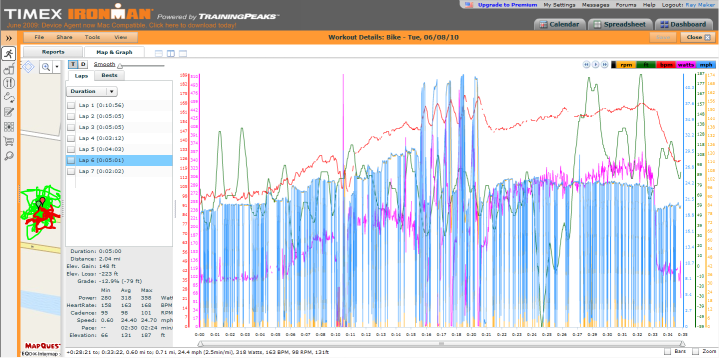 (The large blue/yellow chunks are the data drops I talked about earlier.)
Another feature I love is the ability to see what my 'maximum paces' were for any given amount of time during the workout, such as this: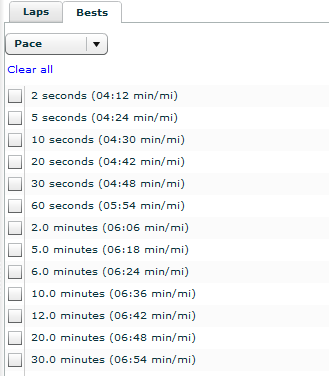 And you can also share out your workouts quickly and easily to friends or coaches: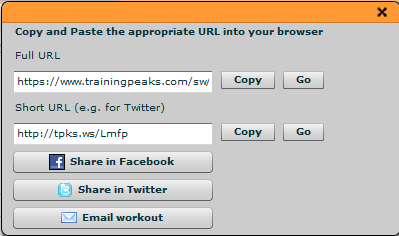 I've made both my run and bike public, which you can go check it out directly in Training Peaks here: Bike, Run.
(My run was a series of intervals, hence the up and downs you see in HR and pace)
Now, the really interesting part of the Device Agent software is the settings button.  This allows you to not only set every single setting in the Global Trainer (on your PC), but also Export and Import those settings as a saved file.  This is super-duper-cool.  I can't even count the number of times on other devices I've had to reconfigure settings after firmware updates.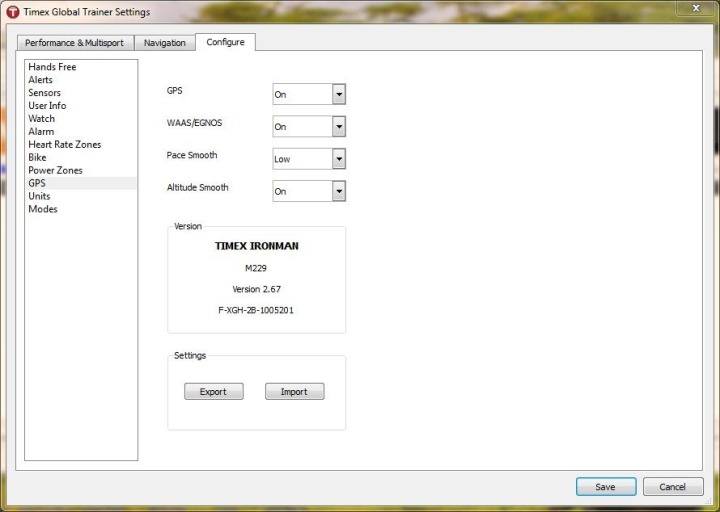 Speaking of which, on the Global Trainer firmware updates does erase ALL of your settings and history – but with the export/import option, it's not too bad.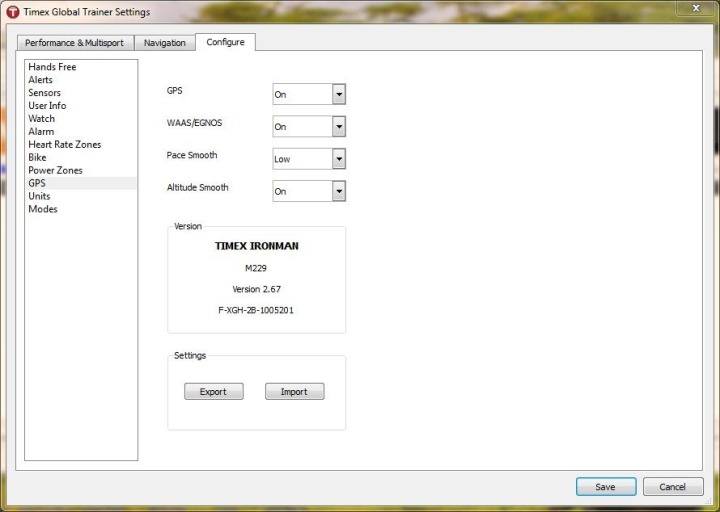 Oh, but back to that settings button.  Now, I like settings – the more the merrier.  But this page is…umm…busy.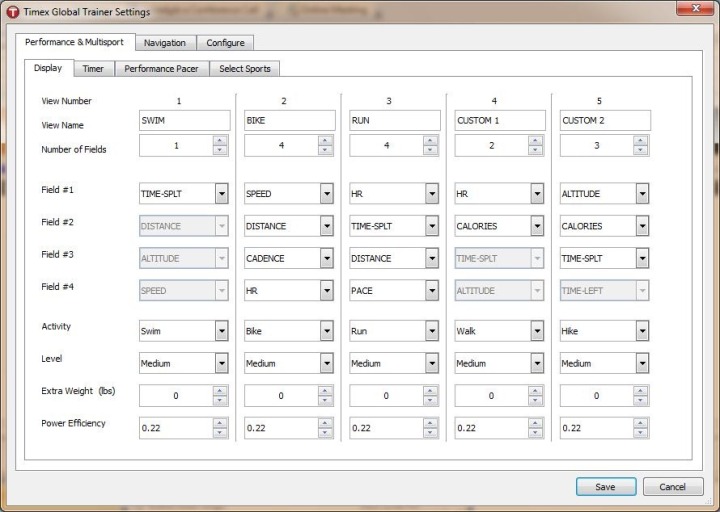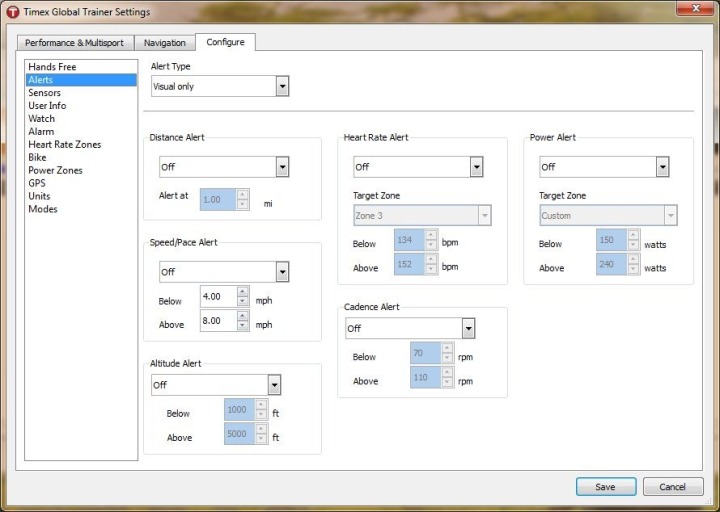 You can tweak till your hearts content on the setting pages.  And…just for you, I've screen-shotted every single setting page in there – which you can view here, separated out by tabs and pages in order:
While you're unable to see the raw files on the device when it's plugged in (it doesn't display like a mass storage device), the Training Peaks device agent makes a copy of the file  locally on your computer (as well as online).  You can access that file in you're My Documents folders, like:
C:\Users\rmaker\Documents\TrainingPeaks\Device Agent\saved\dcrainmakerblog
Within that, you'll see the actual files for each workout:
They are stored there encapsulated in PWX format, which is XML based and used by Peaksware to store files.  Given it's XML variant though, it's easy to parse it.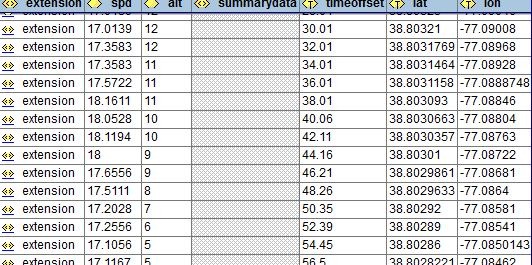 Why is XML important? Aside from being easy for other applications to consume, it allows me to see the actual recording interval of the device.  Which, is 2-seconds.  Meaning, even for power meters, it's still 2s (and not even 1s for PM's attached).  The guys at Training Peaks confirmed this as well.
First Look Pro's & Con's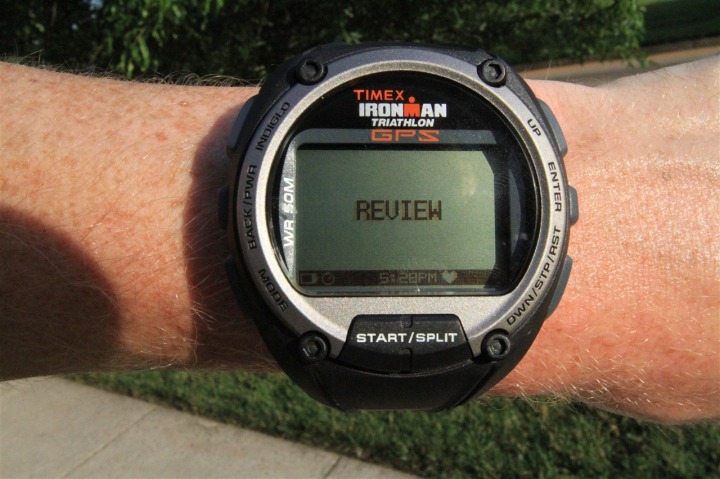 I've only been using it for a short time, and the device has only been out for days – but here's my take on on it:
Pro's:
– I LOVE being able to set all the options
– Battery life is good, at 15hrs in recording mode, 12 days in standby and 1 year on the shelf turned off
– Able to enable GPS correction algorithms (or disable), note altimeter is GPS based, not barometric
– Able to enable different levels of pace smoothing to make training by pace easier
– Using Training Peaks means tons of great analysis tools
– Waterproof to 50 meters (doesn't track in swim though)
– ANT+ Compatible, so it works with almost all ANT+ sports accessories (like Power Meters)
– Can generate multiple files for multi-sport workouts (or also just generate single files, or do both)
– Ability to export ALL your settings, and import them back in
Con's:
– It's big.  Really big.
– Backlight is kinda lame, not nearly as nice/bright as 310XT backlight
– Power Meter feature parity slim: No calibration, no 1s recording, no cadence pickup from PM's, no smoothing.
– Doesn't support ANT+ foot pod (for treadmill running or running cadence)- Key data fields are missing (such as Lap Distance, while Lap time is there)
– Significant signal dropouts across multiple ANT+ device types (HR, Cadence/Speed)
The thing you have to keep in mind is this is the very first week of the very first device they've updated with an updateable firmware.  This is good for a number of reasons – the majority of my issues with the device as it stands are within the realm of firmware fixes.  I know that the Global Trainer firmware team has been busy cranking out new firmware releases, but that eventually they had to release the product.  If we look at competitors to this product (Garmin's), they've all had teething pains with firmware at release.  I have a feeling that by end of summer, things will be much more refined than they are today – so I'm optimistic as a whole there.
The most common question probably going to be asked is – how does it compare to the Forerunner 310XT or 305?  Given that's (310XT) the closest competitor in terms of price and functionality.  Well, ask, and you shall receive!  A little chart…just for you.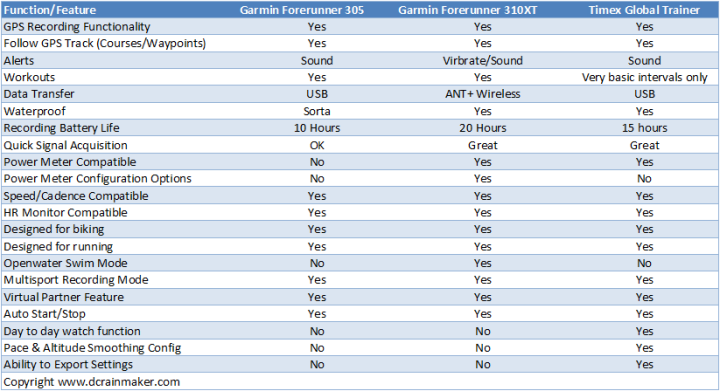 Finally, if you're looking for official information about the watch – it's pretty slim.  Timex appears to be a bit weird when it comes to making a clean, simple and usable site about their products, especially athletic ones.  If I wanted to buy a women's watch, I could easily find information about the 82 different varieties of women's watches they offer.  But information for athletes?  Few and far between.  That said – here's the goods that matter (all PDF files):
Quick Start Guide
Full Manual (Other languages here)
Marketing Leaflet
Spec Sheet
FAQ Sheet
Bike Sensor Manual (actual product not available yet)
Hope this helps a bit as a starter point! And until I get a full in depth review up, here's a quick gallery of photos or screenshots I've taken thus far.  I'll add to it as I go along.
If you know my reviews, you know that I'm super detailed.  Given this first look review isn't 60-70 pages, it means it's just a quick glimpse of what's to come – in an effort to help you make purchasing decisions.  Look for a full review within about 10-14 days.  And remember, all my reviews are written by me – a real athlete – just giving my opinion.  This watch was paid for by me, and not a media trial unit from Timex.
Feel free to leave questions here and I'll try and answer them as quickly as possible.  Because Timex has no forums of any sort, I'm contemplating adding some to the DC Rainmaker site (here) to be able to break out by different topics (such as the Timex Global Trainer) – let me know if that's something you might be interested in, or if there's some better thoughts there.  Thanks!
If you want to be notified when the full review comes up – you can subscribe to the RSS feed on the sidebar, I assure you, you won't miss it!
[Note: Updated to included information on bike mount that was overlooked in first edition]