I was going to post about all sorts of things this weekend, from the way-too-hot run, to swimming to making homemade pizzas at home.  But…then my new bike came in.  And all that went out the window!
After my other bike was whacked by a car back a month ago during the Rev3 triathlon, it was determined that the frame needed to be swapped out (along with the wheels).  The whole process is pretty straight forward, but it can just take a bit of time between waiting for the drivers insurance company to sort things out and getting the go-ahead.
So during this time you may have seen glimpses of a different bike over the past few weeks.  That's actually been a loaner, albeit in the same size and general model as the replacement bike.  On Saturday I went over to Bonzai and picked up the new one – here's a crappy cell phone pic: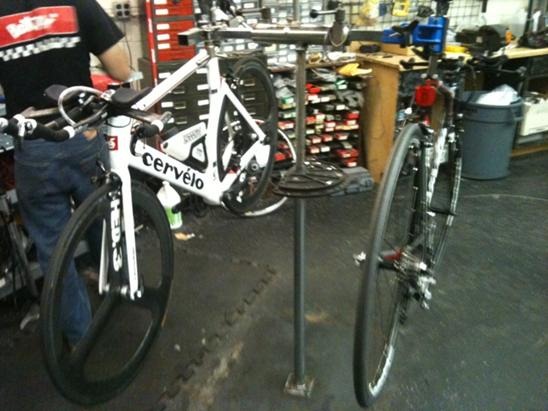 Now, I was going to get some really nice pretty shots of the bike after I finished my long ride on Sunday.  I even brought my DSLR camera and tripod out and had planned some cool shots using a remote timer system.  But…when you see what the bike looked like after I was done with the ride…I decided against it.
We got down to Prince William Forest National Park a bit later than planned but quickly got the bikes all set up.  I contemplating adding a pink horn to it, but figured that might be a bit over the top.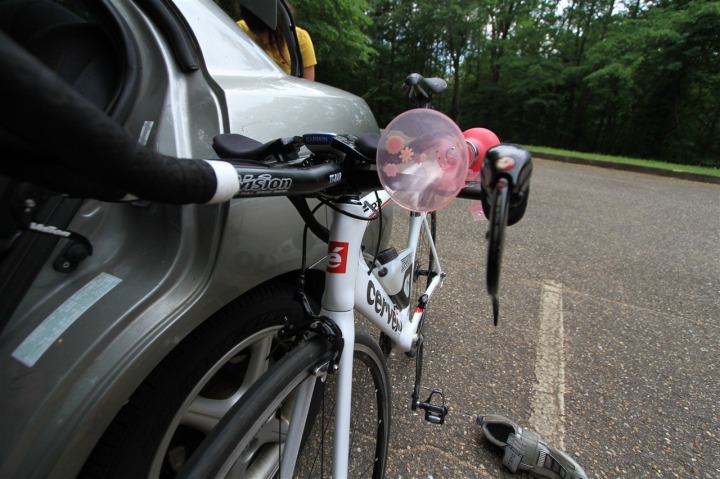 Around this time I got a text and e-mail from the City notifying me of an impending tornado warning/watch.  Given I was 20 miles south, I ignored it.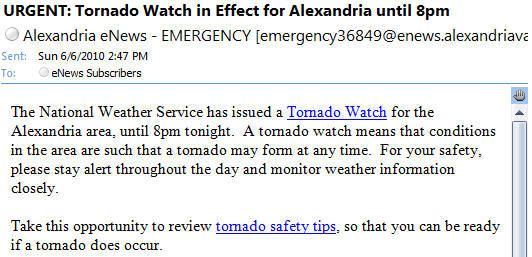 PFNP is a great place to ride because it's fully off on a protected area that allows you to do endless loops and out and backs with virtually no cars to tango with.
After cycling just a few miles, it started to sprinkle.  And then it started to rain.  And then it started to dump.  Dumpage was accompanied by thunder, and more rain.  Lots of rain.
I understand that pictures don't always tell the whole story.  So perhaps a bit of video showing what it looked and sounded like would help:
A lovely ride in the rain.