As usually happens, the week before a race is filled with short – but high intensity bricks. During the 7 days leading up to IMC, I'll be doing 4 different bricks of varying lengths. While I do bricks every week attached to my long bikes, the bricks this week are generally different in that the bike and the run are at a higher intensity. As you get closer to your prime event, it's better to decrease duration and increase intensity.
Here's the plan of record:
Sunday (two days ago): 90 minute ride + 7 mile run (Brick)
Monday (yesterday): 2800yds, including 3×500 TT
Tuesday (today): 45 minute bike + 35 minute run (Brick)
Wednesday: 2100yds, including 2×500 TT
Thursday: 30 minute easy bike
Friday: ~1500m (OW) swim + 25 minute run (Brick)
Saturday: ~1500m (OW) swim + 25 minute run (Brick)
Sunday: Bow-chica-wow-wow – Ironman Canada (Mother of all Bricks)
By far the most fun though was this evening's brick. Here's the low-down for that festivus:
Bike:
10 min warm up
5 min high cadence (up to 125 RPM)
15 min Z2
10 min Z3
5 min Z4A

Run:
15 min Z2
10 min Z3
5 min Z4A
5 min cool down
That all translated to the below graphage. I was rather happy too with the wattages.
Following a 60 second transition, it netted me a nice quick second half run (once I could open up the flood gates a touch the first section). The blue line is pace, the red section is HR. My zones are on the left.

My Z4A pace was a nice 6:20/mile. I LOVE these bricks because I do them from my house on a nice bike path that goes for a few miles along a river, and I can really just get in a groove – enjoy being outdoors – and cruise a long.
Prior to the brick though I spent the day working and slowly packing everything up for the flight to Seattle tomorrow morning. Kinda like a squirrel gathering nuts, I'd grab one item here or there on the list, and then cross it off and do something else for an hour or so, and then the next item.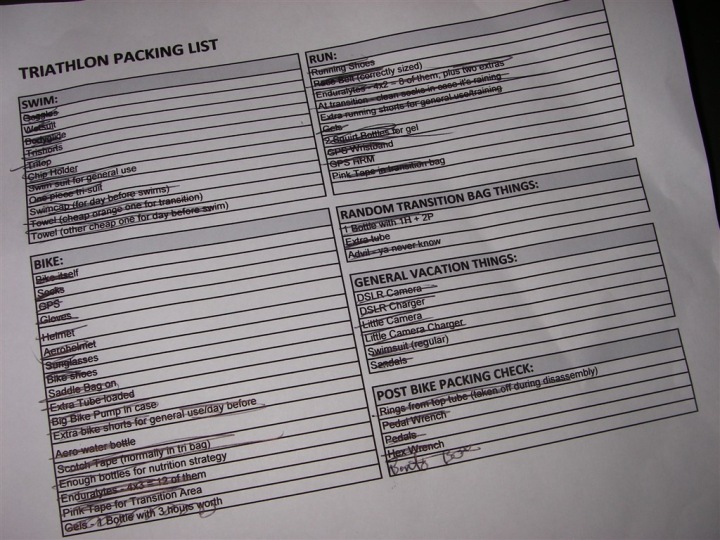 Eventually I had my masterpiece complete: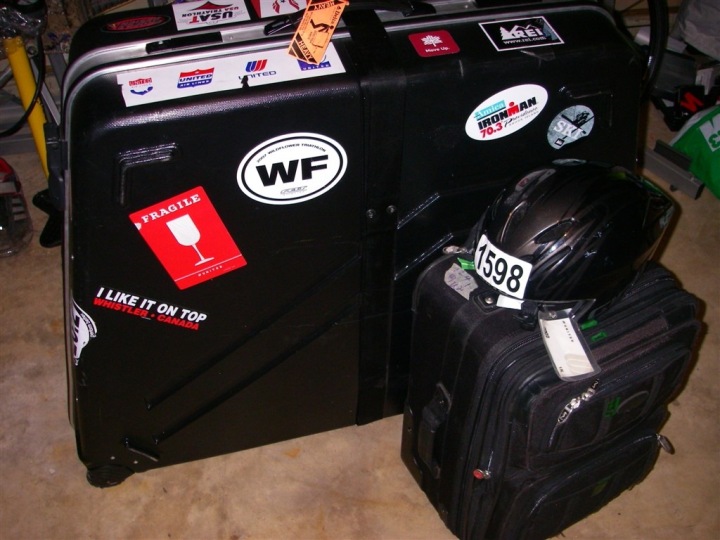 On Thursday, my family and I will cross the border and make the 5 hour drive up to Penticton, BC from Seattle. I'll be posting once I arrive in Penticton– so look for some sweet IMC pre-race action once I get there.
(Btw, if you want to see how I got into this little mess to begin with – check out my Ironman Canada posts from last summer – including my guide for how to signup for an Ironman)
Oh – one last thing. During my taper-time over the last few days I decorated a friend's new bike. She was out of the country for a short bit and I picked up her new bike from the shop for her. Letting me pick it up was clearly her first mistake. I decided it needed some decorations before she got back: