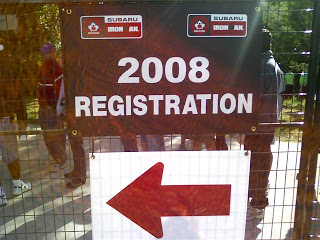 As midnight approached I decided to go stake out my ground. I wasn't exactly sure what to expect. Would the line be hundreds of people long, or just a few? Turns out, it's roughly 30 cars, a few dozen tents, three port-a-potties and one off-duty ambulance long. Roughly. Give or take a few dogs and cats.
It started at the gate entrance to the IMC shops (souvenirs, etc..) and wrapped up the street, over a small bridge, back down along the 'river' and then back tracked again up a small hill and onto some sidewalk. It is there that I found my place. In hindsight the smarter move at the time would have been to simply drive my rental car right into my 'ground' and call it complete. However, I wasn't so smart. I decided to simply sit on the ground for a while trying to decide. In short order I was no longer the last person in line so my options for vehicular safety pretty much disappeared. Not to worry, it shouldn't rain…right? It's not like the Pacific Northwest is known for rain or anything….nah.
Over the course of the next half an hour the line slowly crept longer at a rate of roughly one person every 5 or so minutes. As the race clock counted to 17 hours we could hear the announcer counting down to the completion of IMC 2007. It was sorta surreal hearing it in the distance but not seeing it. At midnight the sky was filled with a pretty decent 17 minute fireworks show over the lake. Nice touch.
I (and others near me) went to sleep shortly thereafter, occasionally waking up as cars would buzz past our heads, or others would wander around trying to find the end of the line. But overall not too bad. All I had was a sleeping bag and a pillow, I sorta overlooked the tent concept. Most people overlooked it as well though. The true line pros did either the tent – or the car (such as a truck/SUV/van). Around 4:30-5AM a larger group of people shuffled out of the various hotels and got in line. Most people slept until around 7AM, when for some random reason the front half of the line decided to collapse upon itself (thus shortening it by about 200 yards). That resulted in us moving from comfy grass to solid concrete. Not cool I say…not cool. At that point people started playing 'save my spot while I get you Starbucks", which is an effective method of getting nutrition while maintaining your place in line. The below picture is of the line shortly after 6AM, looking outwards from my spot – all of these people were not campers, but rather early morning folks (4AM/5AM). The line stretches along the parking lot edge as far as you can see.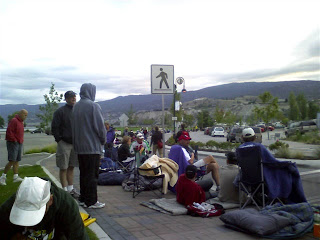 Shortly before 9AM they opened up registration and the line surged forward. Within 10 minutes I was at the tent being instructed to have ID ready. You filled out a form which requests your name, e-mail, b-day, sex and a signature line where you get to sign your life away (and $500). Interestingly, you don't actually pay then. A few people check your ID and then give you a copy of the form. You have to go back online between Sept 5th and Sept 20th to actually signup and earn some airline points on your credit card. The advantage to this is 1) You don't have to pay now. 2) The whole process moves very very quickly.
The line continued to ebb and flow for another hour or so, with folks from around town showing up to get in line and easily get spots. I heard a rumor that they allocated 3,800 spots – with the expectation of only 2,700 or so of those would show up and race. Don't know if that's true or not. I left after about an hour, but I didn't see anyone get turned away.
Overall I would say camping out is definitely worth it – especially for the experience of being able to chat/bond with other folks in the line. The level of knowledge regarding tri's ranged from frequent Ironman, to genuinely confused about the whole swim/bike/run concept (and this was a guy signing up for next year). In addition to meeting cool people, it takes away any anxiety of not getting a spot. If I was to wander down early in the morning I'd probably be fretting all night about the super-slim possibility of not getting a spot. Which.Would.Suck.
With that, I present you tips on how to camp out for tickets like a pro:
Bring a sleeping bag (this may seem obvious, but was overlooked by the girl to my left)
Bring a matt/inflatable thingy (in the highly likely event you get a solid slab of concrete)
Bring a tent (this is the Pacific Northwest and it does run just about every day, it actually rained briefly at around 5AM for a few minutes).
Bring a pillow (or a bag and stuff clothes in it to make it a pillow)
Saunter over to the registration line at around 6PM (the day before) and stake out a solid spot in line with your car and/or tent. Then abandon tent and come back many hours later. Some folks actually staked out spots earlier in the morning (day of race). Not a bad plan, but a bit overboard.
Have your ID with you. It would be considered a major SNAFU to forget ID and not have a way to register.
Bring something to eat in the morning (Banana, bagel, etc…) – as well as some fluids to consume.
Bring an extra blanket – this is as much for you as it is for your newfound neighbor who forgets theirs. Good Karma is your friend.
Enjoy the experience of hanging out in line and make friends.
Once you get your registration certificate – immediately take a photo of it (not you) with your cell phone camera (or at least text the web address/cert code to yourself). This is in the event you lose the sheet you can still register.
As an aside, if you were a IMC 2007 athlete or local (Penticton area) you were allowed to register the day before the race, thereby skipping the whole camping overnight experience. Like the rest of folks in line you didn't have to actually commit until the 20th of September.
Being September 4th at 11:06PM, it's less than an hour until I could go online and do the deed. But I'll wait a week or so – in the highly unlikely event I find I completely hate the 70.3 Half Ironman I'm doing this weekend.