Given you've probably read the title of this post, you have a rough idea what happens at some point along the way in this story.  That means you also think you know how this story ends, but just for fun – let's start at the beginning.  It'll be kinda like one of those movies where you see a part of the ending at the beginning of the movie, but all the details get filled in along the way.
So with that…the beginning:
Pre-Race:
This was probably one of the easiest and calmest pre-race morning's I've ever had.  The hotel was only a short half a mile or so walk from the start, so we just wandered over right after sunrise.  Given our bikes had been checked in the day prior, there wasn't much to do besides plop down a few required transition items (bike shoes/helmet/running shoes/etc…) and fill up my water bottle.
Since that took about 5-10 minutes in total, I had more than an hour to do..well..nothing.  So I first wandered down and checked out the Pro area – which was abuzz with activity: Cameras, Officials, Racers, Camera Crews, random people with small dogs…you name it.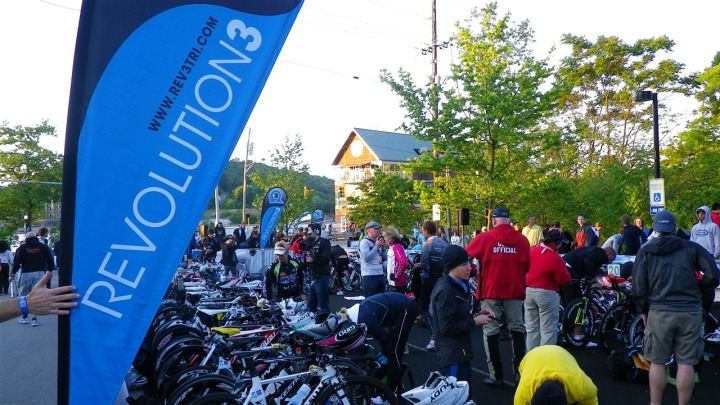 From there I went back to my little area, where Biggest Loser contestant Tara Costa was giving an interview with some media folk.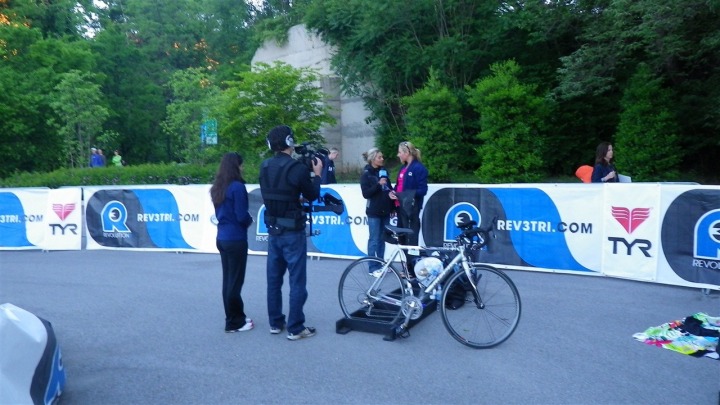 Following that bit of entertainment, I visited with The Girl a bit near her transition area, but otherwise just did loops around transition saying Hi to a few people I knew – like Molly.
From there though, it was down to the river to get all ready to go for a dip in the river.
The Swim:
The swim at Knoxville was a river course that starts and ends at two different points.  You swim upstream for a short distance, before going back downstream again.  If you were doing the Olympic distance, you swam to the first red buoy before turning downstream, and if you were doing to the longer Half-Iron distance, you swam a bit further to a second red buoy before heading back downstream.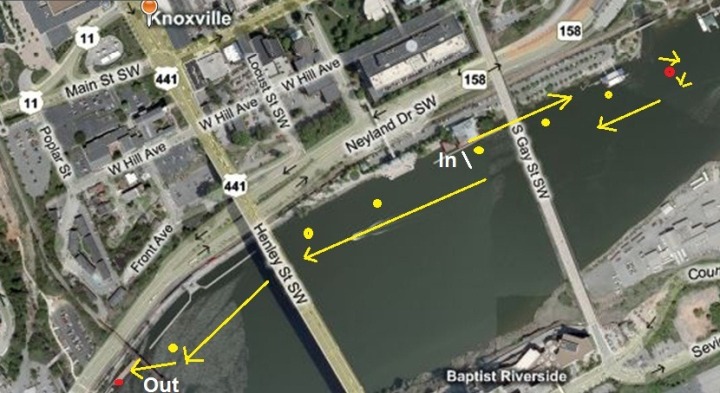 The pro men went off at 7:45, followed by the pro women at 7:48AM.  Being in the Special-K 'Elite Amateur' division, we went off at 7:55AM, some 7 minutes later.  As you may remember, getting included in the 'Elite' division was something of an accident – but it would at least force me to swim harder than I might otherwise.
After the women were out, we were able to get into the water and get a nice little warm-up in.  The water temperature was 70*F, and felt quite warm – so I was pretty happy with that.
At 7:55AM everybody went to the line and off we went.  The group started out fast (as I expected of course) but quickly formed into a few smaller packs.  Given swimming is my weakest sport, my primary goal was to stay in any pack at all, and just push as hard as I could to hold on.
At the turn buoy I did the math and realized I was only about 45 seconds off the main leaders – pretty solid if you ask me…for me.  So I was feeling good.  I was hanging in a small group of 2-3 folks for a bit until we passed the start line again heading downstream, where I then decided to bridge to another small group of a few folks up ahead.  I was ever so pleased that I was able to successfully do that as well.  It helped that sighting for this race was about as dead simple as you can get.  A perfectly straight course along a river retaining wall made it easy.
By time I hit the last bridge, I knew the course had to have been short.  While I was pushing harder than any previous swim ever before…I hadn't become an Olympic swimmer overnight (which is what a 19 minute swim time would be like).  Nonetheless, I was happy with my performance there and even happier to be out of the water.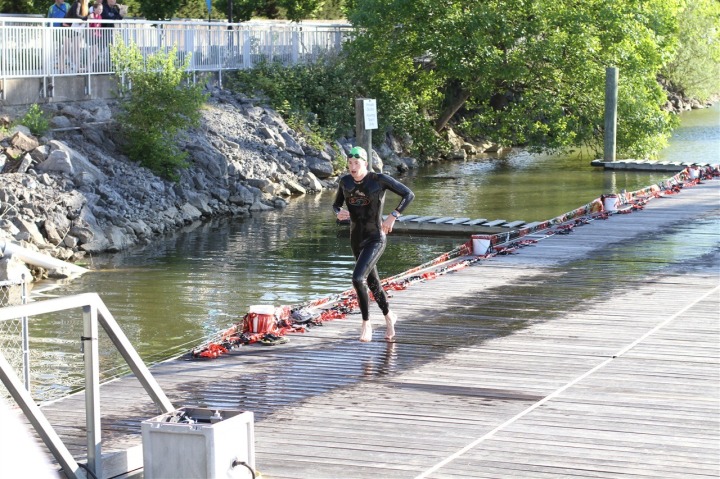 My T1 time was a bit slower than I would have liked.  I didn't have time to practice the flying mount prior to the race weekend like I usually would, and elected not to try and save the 10-15 seconds without the practice I needed.
The Bike: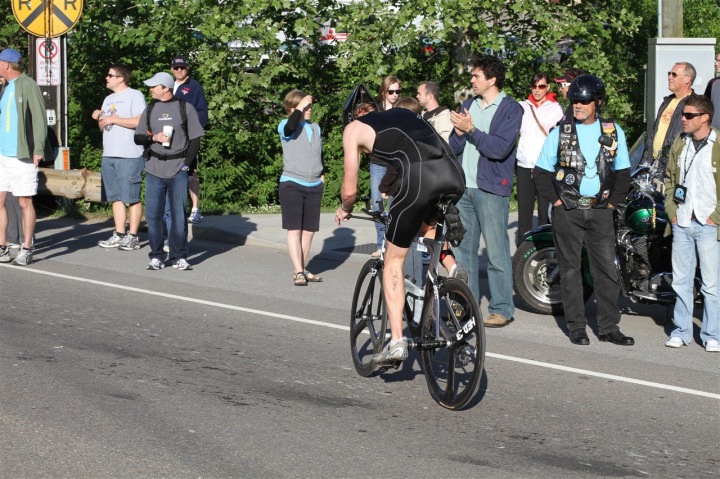 After leaving the swim, the course does a 3-4 mile loop around downtown before heading out into the hills.  I was still behind the lead pack at this point, but that was OK.  My strengths are bike and run – especially climbing on the bike.  So I knew I'd be able to pick people off over the next 1hr 40ish minutes.
Here's the last picture of me before heading out of town: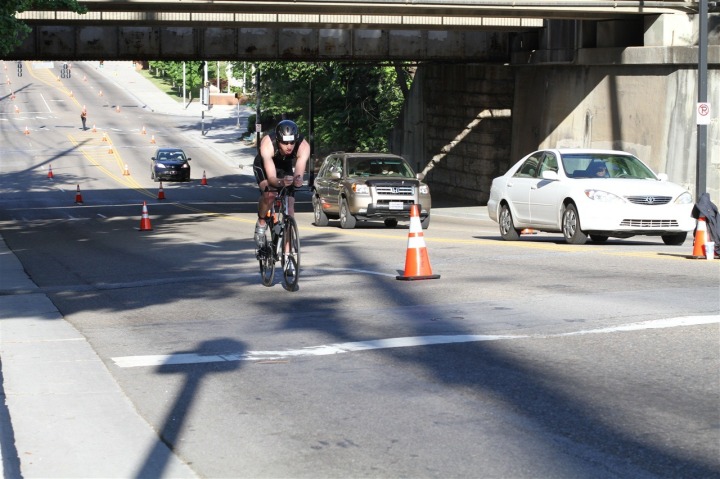 From there we crossed over the river (you could still see the swim waves below you in the water) and out into the hills.
At this point it was just a game of reeling people in.  And I was indeed reeling people in, one at a time – either Pro Females or Elite Men.  I don't believe I reeled in any Pro men.  That said, while my power output was pretty high and just a touch below race plan, my heart rate was strangely rather low.
But I was having quite a bit of fun on the course.  The course is a very technical – and fairly demanding course.  It's one of the few courses I've raced on where having pre-ridden it would have helped a ton.  A local athlete who would ride the route regularly would have a multi-minute advantage over an out-of-towner.  Lots of tight twisting ascents and descents, and blind turns – all items requiring some amount of knowledge to race effectively.  I love those kinds of courses…and thus was really loving this course.
But with those tight turns on 1.5 lane roads also came increased risks – there were a number of places on the course I thought to myself 'If a car came around this corner and there were a group of racers, someone would be hit'.  So I was somewhat relieved to have made it past all those blind areas and out onto a fairly main clearly marked two lane road, headed back towards town.
It was now around mile 22 that I had a nice straightaway that was sorta gradually downhill.  Up ahead was an un-monitored intersection where the main road I was on didn't stop, but a cross road had stop-signs on either side.  You can see it in the satellite picture below: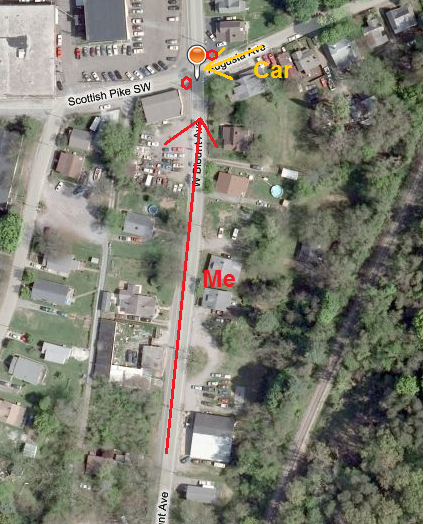 I saw the car up ahead as I was right about where the 'Me' text is above.  He was off to my right and at the stop sign stationary right below the yellow arrow above.  Given a trickle of bikes was still heading outbound (opposite direction) on the road, I figured he had seen everyone and was just simply waiting for me to pass.
I was wrong.
Approximately two to three seconds prior to me arriving at the intersection he decided to pull out into it the street in front of me.
As an aside, just to point out how long two or three seconds is, go ahead and count it in your head.  Now try to imagine stopping from a speed of 20.9MPH to zero in that same time frame…with no warning.  Now also remember that I'm on a time-trial bike, meaning it takes an extra .5 to 1.0 second of reaction time to get back to the brakes to use them.
During that 2.0 seconds I thought about a lot of things.  Some out loud.  Most of which were primarily four letter swear words.  I tried to reason/yell at the car during this time period – as if that would help the situation.  Strangely it didn't.  I need to work on that.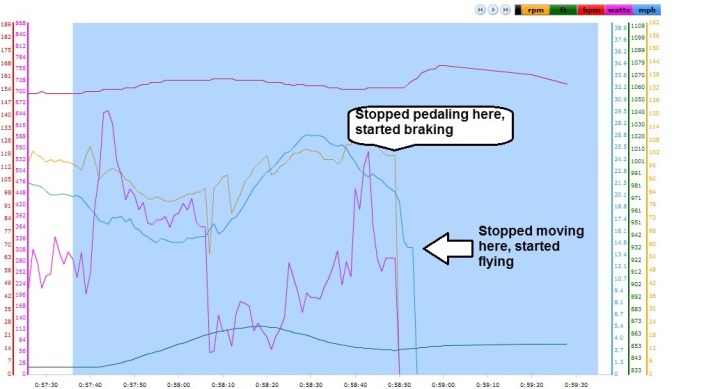 (With my Garmin Edge 500 set to recording at 1-second intervals, the whole thing is recorded one second at a time)
While I made good some progress in slowing down to 14.2MPH, that didn't stop me from making contact about 2.0 seconds later.  My front tire stopped dead in it's tracks as I hit the car's front left panel and left wheel – causing my front carbon fiber wheel to immediately crumple and crack and  the tube to actually roll off the wheel.
Within a split second of that I felt my right calf instantly cramp up in the biggest cramp I've ever felt.  And this was all in the 1/10th of a second before I departed my bike.  I believe I also set a speaking record for the most swear words emitted in a 1/10th of a second.  My mind then raced to my now occurring ejection from the bike.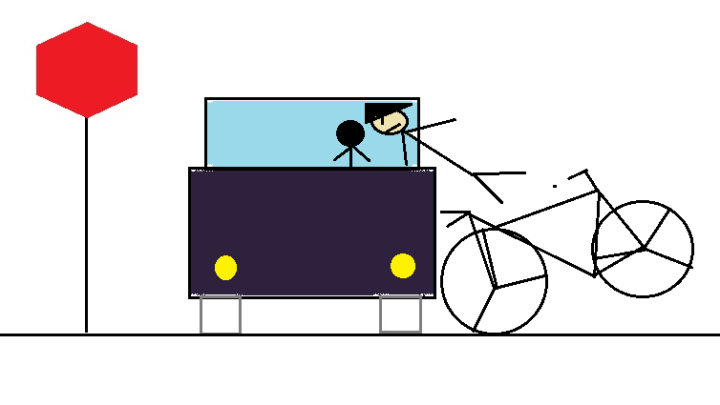 (Re-enactment)
Would I clear the car?  Would I land on the hood?  Was he still going forward?  Would I get run over?  Why on earth did I have to get the mother of all cramps now?
It didn't take long for those answers to come.  Enough of the speed had been absorbed that I didn't quite have the velocity to completely clear the hood.  Given that lack of speed, gravity took over and I came back down onto the hood and continued to roll down in front of the car into a little ball.
Now more things hurt.  Really, just about everything kinda hurt at that moment.  But…at least the car had stopped, and I had stopped flying.
Once you're huddled up in a little ball you decide that moving anything seems like a bad idea.  You've already determined that your level of pain is 'X'.  If I moved, that might mean it becomes 'X + Y'.  And I didn't like the idea of 'Y'.  So I stayed where I was…partially under the edge of his front bumper.
A short bit later the older gentleman came out of his car.  He was saying something about 'Are you ok?', and I don't really think I gave him a clear answer.  A few moments later another racer stopped to ask if I was OK, and to pray for me.  In the end a few people would stop by, put their hands on my shoulders and pray for me.
A few minutes later (but longer than I expected to be honest) – an ambulance showed up.  Followed by a fire truck.  And then some motorcycle police, a race support vehicle, a USAT official, and then I think some other police came along too.
Once they arrived I was a bit more interested in leaving the front of his car.  I did actually at this point try and get the driver to take a picture using his cell phone camera – but he declined saying he didn't know how to use it.  So sorry…no pics!
The medic crews asked me a slew of questions…of which upon thinking about later in the day, I actually answered some wrong (like day of week, I answered Saturday and it was Sunday).  They then wanted (well…somewhat required actually) me to go with them for a ride to the hospital.  I might have declined that.  And they might have not been terribly happy about that.  The police then asked a slew of questions before officially determining he (the driver) was at fault.
Around this time I was standing up.  And while I was in a fair bit of pain, primarily in my legs and knee…I kinda really wanted to finish.  The question was would I have to walk the bike in (which is legal under USAT rules) or could I ride it in?
After some minor adjustments the front wheel still seemed to roll despite it's cracks, and everything else still mostly functional.  Surely I could limp it in at 10MPH or so.
So, after some 20 minutes of paperwork (police reports, signing medical waivers, and a USAT official to boot), I was off bumbling under my own power again…very…very…slowly.  Not so much because I was scared of riding – but because if my bike instantly collapsed I didn't want it to hurt too much when I crashed.  So I kept it at grandma-slow-speeds.  I was getting passed by all sorts of folks…you know, like kids riding their bikes on the sidewalk.
But…eventually I finished the bike leg – in a blistering 1hrs and 34 minutes.  You can see me limping it in here, with the blood still streaming down my leg: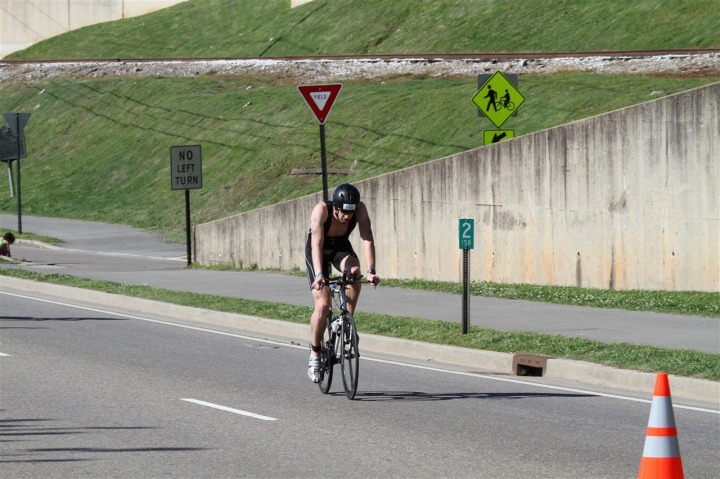 The Run:
I soon found out what's even more painful than riding a bike while gimp-ass: Trying to get off a bike while gimp-ass.  That hurt a lot.
But I got my bike all stored away in the transition area and started to run out of transition and onto the run course…the wrong way.  Soon I was corrected and back under my own power.
The first few hundred yards of the run there was a lot of 'ouches' being emitted.   You can see my look of displeasure here: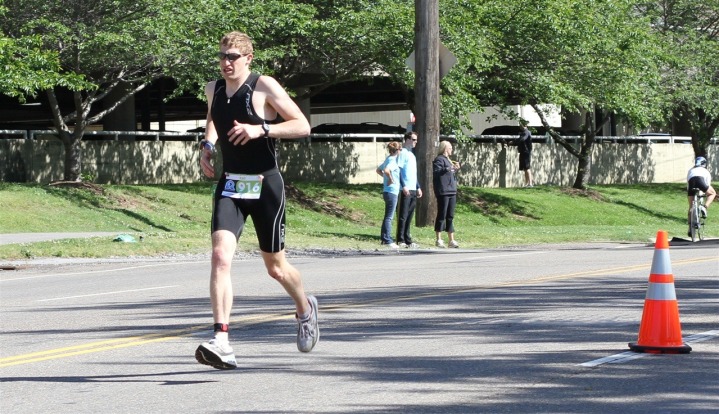 But, I was actually making good speed, and my form wasn't horrendous per se: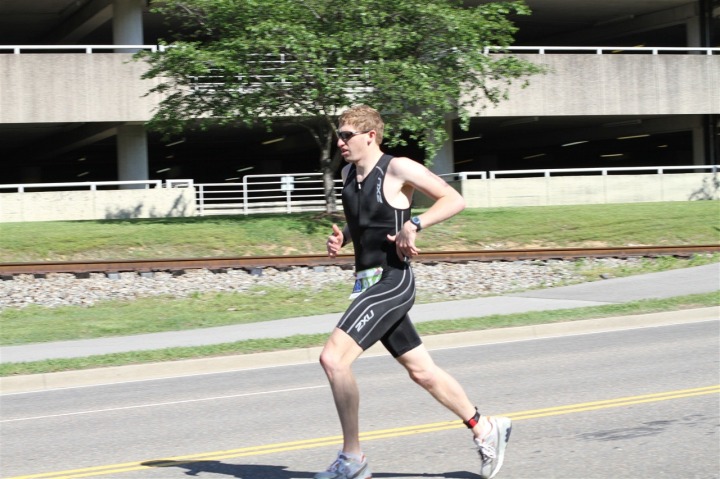 The first mile I was keeping it largely sub-6 – but the pain was starting to rise, mostly as a function of harder pounding on my (bleeding) left knee.  So I slowed down…to a brief walk for about a minute.
When walking, it didn't hurt…so logically I tried running again – slowly.  I was able to get up to about a 6:30 pace before it started hurting again.  So I quite simply kept it at this pace and kept on chugging.
It's about this time – on Mothers day – that my Mom and Dad are getting calls  at 6:30AM Pacific Time from the race director explaining that I was hit by a car and being taken to the hospital.  Unfortunately, they didn't initially get the part that I was mostly fine and continuing on.  So there were a lot of frantic calls being made that Mother's Day morning.  Luckily, Bruce – the friend who flew us down and took all these great pictures – happened to see me limp by a few minutes later and was able to re-assure them that I was at least still alive.  Sorry Mom!
Miles 3 & 4 I was able to ease it down into a 6:15ish pace without the pain increasing – so I just kept it there.  From a running perspective, I was actually feeling pretty darn good.  But then again, having a 30 minute break (including the easy ride back) certainly would have made life easier.
Mile 5 & 6 were pretty much the same, I slowed a bit to the mid 6-20's, but kept it fairly even.  I was most curious as to exactly what my final run time would be – as I was tracking pretty close to a sub-40 minute 10K.
The problem was when I increased speed dramatically…it hurt again too much, so I just had to keep it steady…even in the final hill towards the finish line.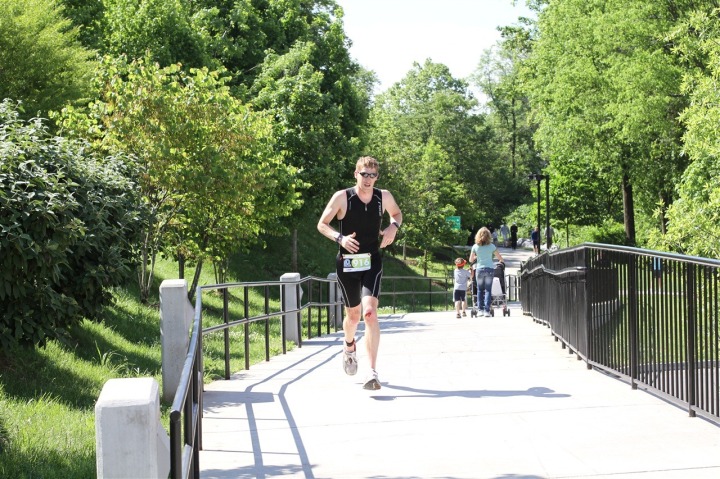 No sprint towards the finish line…but I did finish!  And as for that run time?

A 39:37, 10K.  Pretty damn sweet.  Woot!
But, it would be shortly after this point that The Girl (my girlfriend) would be silently (or otherwise) cherishing the fact that she managed a multi-minute victory over my time.
And I did also end up in last place in the elite division – except for the people that DNF'd.  But no DNF for me, thank you very much.  It would have been just too easy to simply call it a day after the crash.  But I paid my $180 and if I could finish, I would finish.  Some folks have it way worse, the least I could do it just finish – walking or otherwise.
As for how I'm doing now?  Umm…it hurts a lot.  Frayed Laces commented a while back after she was hit by a car that it's not the day of that hurts, but the next day.  I've spent virtually all of today (Monday) either in the hospital, or on the phone with everyone on the planet trying to get me or my bike fixed.  It's a lot of work, but so much better than the alternatives.  More on that later…
But for now – I'm feeling pretty lucky.  Lots of folks get hit by cars and have it way worse. At the end of the day if all I end up with his a busted bike and a dorked up knee…that's a pretty lucky strike.
Update: Here's some lessons learned a year later after getting hit by a car, in the event you find yourself in that situation.