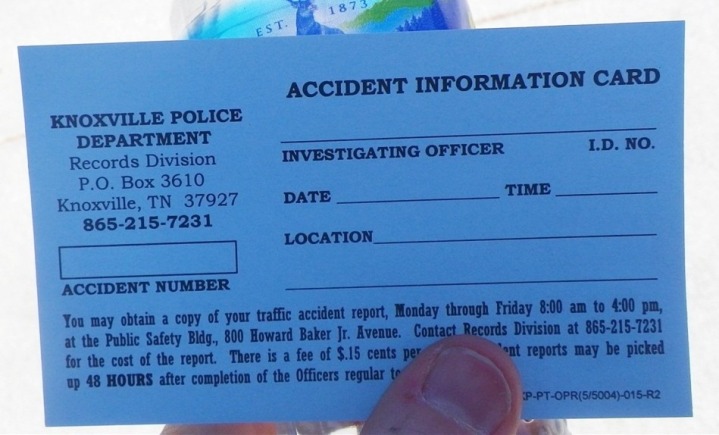 It was exactly a year ago this past Sunday that while taking part in the 2010 Rev3 Knoxville Triathlon Race down in Tennessee that at roughly Mile 22 on the bike course I was flung into the air from my bike by a PT Cruiser that was determined at fault. I was fairly lucky in that my only bodily injuries was a fractured femoral condyle (femur).  My bike, wheelset and helmet were also fractured – which would ultimately require replacement.
Since then quite a few folks have asked me to elaborate on the accident a bit more, and that's something I had been wanting to do, but was waiting for all the relevant insurance pieces to settle out first.  As of Tuesday, exactly 1 year later by date, that has been completed.  Interestingly, Tennessee is one of the very few states in the union that have only a 1-year statue of limitations on filing or processing claims or suits.
With that intro, I wanted to break down some of the pieces that may be of interest to everyone – should you find yourself in the same situation as I one day.  Keep in mind I'm not a lawyer, nor do I play one on TV.  My objective was not to sue anyone, so if that is your objective – you'd likely take very different steps. My objective was simple: Make me whole again.  Both in the medical sense, but also in the bike equipment sense.  In other words, I'm simple to please.
The First Few Days:
In the days after the crash, the majority of my time was spent either at the hospital/medical offices, or on the phone with medical offices.  I was fairly astounded at how long the lag times could be for things like MRI's and doctors appointments, due to the fact that I wasn't considered to be in danger of dropping dead (though, saying I got hit by a car did get me some sympathy in getting earlier appointments).  The key item here was getting those MRI's.
The first few offices were generally content with giving me a large pile of extra strength Advil and calling it a day.  It wasn't until the pain fully persisted for two weeks that I finally got a local doctor to take a deeper look and get an MRI lined up.  This of course required more paperwork and validation from insurance.  After the MRI came back, it was determined that I had micro-fractures in my femur causing my pain – this was now close to 3 weeks after the incident! The biggest lesson learned here may be obvious – but it's actually two parts.
Firstly, ensure you keep a log of every medical visit you have.  But more importantly – ensure that that medical office notes the time of the appointment.  Why is the time important?  See, when it comes time for the insurance company to reimburse you for lost work time it's critical to have that detail by signed by that medical office. Despite having entered my time in my employers time system, and approved by my manager, I did not have the exact appointment times with notes from each and every doctor.  Thus they would not cover the lost time associated with it.  Since I'm a consultant and bill hourly, this is lost time…and thus lost money.
In addition to the initial medical frenzy (I explain more in depth in that follow-up link a few days after the crash), you'll likely have a host of insurance related calls and probably a small bit of police related activity.  In may case, most of the issues centered around the insurance piece.  While the police had declared fault on the driver at the scene, the driver did not report the incident to his insurance company.  This actually caused me quite a few issues, as the driver insurance company (Allstate), couldn't proceed forward on taking ownership of the incident since the driver wouldn't respond to their requests.
(Side note: If you are the driver of a bicycle related incident – or really any incident – I highly suggest responding to your insurance company.  The driver in this case choose to ignore his insurance company for over a week.  Everything from calls to couriers to messengers, ignored.  He just pretended the incident never happened, never even reported it.  That rather ticked them off.  Not a good place to be in.  Just sayin'.)
Once you've got a open communication channel going with the drivers insurance company, you're more or less set for the immediate future.
Medical Bills and Insurance Battles:
First up was the medical bills.  In my case I had initially provided my BlueCross Medical Coverage for all initial medical visits.  My employers coverage is typically excellent, and thus by the recommendation of everyone involved I just gave my health insurance card initially and then would let the at fault drivers auto coverage sort out re-imbursement later.
This worked rather well for the first month or so.  Then it all somewhat fell apart.  See, BlueCross decided that since the incident occurred on a roadway with a car involved, that my auto insurance coverage should actually take precedence.  They essentially wanted my Allstate Auto Coverage (ironically, the same as the at fault driver) to cover any and all costs of the incident – merely because a vehicle was involved.  This despite the fact that I wasn't driving.
I argued: What if I didn't have a car?
They said in that case they'd happily cover it, but since I did have a car with auto insurance, I had to get my Allstate Auto Insurance to cover it.  Of course, when I rang up Allstate, they said that while they could 'entertain' the concept of covering it – ultimately my coverage would only go up to $1,000 since I wasn't driving, nor was my car involved.  And that's even if they accepted the claim, which they said they likely wouldn't.  Further, they said this would actually hurt my driving record with them, causing my insurance premiums to increase – despite the fact that I was neither at fault, nor even in a car.
Being the persistent one that I am, I fought this for months.  Eventually the only resolution was not paying anyone.  I had to wait until the at fault drivers insurance piece would reimburse me the cost of the medical bills.  And I couldn't do that until I was certain there would be no further medical bills This wasn't ideal for anyone.
Had I been very seriously injured – this could have been substantial, in my case, my medical bills were low enough that I was pretty much able to keep it in limbo, but that was hardly ideal. While in theory the at fault drivers insurance could have become primary for the bills, in reality none of those details are available when you're in a hospital after the crash ringing up bills.  Down the road, yes.  Initially, no.
As noted above – the biggest lesson learned here is to stand your ground with your insurance provider.  The second item is to keep copies of all your medical bills, and scan them in to your computer.  This is critical when afterwards they need to reimburse you.

Additionally, I kept a record of every medical bill in an Excel spreadsheet, to be able to easily reference.  Also, I kept track of who had paid – if anyone.

This made life so much easier later on, having an easy to reference folder in my computer full of scanned invoices, lined up to the Excel sheet.
Equipment Replacement (aka: I'm getting a new bike!):
For most of you here, the next biggest item is: But my bike is crushed! In my case, my carbon race wheels were visibly cracked and crumpled, and my bike frame was deemed to be in need of replacement.
Since I had a Cervelo bike, the process was actually fairly straightforward.  I merely went to my local bike shop that I bought the bike through, and they pretty much took care of everything.  Cervelo has a bike replacement program for crashes that offers a decent discount on replacement (though, cost wasn't an issue since the at fault driver was paying for any/all replacement at face value).
They specifically note certain crash scenarios in the form that this covers, though I don't have a copy of it.  It's a standard form that all of their official dealers have. In my case, I was adamant that the bike frame be replaced.
Had I ever wanted to resell the bike, I'd otherwise have to declare that not only had it been in a crash – but had crashed with a car.  Cervelo's policy is simply replacement when any motor vehicle is involved, so I didn't have to push much at all.  In the case of carbon frames, where structural damage can be unseen, I didn't want to take any chances.  I didn't want to be screaming down a hill at 50+MPH and have the bike simply snap on a bump due to an unseen crack.  It just wasn't worth my life to take that chance.
Outside of the bike, keep in mind there are other items that you may not immediately consider:
1) Wheels
2) Tires (in my case, these were $90 each)
3) New Helmet I was fairly lucky in that the above was pretty much it, aside from the bike itself.
Oh, and I charged for the tire glue too. 🙂

Remember that once you crash with your helmet, you must replace it.  In my case, that meant a new aero helmet – but regardless of how it may look – you have to replace it for it to be functional next time. It should be noted that Allstate (at fault drivers insurance) did try and depreciate my bike, helmet and wheel costs (1 year old).  However, I pushed back significantly.
I reminded them they were getting off rather easily.  Had he seriously/significantly injured me, my costs could have been much higher than a measly few thousand to replace the bike.  The depreciation estimates were only a few hundred bucks lost, but it was the principal on it.  Needless to say, I won than battle. Finally, in my case, I paid out of pocket the differential cost to go ahead and change framesets slightly from my original P2C to a P3C instead.  You just need to work this out with your local bike shop, and they can take care of it for you.
Time away from work (Lost Wages):
As I alluded to early, insurance providers will cover time away from work.  But it turns out that this was something I didn't correctly document.  While I had documented it clearly with my employer, I didn't have 'Doctors notes' from each and every doctor documenting the time spent with them, as well as commuting time to their offices.  All time that took me away from work.
Ultimately, I was unable to get reimbursed for this time directly, which was a couple thousand dollars. As I noted above, my primary recommendation here is that in addition to keeping track of the exact times and hours in an Excel sheet, that you also request and scan in doctors notes from each and every visit.

While I'm guessing I probably could have continued to fight more for the time lost, it was ultimately costing me just as much time fighting for it as simply ignoring it.
'Pain and suffering':
Finally, last but not least, the mysterious 'pain and suffering' amount.  I didn't set out to make money off of getting hit by a car, so I wasn't one to try and milk this. Essentially, once you and the at fault driver determine that all medical bills are accounted for, as well as all property damage bills (equipment) and lost wages, they then determine an amount to give you for pain and suffering.
This number is derived using strange formulas that ultimately look at the total cost of the incident.  I had read quite a bit about this on the Internet, and the general consensus is that one could get up to three times the amount of the incident. Again, I didn't ask for anything – so I merely was curious what they'd be offering. Turns out, they offered a whopping $1,200.  This was actually less than the lost wages I had that they wouldn't reimburse me for.
My goal simply became to get the lost wages amount and call that my pain and suffering piece.  After a bit of negotiation, I got slightly closer, but realistically not much more than a few entry fees for local races. I fully recognize that had I had a lawyer, I would likely have been able to 'settle' for significantly more.  Well into the many tens of thousands of dollars more.
But again – that wasn't my goal.  I just wanted my bike replaced, my bones healed and my expenses reimbursed.  Simple as that.
USAT and Rev3 Considerations:
Some folks have asked what coverage USAT would have provided, given the incident occurred in a race.  This is because USAT carries insurance for any race participant on the day of the race, covering medical expenses related to an incident.  This insurance does carry a deductible that must be paid for by the participant, and is also secondary to any insurance the athlete already has.
Since my insurance was primary, it didn't make sense for me to pursue that avenue.  Thus, I can't speak to how that would have worked out in the long term. As for Rev3, they left a brief nice note on my race report post, but that's actually all I heard from them since race day.  I don't know if they ever filed an official incident form with USAT.
I do know however that they did utilize the emergency contact information I had listed, which was for my parents – my Mom specifically.  It was Mothers day, at 5AM West Coast time when she received the call.  Not quite the Mothers Day present she wanted to hear – since initially the only information passed was simply that I had been hit by a car,  with no further detail.
I also don't know if anything was changed this year at the Knoxville race to minimize the chance of the accident occurring again (this being one of the very few intersections that was unmonitored).  I have nothing to say bad about the race and would do a Rev3 event in the future if it fit my schedule.
Summary:
Hopefully you found this useful.  As I said at the beginning – this is simply my story of the post-event pieces.  It doesn't mean it was handled perfectly, nor does it mean it was handled badly.  It was simply handled the way it was.
The purpose of the post was merely to offer a glimpse of the process, primarily related to the insurance pieces.  Had I been more seriously injured, I probably would have focused on that more.  And had I had other goals in mind (a huge settlement), then clearly I would have had hired a lawyer.  But in my case, I just wanted to be whole again…and to simply get back to racing.
From a riding perspective, I can't honestly say I've changed much.  I've always been incredibly cautious about cars out on the roads.  You just have to pay attention to each and every car – no matter how far ahead they are.
In the case of the incident, the car had stopped at his stop sign (I had none) and waited so I could only assume he had planned to wait until after I passed.  His last second decision to challenge me simply wasn't something I could counter in a race environment.
As always, my only word of advice is always to be aware of everything around you, especially near stop signs and intersections.  In training I make a point of always sitting up and slowing a bit when I come to intersections, driveways or yield signs.  Increasing visibility is key. I'm hugely thankful that I wasn't injured worse than I was, and just as thankful that I was able to make a relatively quick and complete recovery.
Hopefully if you find yourself in a similar situation, you'll find a speed recovery as well.
Thanks for reading!