Monday night when I stepped out of my door shortly after 5PM to start my long run, I simply stood there for probably a good 30 seconds…just trying to figure out which way I would run.  Some days I'm feelin' a particular route or direction, but other days I just can't decide.  This was one of those indecision days.  Like trying to decide between Chocolate Sprinkles or Oreo topping on ice cream.
I headed West first, for about 3-4 minutes, before deciding to go back East.  I wasn't really sure where I'd go – but I figured I'd mix it up a bit.  After a little over a mile I noticed a few walkers heading off on a grass route that sliced away from the road.  I had always wondered how far that went – 100 yards, 1,000 yards, forever?  Either way, I set to find out.
Regrettably, about 150 yards later, I found it went basically just to the next cross street, and ended there.  It was nothing more than a short cut for local residents.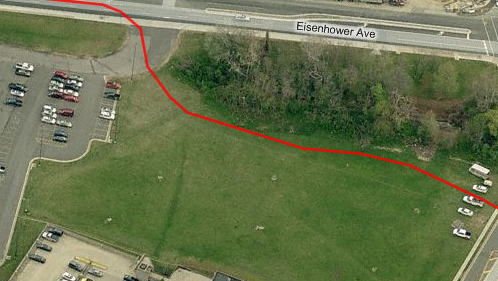 After this minor setback I realized that I'd been long since meaning to try and find what appeared to be a magical route that parallels the highway – ultimately getting me to the Woodrow Wilson Bridge faster and over to Maryland.  I knew that no formal bike route/path existed, but I had seen many little bits and pieces of trails that I thought might work.  Ultimately, it would look sorta like this if possible: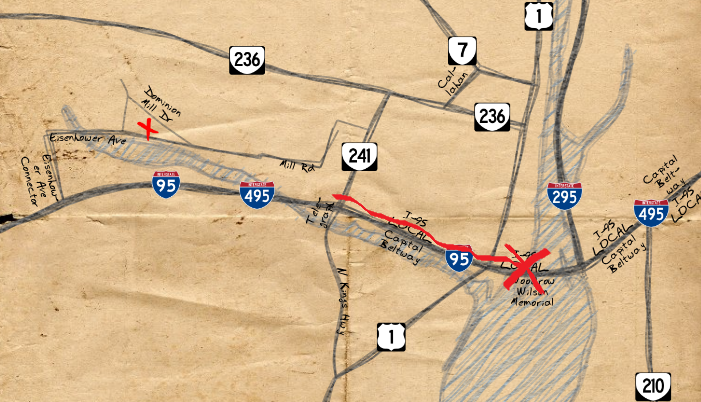 P.S. – Yes, I made a treasure map.  Pretty cool, huh?
So the first attempt was a small fail.  But no worries, there'd be more opportunities for success.
With the second attempt just around the corner I had a chance to redeem myself, to become the next Lewis and Clark. Yet it too resulted in just a big loop-de-loop on my run.  Large fences needlessly blockaded the different property pieces – making it impossible for passage.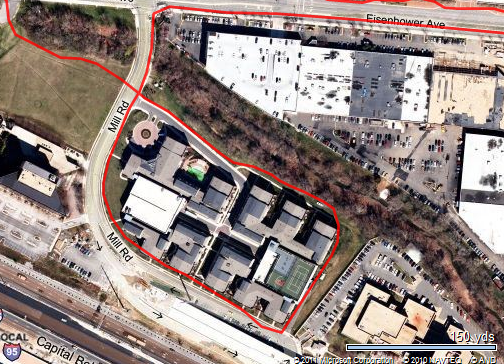 A few minutes later, I once again made another attempt down a road that had potential, but it too proved to be nothing more than another loop-de-loop around some newly built condos (and not even any good porta-potties either, to stash away for later use).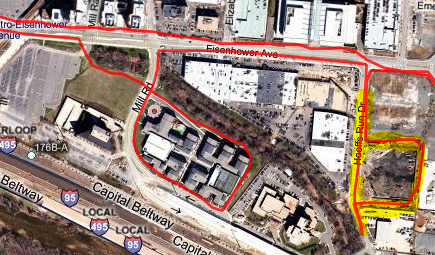 Getting a bit discouraged, I reminded myself that like all great explorers of previous passages, there were certainly some hard times bound to be had.  And I figured it was unlikely that I'd get botulism – such as was the case for Sir John Franklin's crew.  And I'd certainly be able to avoid cannibalism, given it was just myself (also attributed to Sir John Franklin's motley crew).
So onwards I trekked.  My next attempt was a very short lived fail, as it ended right away with a bunch of signage basically saying I'd die if I went any closer to the treatment plant.  Or something like that.  Either way, I wasn't messing with large rivers of crap.  I prefer to leave that for the Potomac River swim in the Nation's Triathlon.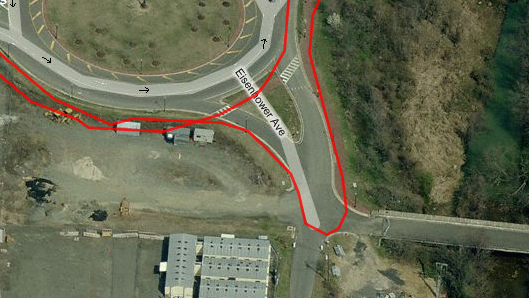 At this point my passage attempt was largely over – since now I'd have to go the long way around the National Cemetery, Private Cemetery and connected housing.  But I figured that perhaps the secret was approaching it from the other side.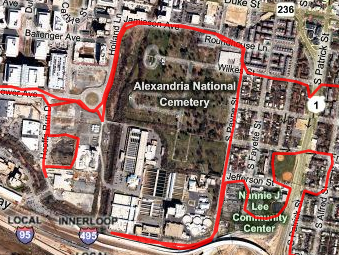 After looping all the way around I headed back towards the highway, certain that I'd find something.  And I did!  I found myself what looked to be a real trail!  It had nice new pavement, about the size of a typical bike trail.  Perfect!  It was like I was ordained to be an Explorer after all: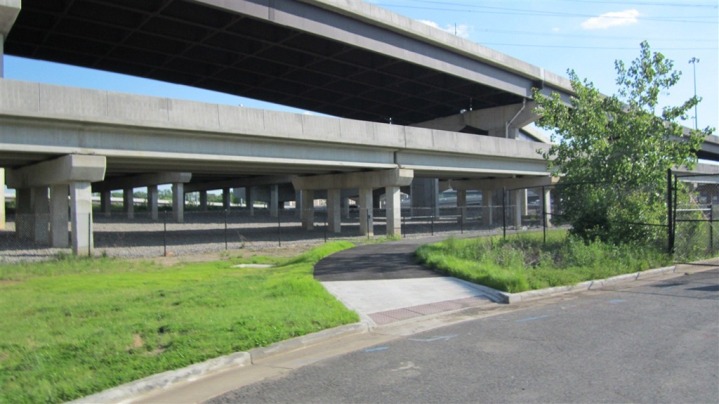 Along the little trail I went, as it seemed to go as far as I could see.  Now, it did slightly concern me that there were no signs along it.  But hey – nobody would build a trail like this without reason, right?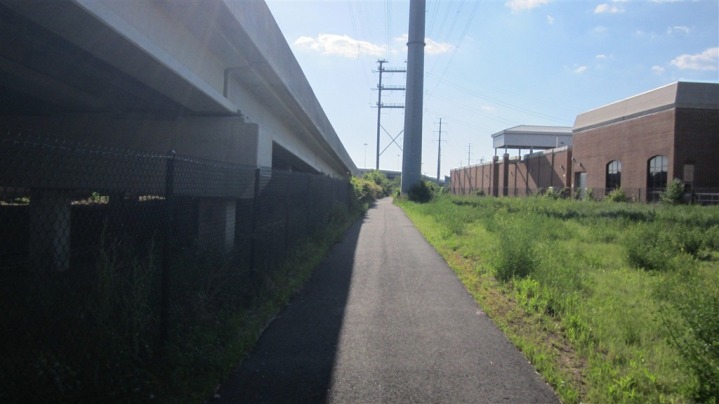 Turns out, I negated to consider this could be a government funded trail, in which most logic should be tossed out the window.  I noticed it seemed as though the trail went into the brush a bit – perhaps making a turn.  This would have been ideal – as after all, I needed this to connect somehow to roads slightly off to the side.
Turns out though, the brush…was simply just obscuring the chain link fencing: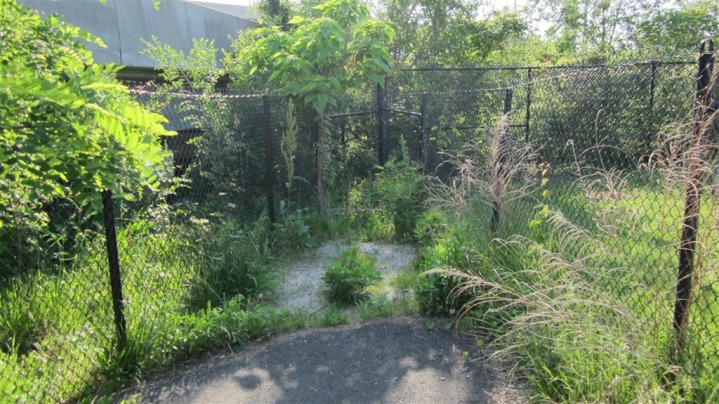 Yes, the trail actually ends in a small wedge of a fence.  Someone spent the money to pave a path to nowhere, with no signage, next to the busiest highway in the country…and decided to simply just give up and end it there with a fence wedge.  Like a slice of pizza, except without the pepperoni.
Again, onwards I went.
Soon I came across the Great Wall of Virginia – another place I could not cross: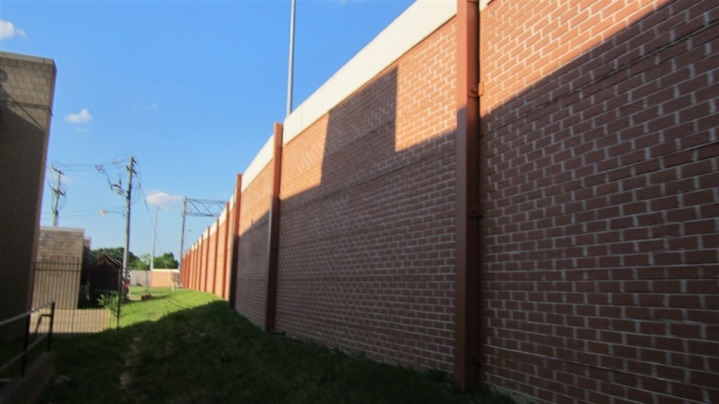 And after many more attempts that I'll save you, it became clear that I was simply at the bridge to Maryland.  There was no more opportunity for short cuts, as my expedition for a shortcut to the bridge was essentially over. And all I got out of it was one lousy sighting of a leftover children's Flintstones style car abandoned in the swamplands near the highway.  It didn't even have one of those nifty orange roofs either.  I remember those growing up.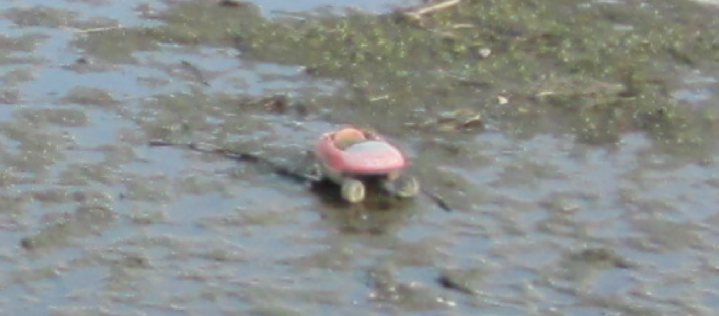 On the bright side, while my inner Explorer will have to return another day, my inner runner was quite efficient.  I knocked out 16.3 miles in 2 hours at a mid-Z2 HR, leaving me at a 7:24/mile for the run.  Had it been a half-marathon, I crossed that threshold in about the 1:36 marker – so quite happy there.
Now I just need to wrap that pace up in a little bow, and take it with me 32 days from now for Boise 70.3.  Oh, and attach a 56 mile bike to the front.  And that swim thing too.  Simple enough, right?