You've just completed your out and back bike ride out on the flatlands of Florida, yet your GPS device is telling you that you went out and climbed the rocky mountains.  Why is that you ask?  Well, the answer is…it depends.
Outside of 'Why is my HR strap acting erratic", the next most asked question I get is 'Why is my elevation chart all dorked up?'  Thus…this post.
In order to explain that though in something other than a one-liner, I'm going to dive into the two different type of athletic devices that measure elevation out there, and what causes issues with each of those.  Then I'll talk about how to fix it (good news: it's easy).  Don't worry, I've tried to keep it all pretty easy to understand – despite the fact that behind the scenes the math is actually pretty hairy.
Types of sport devices
GPS based altimeters:
The most common type of altimeter found in consumer grade fitness devices today is one based on GPS coordinates.  This includes units such as the Garmin Forerunner series (305/405/310XT/110), but this doesn't include most of the Edge based series, which I'll talk about in the next section.
In a GPS-based altimeter, the unit uses a whole crap-ton of math to determine exactly how high you are.  Without getting into all the details, elevation is determined by utilizing the simple GPS coordinates and a known value called the 'reference ellipsoid' to determine your height about sea level, to varying degrees of accuracy.
The challenge here though is that with GPS altimeters there can be numerous inconsistencies introduced by a set of different sources.  First, is the base error rate within GPS itself – which horizontally is usually a few meters, but vertically is significantly more.  Then you add in any earth obstructions (buildings, trees, cows, etc…) that further increases the error rate.  Next, the reference ellipsoid can actually introduce further deviations.  Meaning, you could be standing at sea level, yet the reference ellipsoid may assume that that area has a deviation of –4 meters.  As you can see, this quickly starts to pile up, generating plenty of errors for even the simplest of out and back courses.  Note how upon closer inspection of the below graph, they aren't the same if split half-way, even though this was an out and back run course.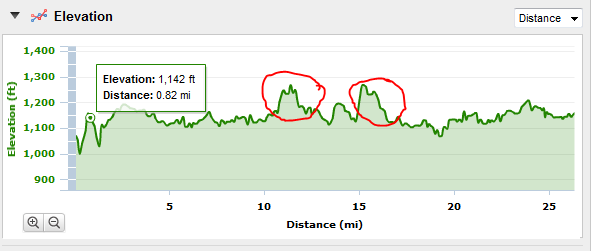 Now, for most sports applications this isn't a terribly huge issue.  It's not perfect, but it's functional.  In some sport applications like Skydiving or Hang gliding, the data comes out all wonky.  Before we get to the fixes though, let's go into the next type of devices.
Barometric Altimeters:
Compared to GPS-based altimeters, barometric altimeters are downright simple, mostly because they've been around for quite some time.  They utilize atmospheric pressure to determine your elevation.  As you go up, atmospheric pressure decreases, and based on that and a known calibration factor you can determine exactly how high above sea level you are.
Barometric altimeters from a sports standpoint tend to give you graphs that are 'shaped' correctly – meaning when you go up the graphs show an incline, and when you go down they show a decline.  The challenge though with barometric based devices is that the baseline altitude can sometimes be incorrect.  This is because normally barometric altimeters are calibrated off of a known barometric pressure reading.  In airplanes for example, this 'calibration factor' is constantly being tweaked as the pilot flies the plane.
Given you probably don't have air traffic control relaying the latest altimeter setting to you during you run, newer units utilize GPS-assisted altimeters that can establish a starting point using GPS.  Once that's established they then have the remainder of the elevation data recorded via the barometric altimeter onboard.  Sorta a checks and balances system.
In fact, the Edge 500 even goes a step further and allows you to set known elevations for various GPS points.  So for example, if you know your house is at 609 feet, then you can set it such that at that lat/long it will utilize your specified elevation as your default one.
From the Garmin line, it's the cycling devices that get the added love.  The Edge 500 and  Edge 705 use barometric altimeters.
In general, as a result elevation graphs from the Edge series of devices tend to be quite accurate.  And a good litmus test of that is when looking at any elevation chart where you start and end in the same place is to validate that your ascending and descending elevation are roughly the same, like the below: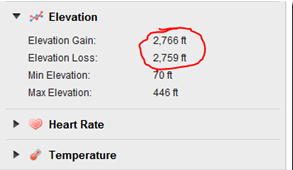 Elevation Correction Options:
The great news here is that over the past few years a number of software applications have stepped in to help 'fix' any bad data points that show up in your graphs.  This data is generated by various organizations, usually government in nature such as NASA and USGS, that has known elevation data for any given set of coordinates.  This data is typically generated using radar that's bounced off the earth's surface from satellites and then measured to determine exact elevation.  This is great for correcting any activities that are ground-based (running, cycling, etc…), but less ideal of course for correcting activities that are airborne (flying, skydiving).  Hence why those activities are typically done with barometric altimeters.
Garmin Connect:
By default Garmin Connect will now do elevation correction on all imported activities from devices that don't have a barometric altimeter, which is pretty cool.  What's even cooler is that you can turn it on or off as you see fit.

On the left hand side below your device type, you can see whether or not elevation correction is enabled for that given activity.  With it disabled, you'll see a bit of a different picture:

Note that Garmin Connect will automatically set the elevation correction to 'Disabled' for devices that have barometric altimeters, such as the Edge 500: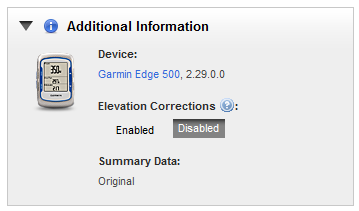 Sport Tracks:
Sport Tracks can do elevation correction via the elevation correction plug-in, which is available free.  I talk about this plug-in in my 'Top 10 plug-ins' post, but here's the skinny… After installation it'll go ahead and add a settings control panel for elevation correction: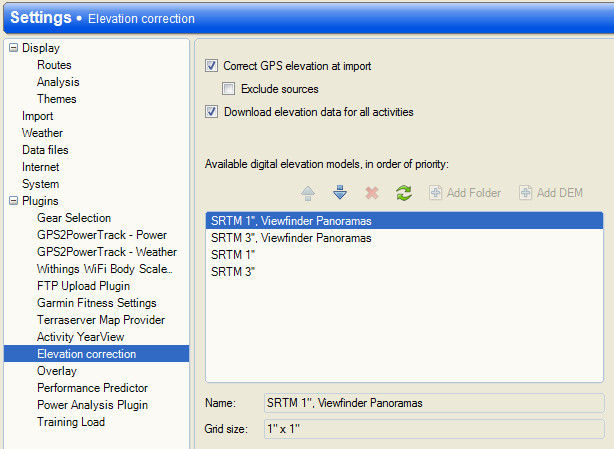 But you can largely ignore that once installed, as I have it set to simply correct all activities automatically, which makes it look like this:

And you can turn it off per-activity as well if you want to: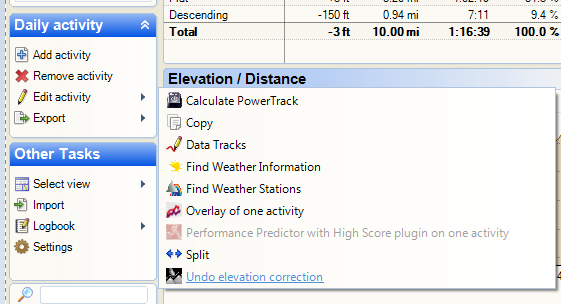 Simple, yet effective.
WKO+:
While Training Peaks online (TrainingPeaks.com) doesn't have elevation correction today, you can go ahead and utilize WKO+ to do elevation correction via a Training Peaks account.  Meaning, if you have a Training Peaks account, you can utilize that to access TP's online data store of elevation data from USGS: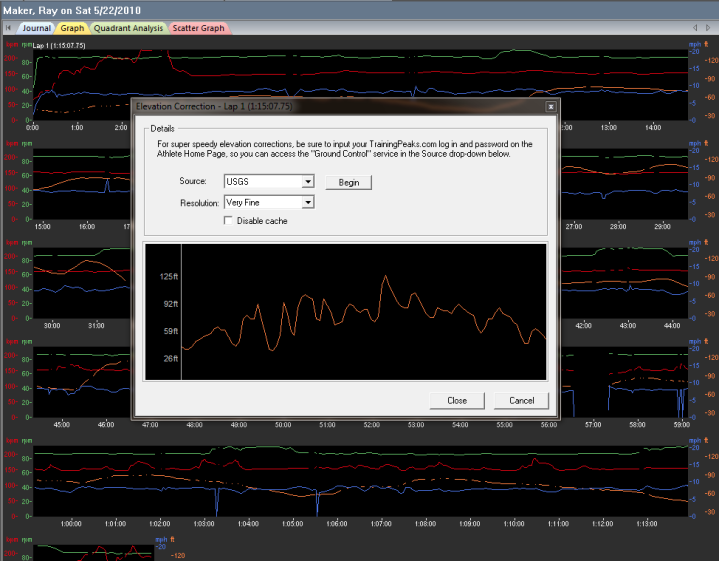 (Access via the Edit > Corrections menu)
In addition to the Garmin Connect, Sport Tracks and WKO+, numerous other sites do elevation correction as well – such as RunKeeper, MapMyRun/Bike, and Daily Mile.
Summary
So with that you now have the power to make all your elevation graphs look pretty (which is what really matters), and also understand exactly what's going on behind the scenes (less important).  In general, if you want the most accurate elevation data you can get, you're going to have to go with the Edge 500 or Edge 705 devices.  But if you want portability and versatility, you're probably better off sticking with the Forerunner line and then correcting the elevation later on the computer.
As an aside, if you found this post interesting – you'll probably find my giant stash of 'How to' and 'Why' type posts pretty interesting also.  They're all stashed away in my 'How to' section.