Most of you folks know I love Sports Tracks – I think it's hands down the best and most comprehensive sports activity management application out there today.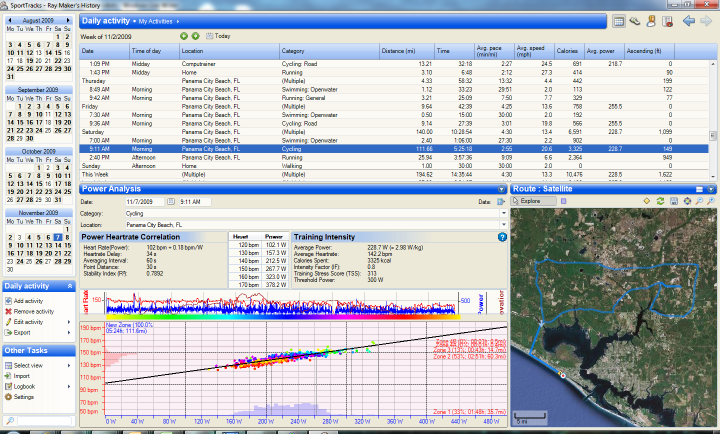 (The above uses the Power Analysis Plug-in)
Of course, making it better is that it's free and has a vibrant community of folks creating all sorts of cool (and occasionally whacky) add-ins.  Over the past few months I've had a few folks ask me to do a write-up on Sports Tracks.  While I could do a typical 'review', I decided it'd be more fun to simply pick my top features and go from there.
Oh – and here's the kicker.  EVERYTHING I show you below is free…100% completely and totally free, so – let's get on with it…
1) Support for more than just Garmin's.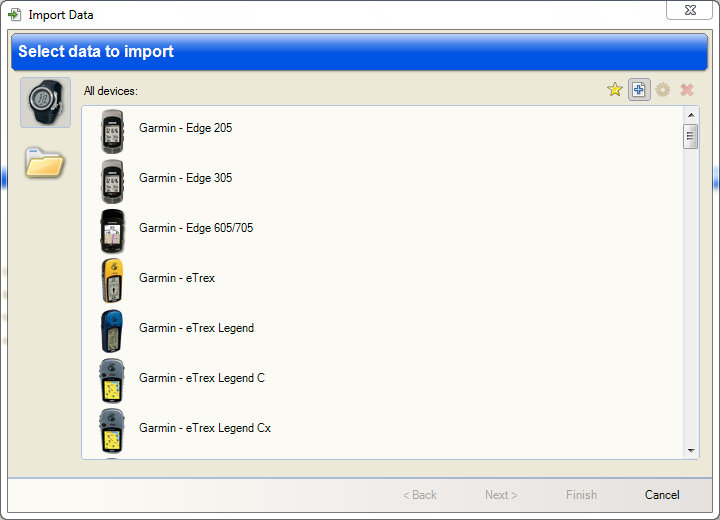 I think there's a perception out there that you need a Garmin device to use Sports Tracks – perhaps because looking at the data import screen above, you'd think it only supports Garmin's.  Not so.  In fact, it works just as well with just about anything you can image.  I use Sports Tracks with an old school Polar Watch that's downloadable, as well as importing in text files from a CompuTrainer.  You can download directly from some Polar's via a plug-in, and others you can import the files in.  Also, the Timex downloadable watches are support as well via a plug-in.  Same goes for the PowerTap and SRM files.  And of course, you can always simply manually enter in times, splits and anything else you want.  That's how I add my swim workouts, like below – including adding stuff like notes:

2) Tracking Equipment
If you run a lot, you probably go through a lot of shoes.  But one of the tricks is tracking how many miles your shoes have on them.  I used to use a simply Excel log, but since switching to Sports Tracks it pretty much takes care of it for me.  It auto-selects my shoe when I run and then simply totals the mileage.

It also tracks mileages for other pieces of equipment as well.  I could easily create a bunch of ancillary pieces like tires, chains, etc… if I wanted to – though that might get a bit cluttered.  I just track the biggies (Bikes/Shoes).  I can also note that an item is no longer in use as well.  I generally don't track wandering around town mileage (just on a simple non-tri bike) though since I'm lazy. 🙂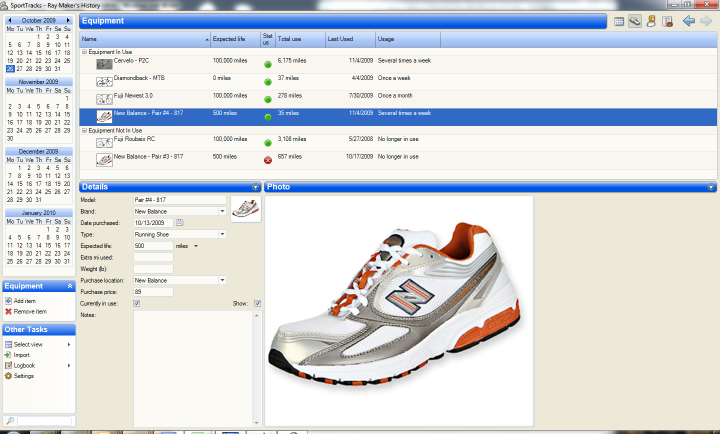 3) Elevation Correction Plug-in
For as long as this plug-in as been around, I've been raving about it.  Something so simple, yet so important.  See, most GPS devices in the sports market use GPS-based altimeters instead of barometric altimeters (as a random aside, the Edge 705 uses a barometric altimeter).  And for this particular GPS segment, the accuracy of GPS based altimeters is highly unreliable (in other segments such as military and aviation the quality can and is higher).  For example, let's look at an uncorrected run this past weekend (a multi-loop course with an initial/end out/back section) :

Given it's a loop course, you'd expect to see some similarities. But there aren't.  Now let's look at it auto-corrected using the Elevation Correction plug-in.  You can see below how the sections much more closely mirror each other.

The elevation correction plug-in uses SRTM data from NASA that has the known elevation of any given set of GPS coordinates.  Thus…real elevation.  You can download it (free) here.
4) Activity Reports: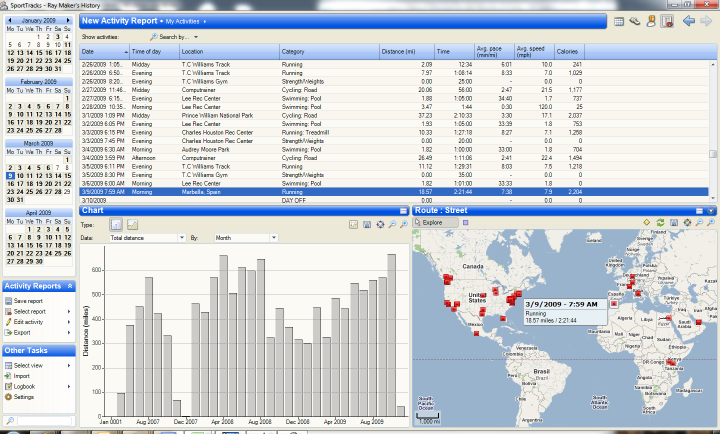 One thing that's kinda cool is this built in function within Sports Tracks to show you all the places you've done activities.  It then overlays it onto a map.
Further, on the left hand side it allows you to create charts and totals by week/activity, etc… A great way to see which months you may have slacked off, or to simply sort by week and see the various build phases of your program.
On a side note, a related free plug-in with displays all of the workouts in a calendar-esque format is available here.
5) Training Load Plug-in (TSS Plug-in)
One way many folks train is by utilizing TSS.  TSS is a methodology to help you define your training scheduled based on feedback from devices that in turn determine how taxed your body is.  You can read all about it here – and more detailed explanation here.
The TSS plug-in allows you to target a given race and then determine things like the best taper period, recovery, etc…  It's also a useful tool to see when you're potentially at your peak…or simply too fatigued.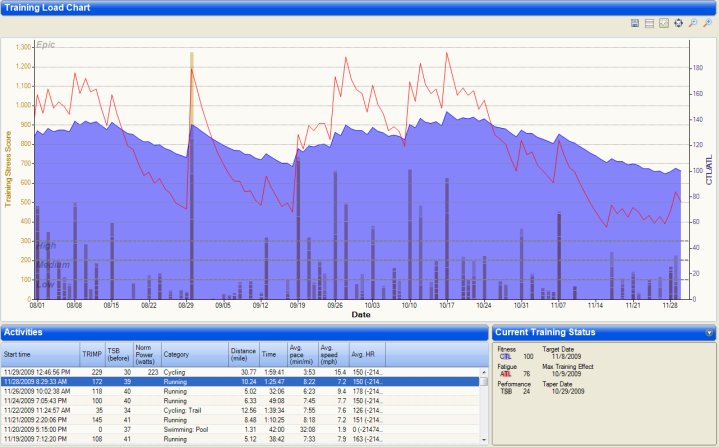 6) Creating Custom Sport Categories
One thing I do is track virtually everything.  Want to know how many times I rode my tri bike?  How about my mountain bike?  Perhaps how many times I've been in the weight room – or just working on  core strength?
Well, by default Sports Tracks has a few basic categories.  But you can actually modify those and create all new ones – either based on an existing category (like cycling) or something completely different (like Kayaking).
For example, below you can see I created a Downhill Skiing category to capture those activities, as well as one for ART – to capture how often the ART dude works his magic on my lack of flexibility.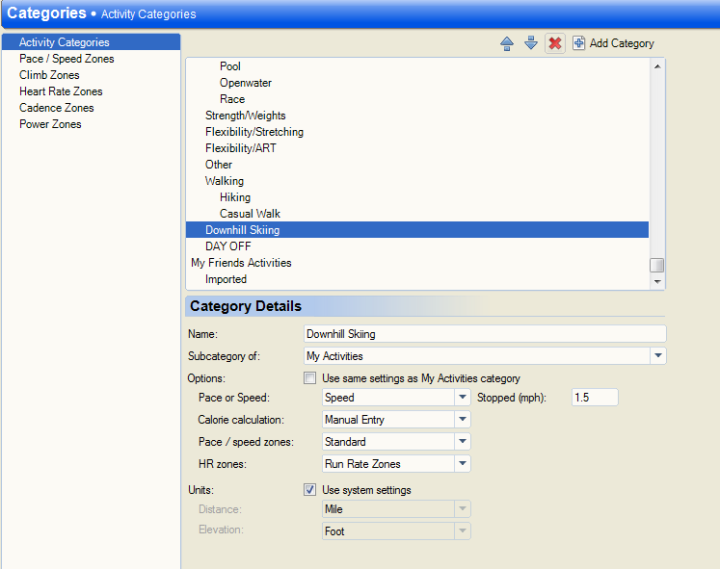 At the same time – you can also go in here and define custom Heart Rates.  After you've gone out and figured out your heart rate zones and training program, simply create as many different HR zones as you'd like and add them here.  Then they get automatically overlaid onto all the HR graphs in Sports Tracks.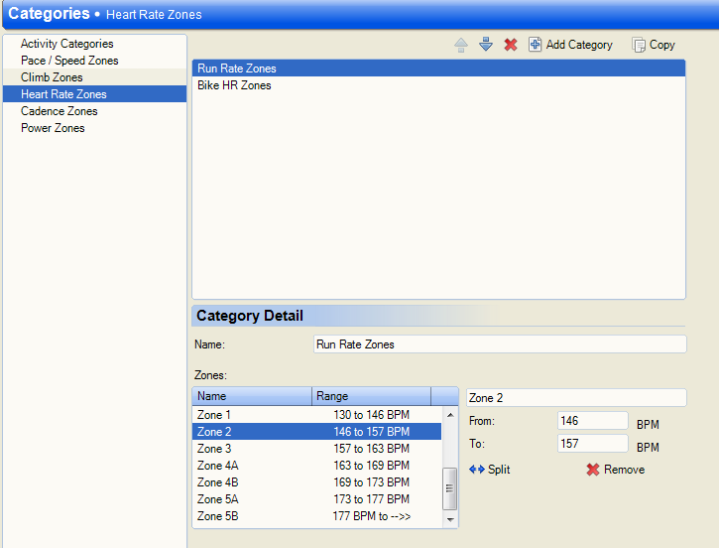 Note the above yellow highlighted section for the zone information.
7) Garmin Fitness Plug-in
Quickly becoming one of the most popular plug-ins, the Garmin Fitness Plug-in attempts to replace all of the functionality that's located within Garmin Training Center (GTC).  If you've read any of my Garmin device reviews (305/405/310XT/705), you'd know that I think GTC is a piece of garbage – and I'm pretty sure Garmin would actually agree with me given they haven't improved it functionally since earlier this decade.  But…it's required for basic operations like sending advanced workouts to your Garmin.
Behold though – the Garmin Fitness Plug-in – this allows you to create workouts, courses and anything else that floats your boat and send it to your Garmin device, all without GTC.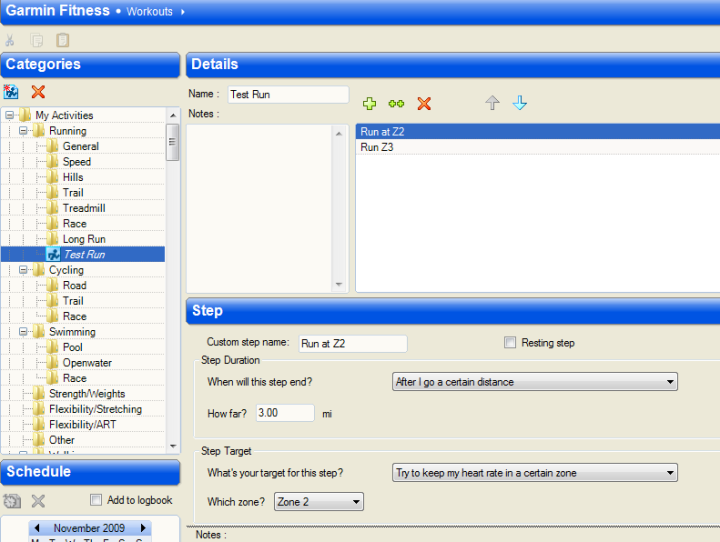 You can see above how you can create all of the workout steps just like in GTC – but instead, in Sports Tracks.  Then below you can see how you export it to your device.

Oh, and if you're not sure what I'm talking about when I'm talking about creating workouts in GTC – check out this post I did earlier for how to do it (as it's basically the same steps here as well).
Three Completely Whacky (but fun) plug-ins:
As a bonus cherry on top and just for fun, here's three plug-ins that I've downloaded at one point, but don't use very often.  That said, they are fun and entertaining in their own special snowflake kinda way:
8) Dobrou extensions
This one's pretty off the wall…but off the hook cool.  It allows you to do all sorts of crazy overlays based on your activities.  Those colors can be shaded based on HR, altitude, etc… you name it.  Below my ride on Skyline Drive is shaded on speed, which you can see varies based on the topography.  Fun stuff.  There's a TON more fun things you can do here, I highly recommend you click over to the plug-in's main page to check it out.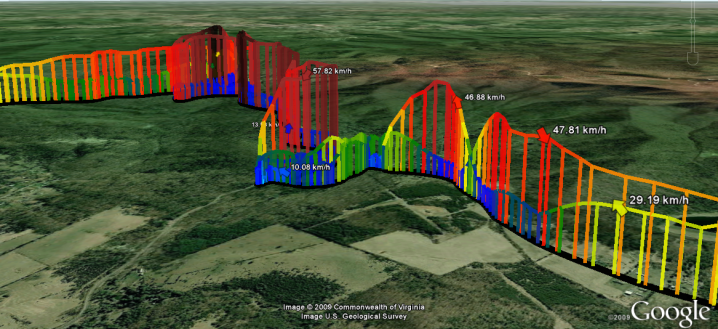 9) Gear Indicator Plug-in
A plug-in currently under development is one that determines exactly which gears your using on your bike based on cadence and speed information.  This is based on the concept that there are ideal gear ratio's and therefore you can actually calculate exactly what gear you were likely using.  For example, this site shows you how to select gear ratio's.
Now – the plug-in still needs some work, but it's a really cool glimpse into what's possible when a bunch of smart people with a lot of spare time on their hands get together.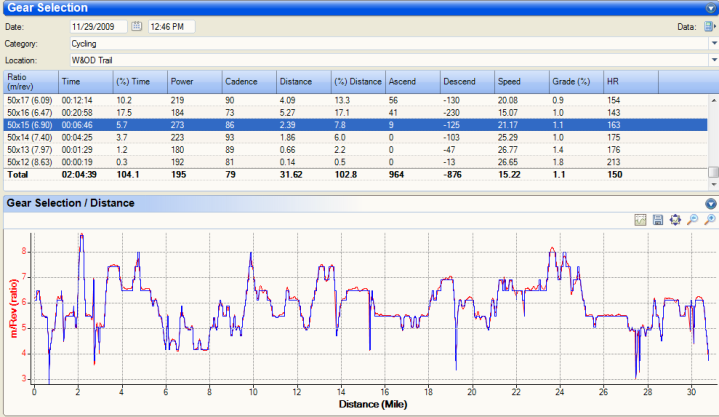 Check out more about it here – the download is on the 2nd page, here.
Oh – and now some of those same peeps are looking to use GPS-watches to determine your exact stride length at any point in time using simple run cadence and distance.  Pretty cool.
10) Performance Predictor
This is crazy cool.  The primary purpose of this plug-in is trying to predict other distance races based on past race performance (such as using a 10K time to predict a 5K time).  But it also does some really fun other stuff – like seeing the impact of weight changes on performance.
For example, below is my Philly 2008 Marathon where I went 2:54, and my weight at the time is listed there (unfortunately in Kilo's, but that's easy to convert) – so basically 166 pounds.  Now, if you go up or down the rows you can see what it would be based on changes to my weight.  This is based on the well accepted 2 seconds per mile per pound standard.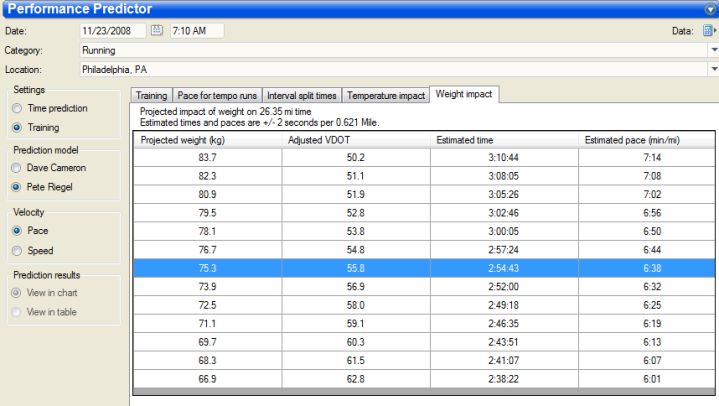 Hmm…now that Thanksgiving is over…the above little chart will be useful. 😉
It can also do the same thing with temperature.  But because my race was at 32*F – it wouldn't really matter if it got cooler, but getting hotter it certainly would: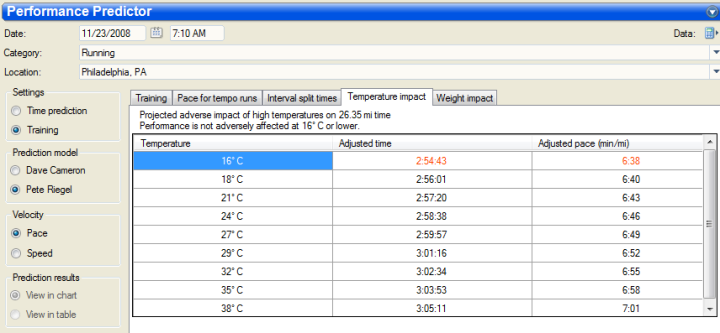 You can go download it here.
Wrap-up
Ok…that's all I've got. 🙂  Have fun!