A minor milestone passed back a few months ago that I forgot to note.  Well, I didn't exactly forget, it's just that it was right after Ironman Canada and right before Nation's Triathlon, so I didn't quite squeeze it in there.  Plus, I lacked the correct culinary objects like last year to adequately express my milestone.
Better late than never, right?  In the case of cupcakes…damn straight it is.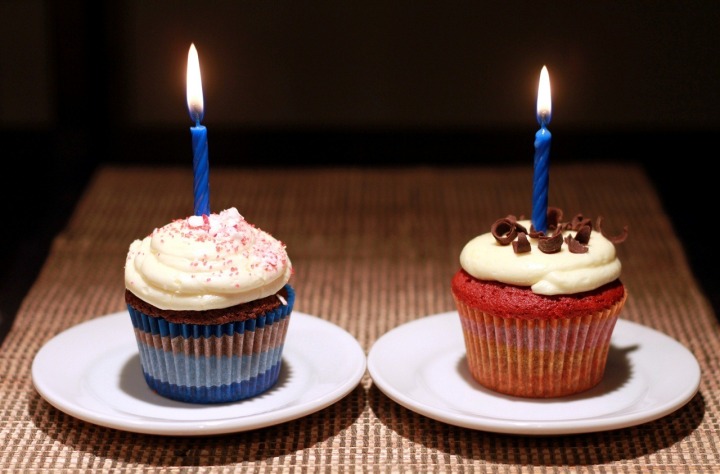 (Peppermint and Red Velvet cupcakes, from nearby bakery Buzz in Alexandria)
As of this past September, my little ole' blog turned 2 years old.  Since then I've somehow managed to write 428 posts about everything from Handling your Nuts to my Warmed Nuts to having dinner with the First Lady.  In the process I've had about a quarter of a million unique folks drop by to read about whatever random thoughts float through my head.  And in some cases, as a bonus item – it's even triathlon related!
I started it simply for me, with no real specific end-state or topic goal in mind.  And now, almost two years later – I'm not entirely sure I have a real specific end-state yet.  I just blog about whatever I feel like – my life I suppose.  From your perspective as readers it's probably like shaking a magic eight ball as to what the next post will be.  Sometimes you get hard core training, sometimes it's a product review, and sometimes you get cupcakes.
On any given day over 50 countries show up at my blogstep representin', with various former entities of the British Empire leading the way – US, Canada, UK, Australia – though I have strong showings from my Northern European and South American friends as well.  But apparently, I've managed to tick off the censors in China…as I have just about an equal number of visitors from Iran as China. :-/  My bad.
So, just for fun – here's a few of the more random posts I've done:
1) The Battle of Ben and Jerry Flavors (Bonus: Effects of eating a full container)
2) Accidentally punting a pigeon in front of the US Capitol while on a run
3) Ironman Registration Slumber Party (my second ever post actually)
5) Having my laptop fly off the top of my car (and other associated fails)
Though, there are plenty of hidden nuggets in the 418 remaining other posts out there…especially for all you long time readers.
So, to all who have dropped by, subscribed or posted a comment – Thanks! – I appreciate it.  I hope I can keep on finding interesting things to write about, but based on what I can see in my little (occasionally flickering) crystal ball – we've got all sorts of fun coming up ahead of us.
Thanks for reading!
-Ray