I'm a bit belated in this post.  Despite being in both 'recovery' and 'taper' mode at the same time, life has become busy.  Which is good, I enjoy busy.
But last Wednesday marked a minor little footnote in my blog: My first year has passed (no, not like a kidney stone – more like whirlwind).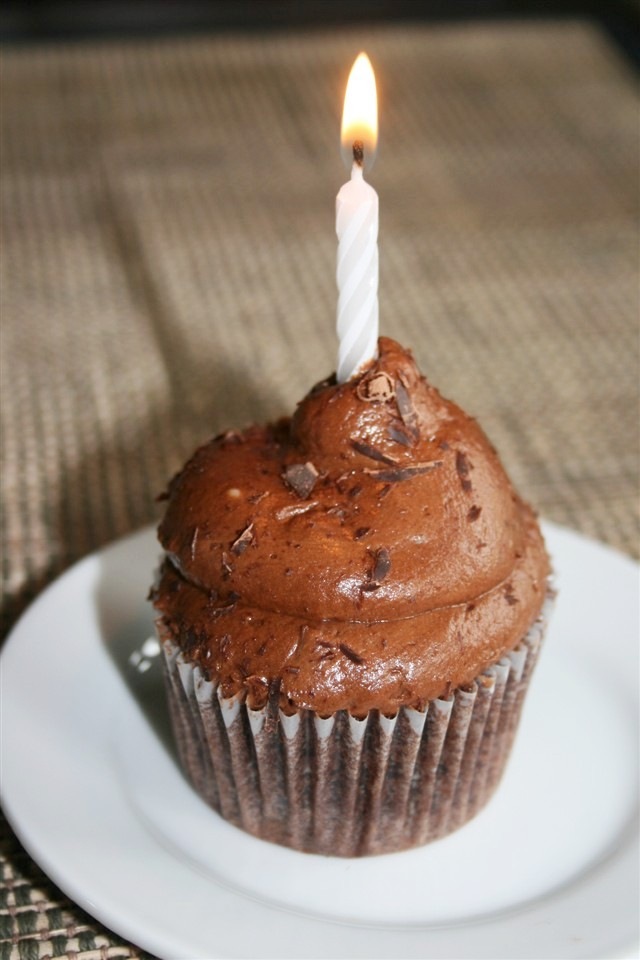 (A cupcake I got today at the newly opened Lavender Moon Cupcakery, which fellow tri blogger Lindsey reviewed last week; I took this photo later on this afternoon at home)
I first posted shortly after registering for Ironman Canada last year, mostly as a way to pass newfound extra time in my life.  Little did I realize how much time this whole blogging endeavor takes!  I posted 211 times in the first year.  I started off with slightly more posts per week, but have slowed down a bit and settled on roughly 3-4 times a week.
However, the actual posting is the least of my time consumption activities.  Despite most posts taking about an hour to write, resize photos or videos and get everything all cleaned up (yet I still suck at writing),  it's the reading and commenting that's the bear!  I follow over 90 blogs in Google Reader, and then another 141 in another reader.  Of course, some of those are sparingly updated, and I only comment on a subset of all of them.  They range the gamut of topics too, sports, aviation, food, travel, technology and a few other random things.
Aside from learning all sorts of new and interesting things – the coolest part about the blogging is how many people I've met and friends I've made!
I've met people at races in porta-potty lines for just a few mins, only to have them find me on the web without any contact information.  I've had folks that were in my same transition rack at a race find me weeks or even months later.  I've met in person numerous folks, both in DC and around the US, even Canada!  Fun fun!
Like most folks, I didn't step into blogging right away.  I lurked on people's blogs for at least a year before ever making my first post; never commenting once.  In fact, that about matches what I see – only about 5% of my daily 'readership' ever posts a comment.  But commenting is a funny thing, many interesting and strange cliques.  Everyone has all sorts of whacky internal mental rules for commenting, it's kinda entertaining to try and figure out peoples commenting patterns or techniques.
I've also found I can write two different types of posts – those which attract high numbers of comments (like race reports) – and then those that receive high numbers of 'hits'.  The difference?  Content.  For example, my review of the Garmin 305 still accounts for 30% of my daily hits on this blog, almost a year later.  Although probably because it's the 3rd Google link when you search for "Garmin Forerunner 305".
But honestly, it's all the in between posts that I prefer to write.  The ones that are simply random snippets of my training, my day, and my life.  Onward…