Monday marked a return to the norm.  The ever constant and cyclic training regime: Swim, Bike, Run, Rinse, Repeat (actually, there are many rinses, fear not).  Except, the cool thing is that since I've got a race on Sunday (Nation's Tri) we're back into Big Brickin mode.
So what has that entailed thus far?
Monday:
Technically my 'rest day', but Monday was all about the pool.  After 1,000 yards of 'warm up' and addressing technique issues, it was time to get into 4×500's, descending (which means you get faster each set).  All in all, I did about 3,000 some odd yards in a little under an hour including 2 minutes rest between the sets.
Tuesday:
And this is where the fun begins.  I LOVE BRICK WEEKS!  These weeks occur anytime before a race, and involve numerous short and high intensity bike/run bricks.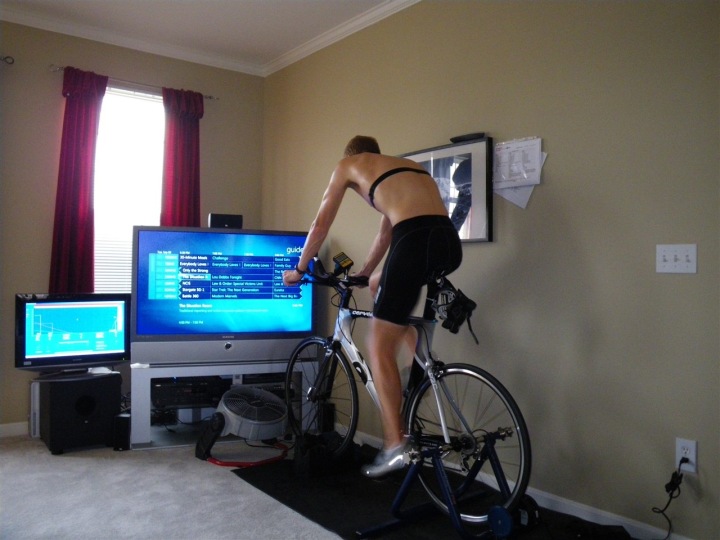 (Note, I polled two fellow bloggers regarding whether to use the shirted, or shirtless photo – and I was told shirtless – so you can thank both of the blogger ladies.  Sorry guys, I have nothing for you.  I don't normally ride with a shirt on my trainer in my own house because then it means more laundry to do…anyway…)
The bike was about 45 minutes worth of awesome fun:
:10 warm up > 100
:01 Z2 @ 105 rpm
:01 Z2 @ 110 rpm
:01 Z2 @ 115 rpm
:01 Z2 @ 120 rpm
:01 Z2 @ 125 rpm
:05 Z2 @ 95 rpm
2 x (:05 Z4a @ 95 rpm with :02 easy spin between intervals)
:02 easy
:05 Z4b @ 95 rpm
:05 easy
You can pretty clearly see the intervals sets below (each line represents 15 minutes) and the lower dips are the 2 minute rests.  For all the intervals, I was able to keep the HR's within the specified zones at about 310-330watts.  Which is just slightly below pre-Ironman levels by about 10w.  Not bad though for my first high intensity bike trainer workout since Ironman.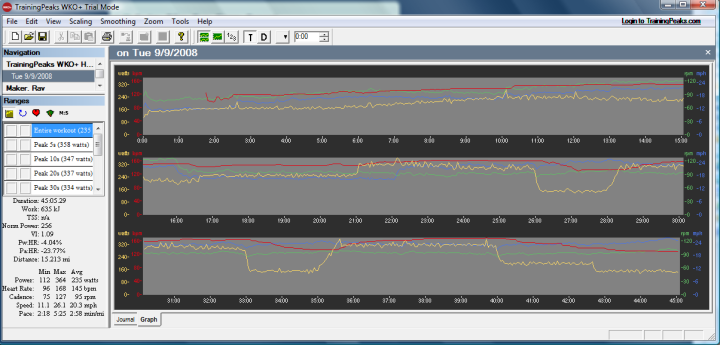 Oh…but this fun wasn't over yet.  We gots a run to do!  And the runs are fun; my favorite!.  They are slowly increasing in HR, and thus slowly increasing in pace.
(I stuck a camera in my window and took a photo, I was pretty amazed I got it right on the first shot.  Actually, I'll be honest – I was really dumbfounded.)
The only bummer with the brick tempo runs is I can never quite go all out.  I have to keep it 'in zone', so while I SOOO WANTED to break it out and go sub-6…I wasn't allowed. 🙁
Run HR Zones

:05 Z2
:05 Z3
:05 Z4a
:05 Z4b
:05 Cool down

It's funny how you can so clearly see where I start my cool down right at the 20 minute marker.  Although – when I hit 25 mins (my end), I did have to make a little secondary off-the-clock loop around the neighborhood because there was an incredibly hot runner chick that ran by and I hadn't seen her before (Hey, I'm single – what do you expect!).
Oh, and I brought the little Garmin Edge 705 with me just for fun.  Sure it's meant for the bike, but I was curious if you could run with it.  Yup, no problems at all.  And both it and the 305 gave EXACTLY the same numbers.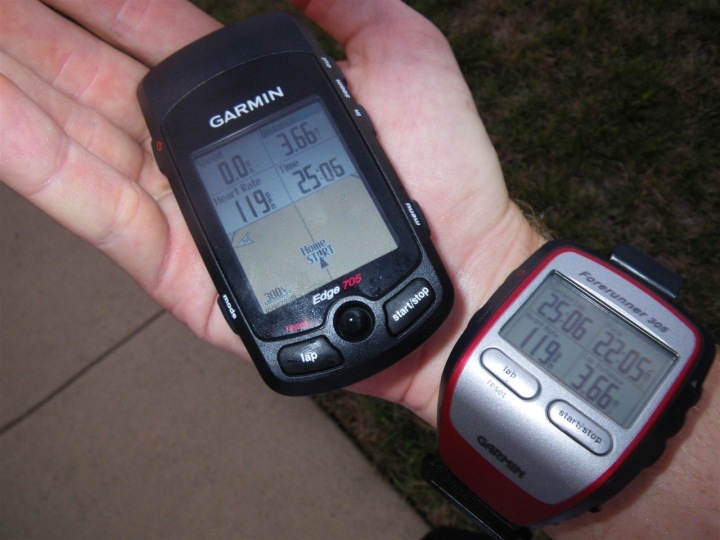 Wednesday:
Back into the pool we go.  Tonight we shortened it up a bit and kept the 'warm-up'/technique portion to just 1000 yards.  And then only 2×500's.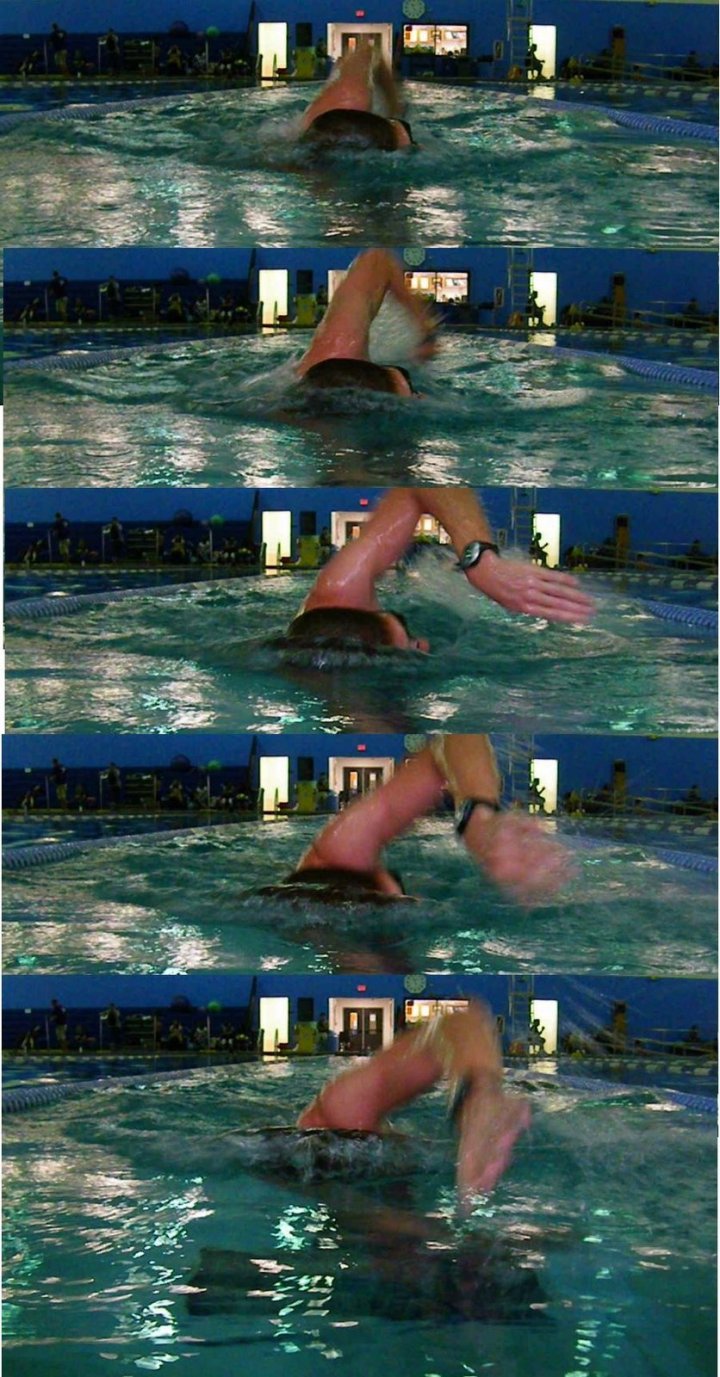 (I had my little underwater camera at the end of the lane for fun, recording video.  The above is a few frames before I made the turn at the wall.  At least my arm and elbow are in closer and my breathing water line is nice and low, but my hand is whacky-ass)
On the first 50 I went 37 seconds…and at the midway point of the first 500 I was at 3:30 on the dot, so I thought I stood a reasonable chance of going sub-7.  But alas…I lost steam and ended up with a 7:11. 🙁  That's the fastest I've been in months since re-focusing on long-distance as opposed to sprints.  But I got some whacky idea in my head after seeing the split that I could make it sub-7.
The next 500 wasn't any better, despite the fact they were supposed to be descending (aka..faster). Double-frowny-face.
Onward…another brick awaits tomorrow!  Yippee!