I'm tired.
I started off the day with a 22 mile ride down to a river/park south of DC to watch some friends in a rowing (crew?) competition.  It's a bit of an interesting sport in theory.  Very similar I think to watching golf…except…slower?  You only get to see the athletes for a brief second when they come around the bend and hit the finish line.  But – they're about 200 yards away, so you really can't make out anyone's face.  These races were in time trial format – so it wasn't so much a drag race between the boats as it was a massive conga line.  Nonetheless, good stuff and I got solidly lost on the bike trying to get there, so it made for an interesting ride.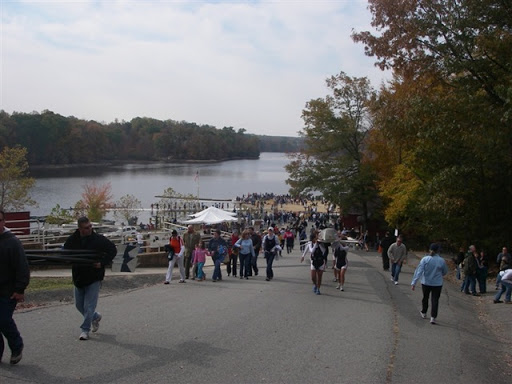 Then I biked back towards home another 20 miles to a local high school track to do my interval workout for today.  It seemed like a very logical plan.  The high school was on my way, and I had my shoes in my bag anyway's – so why not just stop along the way and get them done?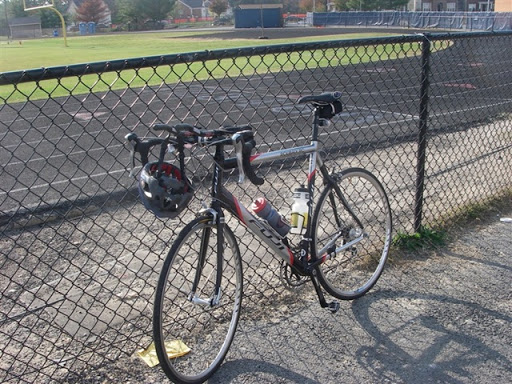 Umm, about 25 feet into my first warm-up lap I remembered why.  I'm sure everyone here is familiar with brick workouts and the initial 'fun' when you transition to the run and your legs feel like crap.  Well…same applied here.  Except my legs simply weren't going to get that much faster anytime soon.  I wanted to quit right then and there – simply pack it in and go home, come out a few hours later and do them.  I declared it was time for a water break! After a few minutes I went back out to try a few more warm-up laps, following which I was feeling much better and ready to kick it into action. 
My goal was 80 seconds per 400m – or equal to a 5:20/mile pace.  I changed my goal pace times from my previously published schedule because I think I made them 'too easy' initially.  I followed some guidance from a running calculator to try and get a better idea what pace I should be doing my intervals at.  Here's the results of my first Brickerval (Brick + Intervals):
Warmup Run
Goal per 400: 1:20
Lap 1: 1:20
Lap 2: 1:19
Lap 3: 1:19
Lap 4: 1:17
Lap 5: 1:18
Lap 6: 1:17
Lap 7: 1:17
Lap 8: 1:20
Lap 9: 1:17
Lap 10: 1:15
Cool Down Run
Overall I hit my marks, which I'm happy about.  I then biked the remaining few miles back home.  Made the mid-day lunch of champions – (Kraft American Cheese Singles on Wonderbread, via a Grilled Cheese Sandwich) – and then it was off to the pool.  Got a nice 1700 yards in to round out the day (plus Jacuzzi time!).
So yeah, I'm tired now.  It gives me time to catchup on my recorded TV shows tonight.  I just finished watching the NYC Marathon (condensed 60 minute version), good stuff.  Got some Mythbusters action next, and then either one of a gazillion CSI's that I'm backlogged on, or the PBS Marathon special from earlier this week.