Tonight I handled a lot of peoples nuts.  Thousands of them…and it was spectacular!
Tonight Rob and I pitched in and helped with the National Marathon and Half Marathon setup.  This is the same race we're both running on Saturday (the half).  We had signed up a few weeks ago as volunteers.  One thing I really liked about their system is this super elaborate page where you can signup for exactly what you want to do and the precise hours you can do it.  So we both picked tonight, from 6-8PM and then from 8-10PM.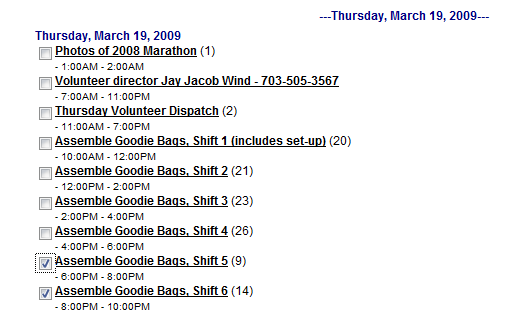 (note, they still need volunteers for Saturday, so check out the link above!)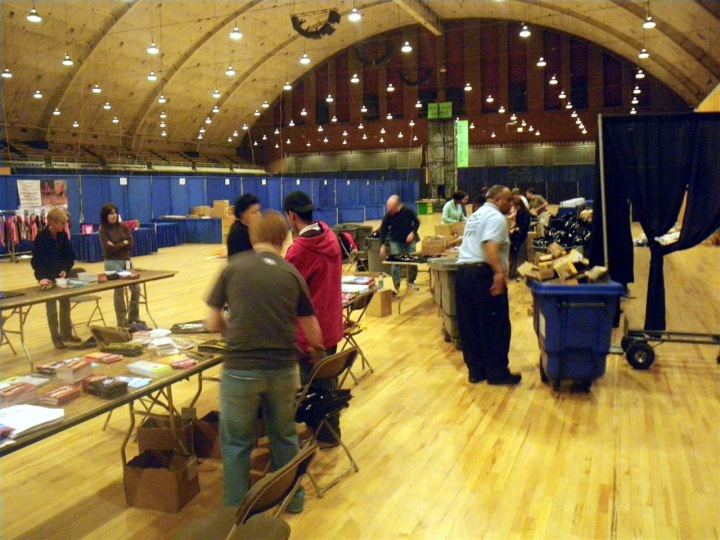 Anyway, our job tonight was packing goodie bags.  And in particular, I was stationed directly in front of my nuts.  Well, a large box of nuts that were effectively mine.  We're talking thousands of nuts.  To my run was a gazillion energy beans.  And my left I had hand wipes, deodorant and AA batteries.
But first, some poor sucker had to fill the bag with a bunch of paper stuffs.  Thankfully, we were not that sucker.  They were the table next door….and we occasionally taunted them.  Because.we.could.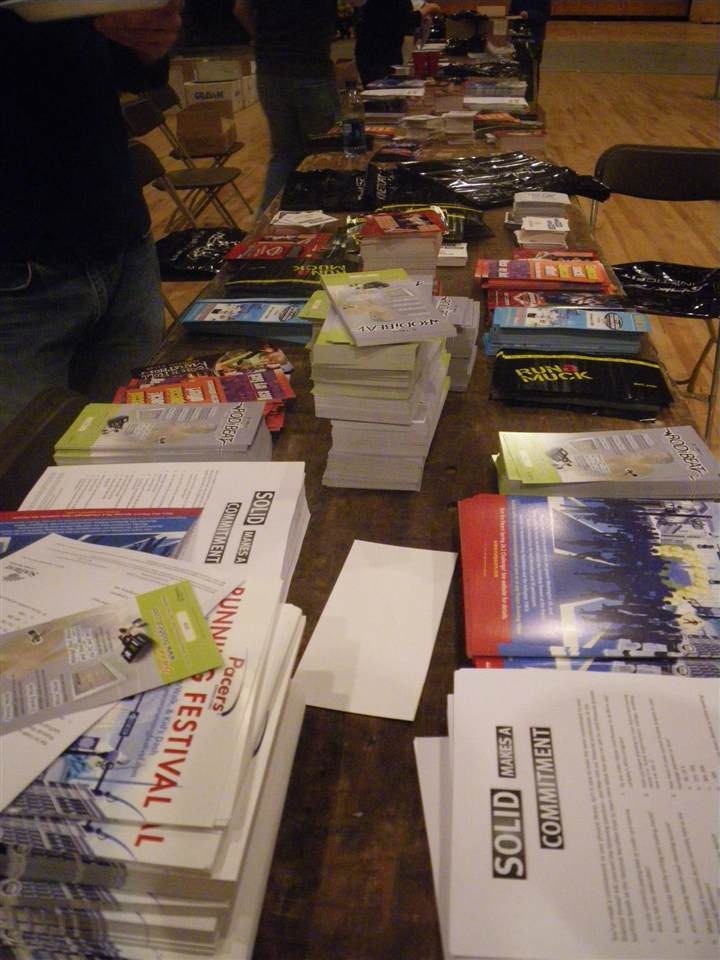 Once the paper-pushers they got their 'stuff' together, they'd dump the bags on our table, and I'd get to handle your nuts.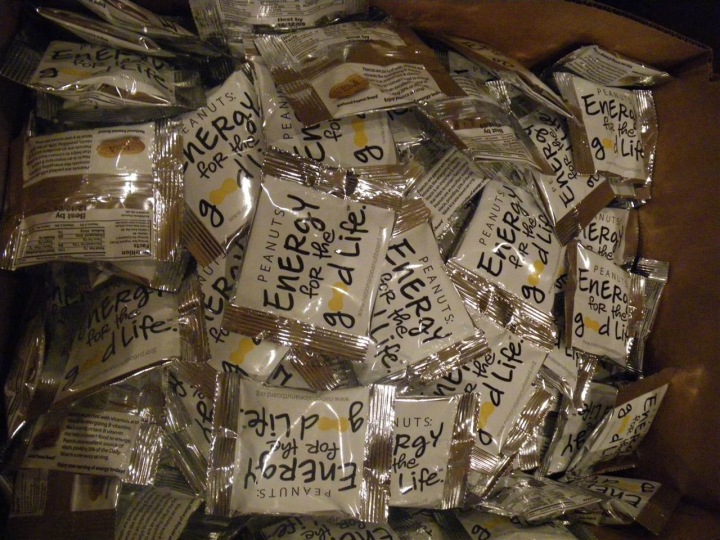 Shortly thereafter they'd get batteries, hand wipes and deodorant – plus some other random little stuffs.
But again – the best part was the nuts.
Once we packed the bags (and the nuts were safely in your bag), then we tossed them into the trash.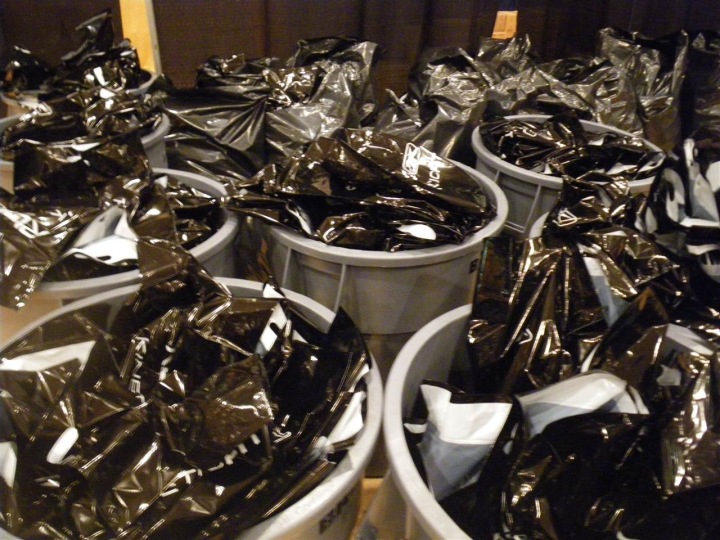 See that below?  That's me processing the LAST BAG.  Yes, after 2.5 hours of bagging, we finally got to the last bag.  I think that was like 8,000 bags.  Many many nuts worth.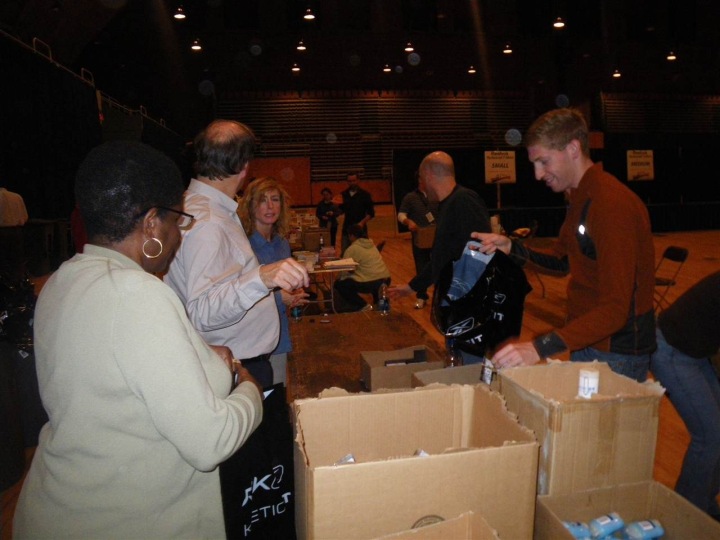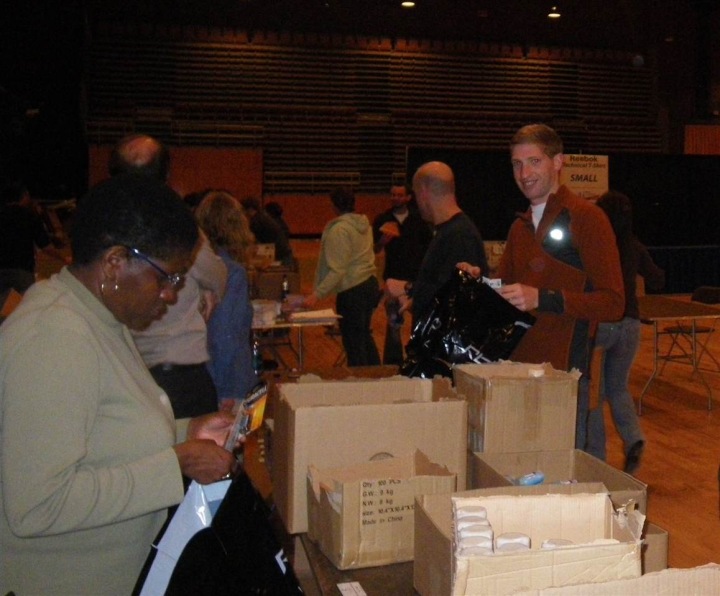 At one point Rob decided to try out the sports beans.  Here's his thoughts on it: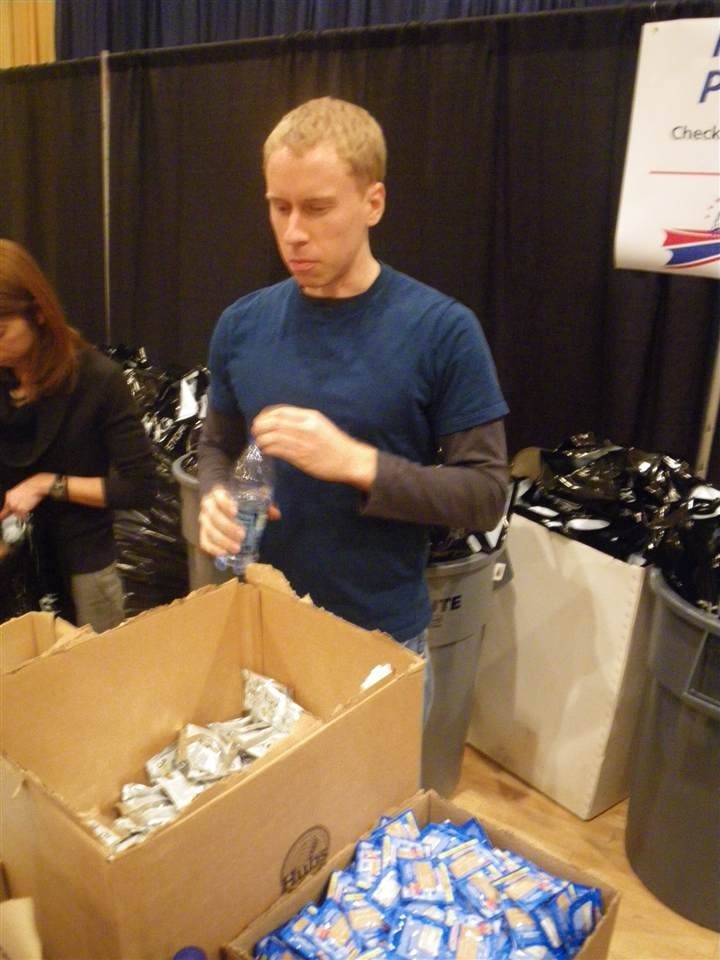 So after we bagged all the nuts, we unpacked all the shirts.  Turns out 8,000 tech t-shirts is a lot shirts.  Like, many many pallets worth.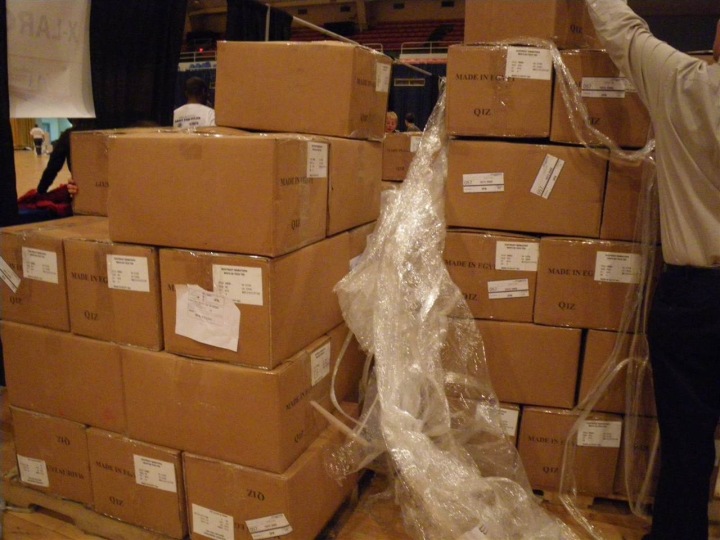 Oh, and they came from Egypt!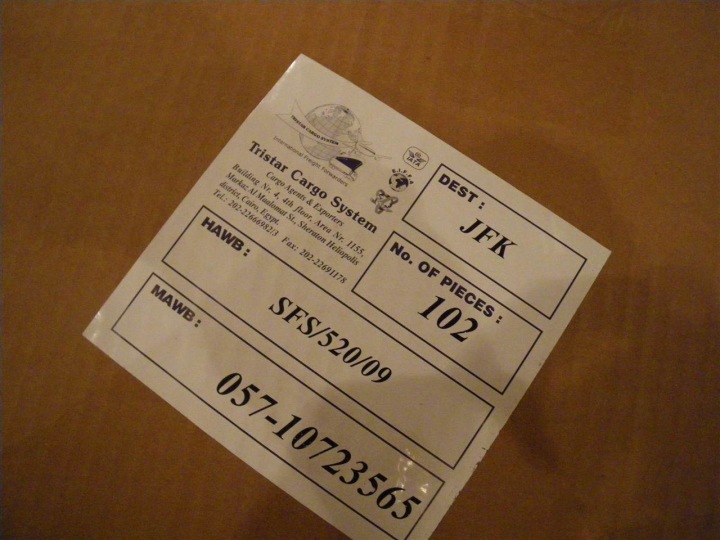 Oddly, these were the cleanest products I've seen from Egypt – thus proving it is possible for them to clean up their act at the Pyramids.  Zing. 😉
Afterwards, we had a huge stack of shirts.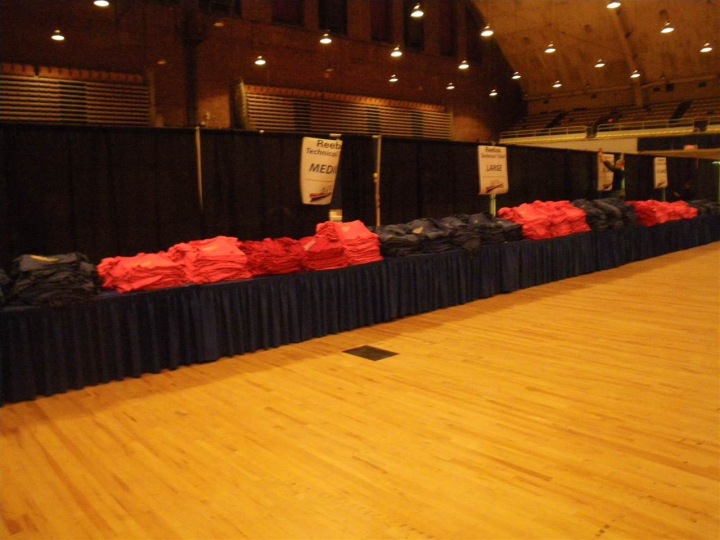 And then…we were basically done.  So Rob and I left around 9:30PM.  Oh, and we got these totally kickass sunshine yellow volunteer shirts: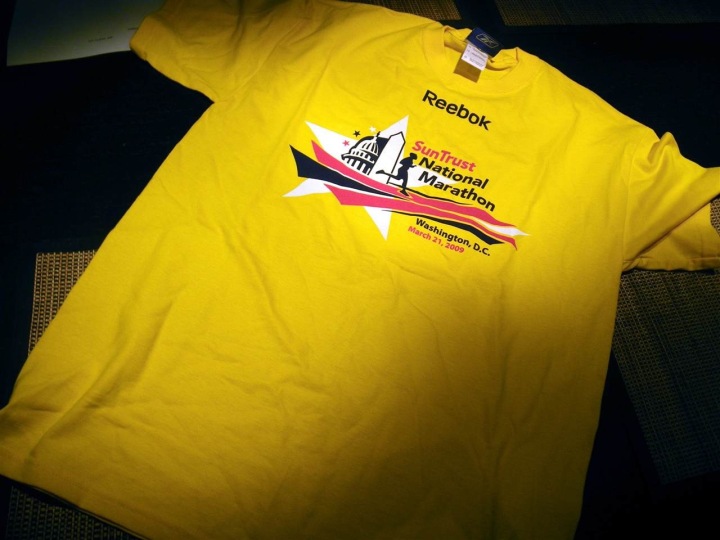 I never again will have to fear not having a bright yellow article of clothing in my wardrobe – for those special occasions.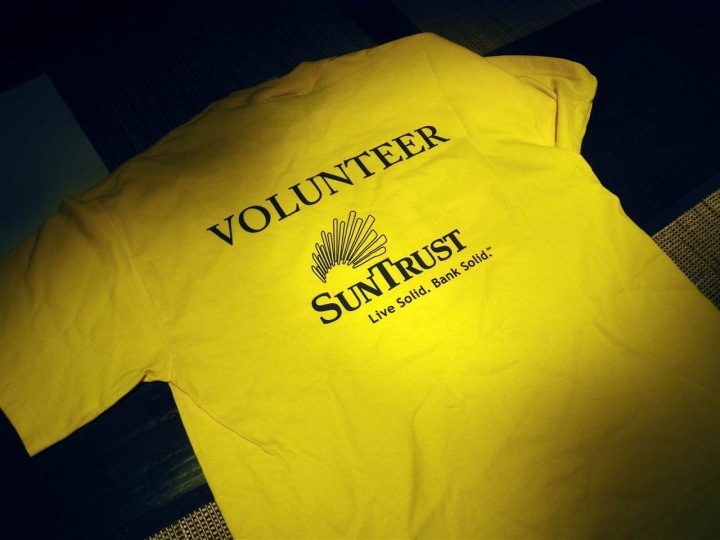 Oh..and here's a secret.  In someone's bag I left a special present.  TWO NUTS PACKETS!  That's right.  Someone out there is getting double nuts.  You should be feelin' the love!
Anyway…
If you're racing Saturday – good luck!  Especially if it's your first Marathon or Half-Marathon.  I'll be wandering around the finish after finishing…or lying alongside the course somewhere if the whole finishing thing doesn't work out.