I knew on Tuesday things were going to be rough.  My HR's were way higher than normal – both on and off the track.  I was hoping I might slide by with enough recovery such that by Saturday things would be normalized.  And to some degree they did improve.  By Friday my RHR was within 4 beats of normal – but my run HR's weren't quite where I needed them to be.  For my target Half-Marathon HR of 170-173, my short Friday run splits were all in the 6's – 6:05-6:15; instead of where they needed to be in the upper 5's – 5:45-5:55.  It may not sound like a big difference, but HR's and speeds are fickle things.
However…back to the beginning…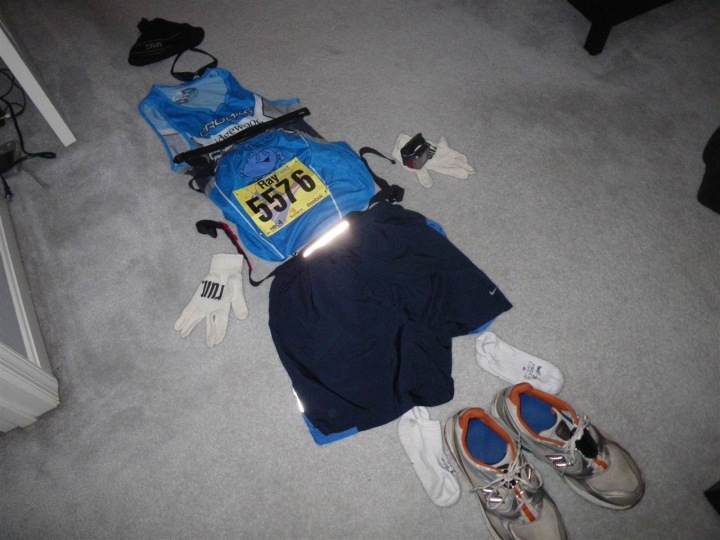 After getting my outfit all situated the night before, my 'get ready time' this morning was fairly minimal.  I got to RFK Stadium around 6AM and wandered over to the super-short porta potty lines.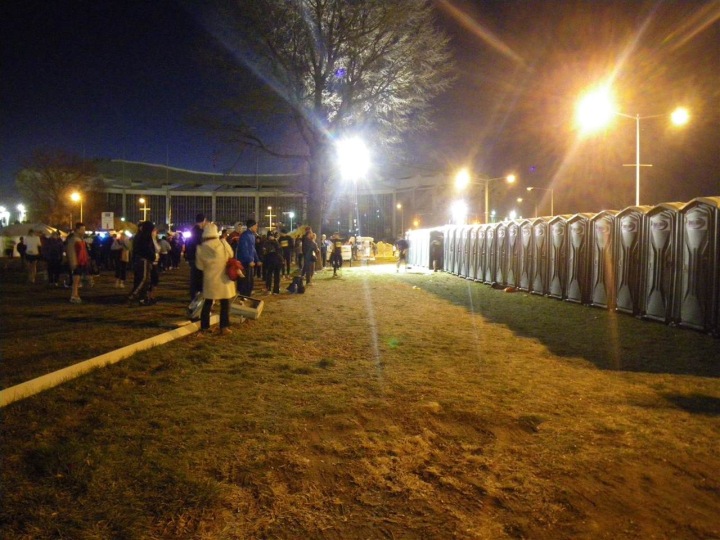 From there it was off to drop off my bag and then head out for a short 20 minute (2-3 mile) warm-up run.  Just to get everything loosened up and get my HR up so it wouldn't be shocked when the gun went off.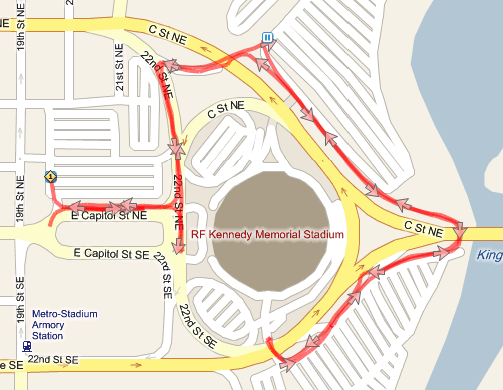 I arrived back within 5 minutes of the start as planned.  I then found my pre-assigned corral and prepared for the start.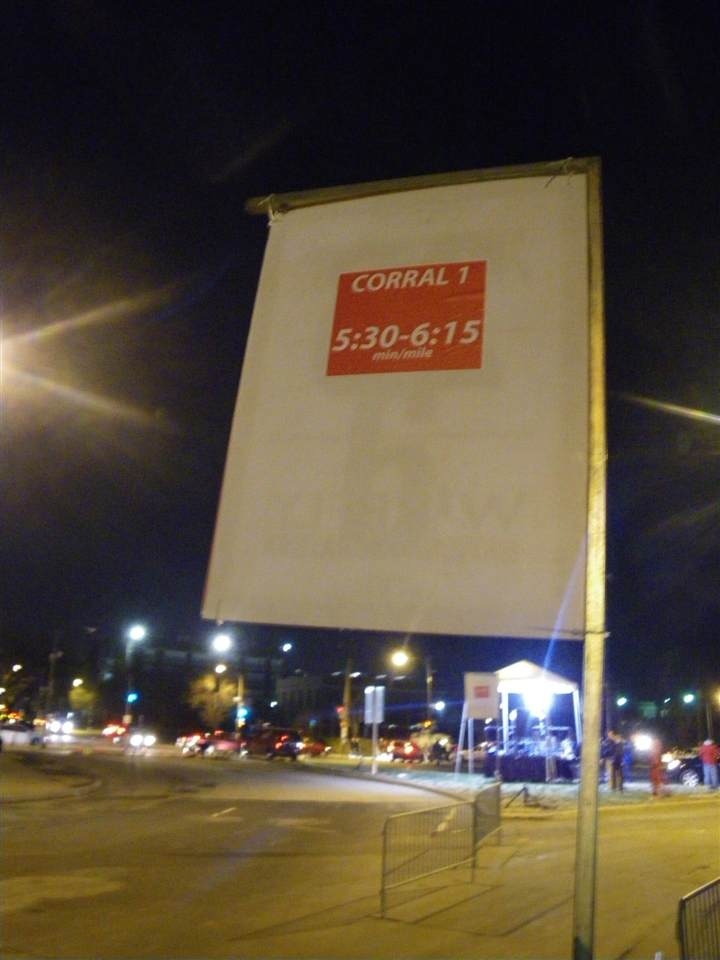 (No matter how you slice it, those times are painful)
I briefly ran into Eric and his GF, getting ready to embark on PR's (Eric kicked ass btw today).
They announced a two minute warning and then they allowed us (Corral 1) to fall in line behind the elites…and then we were off!
The first few miles I mostly hit my splits +/- a few seconds (6:05ish).  But, that was the easy part – being both the first few miles and on the flats.  And by mile one I knew my HR wasn't where I needed it to be.  It was about 2-3 beats higher.  This matters because it pushed me right over and into my lactate threshold, not ideal for a race of this distance.  I did see Peter though volunteering at the one mile marker, and then Rebecca a short bit later at the three mile marker.

And then I found hills.  I knew they were there, I just didn't think they'd slow me as much as they did.  My plan is always to keep the HR relatively constant on hills this early in the course – but I slowed more than the plan allowed for.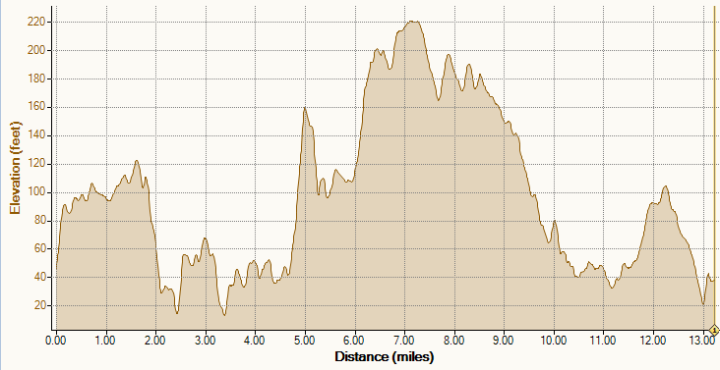 Once I cleared the hills, I was 'scheduled' to increase my turnover for the sloped 3-mile downhill section in miles 8-11ish, gaining back most of the lost time.  But I just couldn't get the pace back down and keep it sub-6.  And certainly not far enough sub-6 to make up for the massive ground I lost on the hills.
And, on a race this short, you just can't make up ground as easily as a longer race.  The below graph shows the first few miles, and then things going downhill.  The middle line marked 0:00 is my overall average pace (6:28), whereas the first three blue blocks shows where I should have been for the majority of the race (minus two miles of the hills)

So, I wandered through the finish at 1:24:44, a few minutes short of my 1:20 goal.  But, I did still manage a couple minute PR out of the deal.  Official deets:
Overall Place: 74/4150
AG Place: 22/340
Males: 61/1870
10K Split: 39:50 (6:25/mile)
Final Time: 1:24:44 (6:28/mile)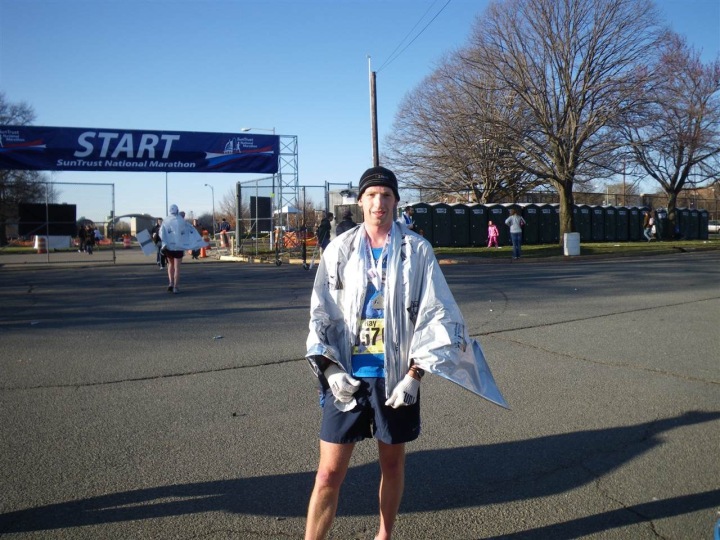 (It says start, but really it's the finish)
Overall I'm OK with the finish.  It wasn't ideal, but I have no doubts in my mind that if the race was three weeks ago (pre-Spain, pre-long work weeks and pre-getting sick) that I'd of hit my goals.  And that's fine.  I've got the first tri of the season coming up in three weeks, and I'm really looking forward to getting a good tune-up race in the bag.
Afterwards, I hung around the finish for a few hours and watched a ton of friends finish and rock the place.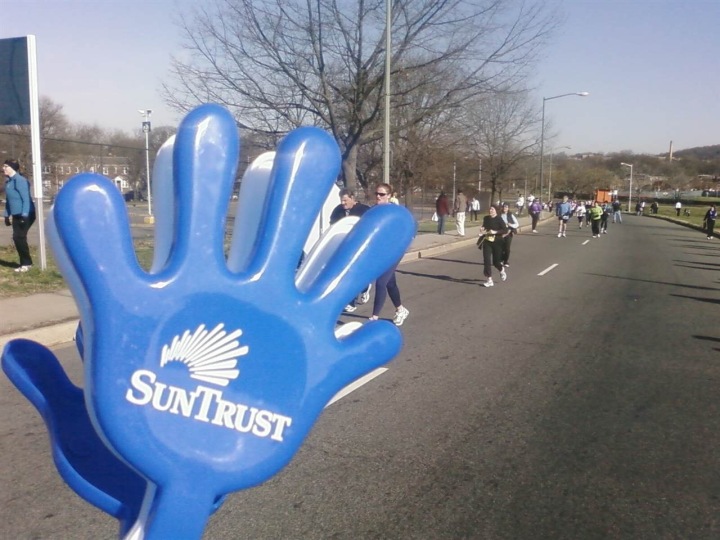 Fellow Pacer Runner Ali qualified for Boston!  Lindsey won her AG, and nearly broke Top-10 females (despite a late start), and Jeanne took a 10+ minute PR.  Adam and Rob both shattered their PR's.  And numerous other friends also did very well (these were just the ones I saw finish).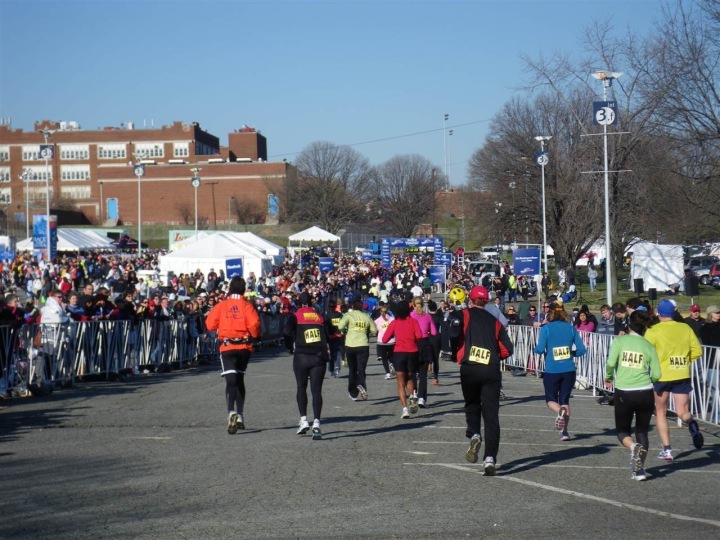 While bumbling around the finish line, I did go check out the "Active Release Therapy" tent with Jeanne.  Basically a form of sports massage.  I've never actually had any sort of massage before, and have never visited these little tents.  But Jeanne convinced me to give it a shot.  I will admit – it did help the legs quite a bit, I might even do that more often!
The good news here is that spring has sprung.  Well, at least for the little cherry tree on the side of my townhouse.  The official Cherry Blossom festival is still two weeks away, so you'll get a combined preview shot and finishers medal shot in one today.  I do like the medals this year though, they're nice!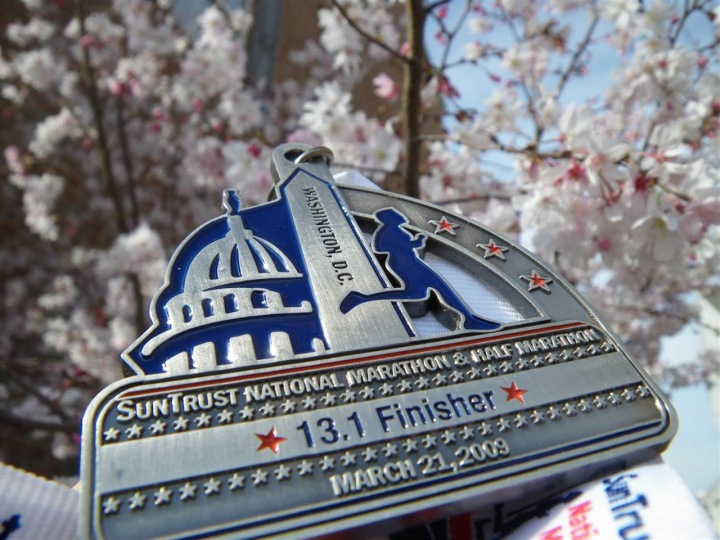 (Yes, it's quite plausible – and likely even possible – this isn't a cherry tree.  It's just a tree with little flower things that looks like a cherry tree, 6 feet from my doorstep.  And given this it the only type of tree that I can name – and the only tree next to my house, it's what I'm calling it.  Everything with a flower becomes a cherry tree in March/April when you live in DC.)
After getting home and knocking out a 30 minute easy spin, I did the only logical thing I could think of.  I made cupcakes.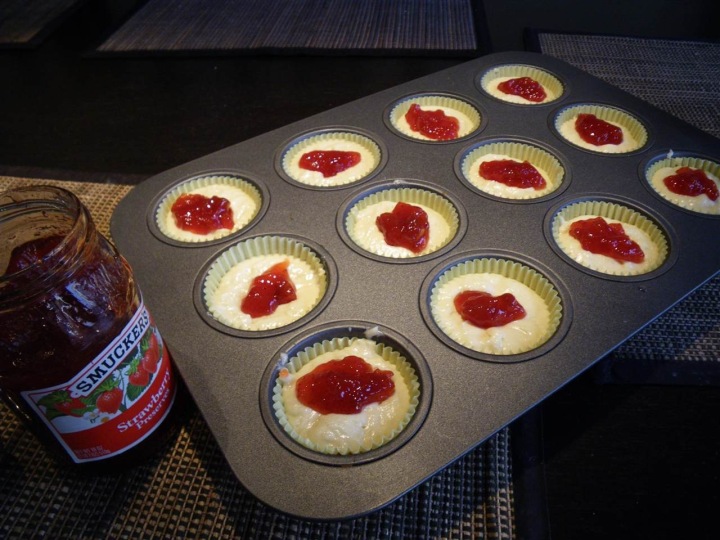 When you bake these, the strawberry filling sinks into them, and then it bakes up around it – effectively sealing it inside.  It's really fun to watch in the oven.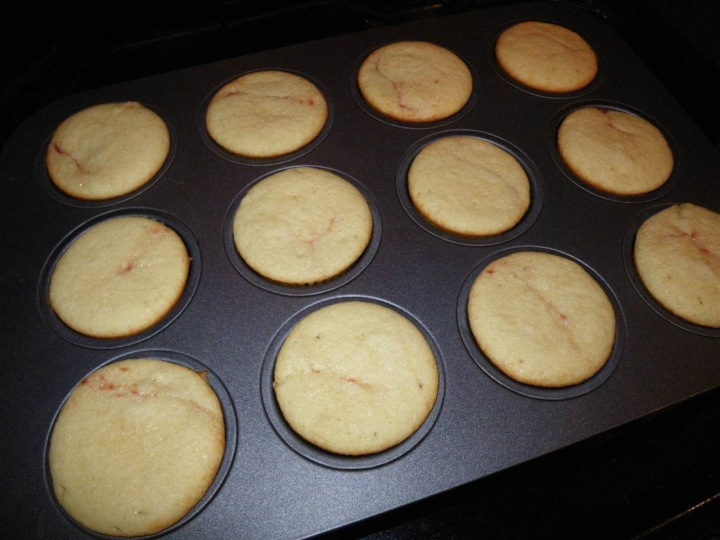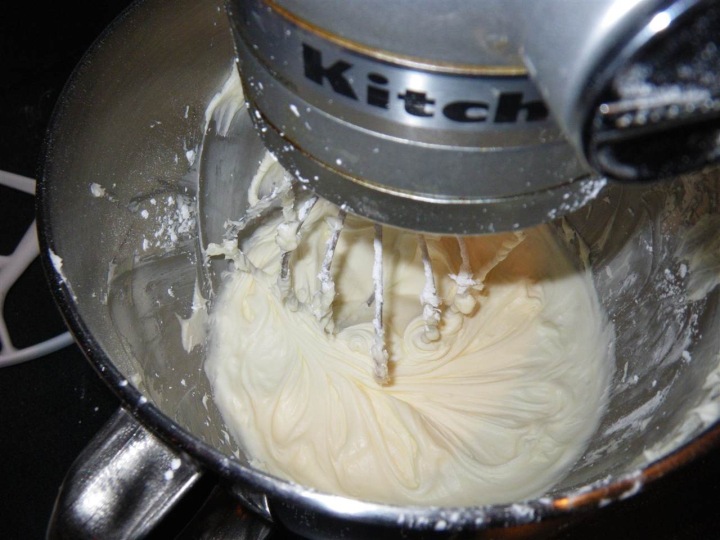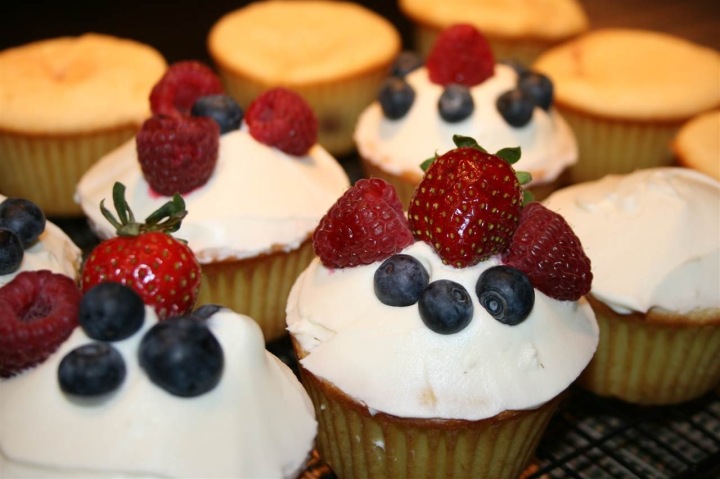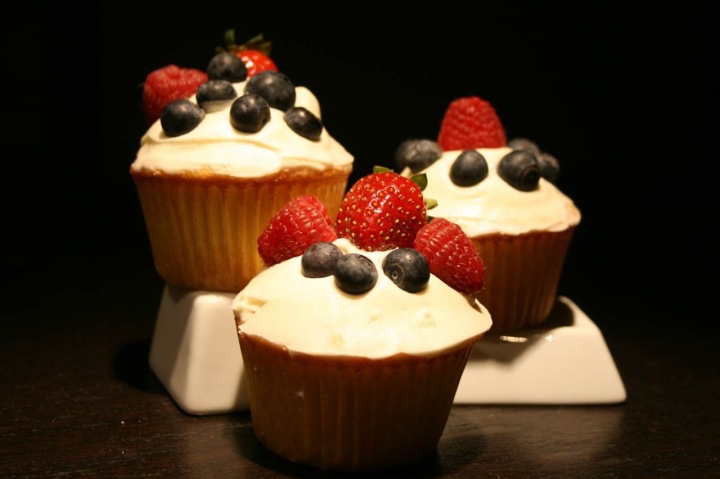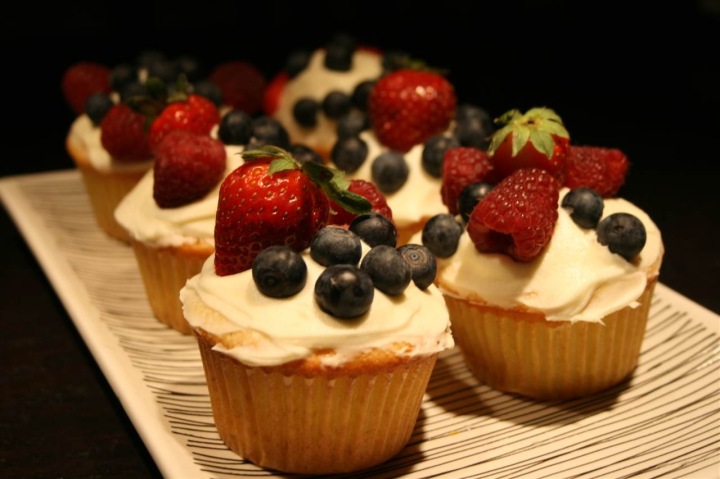 The frosting came out awesome.  Incredibly light and fluffy.  Plus, the insides had a strawberry filling with chunks of strawberries.  Mmmm…have a good remainder of the weekend!