This weekend was a bit of a whirlwind, sorta like the time-lapse video I put together.
Saturday morning was spent trying to catch up on sleep before heading down to Prince William Forest National Park to get in a solid brick.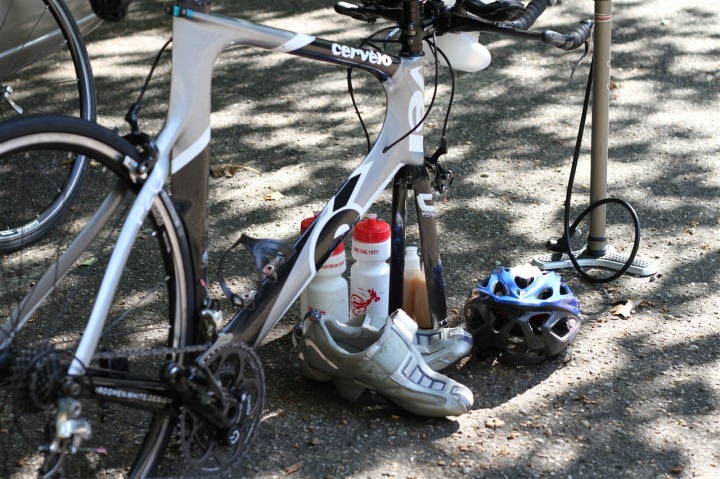 The brick was relatively simple in nature, with the bike being on the flats all-aero-all-the-time forming a 10 mile out and back loop that I'd repeat four times, the first two loops in Z2, and the 3rd/4th loops in Z3.
I've still gotta work through the logistics of using Gel bottles, but for this simple sub-2 hour ride, simply attaching them to my aero-bottle using the already in place massive rubber band worked well.
The bike portion went quite well, and I averaged some pretty solid speeds and wattages:
Lap 1: 28:08 – 21.7 mph – 240w (Z2)
Lap 2: 27:21 – 22.1 mph – 247w (Z2)
Lap 3: 26:36 – 22.6 mph – 270w (Z3)
Lap 4: 27:01 – 22.4 mph – 264w (Z3)
After that, it was time to run!
Except, somehow along the way (about 1 foot from my car), I realized that I forgot a shirt to run in, and just decided to run sans-shirt.  Given it was relatively warm (about 80*F), this wasn't going to be a problem.  However, I still needed my CamelBak for run.
So I ran – and ran very well.
However, one little detail I didn't consider would be the lack of skin I'd have on my back where the CamelBak was rubbing. It didn't hurt during the run…but it certainly hurts now (days later).  I have a photo too of the massive red/white spots like a horrible rug burn (in four places)…but I'll spare you that.  Fail.
Anyway…10 miles later I was done, and time to head home and get on with the cupcake making.  Well, to be clear, I wasn't doing a ton of cupcake making, but The Girl was.  She did virtually everything, I just attached the ladies butts to them (really, that was my job!).
Oh, and the cupcakes were for a friends party that we went to Sunday, they are getting married next weekend.  So little bride and groom cupcakes seemed appropriate.  Yes, she made all those chocolate creations herself, pretty impressive.
As we leave the cupcakery behind, we move onto an early morning on Sunday.  A friend of ours came up Saturday evening to run in the Army 10-miler.  While I had a bib this year, it just didn't fit my training and race plan for the next few weeks, so I ended up skipping it and taking photos instead.
If you didn't get a chance to see my short little time-lapse video – check it out here. Otherwise, here's a few other random photos from yesterday.  I also have 3 other shorter time-lapses I photographed, but at the moment I'm too lazy to post-process them given how short they are (plus, they wouldn't be as cool as the initial one).  I have ice cream to eat after all…
Following all this, Sunday afternoon I spent a bit of time at the pool knocking out four sets of 1,000y at a time on pace.  I was screaming along, but then again – doing it in your wetsuit affords you that advantage (as well as getting more used to wetsuit swimming).  Either way, things are looking good.
So with that,  it's back into another week of…well…the usual.
Have a good week all!