Yes folks – it's not every day that someone willingly warms my nuts.  But earlier today (or was that yesterday…I've lost track, I guess it depends on how you count the dateline and all) – I had my nuts warmed.  And at 41,000 feet mind you.  That's like six-mile-high-club territory.  I was careful to avoid any of the issues that Steve previously outlined, especially given that the little seat-back temperature gauge reading a chilly -51*F outside.  But through careful countermeasures, I was able to overcome the chilly outdoor temps and keep my nuts warm.
So here ya'll go – my warmed nuts: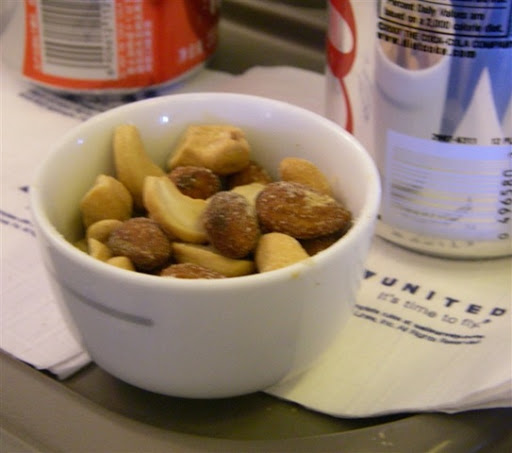 (You have no idea how many warm nuts jokes you can make when given a 11 hour flight)
On that note… we've (my brother and I) made it to Guam, where we've got about a 23 hour layer before making the short hop over to Palau tomorrow night.
(As an aside, I'm a gazillion hours ahead of you – so you'll have to bare with me this week as I use night when it's morning your time, etc…). 
I'm really looking forward to swimming tomorrow morning in what I presume will be clear water (it's dark now, I can't see).  I've got my little Garmin 305 with me and will be plotting my open water swim route later on to figure out how many yards I swam.  Since starting triathlon last spring I haven't had any open water swims where I could see more than a foot or so in front of my face – so I'm super-excited about this.  Plus I'll be able to swim every single day (both casually and for a workout) – woohoo!  And there won't be one darn flip-turn involved.
I also found out about a weekly Saturday morning easy trail run that's done in Palau – I might just join up for.  Depends on how my knee feels and all.  Don't want to start back too early before it's 100% only to delay things.  Anyway – I'm tired as heck, so it's off to bed.