One of the major advantages of traveling in a westerly direction is that you body naturally wakes up earlier. Yesterday I was up at 6AM, right now it's 5:30AM. After getting up at six yesterday, it was off to the dive shop for gear pickup and a quick orientation. I didn't bother brining my own gear because I wasn't doing enough dives to justify the hassle of dragging it halfway around the world. The dive company picked us up by boat to bring us to their shop – a short 5-10 minute ride away. Interestingly when we got there we noticed a sign on the wall from the Palau Government that listed a slew of restricted areas along with specific dates/times. Turns out this is for the next season of Survivor – Survivor 16- which just finished shooting last Wednesday. Here's a shot of the poster, kinda interesting (click to be able to read).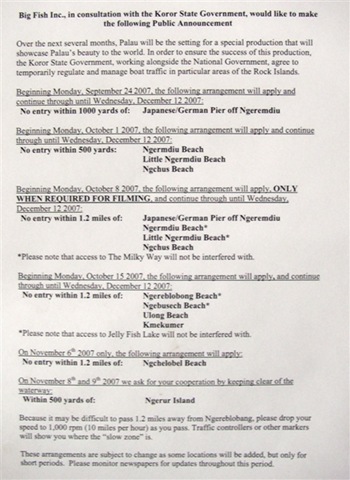 After getting our dive year, we set out on a one hour speed boat ride to the dive sites. It was pretty cool, we were flying past islands and just under rock awnings, making sharp turns here and there. Here's a quick video my brother caught on one of our little digital cameras.
We arrived at a dive site called 'Big Dropoff', which is essentially a wall dive. Wall dives mean that you dive alongside a wall – usually drifting along the wall with the currents as you go. Generally the boat picks you up wherever you end up. This wall drops off a few hundred feet deep, but we were only going to around 75′ or so. It didn't take long for all of the fish to appear – pretty much as soon as you got into the water they were there. We descended down and started our drift along the wall, about 5-10 minutes in we stumbled on an Eel poking his head out of the wall. As we checked out him, a shark casually drifted behind us. It was fairly small – maybe only 4 feet in length, and harmless. Shortly after that I ran into Nemo! Well, a pair of Nemo's.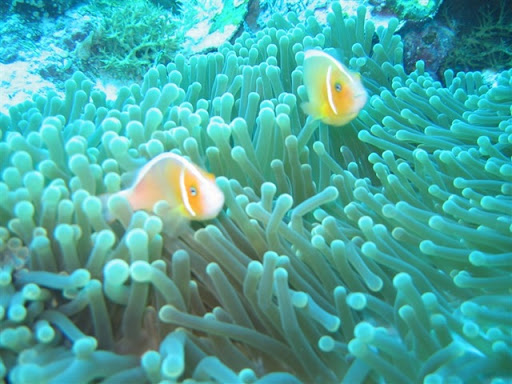 I'm not good with fish names. Many divers are like – 'Wow – did you see that cuttlefish with a pair of groupers next to the yellow spotted leaf fish?', I'm more like 'Did you see the funky fish next to the bigger fish, next to the yellow one?'. The things I recognize are: Nemo, shark, manta ray, eel, whale, dolphin, seal, regular fish. Outside of that – you're not getting any more detail.
After about 45 minutes we headed up to the surface. One interesting thing I noticed since my last dives over a year ago is that with my fitness increasing, my ability to use less air while diving has increased. This means that I'm coming up to the surface with significantly more air in my tanks after an equal length/depth dive than I used to. Good stuff!
We took a quick lunch, then it was back down below. This dive was at a place called 'German Channel', and is where long ago the Germans dredged a channel to be able to get ships through for mining activities. The main highlight of this dive was going to be the manta rays. About 25 minutes into the dive we settled on the bottom near a 'cleaning station' and waited for them to mosey on down and get cleaned by little fish. A few minutes later some sharks started casually circling our area.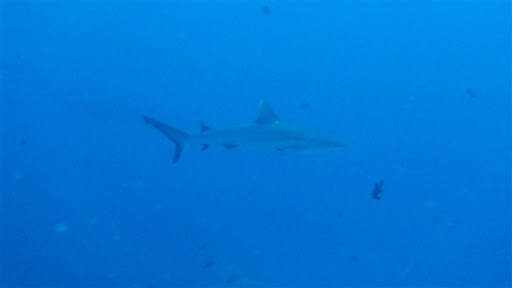 After the sharks did their initial showing a giant Manta Ray gracefully swooped on. It's hard to describe how big these are. Think 8 or so feet across, and 4-6 feet long. Just massive but incredibly gracefully creatures. It wandered around a bit while the cleaning fish had dinner. My camera did my the favor of running out of battery at the moment I went to take a picture of it, so here's a photo from a person we met on the dive.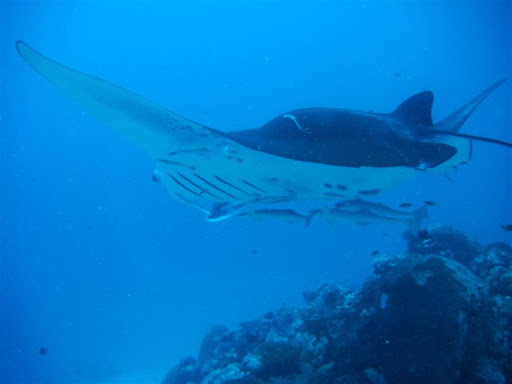 After the Manta Ray we headed up to the surface. We saw tons of other fish and creatures though, the coral was absolutely amazing – but I'll save some coral pics for later on after our kayak trip.
We zipped back through the islands again to the dive shop. After diving I decided I wanted to go for a quick swim in the bay in front of our hotel. This time the water was much deeper – 10-15 feet or so, which allowed for a significantly easer and quicker swim. I got a surprisingly good workout in, really keeping the pace up a bit. I started going out a bit further but then it got deep enough that I couldn't see the bottom, so I pulled it back in closer to shore. I don't like late afternoon ocean situations where I can't see the bottom – too much opportunity for sharks to misidentify you (I'm serious!). Did about 3/4 of a mile in 22 minutes, but that also includes a brief stop near the upper portion of that photo to take a few pictures from the water. Here's a nifty GPS map of the swim: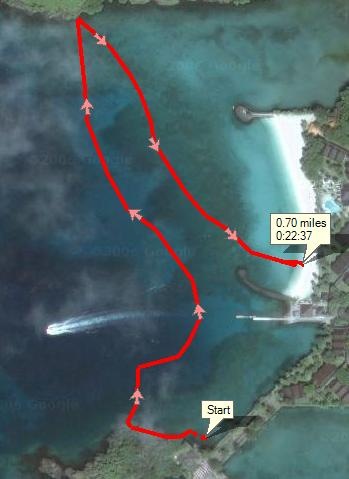 Following all of that, we went on a short hike up to the top of a hill (the one at the very bottom of that above satellite photo), which overlooked the ocean, the hotel and neighboring bays. Sunset arrived within minutes and made for some incredible photos.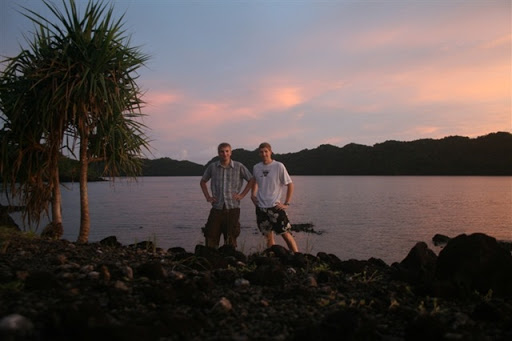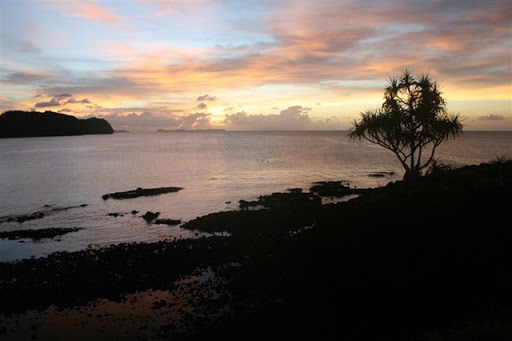 With that, we're off here in about 90 minutes for our 3 day kayak camping adventure. As a side note, we didn't do Jellyfish lake yesterday, but will instead be doing in over the next few days. Should be a blast! See ya all later in the week!