Ha!  Awesome!  I was watching tonight's Survivor – more out of interest after my trip to Palau over the holiday break than the show itself.  We had been told that the tribal council area was at a place near where we kayaked to and hiked up to the top of a ridge (Japanese Docks).  Tonight during an aerial shot right as they started tribal council they showed where it was.  And indeed, it was exactly where we stopped to take a brief break.  It's also where we got nailed by a nasty rainstorm, and when/where my Forerunner died it's death.
Here's a screen shot from tonight's survivor: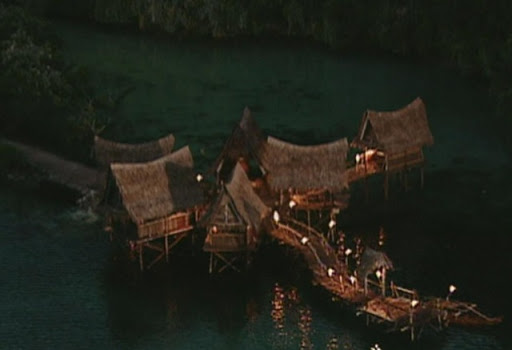 And here is the same spot when we kayaked and stopped at it – about a week after they tore down the tribal council area.  The photos were taken from the same spot just looking opposite directions.  You can see the tree in the middle of the dirt pier in both the above photo and the below photo.  If you check out the little video I made here, you can see the same spot as well.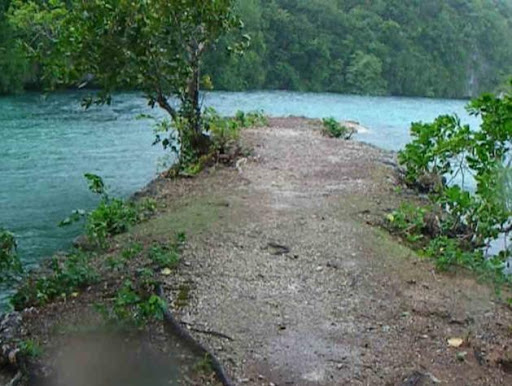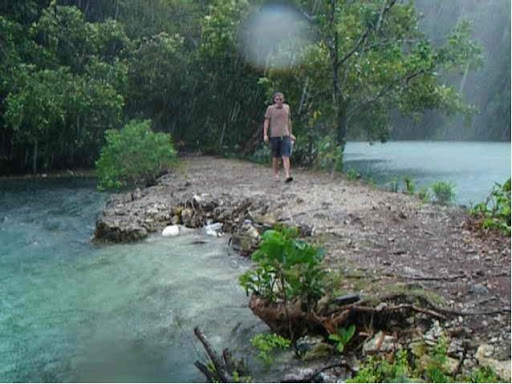 Funny how through magic of and lighting TV they can make something not so glamorous look very mystical and intriguing.  I missed the first 20 minutes of tonight's broadcast, but one that will hopefully become clear over the course of the series.  Living outside in the jungle for 40 days there would really suck.  Not because I wouldn't enjoy the 'camping' side of it.  Nope – because of the rain. As I've alluded to in the past, it rains a ton in Palau.  A ton.  Constantly.  Every day.  A lot of the day.  It mentally and physically wears on you over time.  But I guess for a million bucks you could get over it.
In other news….
I've had two nights in a row of rockin' bike trainer sessions.  Both of them were immediately following other workouts, so the bike portion was only 10 miles each.  Tonight I managed to eek out my time last night by two seconds (from 25:04 to 25:02).  Although my efficiency was degraded in that my average power went from 275 watts up to 284 watts – certainly not worth the 2 seconds.  Gotta continue to work on that… but perhaps with an upcoming announcement we'll get that all rectified.
The knee is still coming along.  I had a moderate set back last week after pushing it too hard the previous weekend.  But I'm starting to understand more clearly what irritates it – and simply avoid irritating it until it has time to fully heal.  I was able to get in a nice few mile run tonight sub-7, and me knee actually felt MUCH BETTER after the run than before it.  Go figure.