Those who follow my blog regularly may know that I managed to dink up my knee back in November. In short, after the Marine Corps Marathon I got into an overuse injury when I continued to train harder and harder in preparation for the Philly Half Marathon three weeks later. While I did well at that race – it came at a cost. The cost being Runners Knee, which is basically when you dink up your knee due to overuse. Until recently it's kept me from running, not so much the pain – because it's actually relatively minor – but more so the fear of causing further injury.
It has put a bit of a damper on the winter training schedule. But I've made the best of the situation my concentrating on my other spots – swimming and cycling.
In early January I went to see a sports doctor about the situation, as things weren't getting better on their own – like the peeps on the Interwebs said they would. It turns out it (my knee) needed some assistance. He went into great depth on what I had done – which can be summed up in saying that it's all the muscles around my knee that were actually weak, which in turn caused my knee to go on strike.
As a result of that appointment I got a slew of 'homework' that I have to do everyday to get my knee better. It's been working fairly well actually. Within about three weeks I was back to the point where I had no pain. Of course, being the stubborn type-A that I am, I went out and did too much a few weekends ago, and probably regressed a week or two. But live and learn. At any rate, here's what I get to do every day:
Ice Ice Baby!
I have to ice my knee three times a day. I don't have to worry about getting it all spread out. He said if I came home from work and did it, then again a few hours later and again a few more hours later – it would work. But we're not just talking an ice pack. Nope, we're talking the pinnacle of technology: A Styrofoam cup. It turns out one of the best ways to ice an area like your knee is by freezing water in a Styrofoam cup, pealing back the cup and then just gliding it all over the place like a Body Glide. It does get a bit messy because the ice melts – but a towel takes care of that.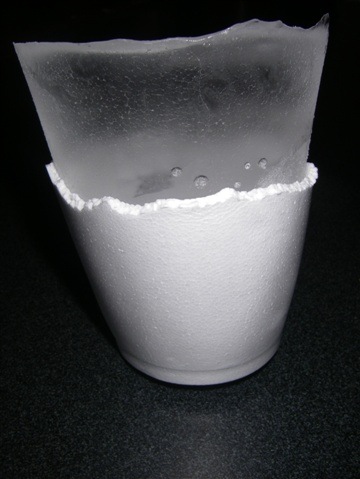 Oh..and if you're lazy like me sometimes the stash of leftover cups builds up.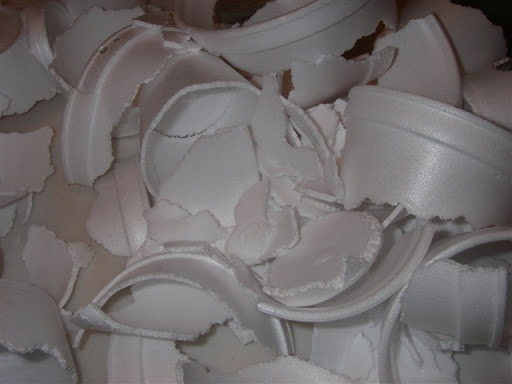 My Bouncing Balls
The next things I have to do is to bounce a racquet ball off a wall about 6-8 feet in front of me. On one leg, with one arm/hand…standing on a wobble board. I do this for five minutes per leg.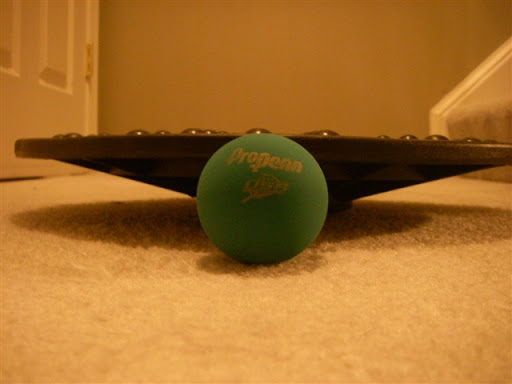 Lifting Poundage
Then I have do what are essentially leg lifts. I sit/lie down with my legs out in front of me and then slowly lift up each leg 18-24″. And repeat 25 times. And then repeat each set three times (total of 75 times per leg). Over the course of 6 weeks I slowly go from no weight to 10 pounds of weight on each leg (using leg weights).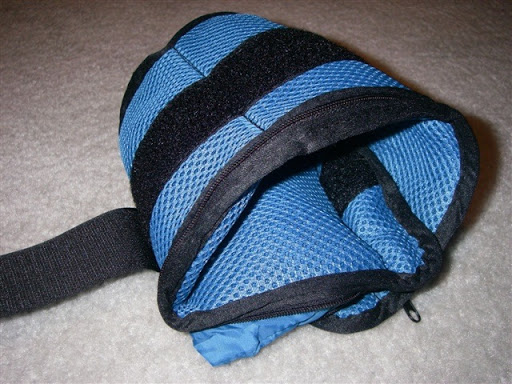 A Tense Situation
Finally, I have to give my knee muscles a workout. I do this by again sitting with my legs out in front of me and then tense up my knee and hold for five seconds, and then release for one second. I repeat this 15 times, and then again each set three times.
Lots of fun…ehh?
My Meat
But what is fun is cooking on a BBQ smoker. Made a smoked beef tenderloin tonight stuffed with spinach and blue cheese (although it was a fairly tame blue cheese). Came out awesome.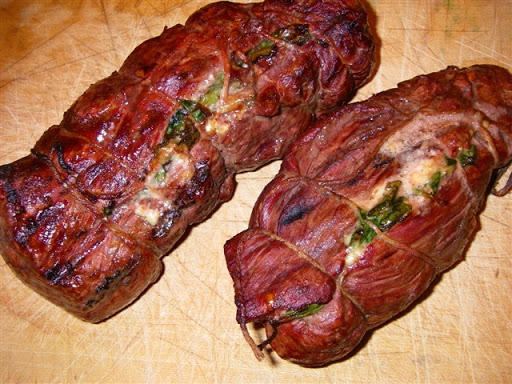 I'm in Seattle for a portion of the week, so I'm looking forward to a nice waterfront run tomorrow morning.