After a long winters nap, I bring back the Ben and Jerry's review series.  Last we left off, Chocolate Brownie Fudge had edged out the same flavor but of the "Lighten Up" variety.  Now, it's time to move out of the t-ball fields and up to the major leagues.
The first in the spring series is an epic battle: Chocolate Fudge Brownie (Chocolate Ice Cream with Fudge Brownies) and Brownie Batter (Brownie Batter Ice Cream with Rich Brownie Batter Swirl).
I should warn you first though kids – don't try this at home without the correct preparations (read: long workout before or after the 'tasting').  Also, while I frequently make my own Ben & Jerry's Ice Cream at home (using this nifty book), I decided that for this scientific test I'd have to go with the pint sized pre-made stuff. So with that, let's begin.
In the left hand corner is Chocolate Fudge Brownie – hailing from Burlington, VT.  And in the right hand corner cross-factory rival Brownie Batter – also hailing from Burlington, VT.  Chocolate Fudge Brownie has history behind it – as it first came onto the circuit in 1990, whereas Brownie Batter is a relative newcomer to the scene.  In addition – CFB is ranked #3 on the B&J Top 10 chart.  Can this newbie knock it down a notch?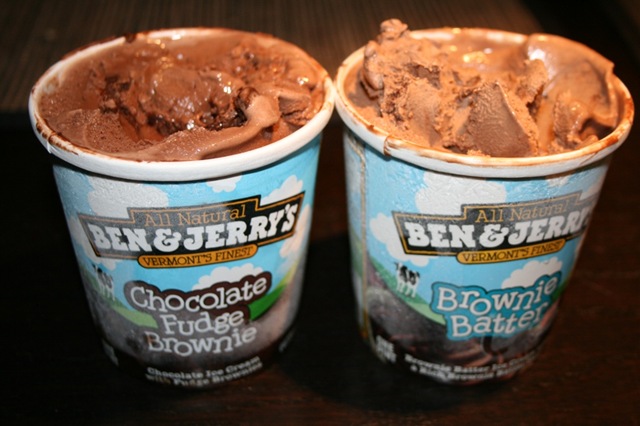 Chocolate Fudge Brownie:
The first thing you'll notice upon cracking the top on CFB is that it's got chunks.  Brownie Chunks.  Like trail running chunkiness.  Which is good – because it says it has chunks.  And there's nothing worse than something not living up to expectations and hype.  It follows through though – although not quite as much as some Ben and Jerry's flavors, which can really lay down the chunkiness.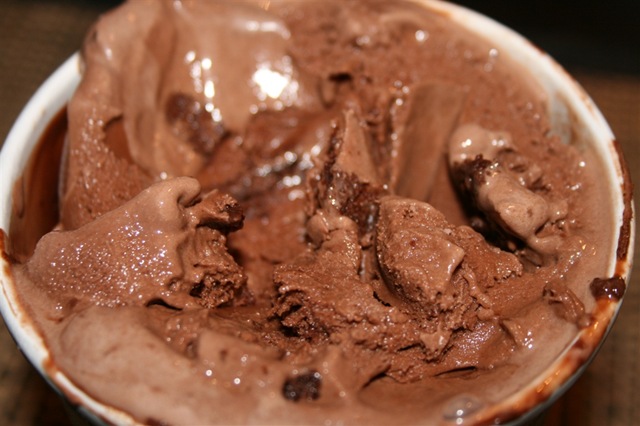 The brownies sit in a simple chocolate ice cream.  From a function standpoint – it's a relatively straightforward mix.  Take chocolate ice cream, and add brownies: work complete.  However the mix is much more than that – it's a carefully blended consistency which ensures brownies in nearly every bite, with chocolate ice cream at just the correct sweetness to not overwhelm you. 
So where does this rank on the scale?  I'd give it a very good score of: 9.0
Brownie Batter:
While the king goes for chunkiness, little ol' Brownie Batter brings it home with sleek smoothness.  After all – you can't make CFB without the Brownie Batter.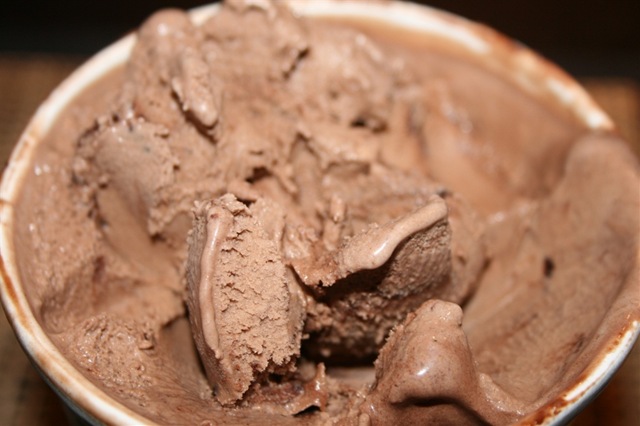 Upon spooning into Brownie Batter you'll notice how there is no resistance (btw, if you're using a fork – you're doing it wrong).   Brownie Batter has essentially no chunks – but instead offers gentle rolling chocolate swirls intertwined throughout. It's like running with the wind. The ice cream batter itself tastes like brownie batter (again, as it should because that's what it says on the title).  This ain't no fake brownie batter, it's the real stuff.  After half a pint or so – the flavor is still very solid and tasty.  Not overpowering – which can sometimes happen when eating raw brownie batter.
But…can it compete with the king?  Can it compete with chunks of brownies and chocolate ice cream?  Well…quite simply – no.  Thus it gets an 8.0.
Box Score
So – why the edge to Chocolate Fudge Brownie?  Because it has chunks.  I'm a chunky ice cream kinda guy.  I want my ice cream to stand out in the crowd.  Anybody can be smooth.  It takes a special kinda ice cream to be both chunky and smooth.  Further – CFB contains everything that Brownie Batter has in it.  Given Brownies are made from Brownie Batter – there's nothing in BB that CFB doesn't have.  And really – isn't two better than one? (Actually, I had a funny conversation about this once with a girl, regarding the way guys conceptually see a threesome…oh wait, nevermind – it's the same concept though). But back to the task at hand….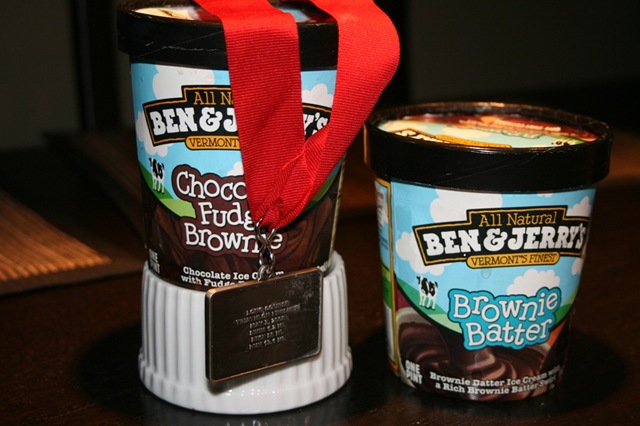 So with that – I declare Chocolate Fudge Brownie the winner of this competition.  It will carry the honors and advance to future rounds.
Next time: "Karamel Sutra" vs "Everything But The…"