I'm starting (though semi-resisting) to get back into a rhythm.  Albeit at the moment that may or may not include much time getting wet in the pool.  But I do drive by it occasionally – that counts, right?
Saturday morning I woke up earlier than one should on a long weekend and hit up the area near Wakefield Park with the Pacer Fun Run folks to run in circles around Lake Accotink, which is nearby. 
It was a nice easy run, though my longest to date since IMFL even at a touch over 10 miles.  So while the pace was easy, my feet/legs were a bit uneasy about the whole situation.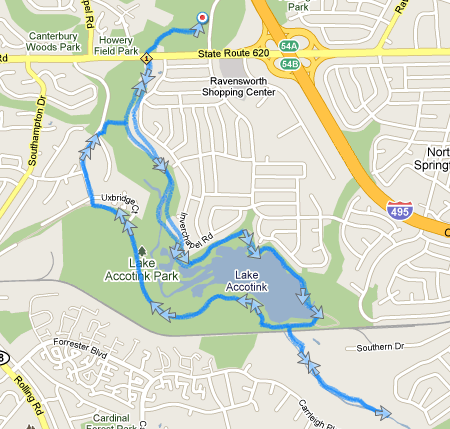 Oh, I almost forgot – Friday night the Girl and I went just a short hop away to a place in Old Town that allows you to paint own pottery.  Of course, my artistic skills are highly limited, so I choose an airplane and then stuck a pig stamp on top of it (it's a piggy bank).  But the Girl made a really nice little platter for her cupcake creations.
The blue-ish color will actually 'burn' a shiny white once it goes into the kiln.
Speaking of things I forgot, I spent a fair bit of time over the weekend working on Home Automation stuff.  As I think I've mentioned in the past, all of the light switches in my house are connected via computer.  So I can turn them all on/off from anywhere in the world, as well as setup routines to pretend I'm home, and just simply save a bundle on electricity.  Well, when I started doing Ironman training stuffs two years ago the system kinda fell into disarray and really wasn't working well.  Sure you can always just hit the light switch to turn it on/off – but otherwise the computer piece of it wasn't really working.  So I spent the weekend swapping out some of the older X10 technology pieces with newer faster Insteon stuff.   Night and day difference and with much less upkeep compared to X10.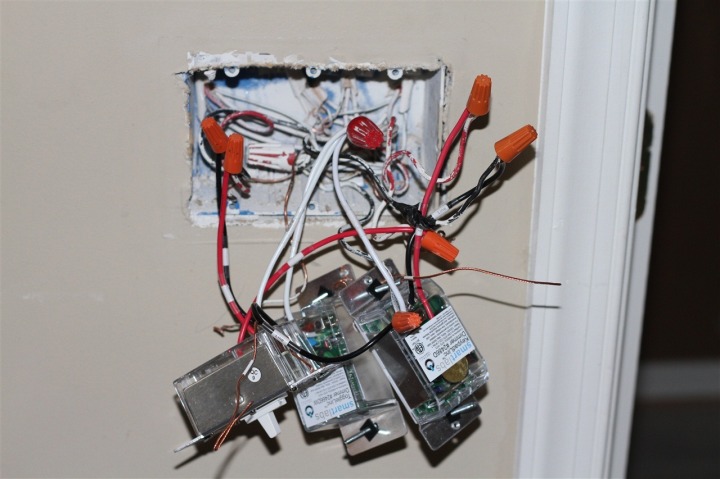 Above – the bane of my existence.  Swapping out multi-gang boxes. I hate them. So much stuff crammed into one little area.  Plus, mine all have multi-light switch setups (two switches controlling one light), which adds to the complexity.
For example, below this keypad lights up Red when the Garage door is open (and there are three of these), so I'll know if that accidentally happens.
Anyways…speaking of other little projects, I got this thing hooked up as well, got it from Best Buy during some of the Turkey Day sales – amazing deal.  It's actually a photo frame, but also shows the weather, web photos, etc… And it looks pretty…cause that's what matters.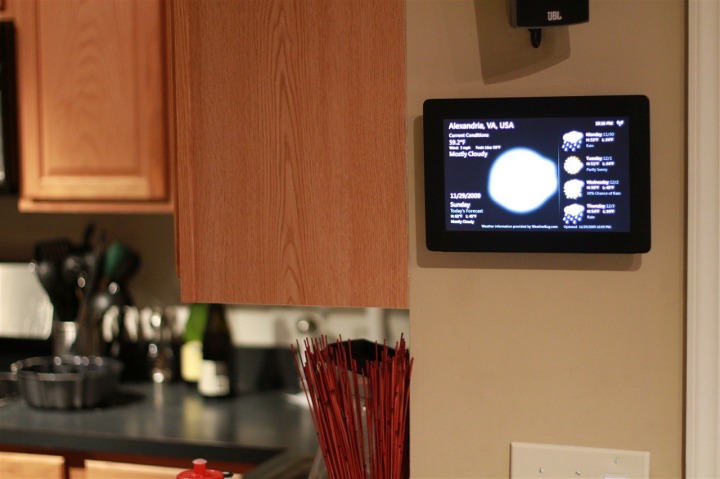 Sunday the Girl and I went out biking.  We were going to head down south towards Prince William Forest Park – but we got on the highway and this is what we saw:
So we diverted to simply riding the W&OD trail.  I've often said that for long rides these type of bike path trails simply don't allow you to get in a really good uninterrupted ride – and that was certainly true today. But instead I played around and did all sorts of Farklet type stuff and random intervals.  Just simply had fun.
Speaking of having fun – check out this dude – aero helmet and all.  See, while I was hanging out at the turnaround for The Girl, a guy came by on a tri bike with an aero helmet – and a full tri kit: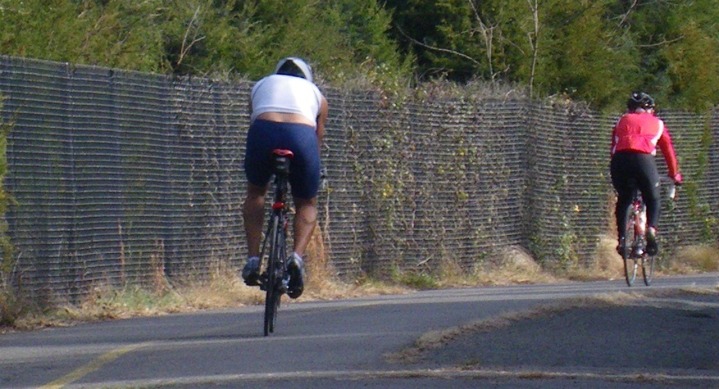 So I gave him a few mile head start and made it my mission to catch him on the way back.  I eventually did, though, it was because he stopped to pick up water.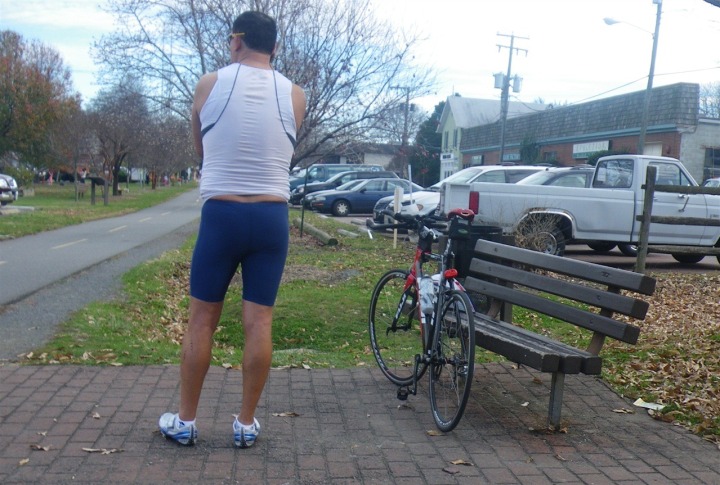 Now, interestingly – he said that he had qualified for Kona for next year – 2010 – (he was chatting with some lady).  So, curiously I asked him where he qualified (just because looking at him, he didn't strike me as having the body type to realistically top his AG).  He responded with "Ironman Chile…", followed by "…back in October…I mean September." 
So I thought to myself "Hmm, OK, the off the beaten path international events are indeed easier to qualify, so perhaps that makes sense".  But, I noticed he was wearing a RoadID, so I asked some random question about his bike so I could get a closer look at his name to lookup later (Hey I'm curious, what can I say!).  It looked like 'Lester' – or something similar.  I figured plenty easy to find someone from Ashburn, VA (where he said he started) with that bit of info.
Fast forward to home…
I lookup Ironman Chile – which is actually Ironman Pucon 70.3 – and it's in January – not September.  So that has me really confused (wrong time of year, and a Half event, not full).  I know that some 70.3 events do give out Kona slots, but I don't think Pucon is on that list (here's the older 2008 list).
I looked at the results, I looked through Athlinks, I looked through ASI photos to match him up…nuttin matches anywhere.  One guy named Daniel from the area who's the real deal – but his photos don't match at all (unless he's gained 75 pounds and changed ethnicities).
So…what say you?  Is he a poser, or did I miss something?  I really want to believe he qualified – as that's the kinda person I am, as it would be disappointing that folks go around saying they achieved something they didn't.
Of course, I always want to end the day with a good meal, so the Girl and I made a Turkey Pot Pie tonight from some of the Turkey Leftovers.  Got the recipe here. Super quick and easy – though we added some Cumin, as well as a crapton of Salt and Pepper to made it taste much better.
So with that…have a good Monday!
Oh – and congrats to all of those who did IM Cozumel today, including Liz – who just finished a few minutes ago.
Oh part 2 – For those that have asked about the Garmin Edge 500 (coming out here shortly) – I don't have a unit quite yet, but Garmin's let me know they're sending me out a trial unit to review here in the next week or so.  So I'll let ya know when that happens.