I picked up the Garmin Edge 705 back a few months ago in early September after going out for a 15 mile bike ride and while getting horribly lost I/we ended up cycling 50 miles. Amazingly, she still stuck with me after that.
Determined to not let that happen again I decided the 705 met the bill of being the most cycling specific GPS device that also acts much like a GPS you may have in your car. A few clicks on Amazon and it arrived a day or two later. However, questions remained. Would the Tom-Tom of the bike world prove itself out on the road, or just act as a hindurance?
Like all my reviews, they tend to be fairly long – it's just the DC Rainmaker way of doing things. Most of them are more geared towards folks who stumble onto my blog looking for a review of a device. Also, note that I did indeed pay for this device and all the accessories myself. I always try to be clear about that when I'm reviewing a product and whether it was provided to/for me, or if I bought it myself.
The box: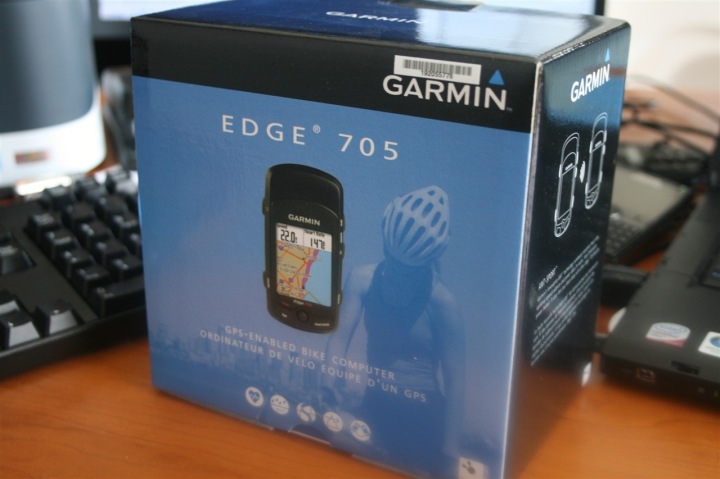 It arrived in a fairly oversized but functional box. Inside there's a slew of paper, a CD and then important stuff: a HRM strap, two different bike mounting connectors, a wall charger, a USB charging/docking cable and the Edge 705 itself.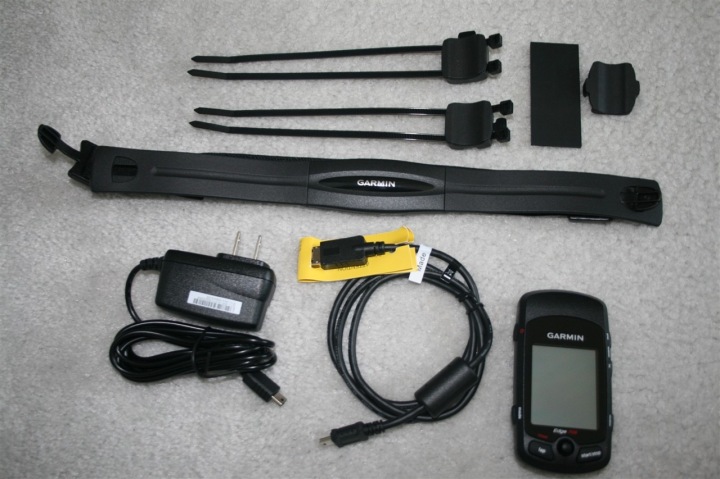 When I originally ordered it, they only had black available. But recently they made a nifty orange color available.

The unit itself is much smaller than you'd think. It's virtually identical to an Altoids tin in both height and width/length.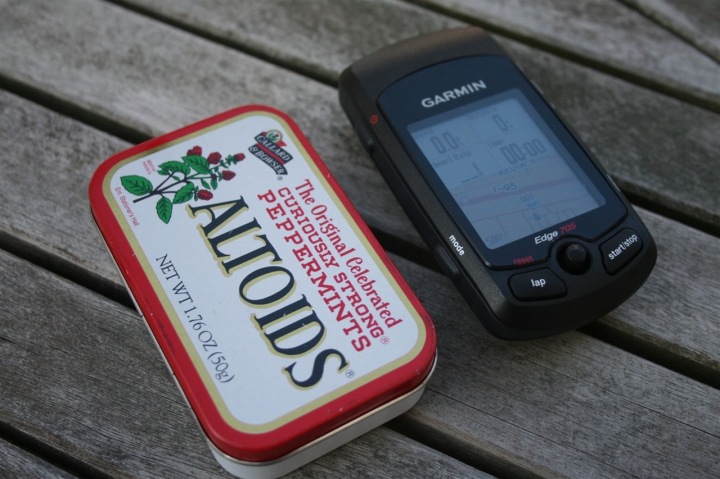 Mounting:
Once you un-package everything it's time to mount the pieces to your bike. It's at this juncture that a dry run should be considered. You see, there are two different mounting attachments depending on if you plan to mount to the middle stem piece or onto the handlebars (basically depending on which way the bar is going).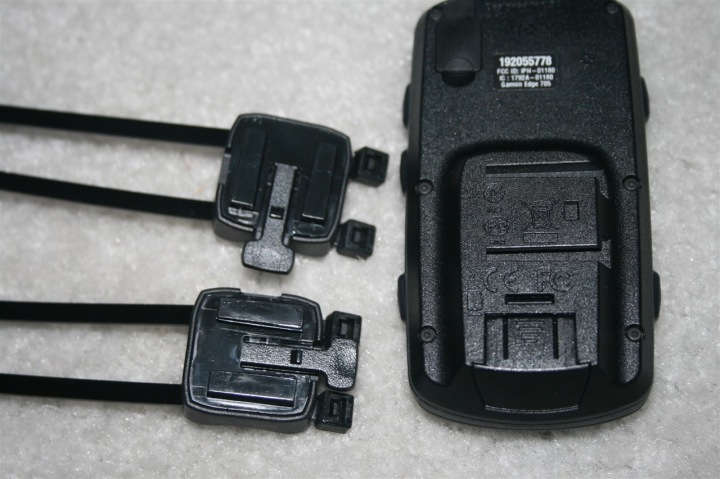 After selecting the appropriate piece you should then contemplate which way to mount it. Otherwise you end up like me…and find you've managed to mount it upside down. Fail.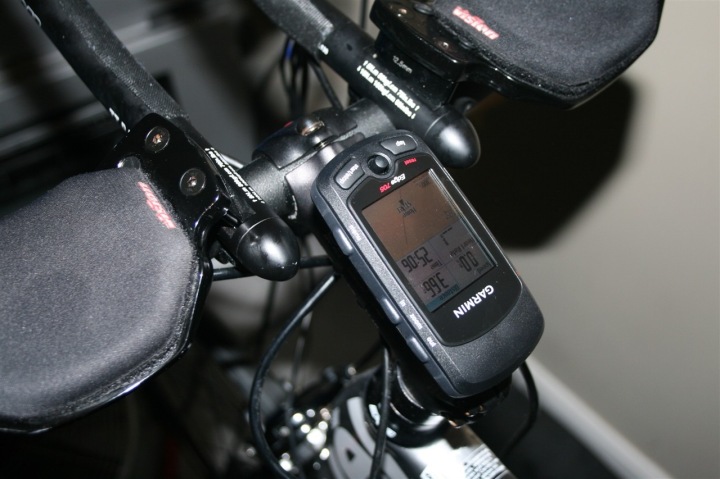 The good news is since it's just zip ties (and they give you plenty extra) you simply clip and remount. All good.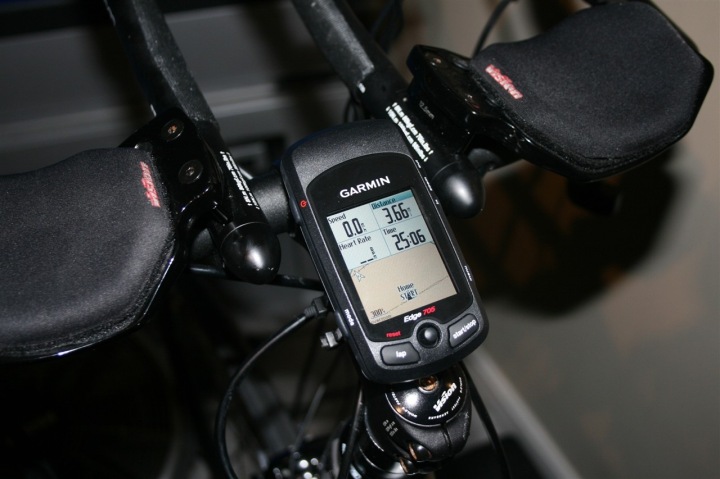 The mounting clip is designed with a tiny little lever that you press to slide the GPS out to the right when you want to take it off the bike.
Connecting/Charging/Uploading:
The 705 is great in that it uses a standard USB cable. Nothing funky. The same one that I use on my little digital camera works for this. Which is awesome, since I have a plethora of them floating around my house. It simply plugs into a small port on the back of the device. The port is protected by a rubber stopper than snuggly fits in.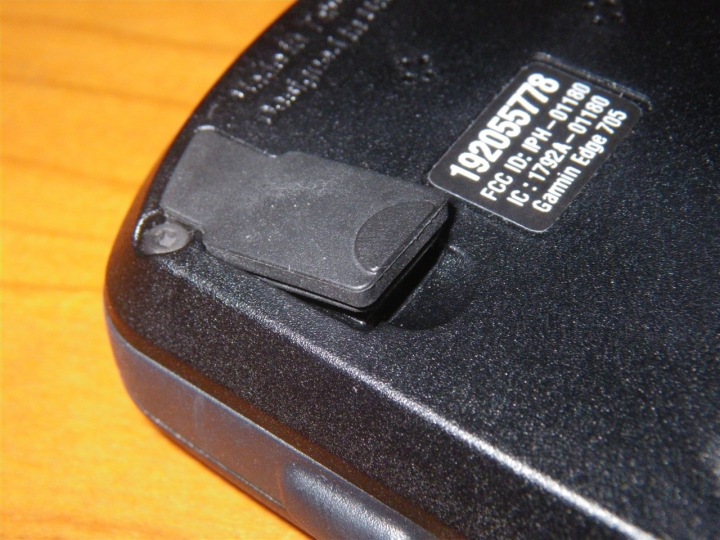 Once you've connected it to your computer, it will start charging almost immediately.
It's at this juncture you can upload to Garmin Connect or use the Garmin Training Center to access the data. Garmin Connect allows you to upload and store you workouts on a free website. The service has improved considerably since being first rolled out last spring, where it initially had a slew of issues. I find it fairly reliable now and pretty nifty when you want to share a workout with someone or just store all your training online and easily accessible from any computer.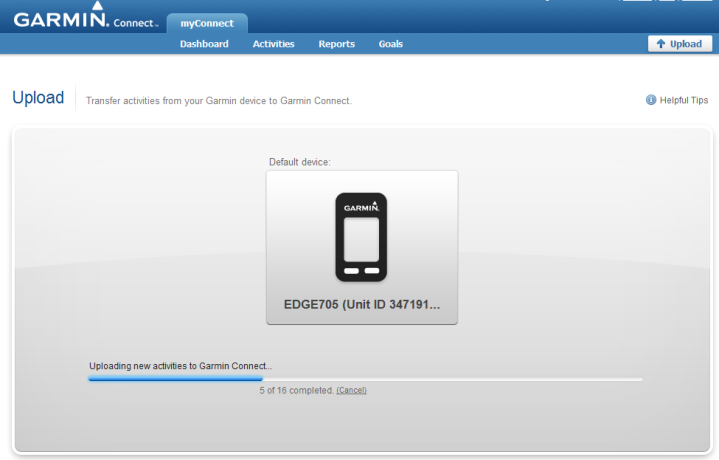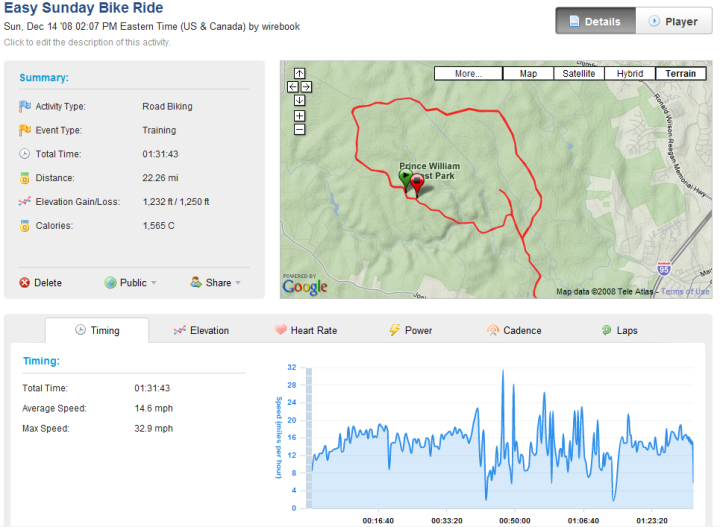 As noted you can also upload to Garmin Training Center which is a locally installed application on your computer that needs a bit of updating from 1995. But it does do the job…sorta.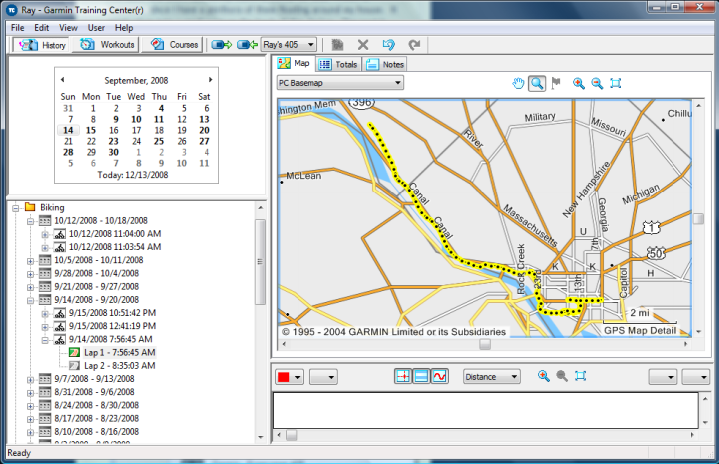 Lastly, you can also use Sport Tracks (free) to interface with the Garmin 705.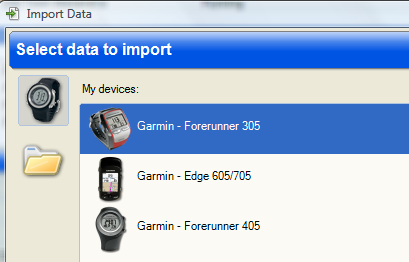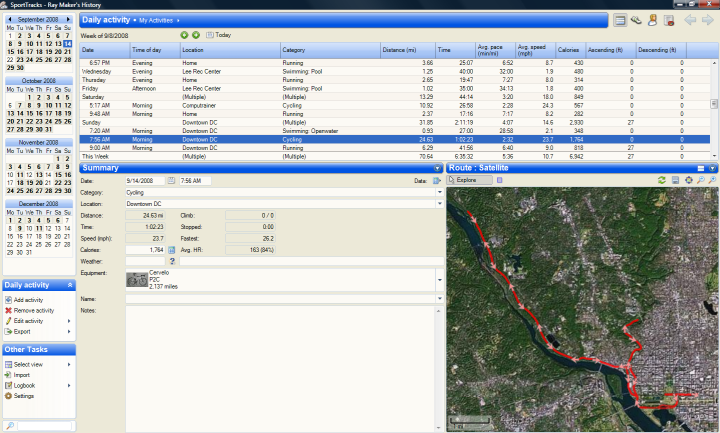 Actually, one more thought on connecting – one of the really cool features of the 705 is the fact that it appears just like a USB drive does. You can see all of the data on the device in simple folders. This is GREAT because I can literally copy and paste my workout history to my computer without any software at all.

It's because of this capability that makes it super-easy to upload to Training Peaks (which I use to transmit all workouts to my coach). Simply select the the .tcx file and you're done!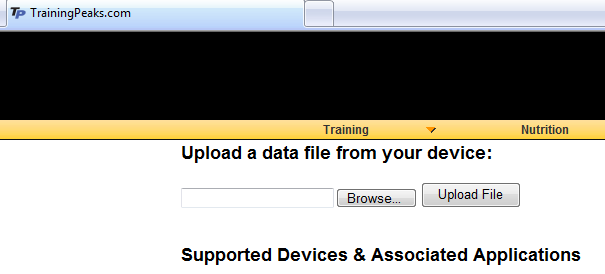 Screens/Features:
The 705 has a ton of built-in functionality – and in many ways has much of the same baseline features as the other Garmin GPS fitness devices (i.e. 305/405). It can record all the data you'd expect such as speed, altitude, HR, distance, etc… But it also has a lot of neat mapping and visualization screens available. For example…
The below screen is showing my ascent live as I ride. Very cool to see as you go up/down in the mountains (or hills). You can zoom in/out to adjust the scale.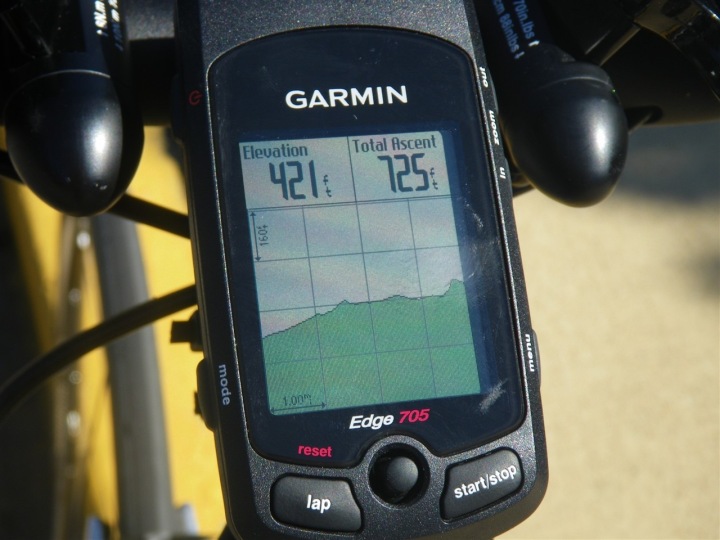 The next screen is what I typically leave it on – it shows me my most critical pieces of information: HR, speed, cadence, distance and time.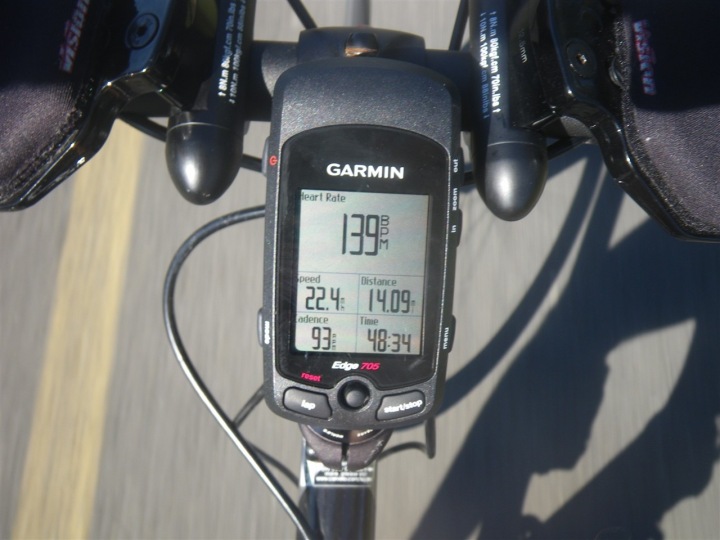 You can easily flip between a multitude of different pages that you've pre-customized. You can display up to eight different pieces of data per screen, but can also choose to display less if you'd like.
Mapping and the micro-SD card slot:
Everything I've discussed thus far is pretty much available on the other Garmin fitness series watches. However, from here on out it gets unique to the 705. The first thing you'll notice on the unit is there's a tiny little micro-SD card slot. This allows you to load maps onto the device for virtually anywhere in the world.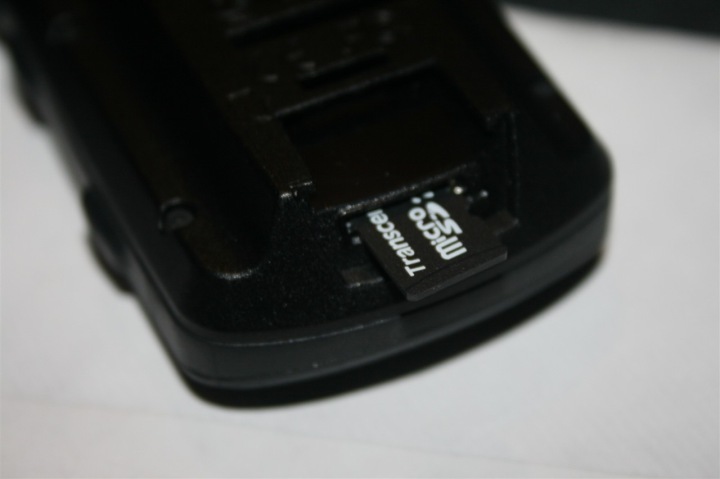 The slot then covers up with another little clip to keep it safe and sound. Honestly though – you really don't need an additional MicroSD card for just normal riding. I think you'd only need it if you wanted to load many states worth of data. And even then, Micro-SD cards only cost $7
To load maps you open up a program that Garmin supplies called Map Source, from where you can send maps to the device. This program – also apparently developed in a stylish 1995 retro look, is simple to use and gets the job done as well.
Well…except one minor issue. The Garmin 705 doesn't come with a very valuable base map set. What do I mean? Well, if you go out for a drive/ride, you'd want to see roads. Ya know – the things we travel on. Except the map set that comes preloaded has very few of these so-called 'roads'. It looks like a map from perhaps the 1700's.
Unclear on what I mean? Check out the below image of downtown Washington DC: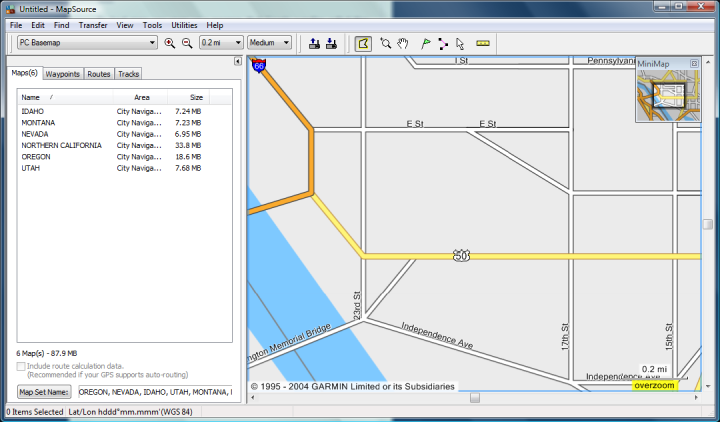 Now, check out the exact same view (below) – using a set of maps you can buy from Garmin for…about $100, or from Amazon for about $75.  Note I do NOT recommend buying the MicroSD card and instead recommend buying the DVD – as it's much handier having the full DVD than a tiny SD card.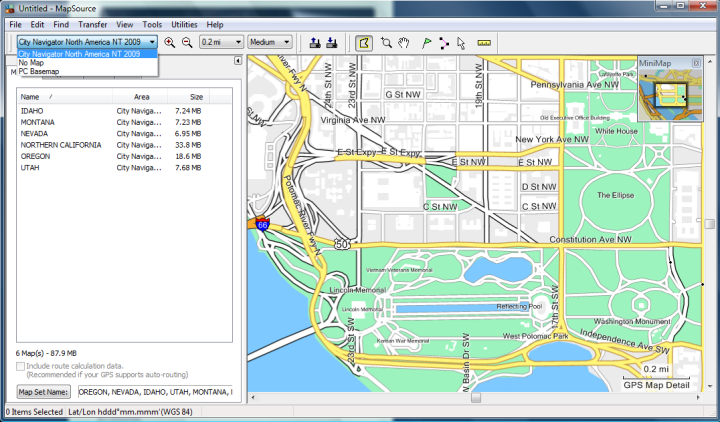 Huge difference. Actually…massive difference. In my mind the device is extremely limited from a mapping/directions standpoint if you don't have all the roads on it.
However…there is some good news here. There are more and more free mapping products available on the internet to download. If you're a tiny bit adventurous you can easily get really detailed maps for free. I wrote up a post on another forum on how to do it. Some of the options are as simple as copy/paste onto the USB connect 705. Super-easy.
Here's an example of some of the maps you can download for it. I created this one using an Opensource (free) mapping tool.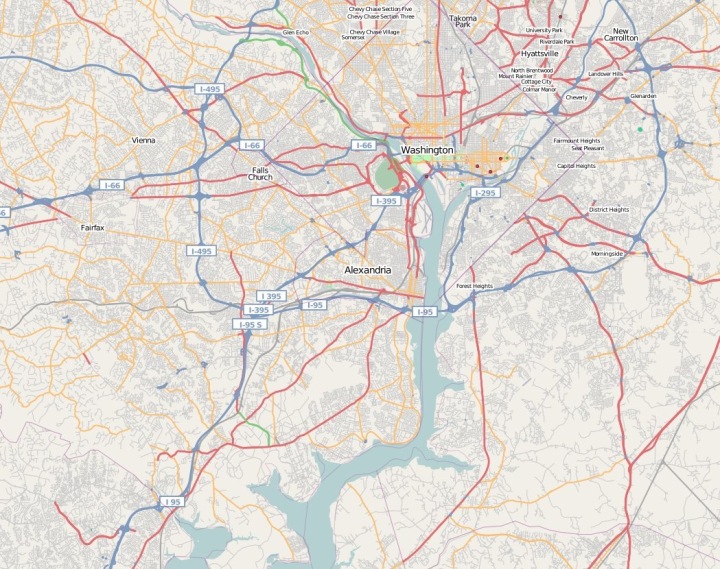 Oh, and here's the CD I bought with the Garmin Maps on it.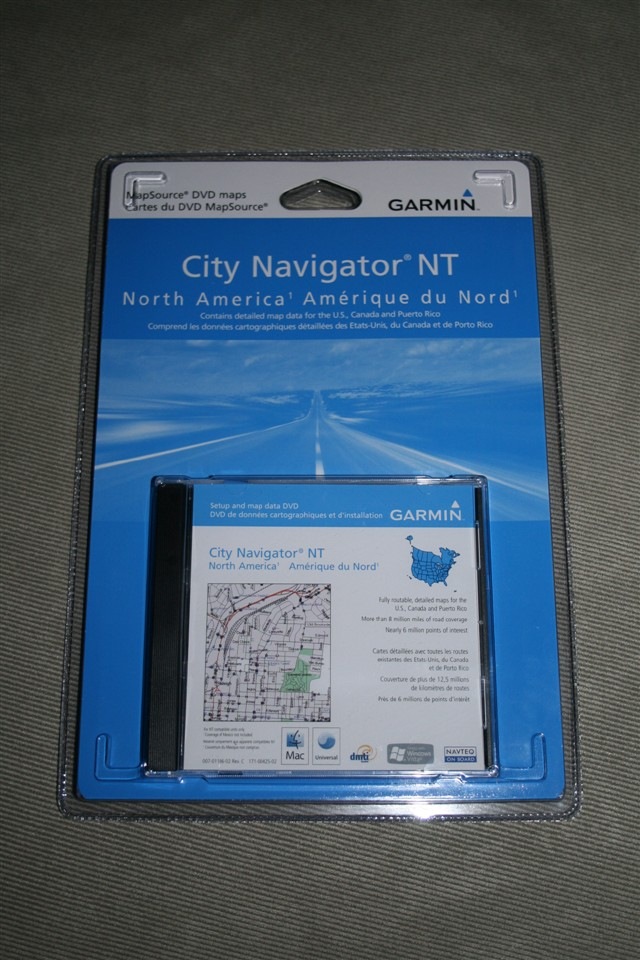 So once you've got your maps all loaded, then you can go out and explore the world without fear of getting lost. It's very simple to use. You can route to destinations (like an address) on the fly.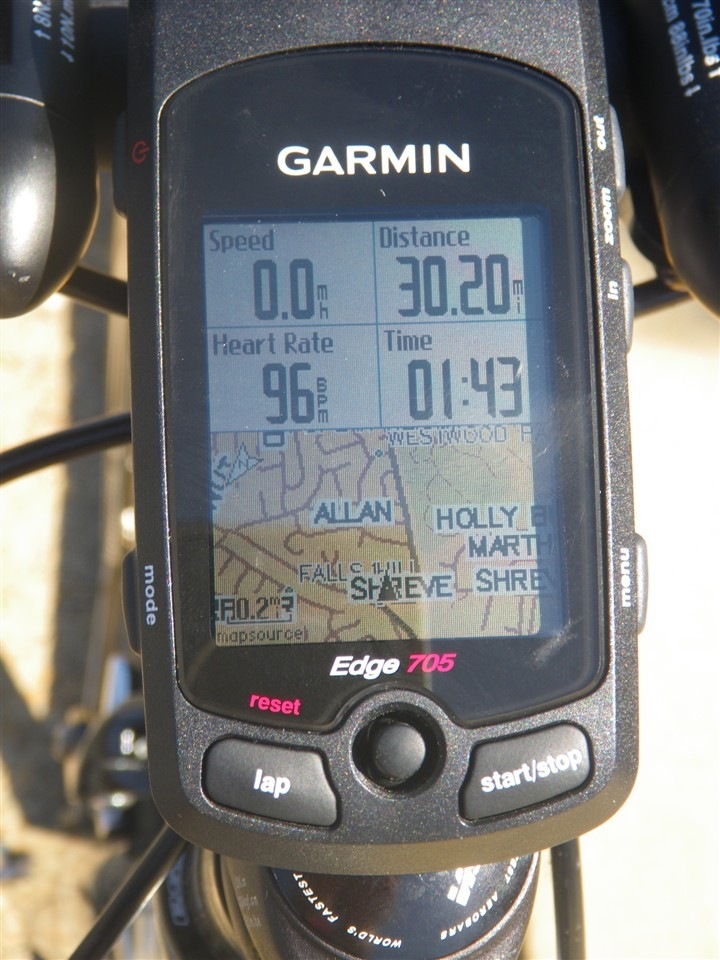 Or follow a pre-created route/course that you created on your computer. Just drag and drop little waypoints into Garmin Map Source and download it to your device. Quick and efficient.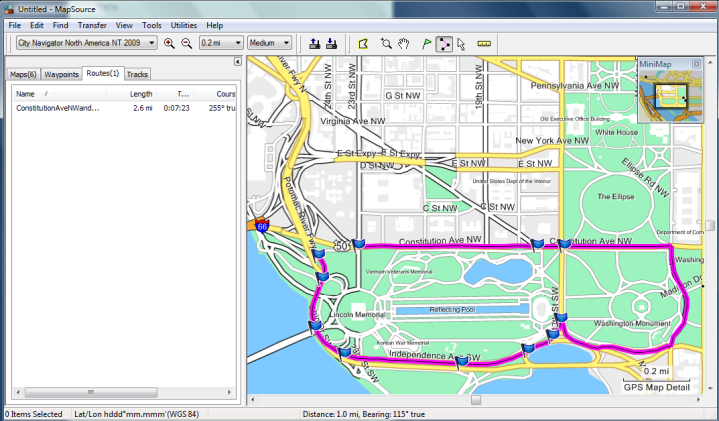 Plus, it will generate really cool turn-by-turn sheets that you can print out or save: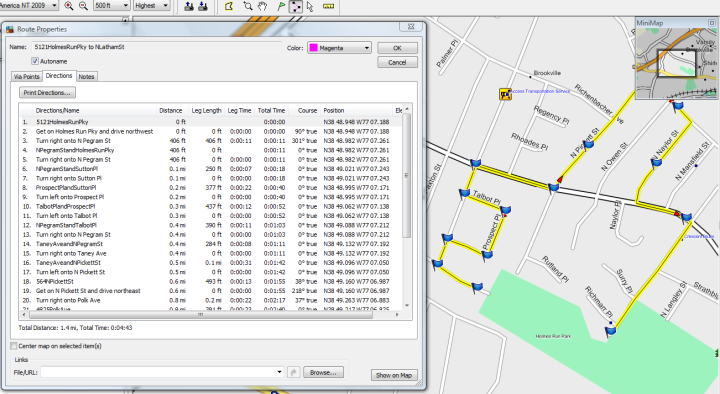 Assuming you actually get on your bike and start riding the GPS device will give you an audible warning and turn directions when you're coming up on a change in direction.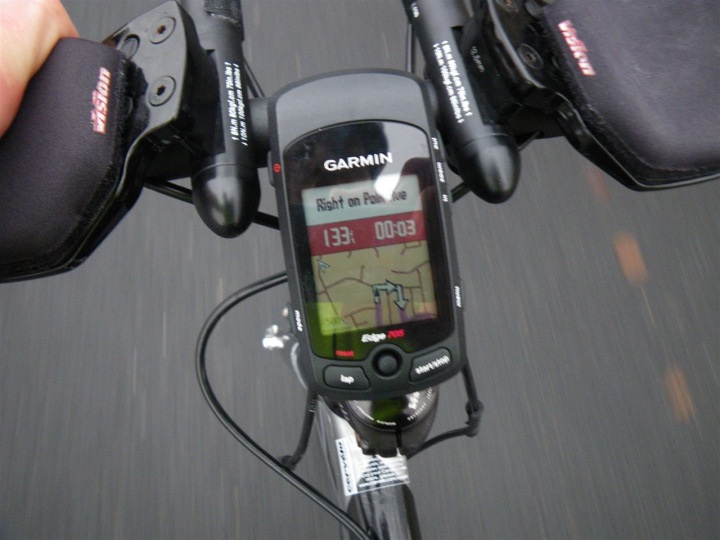 The below photo shows the list mode you can switch to, to see upcoming streets with estimated times/mileages. The ones with zero's next to them are ones I've already past.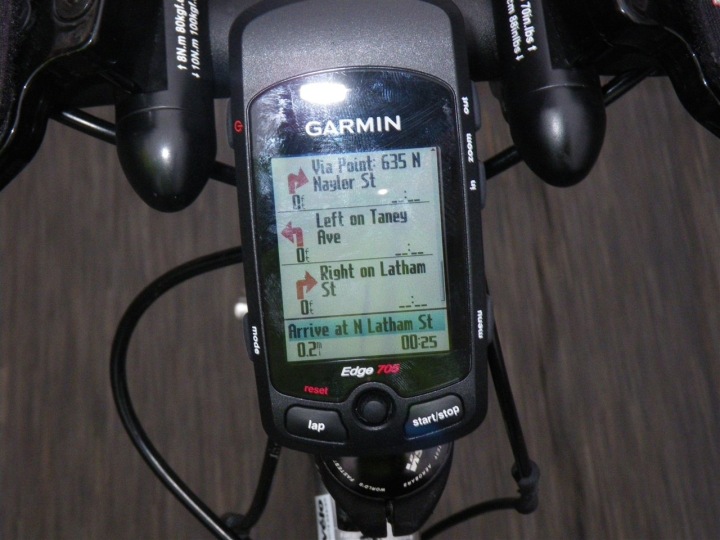 Here's a quick 90 second or so video I shot. It shows me starting the route, and a few turns, as well as correcting directions after I made a wrong turn. I just created a route (see above) that made a ton of turns on a nearby neighborhood. I casually edited out where I nearly fell of the bike. Sorry sports fans.
You can configure how long the display stays on – and even just tell it to stay on permanently, which is what I usually use in the dark, and also use when I'm indoors as it makes the screen nice and crisp.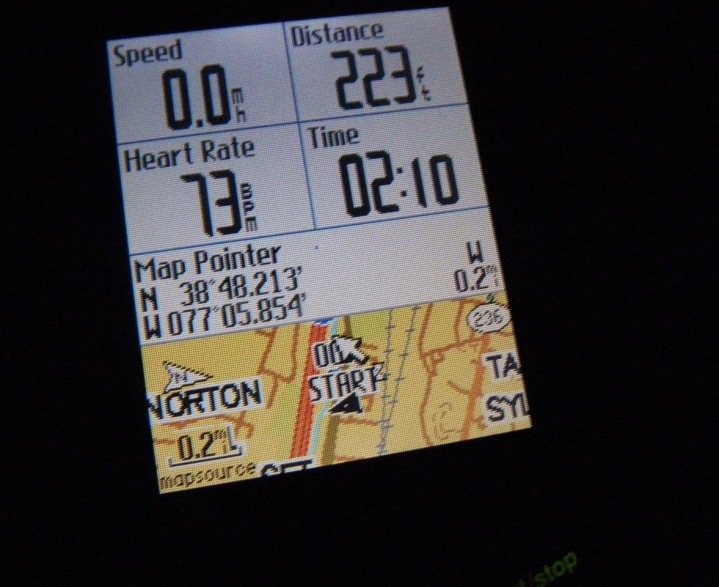 Obviously, the mapping and navigation capabilities are among the major reasons to buy this device. And quite simply: It's really awesome!
Accessories:
Like most Garmin devices, this one has a slew of accessories that work with it. Many of these use Garmin's ANT+Sport technology, which allows integrate with other devices using a wireless protocol that other companies can now develop with to offer 705-compatible devices.
Cadence meter/indoor speed magnet:

This allows you to view your cadence (RPM) – or your turnover on your stroke. In other words, how many times you rotate the pedal per minute. Incredibly valuable in both racing/training situations to ensure you don't fall into the trap of mashing big gears. If you have any previous cadence sensor from any other Garmin device, they're all compatible. I use the same one that I bought for my

Garmin Forerunner 305

watch.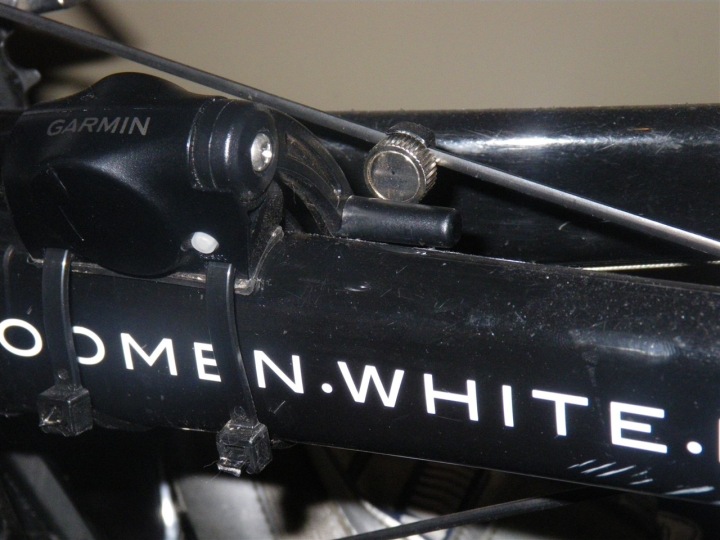 The speed magnet (part of the package) allows you to get speed and distance when indoors or otherwise in an area without satellite coverage (like a big tunnel). It works great on a trainer.
Heart Rate Monitor (HRM):

This comes with the device unless specifically purchased without it. The HRM strap simply keeps track of your HR and records it to your performance/history files. Like the cadence meter, any previous Garmin HR straps you have work with it just fine.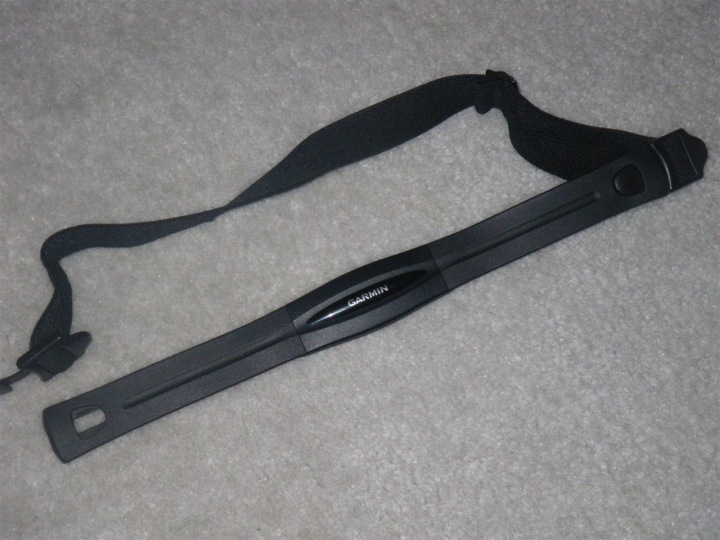 Vehicle Charger:

I happened to pick this up on a whim when I found it on sale one day. This is great for two reasons. One – I've had the very unfortunate situation of arriving at my long ride location (an hour away in the mountains) – only to find the battery on my watch dead. This simple USB car-charger allows me to avoid that scenario. In addition, because it's standard USB I've found it works great on other device (like the 305 with the cradle), and even my camera. Woohoo!

Power Meter:

The Garmin 705 is the first in the Garmin line to accept wireless data from a number of new power meter devices to measure your cycling wattage.  I use the 705 today with the Quarq Cinqo power meter, which works great.  The Edge 705 will work with any ANT+ compatible power meter.
This integration with the power meters is huge because it allows you to really bring all the technologies and different data sets together and start to put together a more comprehensive picture of a workout without juggling multiple data sets. And Training Peaks just announced on Fridaythat WKO is now compatible as well. I use a CompuTrainer today for indoor power/wattage information – but don't have anything for outdoors.
Quick comparison to 305/405:
Just for fun, I went out one day and put all three devices together on my bike for a few hour ride. They all showed virtually exactly the same thing.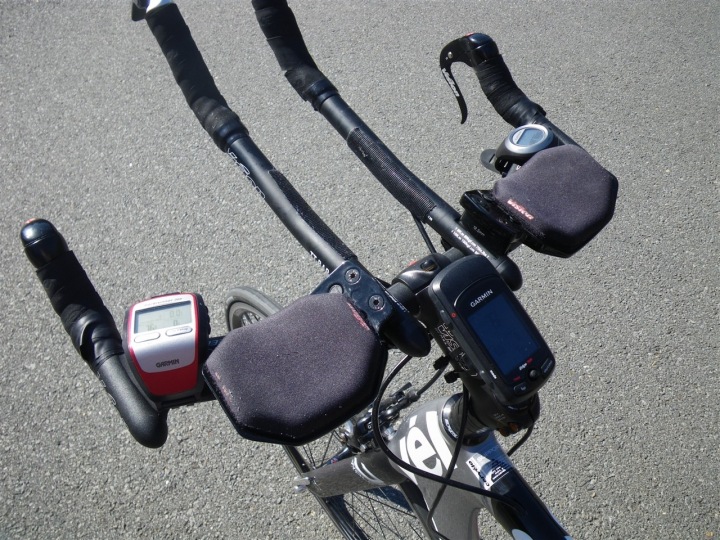 (Garmin 305 on the left, 705 in the middle and 405 on the right)
Actually, one thing I have noticed while doing this – the Garmin 705 is super-duper quick in the initial satellite reception piece. Meaning, it seems much faster in picking up the satellites upon turning it on.
And one day for fun, I took it out and went for a run with it – just to see how it might work. Aside from the obvious of having to carry it, it works pretty well. Except do note that you can't show your speed in pace (i.e. 7:00/mile), but instead just in MPH (i.e. 8MPH). They did end up exactly the same though. Pretty cool. Plus, it's kinda fun to run with a map.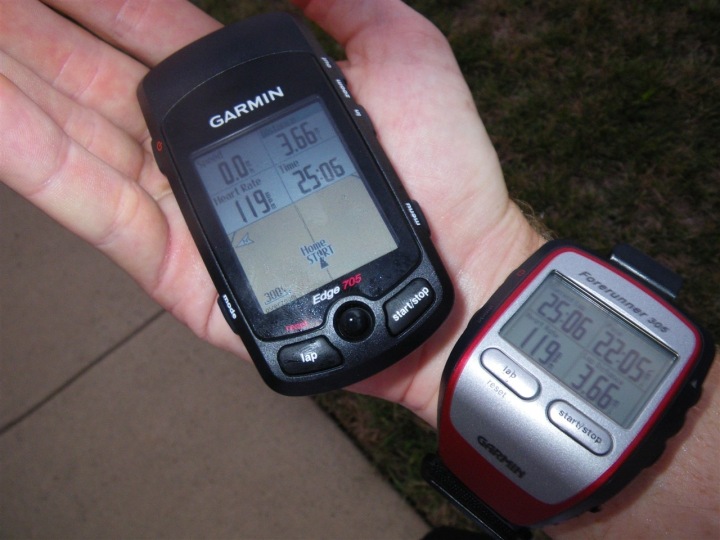 Pros and Cons:
Here's just a quick section of pro's and con's as I see them.
Pro's:
Super-small form factor device, doesn't get in the way

Quick menu's, tons of different screens can be displayed

It looks just like a USB drive, making it easy to access data on it

Mapping/directional capability is really cool, makes it so I won't get lost again for 50 miles…and thus limit my likelihood of losing a girlfriend because she wants to hurt me after getting her lost for those 50 miles

Can be used while running, sorta

Integrates with Power Meters and a slew of other accessories

Con's

Lack of usable maps pre-loaded onto the device, the fact that you need to obtain additional (real) maps is a big bummer

Fairly expensive
Sometimes it forgets to tell you to turn, and then yells at you afterwards that you missed the turn. Just like having a backseat driver. Although this is fairly rare.
Function/Feature

Garmin Edge 705
TomTom Spark 3/Runner 3
Garmin Edge 820
Garmin Forerunner 735XT
Garmin Fenix3 HR
Copyright DC Rainmaker - Updated February 5th, 2017 @ 5:36 pmNew Window
Price
$340.00
$149-$299 (Features Vary)
$399
$449
$549
Product Announcement Date
AUG 30, 2007
Sept 1st, 2016
July 13th, 2016
May 11th, 2016
Jan 5th, 2016
Actual Availability/Shipping Date
DEC 2007
Sept 8th, 2016
Mid-July 2016
May 11th, 2016
February 2016
GPS Recording Functionality
Yes
Yes
Yes
Yes
Yes
Data Transfer
USB
USB/Bluetooth Smart
USB, Bluetooth, WiFi
USB/Bluetooth Smart
USB/Bluetooth Smart/WiFi
Waterproofing
IPX7
50m
IPX7
Yes - 50m
Yes - 100m
Battery Life (GPS)
15 hours
Up to 11 hours (varies)
15 hours
14 hours in GPS-on
Up to 50hrs in GPS with optical off, about 20-25% less with optical HR on
Recording Interval
1-second
1s
1-Second or Smart
1S OR SMART
1S OR SMART
Satellite Pre-Loading via Computer
No
3 days
Yes
Yes
Yes
Quick Satellite Reception
Good
Yes
Yes
Great
Great
Alerts
Sound/Visual
VIBRATE/SOUND/VISUAL
Sound/Visual
Vibrate/Sound/Visual
Vibrate/Sound/Visual
Backlight Greatness
Great
Great
Great
Good
Great
Ability to download custom apps to unit/device
No
No
Yes
Yes
Yes
Acts as daily activity monitor (steps, etc...)
No
Yes
No
Yes
Yes
Can control phone music
No
No
Yes
YEs
Has music storage and playback
Yes
No
No
No

Connectivity

Garmin Edge 705
TomTom Spark 3/Runner 3
Garmin Edge 820
Garmin Forerunner 735XT
Garmin Fenix3 HR
Bluetooth Legacy (pre-4.0) to Phone
No
No
No
No
No
Bluetooth Smart (4.0+) to Phone Uploading
No
Yes
Yes
Yes
Yes
Phone Notifications to unit (i.e. texts/calls/etc...)
No
Yes
Yes
YEs
Yes
Live Tracking (streaming location to website)
No
No
Yes
Yes
Yes
Group tracking
No
Yes
No
Emergency/SOS Message Notification (from watch to contacts)
No
No
Yes
No
No
Built-in cellular chip (no phone required)
No
No
No
No
No

Cycling

Garmin Edge 705
TomTom Spark 3/Runner 3
Garmin Edge 820
Garmin Forerunner 735XT
Garmin Fenix3 HR
Designed for cycling
Yes
Yes
Yes
Yes
Yes
Power Meter Capable
Yes
No
YEs
Yes
Yes
Power Meter Configuration/Calibration Options
Yes
N/A
Yes
YEs
Yes
Power Meter TSS/NP/IF
No
N/A
Yes
Yes
Yes
Speed/Cadence Sensor Capable
Yes
Yes
Yes
Yes
Yes
Strava segments live on device
No
Yes
Yes
No
Crash detection
No
Yes
No
No

Running

Garmin Edge 705
TomTom Spark 3/Runner 3
Garmin Edge 820
Garmin Forerunner 735XT
Garmin Fenix3 HR
Designed for running
No
yes
No
Yes
Yes
Footpod Capable (For treadmills)
N/A
No (Can use internal accelerometer)
N/A
Yes
YEs
Running Dynamics (vertical oscillation, ground contact time, etc...)
N/A
No
N/A
YEs
With HRM-TRI or HRM-RUN (Not via Optical HR)
VO2Max Estimation
N/A
nO
(Cycling Yes though)
Yes
YEs
Race Predictor
N/A
nO
N/A
YEs
Yes
Recovery Advisor
N/A
no
(Cycling Yes Though)
Yes
Yes
Run/Walk Mode
N/A
no
N/A
YEs
YEs

Swimming

Garmin Edge 705
TomTom Spark 3/Runner 3
Garmin Edge 820
Garmin Forerunner 735XT
Garmin Fenix3 HR
Designed for swimming
No
Yes
No
Yes
Yes
Openwater swimming mode
N/A
No
N/A
Yes
Yes
Lap/Indoor Distance Tracking
N/A
No
N/A
Yes
Yes
Record HR underwater
N/A
NO (NOT ENABLED IN SWIM MODE)
N/A
WITH HRM-TRI/HRM-SWIM
WITH HRM-TRI/HRM-SWIM (Not with optical HR)
Openwater Metrics (Stroke/etc.)
N/A
No
N/A
Yes
Yes
Indoor Metrics (Stroke/etc.)
N/A
Yes
N/A
Yes
YEs
Indoor Drill Mode
N/A
No
N/A
Yes
YEs
Indoor auto-pause feature
N/A
No
N/A
No
YEs
Change pool size
N/A
15m-50m
N/A
Yes
Yes
Indoor Min/Max Pool Lengths
N/A
Yes
N/A
17M/18Y TO 150Y/M
17M/18Y TO 150Y/M
Ability to customize data fields
N/A
Yes
N/A
Yes
YEs
Can change yards to meters
N/A
Yes
N/A
YEs
YEs
Captures per length data - indoors
N/A
Yes
N/A
YEs
YEs
Indoor Alerts
N/A
Goals Only
N/A
Yes
Yes

Triathlon

Garmin Edge 705
TomTom Spark 3/Runner 3
Garmin Edge 820
Garmin Forerunner 735XT
Garmin Fenix3 HR
Designed for triathlon
No
Sorta
No
Yes
Yes
Multisport mode
N/A
No
N/A
Yes
Yes

Workouts

Garmin Edge 705
TomTom Spark 3/Runner 3
Garmin Edge 820
Garmin Forerunner 735XT
Garmin Fenix3 HR
Create/Follow custom workouts
Yes
No
Yes
Yes
Yes
On-unit interval Feature
Yes
Yes
Yes
Yes
Yes
Training Calendar Functionality
No
No
Yes
Yes
Yes

Functions

Garmin Edge 705
TomTom Spark 3/Runner 3
Garmin Edge 820
Garmin Forerunner 735XT
Garmin Fenix3 HR
Auto Start/Stop
Yes
No
Yes
YEs
Yes
Virtual Partner Feature
Yes
Yes
Yes
Yes
Yes
Virtual Racer Feature
No
Yes
Yes
Yes
YEs
Records PR's - Personal Records (diff than history)
No
No
Yes
Yes
Yes
Day to day watch ability
N/A
Yes
No
Yes
Yes
Hunting/Fishing/Ocean Data
No
No
No
No
Yes
Tidal Tables (Tide Information)
No
No
No
No
No
Jumpmaster mode (Parachuting)
No
No
No
No
Yes
Geocaching
No
No
No
No
Via GPS coordinates
Weather Display (live data)
No
No
Yes
Yes
yES

Navigate

Garmin Edge 705
TomTom Spark 3/Runner 3
Garmin Edge 820
Garmin Forerunner 735XT
Garmin Fenix3 HR
Follow GPS Track (Courses/Waypoints)
Yes
Yes
Yes
Yes
Yes
Markers/Waypoint Direction
Yes
Sorta
Yes
Saved locations only
Yes
Routable/Visual Maps (like car GPS)
Yes
No
Yes
No
No
Back to start
Yes
Yes
Yes
Yes
Yes
Impromptu Round Trip Route Creation
No
No
Yes
No
No
Download courses/routes from phone to unit
No
No
Yes
Yes
Yes

Sensors

Garmin Edge 705
TomTom Spark 3/Runner 3
Garmin Edge 820
Garmin Forerunner 735XT
Garmin Fenix3 HR
Altimeter Type
Barometric
Depends on model
Barometric
GPS
Barometric
Compass Type
GPS
Depends on model
GPS
GPS
Magnetic
Optical Heart Rate Sensor internally
Yes
No
Yes
Yes
Heart Rate Strap Compatible
Yes
Yes
Yes
Yes
Yes
ANT+ Heart Rate Strap Capable
Yes
No
Yes
Yes
Yes
ANT+ Speed/Cadence Capable
Yes
No
YEs
Yes
YEs
ANT+ Footpod Capable
No
No
No
Yes
YEs
ANT+ Power Meter Capable
Yes
No
Yes
Yes
Yes
ANT+ Weight Scale Capable
No
No
Yes
No
No
ANT+ Fitness Equipment (Gym)
No
No
No
No
No
ANT+ Lighting Control
No
Yes
Yes
No
ANT+ Bike Radar Integration
No
Yes
Yes
No
ANT+ Trainer Control (FE-C)
No
Yes
No
No
ANT+ Remote Control
No
No
Yes
No
No (can control VIRB though)
ANT+ eBike Compatibility
No
No
Yes
No
No
ANT+ Muscle Oxygen (i.e. Moxy/BSX)
No
With apps
No
With Connect IQ Apps
ANT+ Gear Shifting (i.e. SRAM ETAP)
No
Yes
No
Shimano Di2 Shifting
No
Yes
Yes
No
Bluetooth Smart HR Strap Capable
No
Yes
No
No
No
Bluetooth Smart Speed/Cadence Capable
No
Yes
No
NO
No
Bluetooth Smart Footpod Capable
No
No, has internal accelerometer
No
nO
nO
Bluetooth Smart Power Meter Capable
No
No
No
nO
No
Temp Recording (internal sensor)
No
No
Yes
No
Yes
Temp Recording (external sensor)
No
No
No
Yes
Yes
Compatible with Firstbeat HR tools
No
No
No
-
Yes

Software

Garmin Edge 705
TomTom Spark 3/Runner 3
Garmin Edge 820
Garmin Forerunner 735XT
Garmin Fenix3 HR
PC Application
GTC
MySports Connect
Garmin Express (PC/Mac)
Garmin Express
Garmin Express
Web Application
Garmin Connect
TomTom MySports
Garmin Connect
Garmin Connect
Garmin Connect
Phone App
Garmin Fit
iOS/Android
iOS/Android/Windows PHone
iOS/Android/Windows Phone
iOS/Android/Windows Phone
Ability to Export Settings
No
No
No
No
No

Purchase

Garmin Edge 705
TomTom Spark 3/Runner 3
Garmin Edge 820
Garmin Forerunner 735XT
Garmin Fenix3 HR
Amazon Link
Link
Link
Link
Link
Link
Clever Training - Save a bunch with Clever Training VIP program
No longer made
Link
Link
Link
Link
Clever Training - Save a bunch with Clever Training VIP program
Link
Link
Link

DCRainmaker

Garmin Edge 705
TomTom Spark 3/Runner 3
Garmin Edge 820
Garmin Forerunner 735XT
Garmin Fenix3 HR
Review Link
Link
Link
Link
Link
Link
Summary:
In summary, I'd highly recommend the Edge 705 for cyclists or triathletes. If you're as a triathlete and can only afford one device, then I'd recommend the Forerunner 305 or 310XT simply because of the run (and swim) capabilities. However, for cyclists it's a perfect device. It's small, easily portable, the battery appears to last forever, and it's got tons of really cool features. Plus, the future of the device looks really bright as more and more 3rd party companies start offering devices that integrate with the watching using Garmin's new wireless ANT+Sport technology.
As noted earlier, there are a few different versions available of the Edge 705 – depending on exactly which accessories you want (i.e. with cadence meter, with cadence and maps, and the uber-special Team Garmin orange one).  All of the different versions include the basic classic Garmin HR strap in them.  If you found this review helpful in your purchasing decision, you can support future reviews like this (or race fees) by using any of the Amazon links (accessories or the units themselves).  The reviews generally take 20-40 hours to put together, so it's a fair bit of work (and labor of love).
Thanks for reading!  As always – if you have questions, feel free to post them in the comments below.
As you've seen throughout the review there are numerous compatible accessories for the unit. I've consolidated them all into the below chart, with additional information (full posts) available on some of the accessories to the far right. Also, everything here is verified by me – so if it's on the list, you'll know it'll work. And as you can see, I mix and match accessories based on compatibility – so if a compatible accessory is available at a lower price below, you can grab that instead.
Finally, I've written up a ton of helpful guides around using some of the various Garmin devices (including the Edge 500 and the Edge 705), which you may find useful.  These guides are all listed on this page here.