When Garmin first announced the Garmin FR60 last spring, it honestly didn't even catch my attention.  After all, why would I of all people – the person with a gazillion GPS based training watches – want a training watch without GPS?
Well, it turns out, there's actually a lot of good reasons.  I contacted Garmin back in December about getting a temporary demo unit to play around with for a bit after I read it could wirelessly synchronize with the Tanita BC-1000 digital scale that I was testing.  The watch arrived a few days later and I got to work using it day in and day out – for some 45 days now.  I swam, ran, biked, skied and everything else in between with it…and it didn't take long to actually really enjoy using this watch.
Now, before we get into the meat of the review, for those of you who've read my reviews in the past know that I tend to be pretty detailed…and in depth.  That's just the way I do things around here at DC Rainmaker.  Think of them more like reference guides than quick and easy summaries.  I try and cover every conceivable thing you might do with the device and then poke at it a bit more.  My goal is to leave no stone unturned – both the good and the bad.
At the end of the day I'm an athlete just like you, I want the same things out of the equipment I buy.  I don't get paid to write these reviews, nor do I keep the units from Garmin – they all go back after a period of time ranging between 30 and 60 days (in this case, it goes back tomorrow).  I write the reviews merely because I'm interested in them.  I work in technology for a living, so I understand how this stuff works pretty well and can relay what I love and hate about the devices – hopefully allowing you to make a better purchasing decision. But, if I've missed something or if you spot something that doesn't quite jive – just let me know and I'll be happy to get it all sorted out.  Also, because the technology world constantly changes, I try and go back and update these reviews as new features and functionality are added – or if bugs are fixed.
So with that out of the way…let's get on with the action!
In the box:
Once the box arrives at your local mailbox or doorstep, it'll look something like this: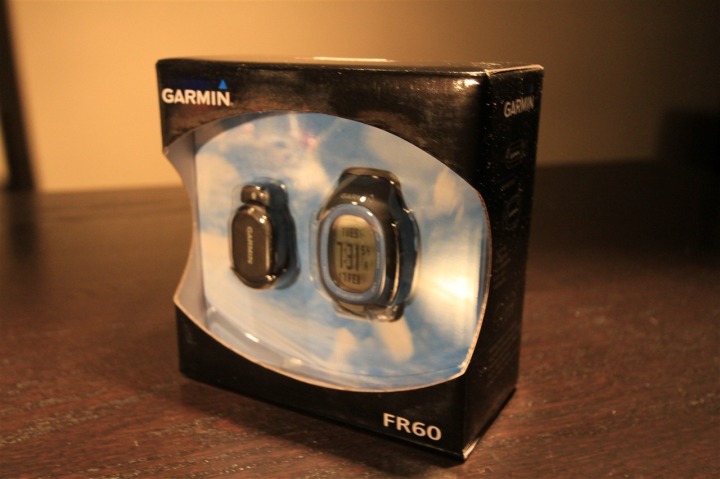 Pretty much your standard Garmin box.  If you happen to get the pink flavor, it'll look like this next to Mr. Blue: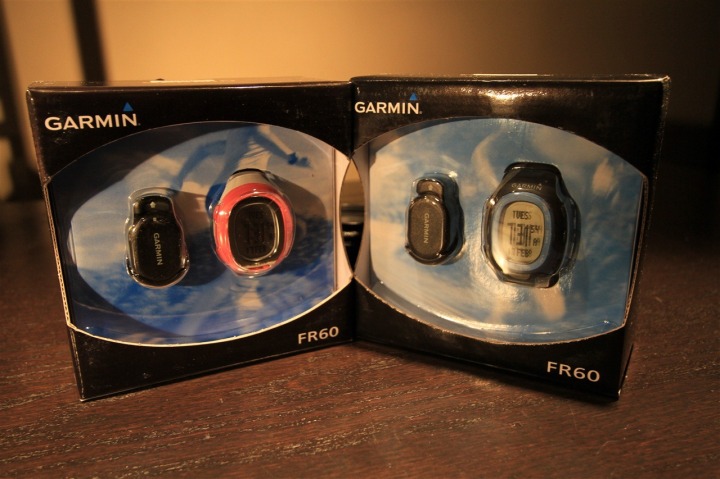 Upon opening the box you'll find a pretty clean and easy to identify set of plastic baggies: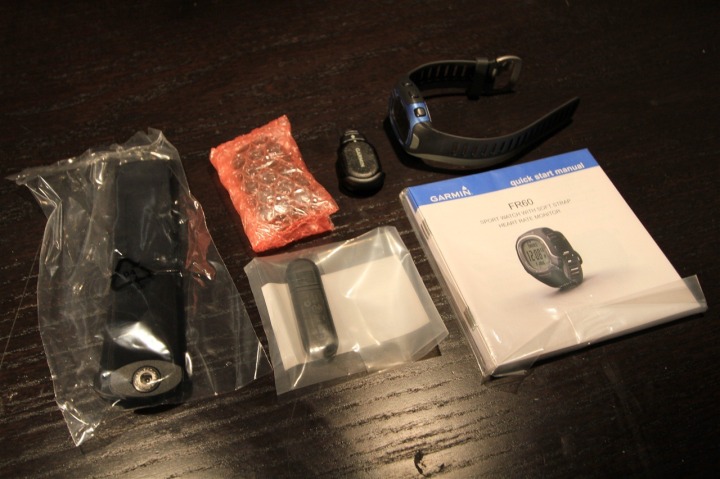 Remove all the plastic away (far less plastic than previous watches), and you get the actual components inside: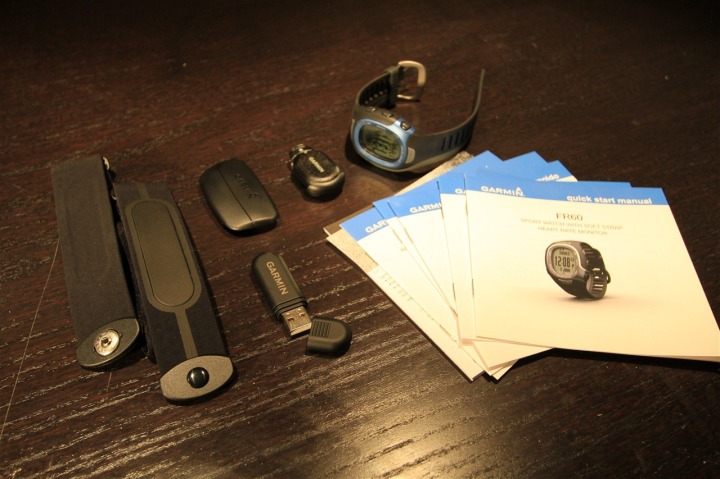 What are they all you ask?  Here ya go – all labeled (you may have to click to view):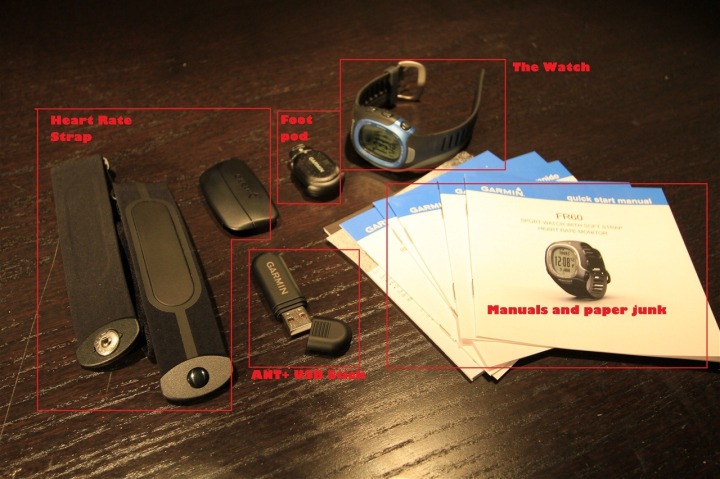 First up, is the watch itself: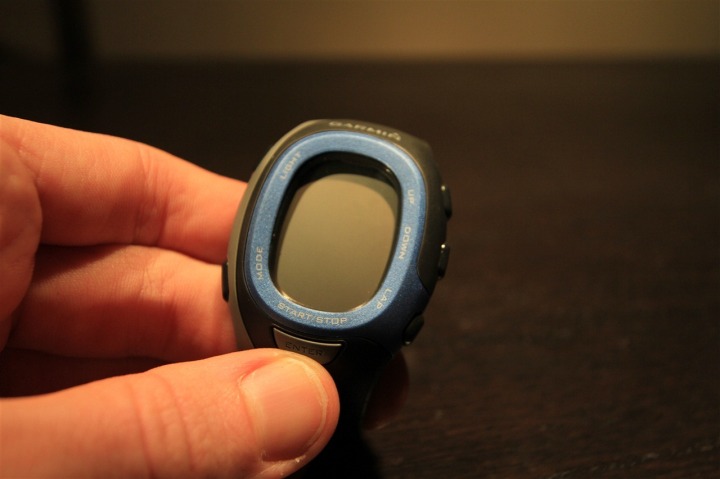 (It comes turned off, we'll get to the turning on part in a minute)
Then you've got the premium heart rate strap (depending on the package you buy):
Next up is the footpod – which is not much bigger than your average quarter…or Canadian Two Dollar (Toonie) piece for ya'll up north.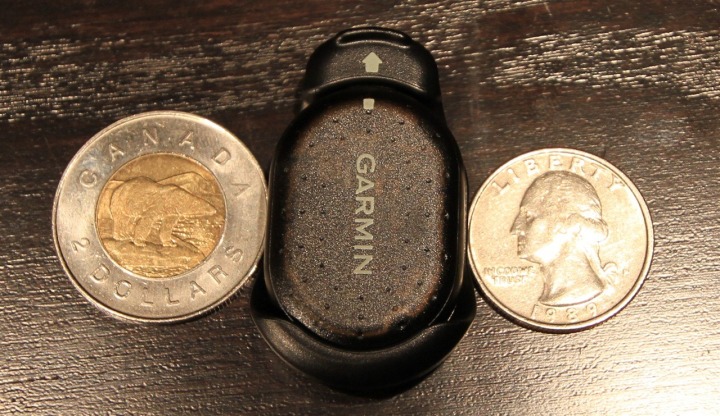 Then you've got your ANT+ USB stick – which is what wirelessly connects the watch to your computer.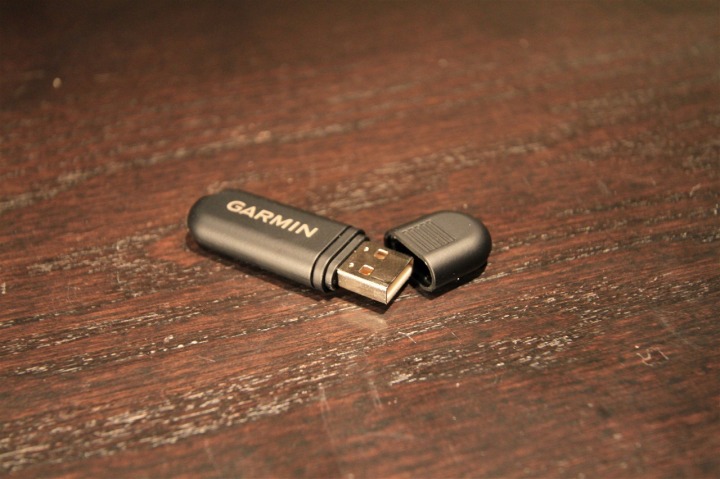 And finally, you've got an assorted stack of manuals in 92 languages (ok, less than that), some warranty junk and some more papers.  No CD or DVD's included here.  Everything is done online.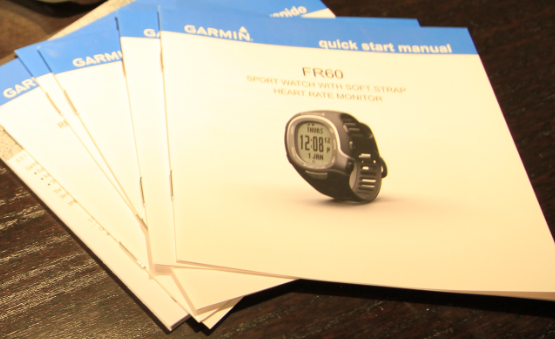 Size Comparison:
With everything out of the box, let's compare it briefly to a few other well known watches, shall we?
Here we go, a side shot comparison with the Garmin 305/310XT/405 and FR-60: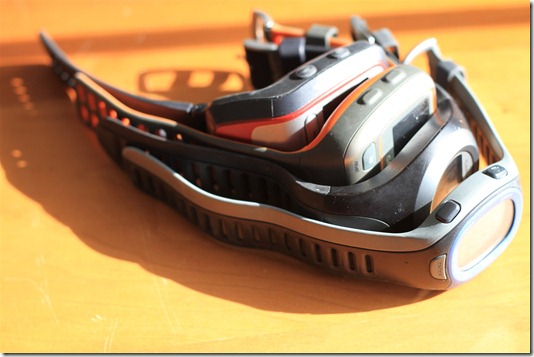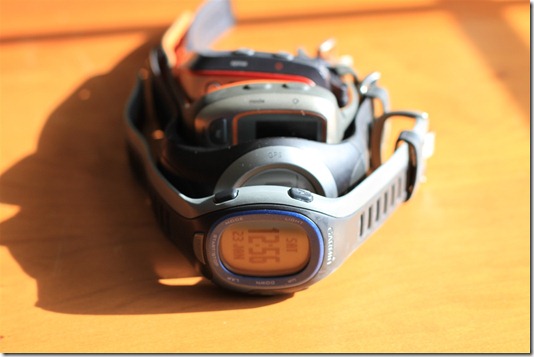 And then the classic wrapped around a compressed air canister shot: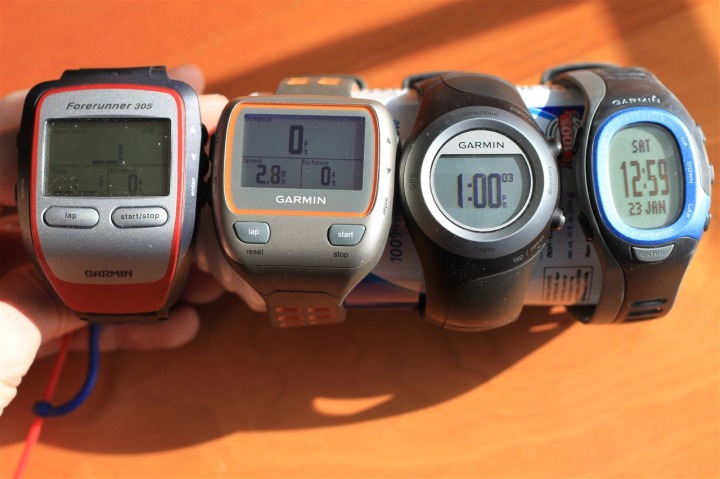 (From left to right: Garmin 305, 310XT, 405, FR-60)
As you can see, the FR-60 is by far quite a bit smaller and thinner.  So while the 405 may look similar from a head on shot, when you look at the first shot up there next to it, you realize just how much smaller the FR-60 really is.  Onwards with getting to use it for the first time!
First use:
As I noted above when you first get the watch it'll be in a turned off state, just like below: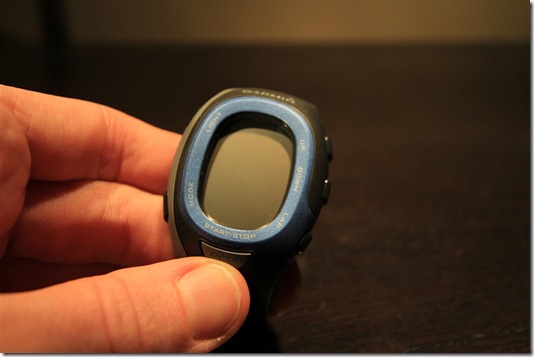 Fear not though, it's not dead – it's just sleeping (or as my Grandma used to say – 'Resting my eyes').  You simply hold the mode button down for a moment and you're off and running with a quick setup wizard – starting with language: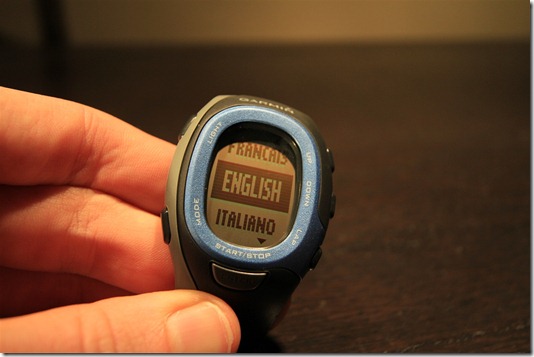 You'll go through a series of questions that take only a minute to complete:
1) Language
2) Time Format
3) Time
4) Date (Year, then Month, then Day)
5) Statue or Metric
6) Gender
7) Age
8) Weight
9) Height
10) Lifetime Athlete (Basically do you exercise a ton)
11) Fitness class (scale of 1-10)
Once you're done answering the pop quiz, the watch will think for a brief moment: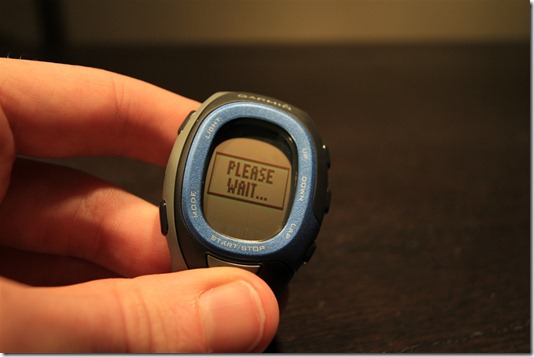 And then you're ready to roll: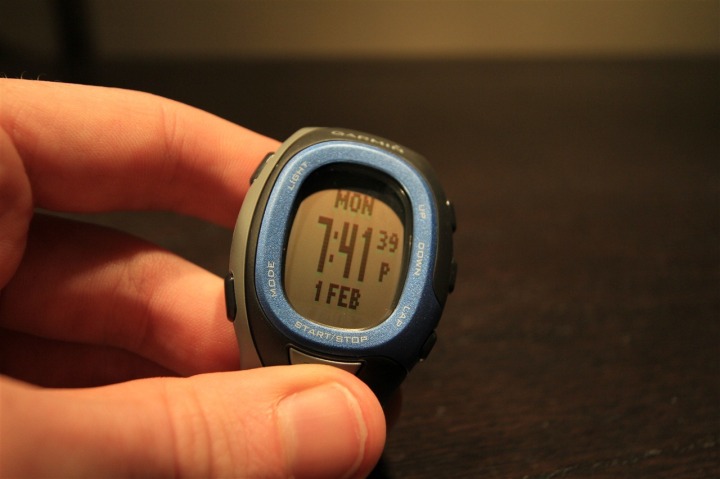 Now that the watch is all setup for the first time, let's get onto configuring it for your first run.
Calibration:
Footpod based running watches have been around for ages, and by and large all of them have required some sort of calibration routine prior to using it.  In most cases it's running between 400 and 1600m (quarter of a mile, to a mile), where the watch then creates a calibration factor – or the difference between how far you said you ran versus how far it thinks you ran.  That factor is then used in future runs to  give you a more accurate recorded distance of your run.
The challenge with these algorithms is that in many cases they don't account for changes in stride that are accompanied by terrain changes (hills), weather conditions (snow), or performance increases (speed).  So while it may be calibrated at your 'normal easy' running pace, it gets all confused at a faster pace.  Would that hold the same for the FR-60 footpod?
Well, I set out to see how far off an un-calibrated watch was, and then I went ahead and calibrated it.  For the un-calibrated test I used a track, which allowed me to see how close it would come.  In all cases, I did two laps – or 800m (half a mile).
Here's the first 800m, note the exact distance recorded in Garmin Connect (un-calibrated):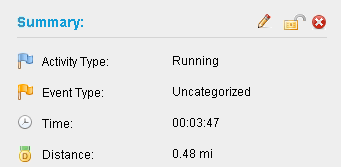 So then I went ahead and calibrated it (just run any distance over a quarter of a mile) – and here's the corrected distance (calibrated):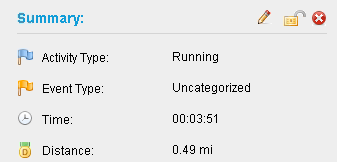 Pleased with my newfound calibrated watch, I went ahead and went for a bit of a whacky run.  I started off on the track for a few laps, then across a parking lot, down some roads, through some trails, up some hills, down some hills, more roads, more trails, a tunnel, and then more roads.  Basically, all over the place.  As a comparison, I had the Garmin 310XT GPS watch along for the ride.  And here's what they recorded:
FR60:

Garmin 310XT:
Look at the first two columns – pretty darn close – only .02 miles off, after 4.3 miles.  And who's to say that the GPS isn't off a bit here?  Especially given I was in the trees for some of it.  Note the other columns differ as the 310XT has additional data fields like elevation.
Of course, I was even more blown away when I went for a run with it this past weekend in the snow.  Of all things, snow will affect stride the most – add to that the fact that this particular training run I was doing had a slew of interval like sets in it, with varying paces from 5:00/mile to 10:00/mile.  If anything, I was expecting some pretty big errors here.
What'd I end up with?  Well:
FR-60: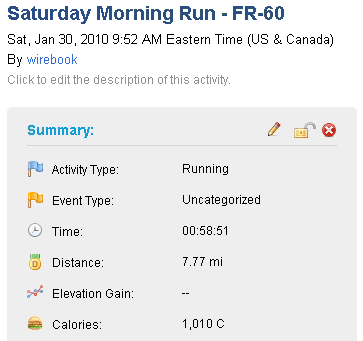 310XT: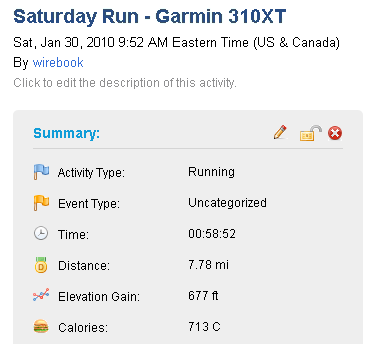 And just in case that isn't clear: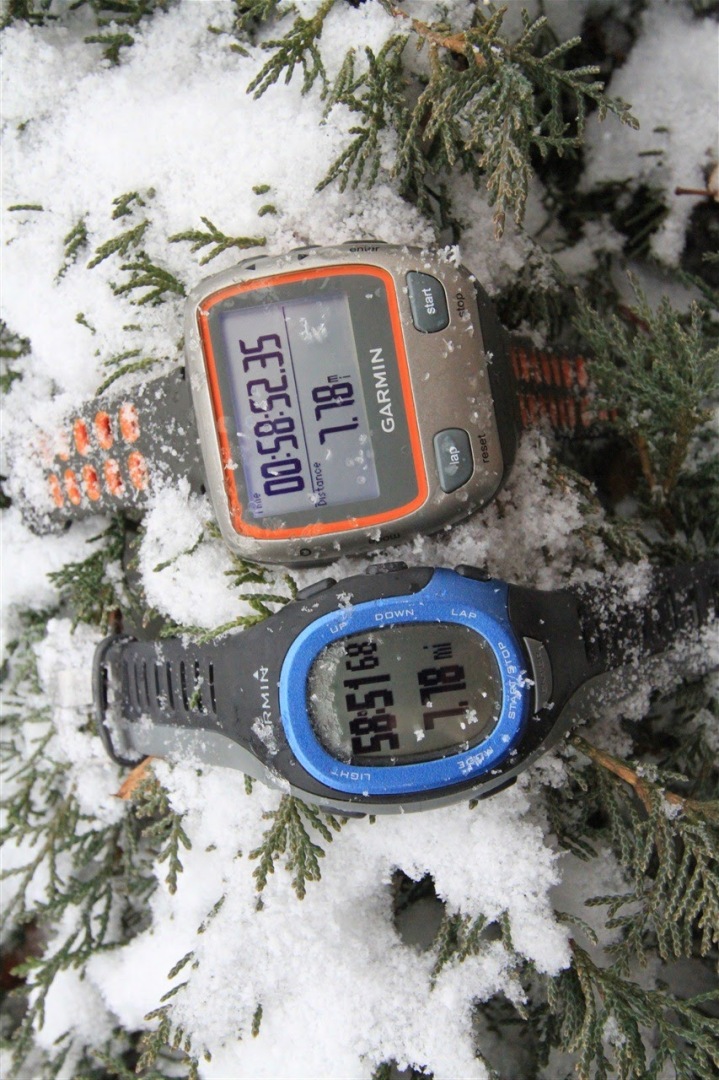 Seriously folks…I've never been more amazed – I'm relatively certain that two GPS watches – (or for that matter, even two FR-60's) would never get me that exact of a reading again if I tried.  Though the difference in calories is pretty interesting.  I'd think the 310XT was more accurate in this case…
So..lesson learned here?  Its distance is accurate…and calibration is pretty solid.
Using it while running
Now that we've talked about calibration with running a bit, let's talk about just general use while running.
The FR-60 is undoubtedly a runner's watch first (and then a cyclist's watch second).  In order to get pace/distance, you do need the foot pod – which comes included in some of the different bundles that the FR-60 is sold as (see bundling section at end).  Once you've got it all calibrated, it's time to get out and run with it.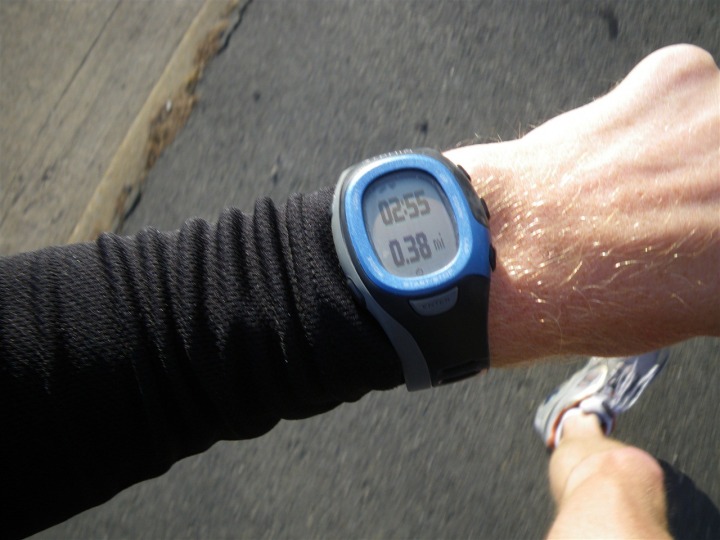 When running you have a three data fields that can be shown, and up to five data pages (that's 15 potential pieces of data accessible on any given run).  Of course, all data is recorded at all times, so it's just a matter of what's shown.
A data field is simply a piece of data – such as pace, time, etc.. Shown below is a page with two data fields on it (time and lap count):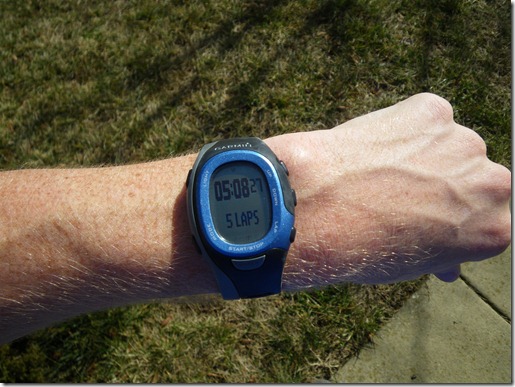 You can use a feature called 'auto-scroll' to have the watch automatically scroll between the different pages at a rate of slow/medium/fast.  This is useful if you have more than three pieces of data you want to track (such as HR/Pace/Time/Distance), and don't want to have to fidget with the watch.  It just automatically rotates through the different screens of data like a banner ad.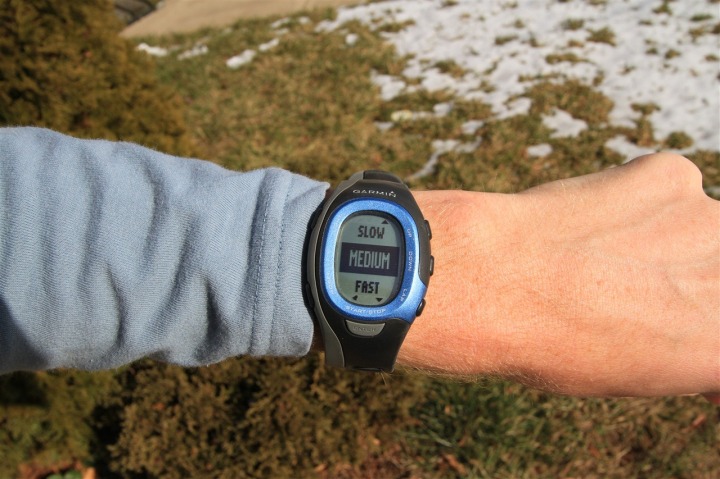 Another way to avoid having to touch the watch is to use a feature called auto-lap.  Common to virtually all Garmin fitness watches, this allows you to automatically set a given lap (split) after a pre-determined time period.  For example, every mile you can set it to record a split.
Now personally, I don't use this feature (I turn it off).  This is because when I train, my splits are based off of the given sets I'm doing – which are either time or mileage based.  And I like to review my paces within each split based on that set.  In other words, I may have splits that are 5 Minutes, 10 Minutes, 1 Mile, 1 Mile again, etc… as opposed to simply having them set at a pre-determined distance.  The good news here is that to each their own, as you can simply turn this feature on or off at any point prior to a run, or during a run.  So for me, I just manually create the splits by hitting the lap button.
One feature I do like though to leave on is Auto Pause.  You ever stop at a stoplight, hit pause on your watch, then start running again a few seconds later only to forget to resume your watch?  Yeah, sucks, doesn't it?  Well, Auto Pause takes care of it all for you.  When you stop running, it stops recording, when you start running again, it starts up.  Perfect for anyone running in the city or places with lots of stops and starts.
Now, one word of advise here.  You'll want to change the default 'pause' speed from the 30:00/minute/mile value to something more realistic.  For me I use a 20:00/mile pace – as that's slower than I would normally walk.  Otherwise you get a bunch of false positives.
While running outside I find the watch super easy to run and pace by.  One cool thing is that it's far faster to update than a GPS-based watch.  Typically on a GPS based watch (such as the Garmin 305/310XT/405/etc…), you'll see a pace lag of about 5-7 seconds.  Meaning, if you start sprinting all out, it will take about 5-7 seconds until the pace is accurate, and then the same as you slow down.  But not with the FR-60, it's instantaneous.  Which is kinda fun.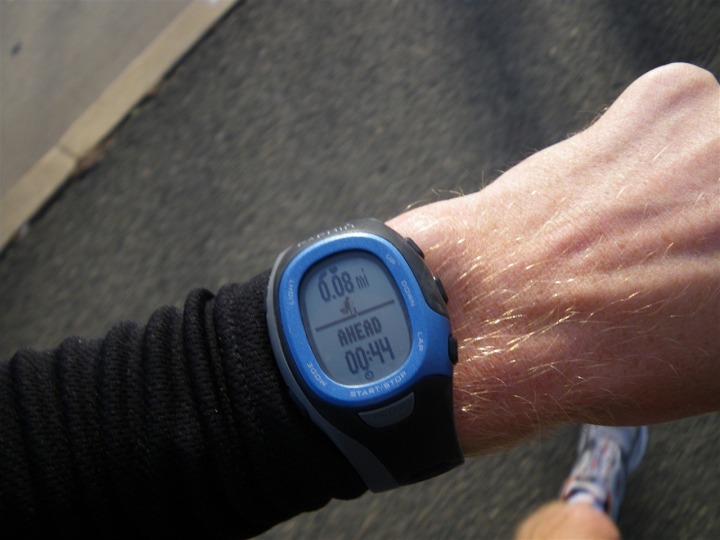 If you find yourself outdoors at night while running you can use the little light on the watch to illuminate the console.  The light isn't terribly bright though (nothing like the 305/310XT), and can only be set to stay on a maximum of 20 seconds (the default is 8 seconds).  I suspect the reason for a maximum timeframe of 20 seconds is that the watches battery is designed to last a year, and can't just be recharged by plugging it in, which is fair enough.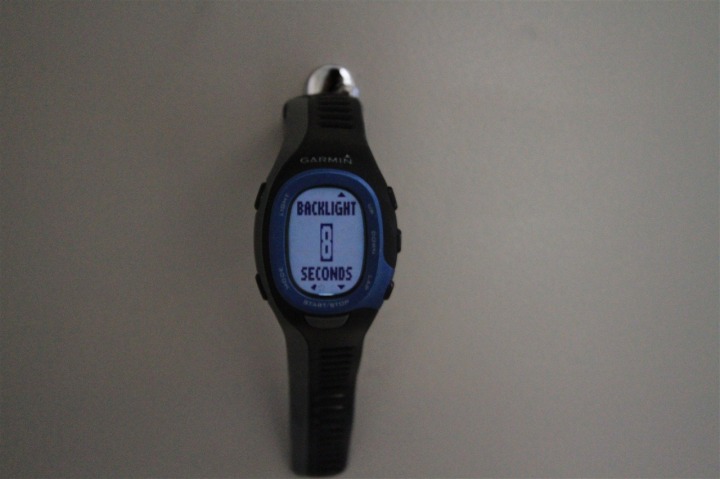 (In case you're curious – and I know you're not – I was pretty excited about this shot of the backlight, I got it inside a dark bathroom hanging it on a towel hook.)
When you're running with the watch you'll get a number of data streams from accessories that are recorded, including run cadence (how fast your foot turnover is) and heart rate data.  However, do be mindful that both of these data streams do require additional accessories if you purchase one of the cheaper bundles.
Here's what a typical recorded run would look like with time/distance/pace/cadence/HR:
One thing you might notice when comparing it to something like the 305/310XT/405 is the lack of altitude (elevation).  Unfortunately Garmin decided to not include an altimeter in the FR-60.  The GPS watches I just mentioned include a GPS based altimeter, while most of Garmin's cycling computers include a barometric altimeter.  I'm surprised at the lack of altimeter, especially given many sub-$100 watches include altimeters these days, so this seems like a significant oversight – or perhaps a specific reason to try and draw you towards a more expensive GPS watch…your call.
Using it while biking:
I'll admit, I was a little surprised when I first realized the FR-60 could record your bike rides.  Not because a watch of this size shouldn't, but just because it didn't seem like it was part of its primary 'mission objective'.  That said, it's actually a great way to allow runners (who may be very casual cyclists) a way to record their rides.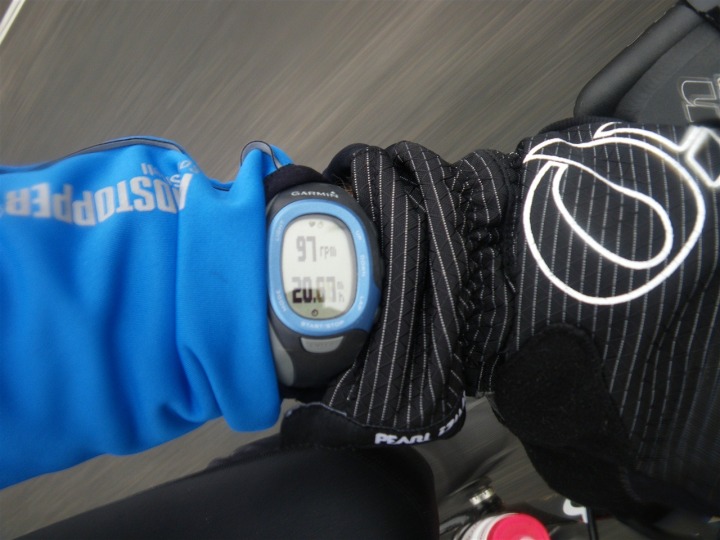 Now just so we're clear – in order to take advantage of the cycling mode you must have the optional cadence/speed sensor (see later accessories section)  This $40 accessory is compatible with all Garmin fitness devices, so if you already have one – then you're in business.  The cadence/speed sensor is a small wireless device that sites near your back tire and records both the crank's rotation (which is what the pedal is attached to), as well as your tire rotation via a spoke magnet.  The crank rotation gives you cadence data (RPM of your pedal), and the spoke magnet gives you speed and distance – both inside and outside.  I detail these a bit more in the accessories section.
The watch's cycling mode features pretty much all the same options as during running mode.  These include:
– Auto Lap
– Auto Pause
– Auto Scroll
– Virtual Partner
I didn't talk about Virtual Partner in the running section, so let's talk about it here instead.  Virtual Partner is a feature common to almost all of the Garmin fitness line of watches.  It allows you to race against 'the little man'.  This 'little man' is a small stick figure on the screen that shows you how far ahead or behind you are with respect to a predetermined pace you want to hit.  For example, you can set the little man at 15MPH for cycling (or for example, 8:00/min/mile while running) and then hit go.  The virtual partner screen shows up just like a normal data page does, allowing you to easily scroll to it.  It then shows you how far ahead, or how far behind you are at that moment.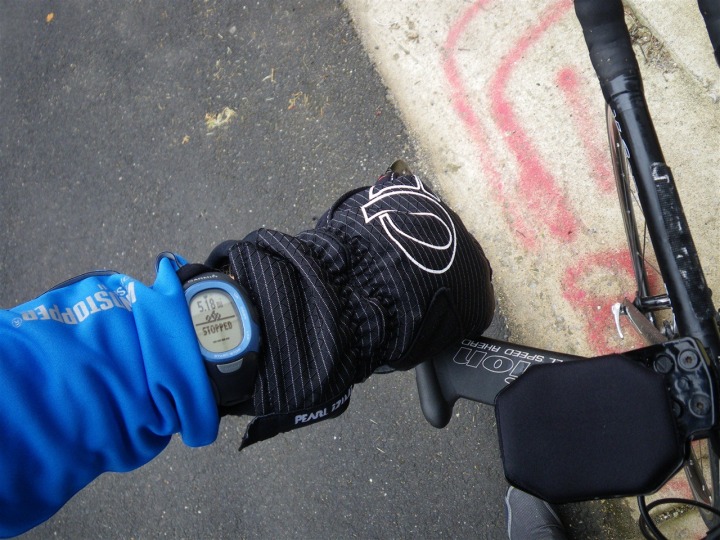 If you speed up, you'll either gain distance (or catch up), and if you slow down, you'll lose ground.  I've found this feature pretty eye opening in training when using it – especially when thinking about things like walk breaks through water stops in races.  It's amazing how much time/distance you can lose without realizing it.  I know…this section is about cycling…but here's another running related Virtual Partner screenshot – configuration of the virtual partner setting: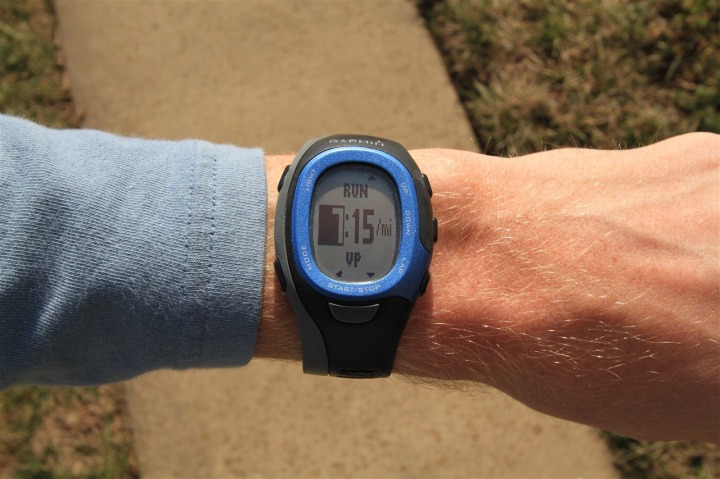 (Above – configuring Virtual Partner for running)
This feature is primarily useful when you're trying to hit a very specific target pace on less variable terrain, but it's not always as useful in hillier terrain.  The key item to remember is it's showing the average over the entire ride (or run).  For me, I tend to only use this when running, and not really as much when cycling.
Like in the running section, setting up the sensor ahead of time is pretty important.  It only takes a second and allows the watch to know the exact wheel circumference (size), which in turn allows it to determine distance.  You can follow my handy guide for how exactly to get it all setup.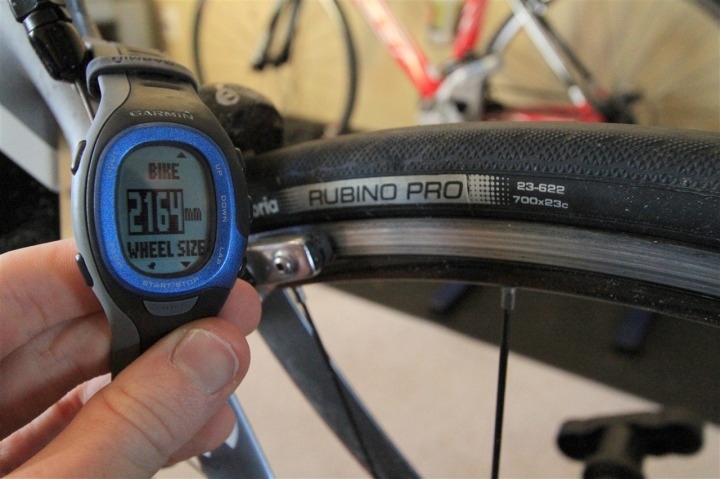 The watch supports one bike – compared to some of the Garmin cycling/triathlon watches supporting multiple bikes.  But I think this is a fair compromise.  If you want a watch that you're primarily going to use for cycling, then this isn't that watch.  This is in my mind a running watch with fringe cycling capabilities.  Think of it as a running watch with benefits.
In addition to wearing it on your wrist, you can also mount it on the bike mount.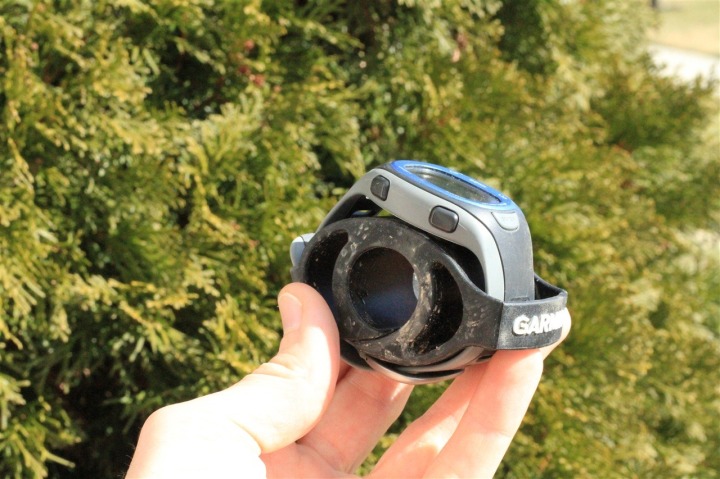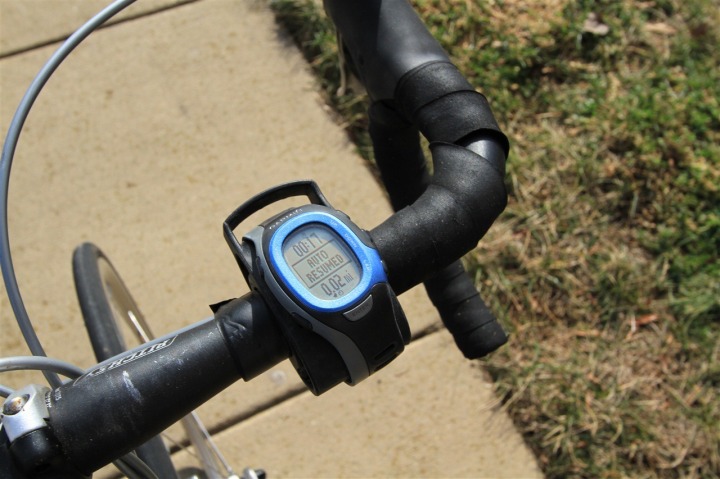 I discuss the bike mount a bit later on in the accessories section, but wanted to briefly show a picture above in this area just to make you aware of the option.
Using it in the water:
When I go to the pool I use a simple stopwatch to record my lap splits, I don't want a big bulky Garmin 310XT with me.  I used to use my simple $20 sports watch for this purpose…until I killed it while diving with Great White Sharks.  So, I was in the market for a replacement to use at the pool.  It may sound funny, but for me a watch that I use for laps has to be visible when I slightly twist my wrist to see a split underwater.
This is actually not always the case on sports watches, as sometimes they have various plastic/glass designs that prohibit certain angles of viewing to see numbers, especially underwater.  Well, I'm happy to report that the FR-60 can be viewed quite easily underwater with a simple twist of the wrist.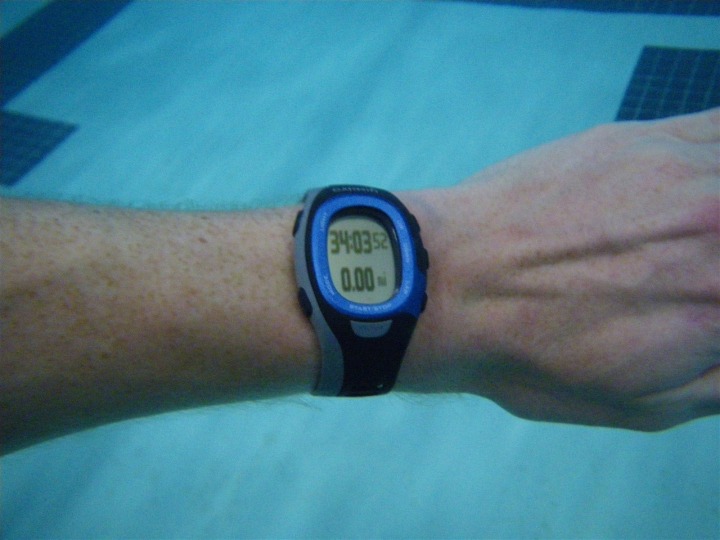 Now, the FR-60 doesn't automatically count laps or distance when underwater, it's simply a stopwatch.  But, if you want to record laps and splits – it will do that.  That's what's cool about it. Meaning, now instead of trying to remember all my splits, or having to write them down, I simply hit the split function on the watch, and it records it and transmits it to the computer for later access.

You can see above the simple splits for a swim I did last weekend.  Nothing more than times, but to me, those times mean something.  And I can easily correlate those in my training log to the exact sets I was doing.  Kinda handy!
Now unlike its GPS based cousins (305 and 310XT), the FR-60 can go pretty darn deep.  Up to 50m down (150ft):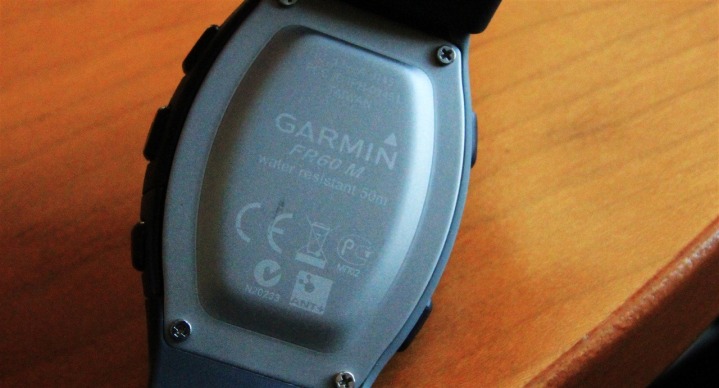 And I was determined to test that.  So on a trip back in December I took it along on multiple dives.  We ended up only going to about 30m (90ish feet), so that's as far as I got with it.  But after multiple dives, I had no issues whatsoever: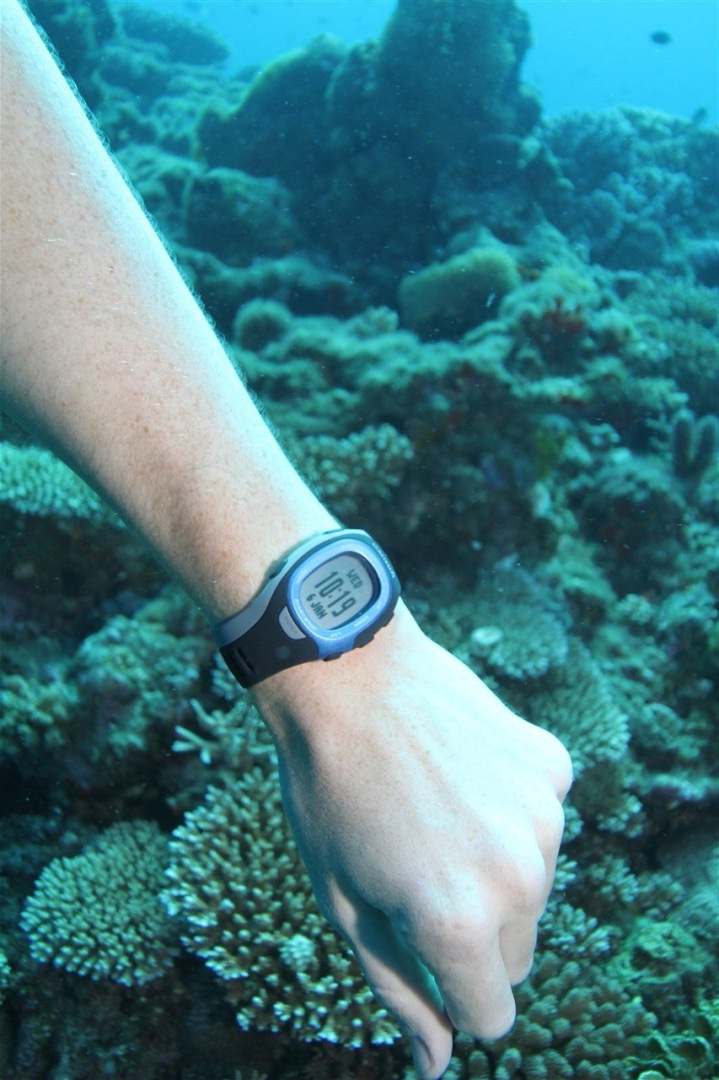 I also had no issues with snorkeling with it, or any other sort of day after day beach-like activity – sand and water are its friends.
Using it indoors:
In many ways, the FR-60 is just as capable as any of the higher end GPS watches once you bring it indoors.  Like those watches, once indoors the FR-60 uses the footpod for tracking running related tasks, and the cadence/speed sensor for any cycling related tasks.
Assuming you've already calibrated the watch for running, it will easily work indoors.  And best of all, unlike the GPS based watches, you don't have to remember to turn the satellite off before starting.  Just jump on the treadmill and go.
When on a trainer, the story is much the same as outside.  Because the watch has no concept of exactly where you are (because of no GPS), it simply uses the same wireless speed/cadence sensor as it would outside, when indoors on a trainer.  Again, just jump on the trainer and you're off and cycling.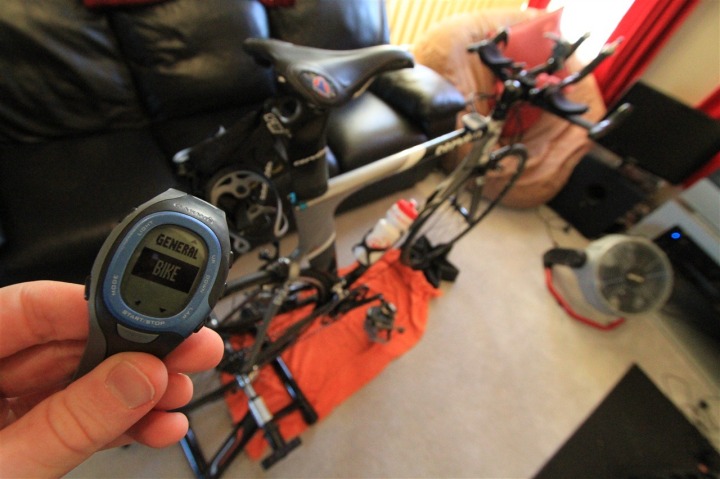 Now, here's the really really cool part about the FR-60.  And this is unique (as of this writing anyways) to JUST the FR-60.  With some specific treadmills and indoor stationary bikes, it can actually wirelessly communicate back with the device to get detailed data about your run or ride.  Meaning – no footpod or cadence sensor required at the gym using that equipment.  This is found in the watch menus under 'Fitness Equipment':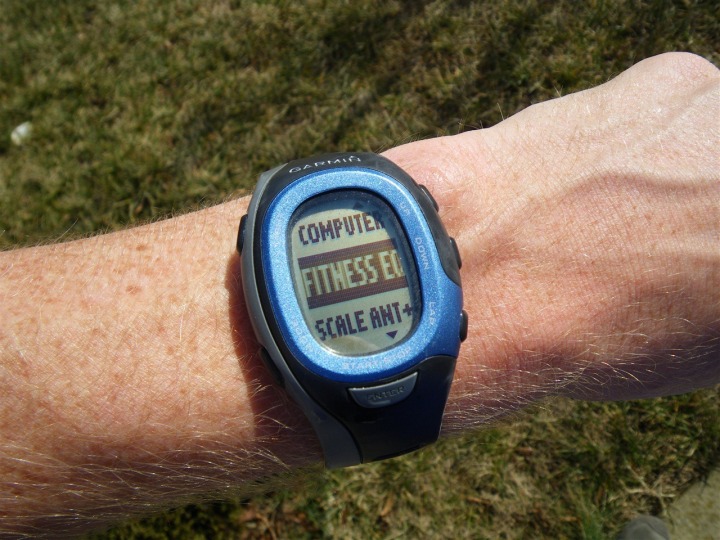 You just simply swipe your watch in front of the area on the device (such as a treadmill) to pair it, and you're ready to run.
(Diagram from Garmin)
But, here's the bad news.  The number of treadmills that support this capability is extraordinarily low.  Like…less chance of finding one than me becoming president tomorrow.  But, there are a few out there in a couple of gym's that are nationwide.  You can check out the list of them here.
I tried calling the handful of gym's that were nearby me here in DC to ask if they had capable machines, but I wasn't terribly successful in getting them to understand what I wanted, or if the machines had it. 🙁  Though, in each case the employees did go physically inspect the machine to try and find the logo.
I also researched both companies that Garmin points to as having compatible ANT+ Treadmills, and neither one had any mention of ANT+ anywhere on their website.  A call to customer service was also unsuccessful.  Finally, I researched other companies that in a press release Garmin noted as having compatibility…and none appear to actually display any info on their websites.  So while the feature may be out there…it's certainly not something anyone actually knows about, which is too bad.
Perhaps in the future these will become more common, though I suspect it will take a long time before you see them in a gym near you.
Integration with the Tanita BC-1000 scale:
One feature unique to only the Garmin FR-60 and Garmin 310XT watches is its ability to wireless synchronize with the Tanita BC-1000 scale.  What's the BC-1000 scale you ask?  Well, let's start with a picture:
Ok, picture complete.  It's a relatively new scale that leverages ANT+ (that's the wireless protocol/standard used/owned by Garmin) to transmit data about your weight, body fat, hydration levels, and more – to your Garmin FR-60.  This data is in turn transmitted to Garmin Connect.  Pretty cool stuff.
All you do to get it to work is hold down the light button for 2-3 seconds, which triggers a scan for the scale:
Once the scale is found it will start blinking (the scale), and you simply step on.  About 3-5 seconds later it'll beep again, and then display your readings right on your watch.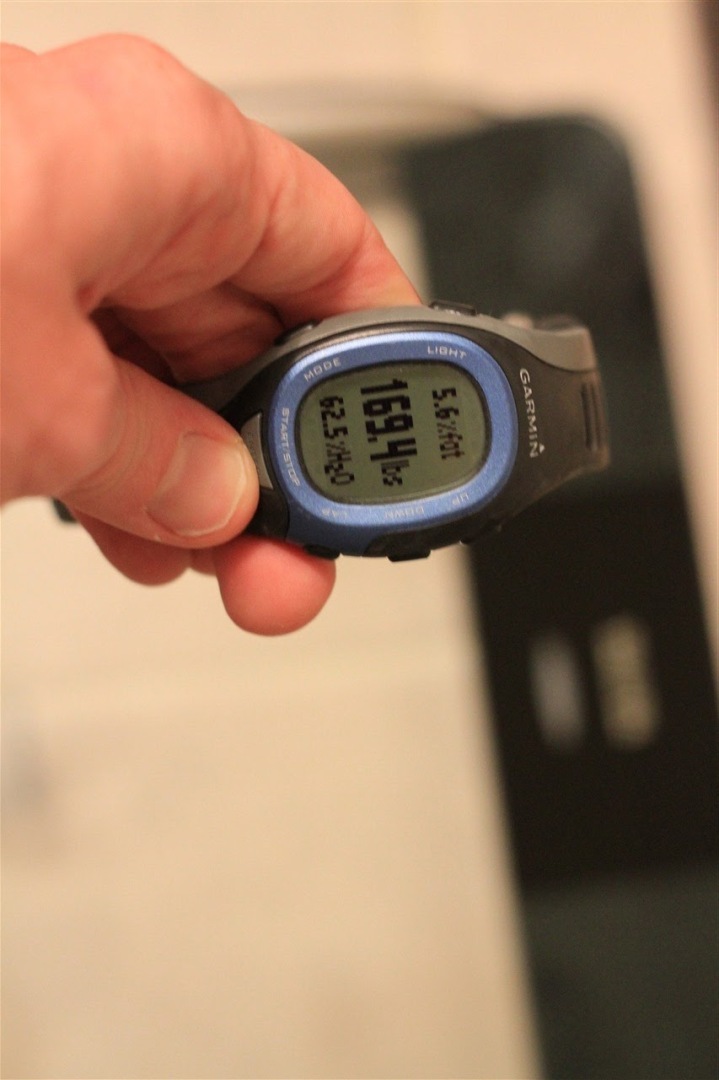 The next time you synchronize your watch to your computer, the data is automatically downloaded to the computer and then transmitted to Garmin Connect.  This allows you to view all your data right in an easy to read console, just like below:

Garmin Connect then supports the ability to graph the various data sets over time, enabling you to see if you're making good progress on any goals you may have: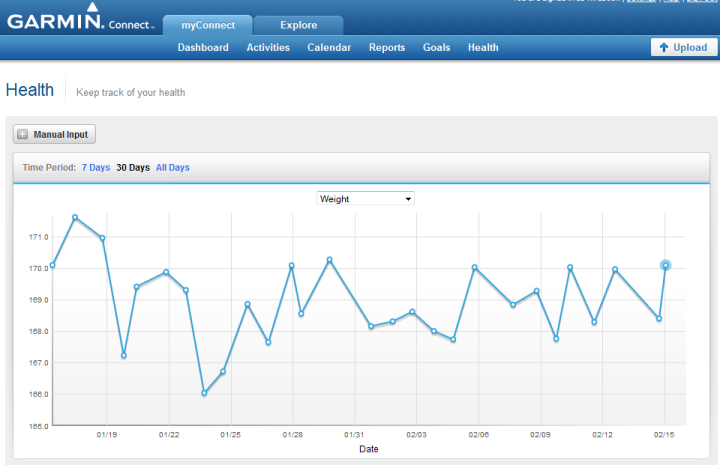 If you want to learn more about the Tanita BC-1000 ANT+ Scale – check out the in depth review I did just a few weeks after publishing this one.
General watch use:
One of the biggest draws for me to the watch is the fact that it looks like a normal everyday watch.  Nothing big and clunky like most GPS watches, nor ugly like a lot of sports watches.  Just sorta middle of the road nice and pretty design.
Of course, adding to that appeal is the fact that the battery lasts a year.  Yes…a year.  At the end of that, you just simply run to your nearest watch repair place to have the battery swapped out.  Usually this costs about $15.  Remember though to ensure they do the waterproofing test on the watch, otherwise you could be in for a sad day when you go to the pool (or beach).
With respect to all around general use, it acts like any other watch would.  When not in active sports mode, it displays the day, date and time on the front.  These fields are not customizable.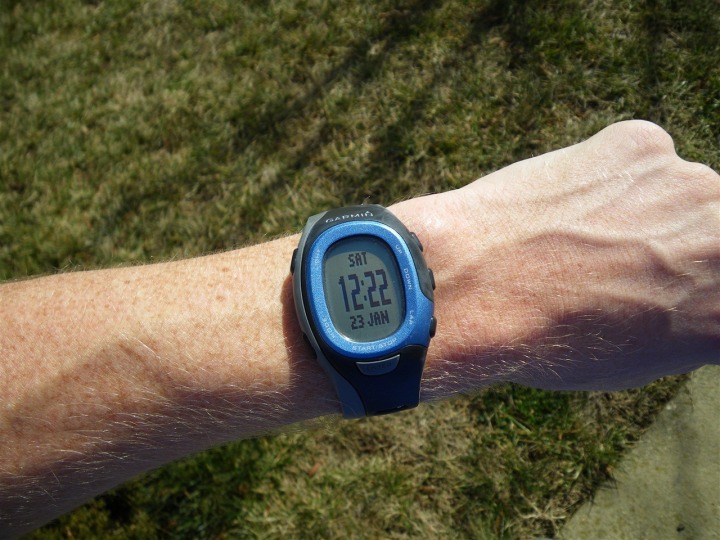 You can however customize two times on the watch – Time 1, and Time 2.  So if you travel frequently across time zones, you can quickly and easily swap back and forth.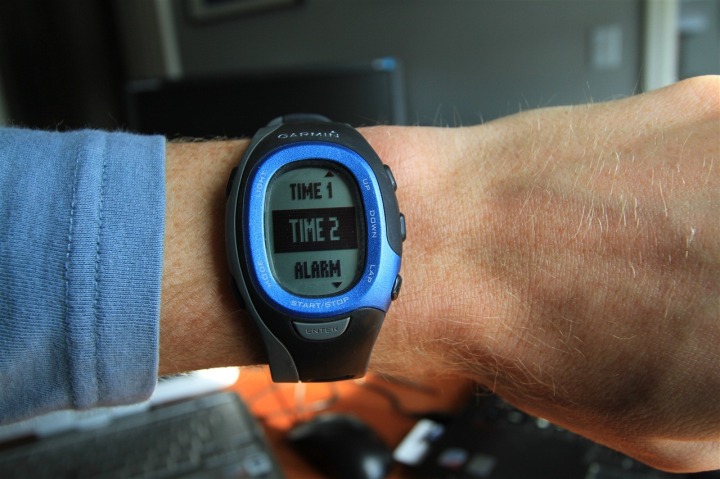 Also, you can set a watch alarm (to remind you to wake up in the morning and go run).  This can be set as a one-time alarm, or daily.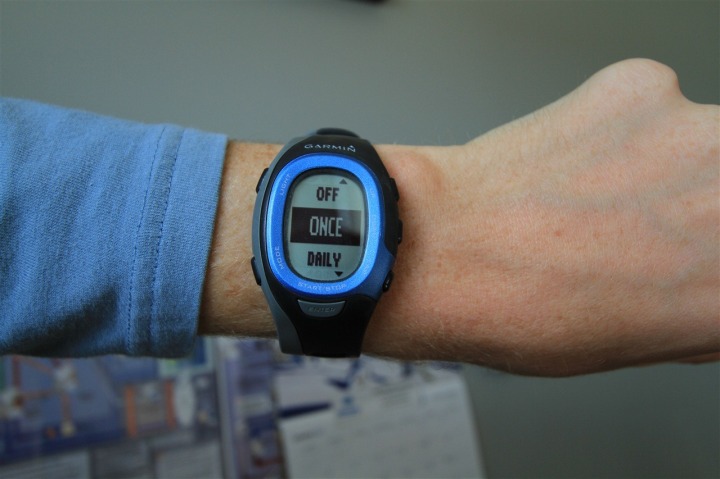 Finally, if you're feeling a bit linguistic, you can shift into a few different languages, including: French, Italian, German and Spanish (plus of course English).  Also, as a side note, you can turn on/off both key tones and message tones.  Meaning, if you press a key it will make a beep, but if an alert pops up, it won't (or vice versa).
Data Synchronization:
One of the key features that differentiates the FR-60 from any other standard sports watch is its ability to download data to a computer.  Just like the Garmin Forerunner 310XT and Forerunner 405, the FR-60 uses a simple ANT+ USB stick to wirelessly communicate with the computer.  This stick can easily be swapped between computers if you have multiple computers in the house: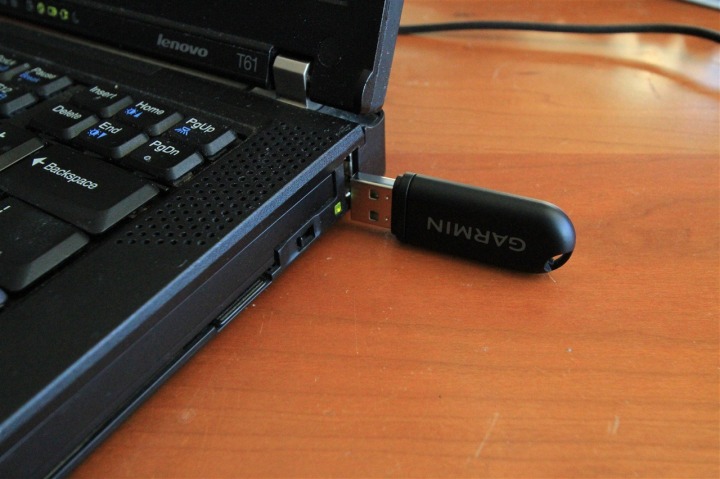 Once you've got the USB stick all plugged in it'll automatically trigger the Garmin ANT+ agent running in the tool bar (if you have a Mac, the process is similar).  The agent then wakes up and starts searching wirelessly for a nearby watch: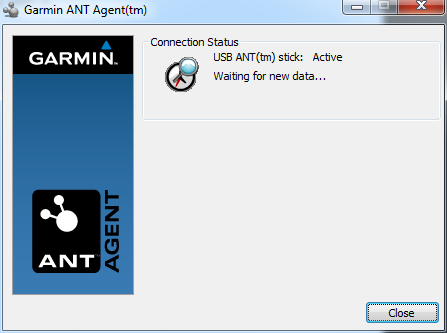 The watch itself can actually be quite a ways away from the computer.  I've been in cases where it'll pickup the watch a number of floors and rooms away from the computer itself.  Kinda impressive.  I can literally walk in the door and it'll start synchronizing.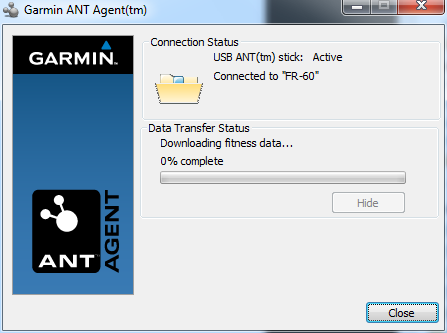 Once it's done synchronizing the data, ANT+ agent sends it to both Garmin Connect and Garmin Training Center (if configured as such):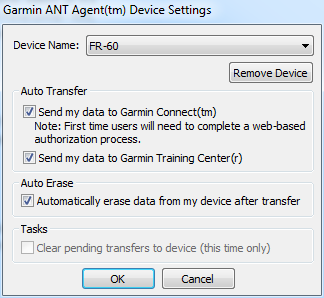 [Warning: Geek stuff ahead, no need to normally know this]
Now, it also keeps a copy of the data locally as well.  It puts a copy of every single activity you do in a .FIT file, which is then kept within your user profile.  This same location also stores information about your health (such as from the Tanita BC-1000 scale I mentioned).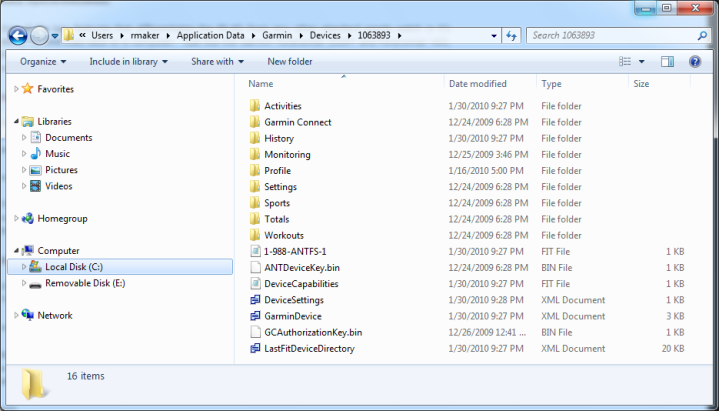 On a PC, this location is located within:
C:\Users\[Username]\Application Data \Garmin\Devices\DeviceID
Inside the Activities folder, you'll find a copy of all your activities: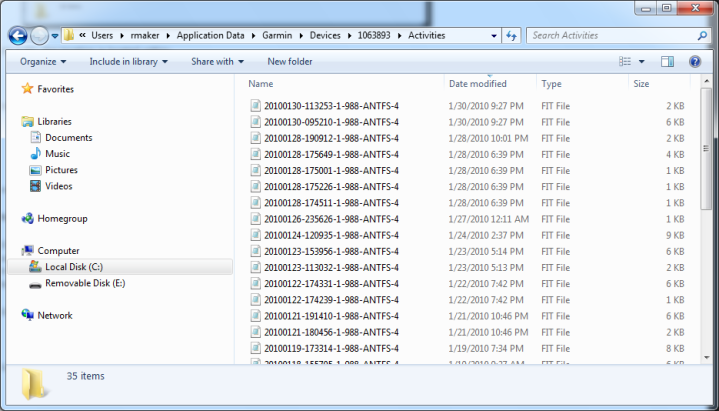 Because the files are both in Garmin's propriety .FIT file format, as well as lacking any GPS coordinates, they tend to be pretty small compared to 310XT files.  Now the .FIT file format is pretty new, so the ANT+ Agent also creates a copy of all the files within the 'History' folder, using the XML standards based TCX format: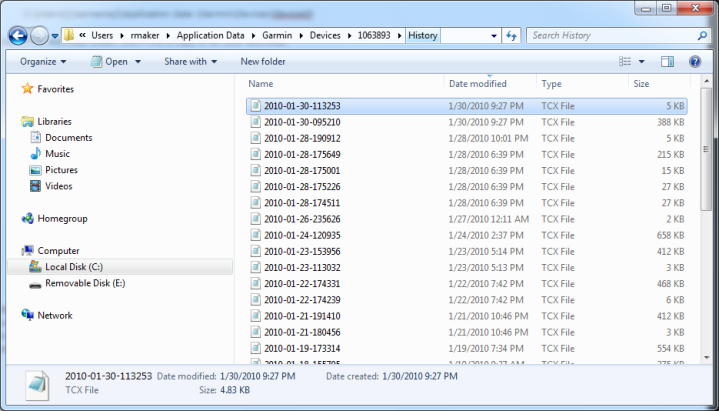 These TCX files are much more widely accepted by sports applications out there, as well as contain the ability to be directly opened by any XML editor (or just notepad).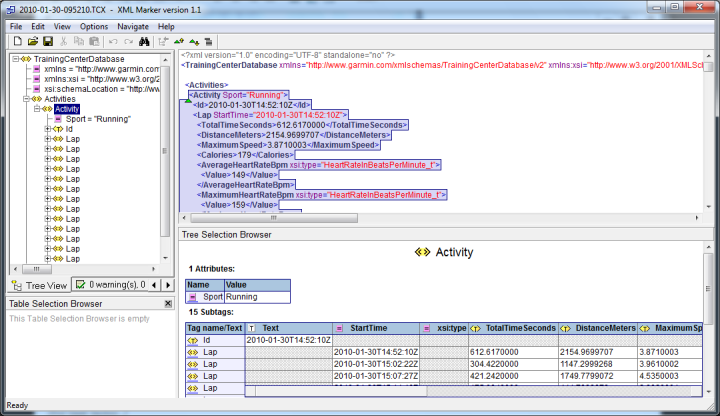 (For those curious, the above is with XML Marker)
[End Geek Section…I now return you to your regularly scheduled review…]
Software Applications:
Once you have the data synchronized to your computer, the next step is choosing which software to use.  By default, the ANT+ Agent will send the data off to Garmin Connect, which is the web based training application allowing you to look at and analyze your data.  We'll start off with that, and then talk about some of the other options out there:
Garmin Connect:
After the ANT+ Agent has downloaded the workout from your FR-60 to your computer, it will immediately begin transmitting it to Garmin Connect, like below: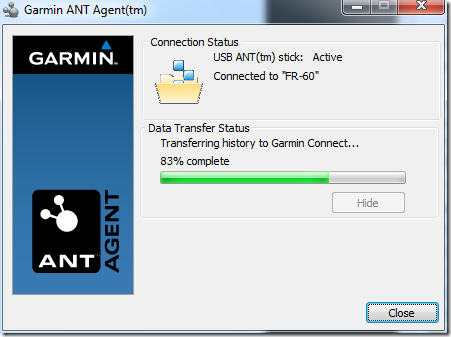 From there, your workout is available on Garmin Connect (GC).  What's Garmin Connect you ask?  Well, it's your one-stop shop for most all Garmin Devices – including the FR-60.  Once your workout is uploaded to GC, it'll show up on your dashboard or details view: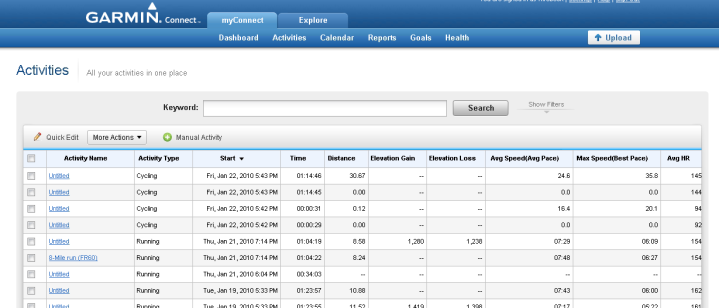 From there you can drill down into the details of the workout by clicking to show more details: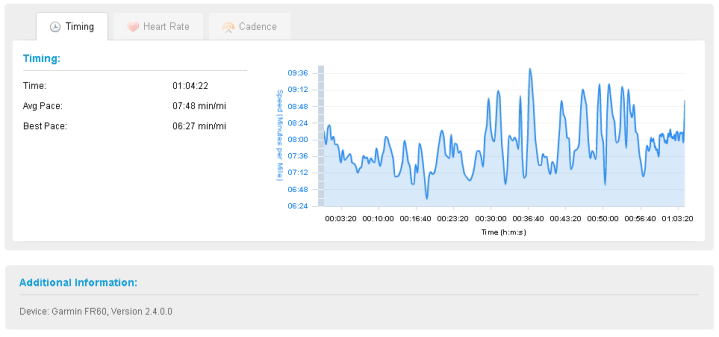 Now, because the FR-60 doesn't have GPS, you won't see any of the route information like you would on a GPS watch.  But you can see items like pace and speed, which is provided by the foot pod (or cadence/speed sensor on the bike):

In addition, as long as you have the heart rate strap on, you'll be able to see heart rate information as well:

In addition, GC allows you to create basic reports about your historical workouts: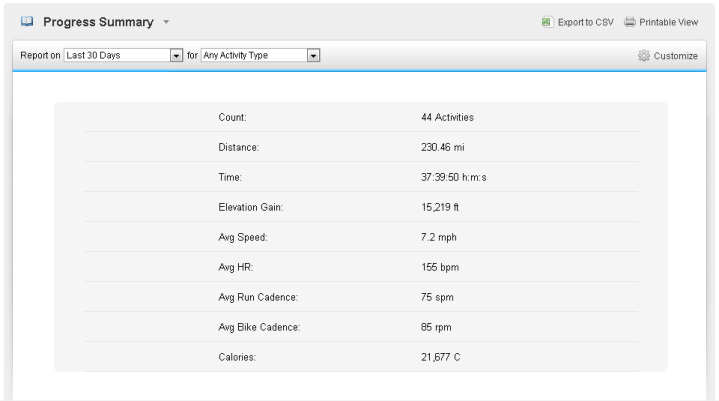 Now, the features are somewhat basic compared to some sports applications out there, but I think for the majority of users who are buying FR-60, most of the features available on Garmin Connect will do the job.  I'd love to see the ability to really drill down into data and re-arrange splits and laps based on whatever times/mileage I'd like.  But perhaps in the future…
Garmin Training Center:
Garmin Training Center is Garmin's old school downloadable application that you can run on your computer locally without access to the internet.  It's not exactly the smoothest piece of software, but if you're in a location where you can't get Internet, it's a good way to quickly check on your run (or bike or swim).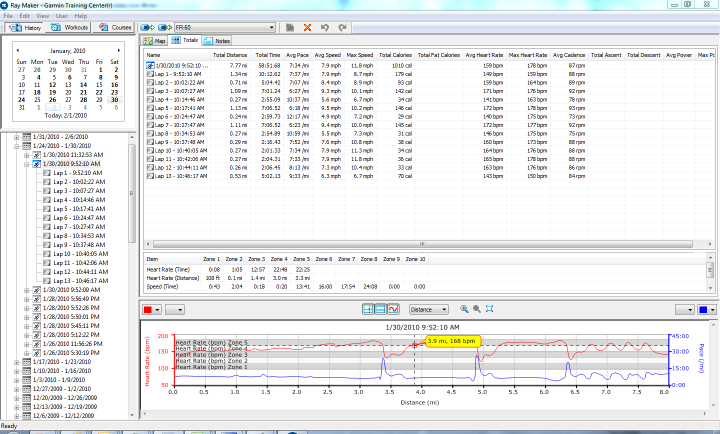 As you can see, the interface is pretty 'classic', but there's actually a fair bit of information in there if you drill around a bit:

One item to note for regular Garmin users is that unlike many of the other Garmin watches, you can't download workouts from Garmin Training Center to the FR-60.  You can go the other way (FR-60 > GTC), but not GTC > FR-60.
All in all, you're far more likely to use Garmin Connect than Garmin Training Center.
Sport Tracks:
If you follow my blog, you know I love Sport Tracks (ST).  I think it's one of the best freeware applications out there for managing and analyzing your sports data.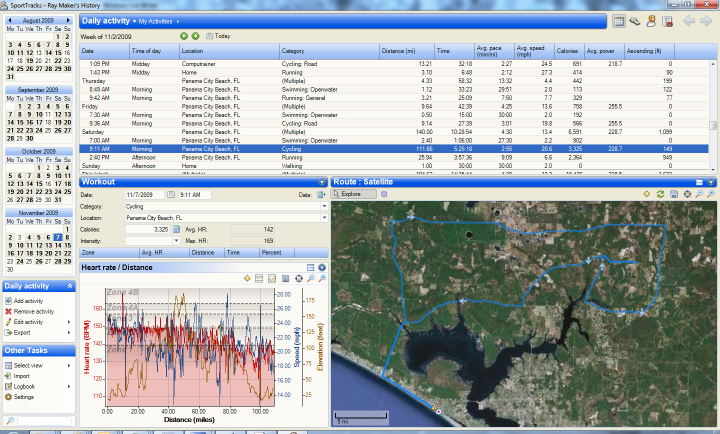 Within ST you actually have two options for importing in the data.  The first is to use the Garmin Communicator tool: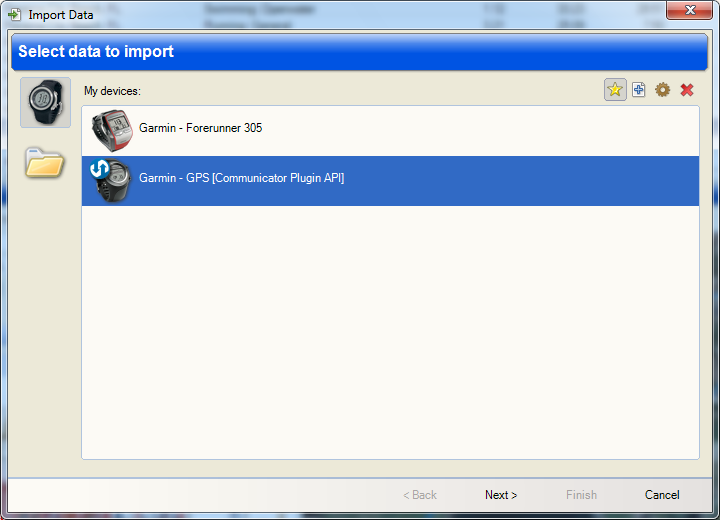 This allows you to pull in the data from the ANT+ Agent that already downloaded it.  The other option is a direct import from the TCX file in the folders I mentioned earlier.  Regardless of which way you choose, from there simply select the activities you'd like to import: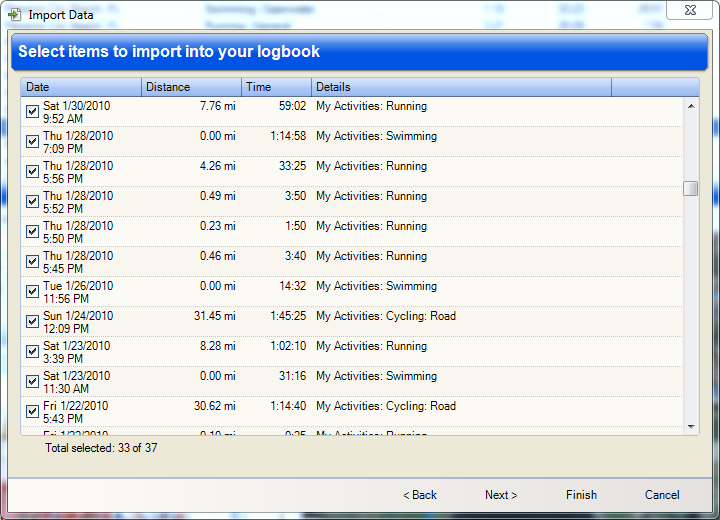 Which then will show up in the individual workout view: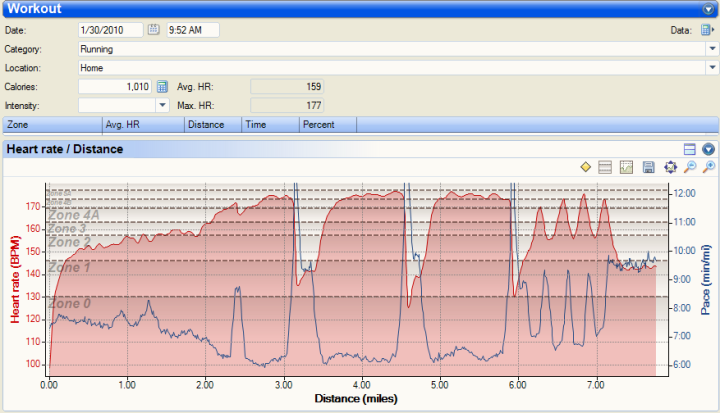 One of the features I really like about Sport Tracks is the ability to create custom splits in software – as opposed to on the watch itself:
If you like what you see above, check out my Top 10 Tips for Sport Tracks here.  And remember, it's all free, and downloadable from here.
Training Peaks:
Last but not least, is Training Peaks (TP).  Now TP has both a free version, and a paid version – so some of the options differ slightly.  Training Peaks allows for some pretty in depth data analysis of your runs/bikes (and any other sport for that matter).
The FR-60 is compatible with the Training Peaks device agent, which allows you to upload workouts from your computer straight to Training Peaks: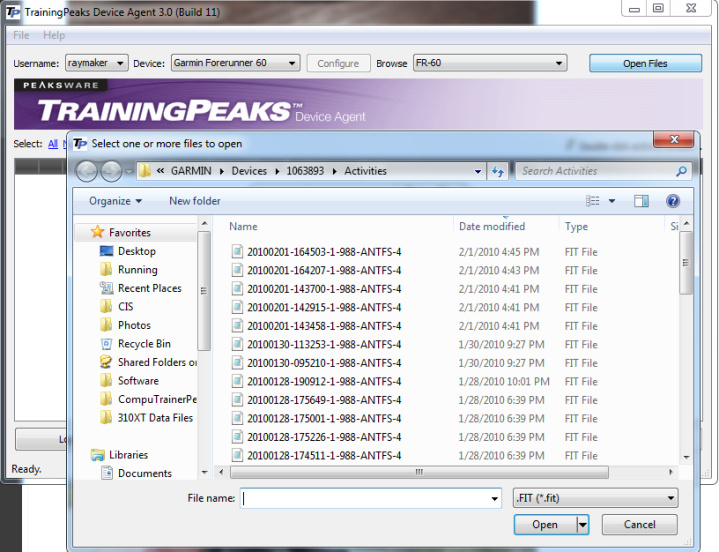 Once you've selected the file you want to upload, it simply transfers them to the online Training Peaks site.
From there you can drill into any given workout that you want to see: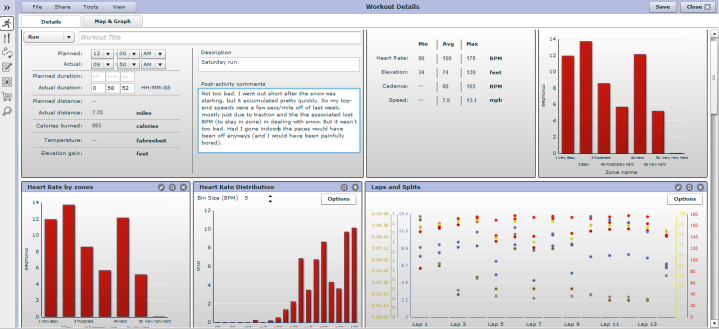 Quite a bit of information is available, from the different menus.  I personally use Training Peaks to allow my coach to view details about my workouts.  I simple upload the workout and he gets notified instantly.  Pretty handy.  He can then view the workout and make comments as appropriate.  Pretty handy.
Accessories:
Like most Garmin products, the FR-60 is compatible with a wide range of accessories, some Garmin made, and some 3rd party.  Depending on the exact bundle you purchase, you have a few different options.  Because some bundles don't include any accessories, I'll go over all the different options available out there today.
Heart Rate Strap

The most basic addition you can make to the FR-60 is the heart rate strap.  This accessory allows you to monitor your heart rate while you're training, enabling you to better target heart rate zones, or do specific heart rate based training.

The packages that do include the HR strap include the new Premium HR strap, which is a softer fabric strap that's (in my opinion) much nicer than the older more rubberized HR straps.  Below is a picture of the newer Premium Heart Rate strap:

Of course, the one challenge to the newer premium strap is that it can be a fair bit more expensive – especially on Garmin's site. The good news here is that Amazon has recently started selling them, and the price is much more reasonable now.  In general, I'd recommend the premium strap over the classic strap.

Below is a picture of the classic strap:

And here is a picture of both straps side by side:

Lastly, regardless of which strap you have or decide on, they are all compatible with all Garmin fitness devices.  So if you already have a Garmin Forerunner or Edge and it has a HR strap, there's no need to buy another – you're good to go!

Prices for the heart rate straps are: $37 for the normal classic one, and $40 for the Premium Edition.

Foot Pod

In order to get distance and pace with the Garmin FR-60, you'll need the foot pod.  Now, depending on the exact package you purchase, it may actually come with it.  But if not, you'll really want to get one (otherwise you've basically just purchased a really expensive stop watch).

The foot pod easily snaps right onto your shoelaces in a matter of a few seconds.  I mentioned earlier in the review how to calibrate it, and all the details around it, so I'll just get on with the important deets – the price.  Now, here's the important part – the foot pod is REALLY EXPENSIVE if bought separately – so if you're planning on getting one, get the bundle…and save yourself a bundle.  How expensive you ask?  Well, $90 expensive.

Bike Cadence Sensor

If you plan to hook up the Garmin FR-60 to your bike, you're going to want to pickup the speed/cadence sensor kit to get speed…and cadence (and distance).  The good news here is that these kits are relatively inexpensive (compared to the foot pod anyways…), and they're also fully compatible with every other Garmin fitness devices.

This means that if you already have one for a different Garmin device – you're good to go.  And if you get one now, and eventually upgrade your Garmin watch, then you're still good to go.

The speed/cadence kit can be picked up for about $40.

Bike Handlebar Mount:

This mount kit was actually created for the Garmin 405, but has since been renamed to be compatible with the FR-60 as well.  It's a simple (and cheap) rubber mount that uses two zip ties to secure in place.

The watch then wraps around the mount in the same manner that it would around your wrist.  It's pretty secure that way – and highly unlikely to come lose.  The flexible rubber components mean it easily fits on most bikes.  Below are three bikes:

First up – the mountain bike:

Then the road bike:

And finally..but..not very functional – on the triathlon bike:

As I noted in the Garmin Forerunner 405 review, this mount simply doesn't work well on triathlon/time trial bikes, but given it's not likely the target audience – I think that's alright.

The mount itself is the cheapest Garmin accessory you'll find out there.  It's priced at a very reasonable $14.

Tanita BC-1000 Scale:

I mentioned the Tanita BC-1000 scale earlier in the review, but just to recap.  This ANT+ scale made by Tanita (the same company that makes your normal bathroom scales), will measure your weight, hydration levels, body fat – and a slew of other readings.  It will then transmit them to the FR-60 (or Garmin 310XT), which are in turn transmitted to Garmin Connect for easy tracking.

The scale is a bit pricey though, starting at $279.
Garmin Product Comparison:
If you're looking at some of the different watches out there to train with while running, you may be a bit confused as where to start – and which direction you should go in.  So I went ahead and put together this handy chart of the major Garmin running watches, in hopes of illuminating the options a bit:
Function/Feature

Garmin Forerunner 60/70
Polar Unite
Timex R300 GPS
Polar Ignite GPS
Garmin Forerunner 45/45S
Copyright DC Rainmaker - Updated December 13th, 2020 @ 3:53 pm New Window
Price
$100.00
$149
$129
$229
$199
Product Announcement Date
JUL 24, 2009
June 30th, 2020
Feb 2019
June 26th, 2019
Apr 30th, 2019
Actual Availability/Shipping Date
AUG 2009
July 2020
Apr 2019
July 2019
Early May 2019
GPS Recording Functionality
No
Only via Phone Connected GPS
Yes
Yes
Yes
Data Transfer
ANT+ Wireless
USB, BLUETOOTH SMART
Bluetooth Smart
USB, BLUETOOTH SMART
USB, Bluetooth Smart
Waterproofing
Yes
Yes - 30m
50m
Yes - 30m
50 meters
Battery Life (GPS)
Days.
Up to 50hrs with phone GPS (4 days standby)
20 hours GPS (and 28 days standby)
Up to 17 hours
13 Hours
Recording Interval
Smart
1s
Variable (every few seconds)
1s
SMART RECORDING (VARIABLE)
Quick Satellite Reception
N/A (No GPS)
Great
Great
Great
Great
Alerts
Sound/Visual
Vibrate/Visual
Audible/Visual
Vibrate/Visual
Sound/Visual/Vibrate
Backlight Greatness
Good
Great
Good
Great
Great
Ability to download custom apps to unit/device
No
No
No
No
Watchfaces only
Acts as daily activity monitor (steps, etc...)
No
Yes
Yes
Yes
Yes

Music

Garmin Forerunner 60/70
Polar Unite
Timex R300 GPS
Polar Ignite GPS
Garmin Forerunner 45/45S
Can control phone music
No
Yes
No
Yes
Has music storage and playback
No
No
No
No
Streaming Services
No
No
No
No

Payments

Garmin Forerunner 60/70
Polar Unite
Timex R300 GPS
Polar Ignite GPS
Garmin Forerunner 45/45S
Contactless-NFC Payments
No
No
No
No

Connectivity

Garmin Forerunner 60/70
Polar Unite
Timex R300 GPS
Polar Ignite GPS
Garmin Forerunner 45/45S
Bluetooth Smart to Phone Uploading
Via Wahoo Fitness Adapter
Yes
Yes
Yes
Yes
Phone Notifications to unit (i.e. texts/calls/etc...)
No
Yes
Yes
Yes
Yes
Live Tracking (streaming location to website)
No
No
No
No
Yes
Group tracking
No
No
No
No
Emergency/SOS Message Notification (from watch to contacts)
No
No
No
No
Yes (via phone)
Built-in cellular chip (no phone required)
No
No
No
No
No

Cycling

Garmin Forerunner 60/70
Polar Unite
Timex R300 GPS
Polar Ignite GPS
Garmin Forerunner 45/45S
Designed for cycling
Yes
Yes
Yes
Yes
Yes
Power Meter Capable
No
No
No
No
No
Speed/Cadence Sensor Capable
Yes
No
No
No
Yes
Strava segments live on device
No
No
No
No
Crash detection
No
No
No
Yes

Running

Garmin Forerunner 60/70
Polar Unite
Timex R300 GPS
Polar Ignite GPS
Garmin Forerunner 45/45S
Designed for running
Yes
Yes
Yes
Yes
Yes
Footpod Capable (For treadmills)
Yes
No (but has accelerometer for indoor running)
No (but can track indoor run)
No
YES (ALSO HAS INTERNAL ACCELEROMETER)
Running Dynamics (vertical oscillation, ground contact time, etc...)
No
No
No
No
No
Running Power
No
No
No
No
VO2Max Estimation
No
Yes
No
Yes
Yes
Race Predictor
No
No
No
No
No
Recovery Advisor
No
No
No
No
no
Run/Walk Mode
No
No
Yes
No
Yes

Swimming

Garmin Forerunner 60/70
Polar Unite
Timex R300 GPS
Polar Ignite GPS
Garmin Forerunner 45/45S
Designed for swimming
No
Sorta (waterproof but HR only tracking)
No (but is waterproof)
Yes
NO (PROTECTED THOUGH JUST FINE)
Openwater swimming mode
N/A
No
No
Yes
N/A
Lap/Indoor Distance Tracking
N/A
No
N/A
Yes
N/A
Record HR underwater
No
Yes
N/A
Yes
N/A
Openwater Metrics (Stroke/etc.)
N/A
No
N/A
Yes
N/A
Indoor Metrics (Stroke/etc.)
N/A
No
N/A
Yes
N/A
Indoor Drill Mode
N/A
No
N/A
No
N/A
Indoor auto-pause feature
N/A
No
N/A
Yes
N/A
Change pool size
N/A
No
N/A
Yes
N/A
Indoor Min/Max Pool Lengths
N/A
N/A
N/A
20M/Y to 250 m/y
N/A
Ability to customize data fields
N/A
Yes
N/A
Yes
N/A
Can change yards to meters
N/A
N/A
N/A
Yes
N/A
Captures per length data - indoors
N/A
No
N/A
Yes
N/A

Triathlon

Garmin Forerunner 60/70
Polar Unite
Timex R300 GPS
Polar Ignite GPS
Garmin Forerunner 45/45S
Designed for triathlon
No
No
No
No
No
Multisport mode
N/A
No
No
No
No

Workouts

Garmin Forerunner 60/70
Polar Unite
Timex R300 GPS
Polar Ignite GPS
Garmin Forerunner 45/45S
Create/Follow custom workouts
FR60 Only
Yes
Sorta (Yes but not with GPS)
Yes
Yes
On-unit interval Feature
Yes
Sorta (offers structured workouts)
Sorta (race mode, but not intervals per se)
Sorta (offers structured workouts)
Yes
Training Calendar Functionality
No
Sorta (offers daily workouts)
No
Sorta (offers daily workouts
Yes

Functions

Garmin Forerunner 60/70
Polar Unite
Timex R300 GPS
Polar Ignite GPS
Garmin Forerunner 45/45S
Auto Start/Stop
Yes
Yes
Yes
Virtual Partner Feature
Yes
No (but can give out of zone information)
Yes (past efforts only)
No (but can give out of zone information)
Virtual Pacer
Virtual Racer Feature
No
No
Yes (specified distances)
No
No
Records PR's - Personal Records (diff than history)
No
No
Via app
No
Yes
Day to day watch ability
Yes
Yes
Yes
Yes
Yes
Hunting/Fishing/Ocean Data
No
No
No
No
No
Tidal Tables (Tide Information)
No
No
No
No
No
Jumpmaster mode (Parachuting)
No
No
No
No
No
Geocaching
No
No
No
No
No
Weather Display (live data)
No
No
Yes
No
Yes

Navigate

Garmin Forerunner 60/70
Polar Unite
Timex R300 GPS
Polar Ignite GPS
Garmin Forerunner 45/45S
Follow GPS Track (Courses/Waypoints)
Yes
No
No
No
No
Markers/Waypoint Direction
No
No
No
No
No
Routable/Visual Maps (like car GPS)
No
No
No
No
No
Back to start
N/A
No
No
No
No
Impromptu Round Trip Route Creation
N/A
No
No
No
No
Download courses/routes from phone to unit
No
No
No
No
No

Sensors

Garmin Forerunner 60/70
Polar Unite
Timex R300 GPS
Polar Ignite GPS
Garmin Forerunner 45/45S
Altimeter Type
No
None
GPS
GPS
No
Compass Type
N/A
N/A
N/A
N/A
None
Optical Heart Rate Sensor internally
Yes
Yes
Yes
Yes
SpO2 (aka Pulse Oximetry)
No
No
No
No
Heart Rate Strap Compatible
Yes
Yes
No
Yes
Yes
ANT+ Heart Rate Strap Capable
Yes
No
No
No
Yes
ANT+ Speed/Cadence Capable
Yes
No
No
No
Yes
ANT+ Footpod Capable
Yes
No
No
No
Yes
ANT+ Power Meter Capable
No
No
No
No
No
ANT+ Weight Scale Capable
Yes
No
No
No
No
ANT+ Fitness Equipment (Gym)
Yes
No
No
No
No
ANT+ Lighting Control
No
No
No
No
ANT+ Bike Radar Integration
No
No
No
No
ANT+ Trainer Control (FE-C)
No
No
No
No
ANT+ Remote Control
No
No
No
No
No
ANT+ eBike Compatibility
No
No
No
No
No
ANT+ Muscle Oxygen (i.e. Moxy/BSX)
No
No
No
No
ANT+ Gear Shifting (i.e. SRAM ETAP)
No
No
No
No
Shimano Di2 Shifting
No
No
No
No
No
Bluetooth Smart HR Strap Capable
No
Yes
No
Yes
No
Bluetooth Smart Speed/Cadence Capable
No
No
No
No
No
Bluetooth Smart Footpod Capable
No
No
No
No
No
Bluetooth Smart Power Meter Capable
No
No
No
No
No
Temp Recording (internal sensor)
No
No
No
No
No
Temp Recording (external sensor)
No
No
No
No
No

Software

Garmin Forerunner 60/70
Polar Unite
Timex R300 GPS
Polar Ignite GPS
Garmin Forerunner 45/45S
PC Application
GTC/ANT Agent
Polar Flowsync - Windows/Mac
N/A
Polar Flowsync - Windows/Mac
Garmin Express (PC/Mac)
Web Application
Garmin Connect
Polar Flow
N/A
Polar Flow
Garmin Connect
Phone App
Garmin Fit
iOS/Android
iOS/Android
iOS/Android
iOS/Android
Ability to Export Settings
No
No
No
No
No

Purchase

Garmin Forerunner 60/70
Polar Unite
Timex R300 GPS
Polar Ignite GPS
Garmin Forerunner 45/45S
Amazon
Link
Link
Link
Link
Link
Backcountry.com
Link
Clever Training - Save with the VIP program
Link
Competitive Cyclist
Link
REI
Link
Link
Wiggle
Link
Link
Link

DCRainmaker

Garmin Forerunner 60/70
Polar Unite
Timex R300 GPS
Polar Ignite GPS
Garmin Forerunner 45/45S
Review Link
Link
Link
Link
Link
Link
In short, the 305 and 310XT are targeted towards the triathlon crowd, while the FR-60 and Forerunner 405 are targeted towards the running crowd.  While both the FR-60 and FR-405 can do cycling, it's simply a matter of not doing it as well as the 305/310XT.  Meaning, the screen is harder to read on a bike than that of the 305/310XT, and the lack of multisport mode is a huge differentiator as well (this feature allows you to change sports with the press of a single button, ideal for a triathlon race).  Here's all my previous Garmin Forerunner reviews:
Garmin Forerunner 305 In Depth Review
Garmin Forerunner 310XT In Depth Review
Garmin Forerunner 405 In Depth Review
Bundling:
If you start to do research on the FR-60 the first thing you may notice is the number of different colors it comes in.  The next thing you may notice is that you can't just pick whichever color you'd like.  Nope, you have to pick a certain bundle – and that bundle in turn comes with specific accessories.  To start with, let's look at all the colors available:

Ok, with me so far?
Good, cause here's where it gets messy.  Real messy.
Now, depending on which color you want, you are forced to get (or not get) certain accessories.  So let's take that pretty picture above, and overlay the required accessories (heart rate strap, foot pod, USB stick) below: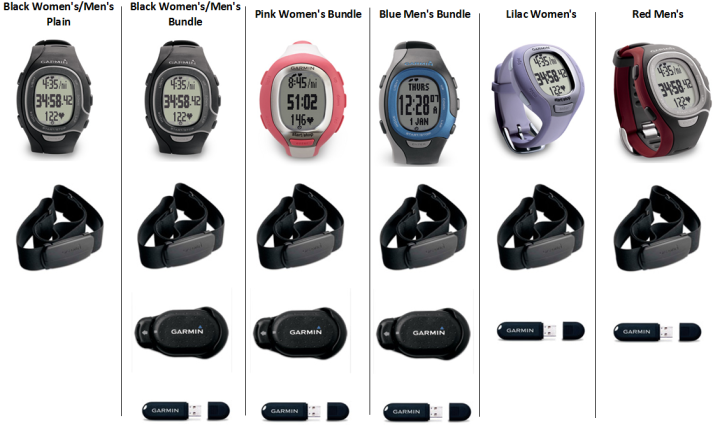 (For the record, if you actually split out the two different men's and women's black bundle and plain options, then it gets even messier)
Of course, you can always buy accessories that aren't included in the bundle – and in general, the bundle doesn't save you any more money than just buying them individually (with the exception of the foot pod, it usually saves a ton there).  So no harm no foul there.  But what if you (like my girlfriend) want the pink version, but already have all the accessories?  Well, you're out of luck.  You have to buy the whole package.
Now, here's where it gets a bit weirder too.  There are actually male and female versions of the watch…driven by color.  The only real difference between the two versions is the band size, which varies slightly – but are primarily a color thing.
Speaking of bundles, here's some of the prices associated with each bundle – from Amazon.
(Full disclosure note: If you happen to find this review useful, and happen to purchase anything from any of these links, I get a few percent back from Amazon.  This review has taken me about 25 hours to write, and dozens more hours playing with the FR-60.  I don't make any money on writing these, so the above is an experiment to see if I can recoup some money to put towards picking up future devices to review.  So far though, I think I've only made enough to cover a 5K race…)
Here's the simplified accessories table:
Pros/Cons:
Because all reviews must have a pro's and con's section, by law of the International Review Association of Me, I shall submit my own Pros and Cons section.  Though, if you've made it this far in the review, I'm going to assume (hope?) you've probably got the gist of the watch:
Pros:
Small Form Factor – looks just like a regular watch
Measures your run distance using a a very small and unobtrusive footpod
Super accurate once calibrated
Works just as well indoors as outdoors
Battery lasts a year (yes, a year!)
Waterproof to 50 meters
Functions as a normal watch (alarms, time, date, day, etc…)
Can associate with ANT+ gym equipment if available, as well as Tanita BC-1000 scale
Can store 20 hours of data
Cons:
No GPS, thus requires the foot pod or bike sensor
Somewhat expensive given the feature set, compared to rest of Garmin line (specifically Forerunner 305 these days)
Doesn't link up with some ANT+ accessories (Power Meters for example)
Forced bundling options leave you spending more than you might want to
No elevation/altitude/altimeter
Summary:
All in all, the FR-60 is my favorite watch for all around use.  And from a Garmin standpoint, it ranks second only to the Forerunner 310XT.  If you're a new runner looking to get into some basic run and cycling data, the FR-60 makes for a great choice.

But even in my case as an 'advanced runner', I love the FR-60 because of the fact that it's small and normal looking, and I always have it on me.  I know that at any point in time the watch is ready to jump into action – such as on a training run or in a race if my primary watch fails me or if I don't want to carry the bulkier one along.  And finally, with the addition of the synchronization between the Tanita BC-1000 and the FR-60, it makes for an easy way to get my daily weight details recorded.  As I said before, I love it.  So much so that I ended up purchasing one for myself (the demo unit heads back tomorrow), and my girlfriend also liked it so much she ended up getting one too (pink, of course, in case you are curious…).
As you've seen throughout the review there are numerous compatible accessories for the unit. I've consolidated them all into the below chart, with additional information (full posts) available on some of the accessories to the far right. Also, everything here is verified by me – so if it's on the list, you'll know it'll work. And as you can see, I mix and match accessories based on compatibility – so if a compatible accessory is available at a lower price below, you can grab that instead.
Thanks for reading!  As you' probably realized, this post is just one of many different ones I do related to triathlon and running.  So if this interested you, check out my sidebar for many more posts like it.
And as always, feel free to post comments or questions in the comments section below, I'll be happy to try and answer them as quickly as possible.  Further, you can always e-mail me at the address on the sidebar.  And lastly, if you felt this review was useful – I always appreciate feedback in the comments below.  Thanks!