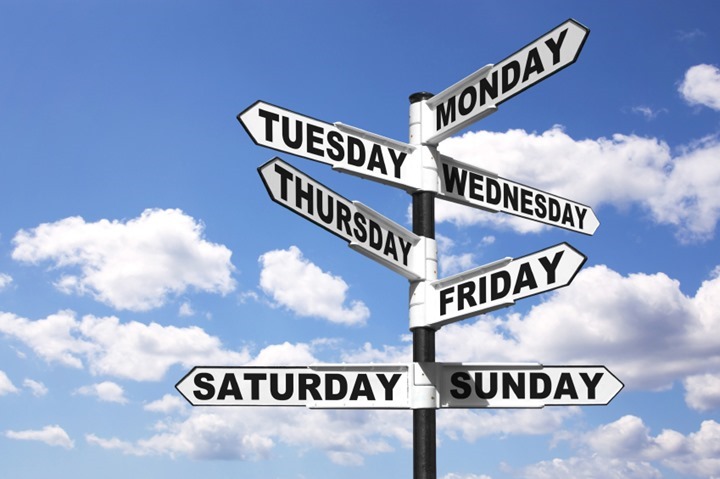 The Week in Review is a collection of both all the goodness I've written during the past week around the internet, as well as a small pile of links I found interesting – generally endurance sports related. I've often wondered what to do with all of the coolness that people write, and while I share a lot of it on Twitter, Facebook, and Google Plus, this is a better forum for sending it on to y'all. Most times these different streams don't overlap, so be on the lookout at all these places for good stuff!
So with that, let's get into the action!
DCRainmaker.com posts this past week:
Here's all the goodness that ended up on the main page of DCRainmaker.com this week.
Sunday: Week in Review–April 21st, 2013
Monday: Cycling up (and down twice) the legendary Mount Ventoux
Tuesday: Initial thoughts on the newly announced TomTom GPS Triathlon Watch
Friday: A really cold swim in Seattle
Woot, check it out!

I was interviewed by Living Healthe this week, along with the founder of Training Peaks.  Good stuff, enjoy!
Stuff that I found interesting around the interwebs:
Here's a not-so-small smattering of all the random things that I stumbled on while doing my civic duty to find the end of the Internet:
1) Withings Delays Fitness Tracker (FitBit like thing) till summer (or later): The title pretty much says it all.
2) Understanding heart rate zones while swimming: A bit of a paper on how to calculate heart rate zones for those wishing to train by HR in the water.  There's of course many technical challenges today in doing so, with differing levels of success in various gadgets.  In related news, I ordered one of the Poolmate HR units and picked it up while in Seattle.  I won't have a chance to really play with it for a bit longer, but it's in the pile.  My primary concern will however be the same as always: For guys, swimming with a HR strap generally sucks.  In my experience thus far, it constantly slips down when you push off the wall (open or flip turn).  That said, I'm always willing to give this a fair shake.
3) Downhill descending craziness: I can never get enough of these crazy downhill descending videos.  They continue to be awesome no matter how many times I watch them, sorta like ice cream. (via CyclingTips)
4) How to get your most photogenic photo during a race: Best line of the article: "grab some excess Body Glide from under your pits and use it as styling gel."
5) The Sports Bra Drying Times Experiment: This is a bit of an older post that I stumbled to linked off of one of her newer posts, but for those science geeks of the womanly variety – you might enjoy this.
6) Toasters and power meters: Ahh yes, building a power meter with a toaster oven. Not quite Pop Secret.
7) How big is your chainring?  Big enough to go 100MPH?  Well, that's the goal of this bike. Full gallery at that link.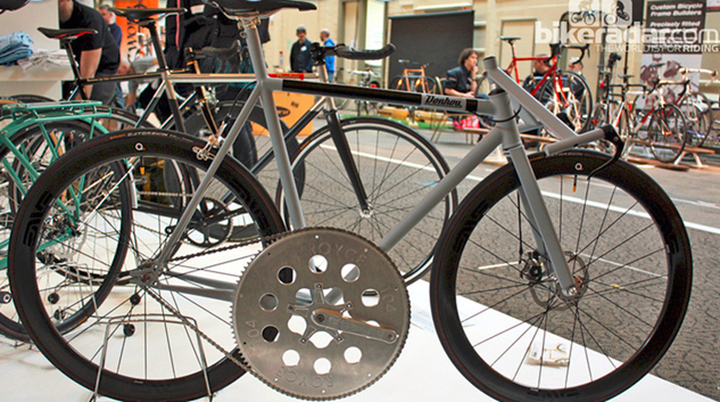 8) Understanding the Triathlon Ecosystem: Interesting post from Dan at Slowtwitch. I actually don't agree with a fair chunk of it, but, I still think it makes for good reading.
9) Life as a cycling race photographer in Asia: Cool behind the scenes post.  And most of this also really applies to other regions as well, but this breaks down the daily grind of being a pro photog alongside the peloton.
10) The Annual Best Baguette Competition: For those of you not living here, you may not know that the annual competition for best baguette is taken quite seriously.  Here's a really interesting behind the scenes look at the whole process, written up by one of the judges (in English).
11) Blinking Man – A Vegas Critical Mass Ride: Neat little video on a bit of an eclectic event that occurs in Vegas with hundreds of well decorated bikes (and people) taking to town. (via Bike Hugger)
Blinking Man – Up in Spoke from Dalton Campbell on Vimeo.
Random new product item of note:
Garmin quietly releases updated heart rate strap: A number of you asked me about this over the last day or so.  The HRM3 is the latest variant of the Garmin soft strap.  It's easily identified by a small chunk of different colored fabric off to the side, which aims to reduce some of the spike/dropout issues.  Here's a photo of it: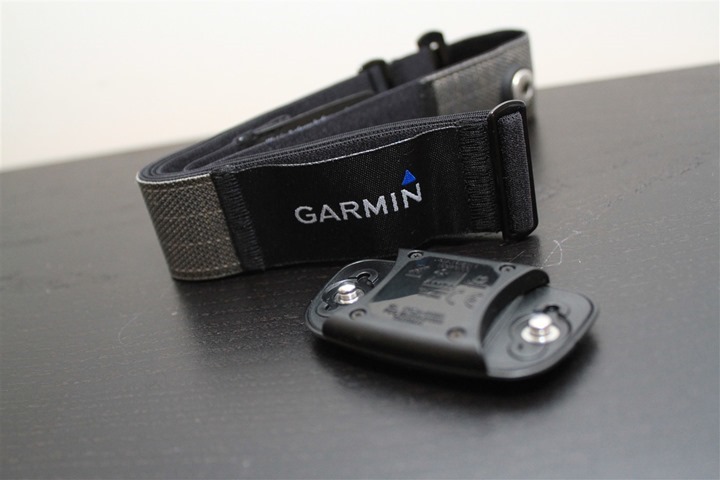 I've actually been using this strap since all the way back in December.  It is no doubt better, but it's not great.  And certainly not perfect.  I find that I still get issues early in a run – primarily within the first 8 minutes.  Beyond that it's very stable (though the Paris Marathon was the one case where it went 25 minutes before being happy).  So basically, if you get past the 8 minute marker, you're good to go.  Now, that's not to say I have problems every time, as I don't.  Just sometimes.  And there's been no pattern to the days that I do have problems (dry days, rainy days, hot days, cold days, etc…), nor pattern with the strap wetness (dry, soaked, sorta-wet, etc…).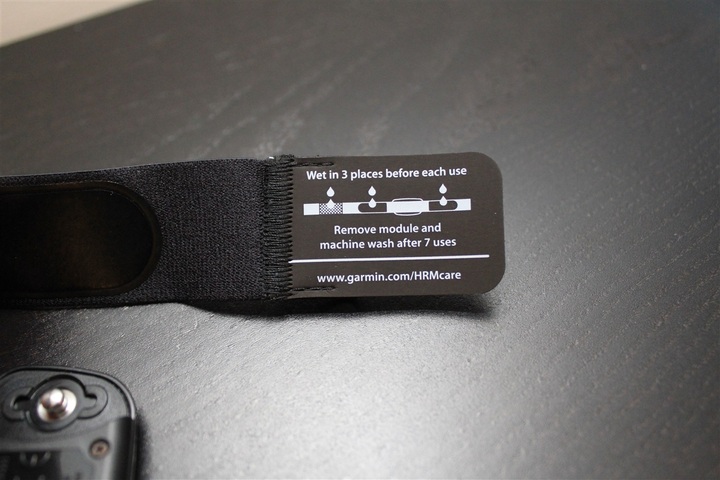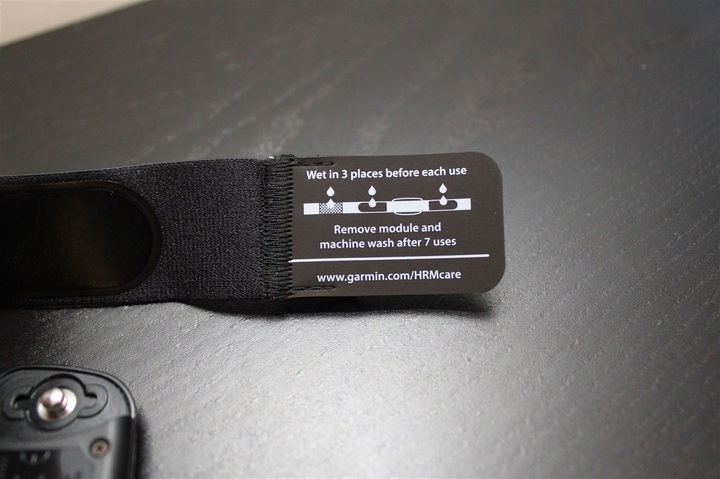 I don't really have much more detail or opinion beyond that.  Just a LOT of workouts (5-7 workouts per week now for 20 weeks), so I have a lot of data but it's just 'blah' at best.
Crowd Funded Projects of Athletic Note:
This is a bit of a new section. Most of this content used to be found within the main section, but I figured I'd just call it out up here and make it easy to find.  I regularly sift through Kickstarter and Indiegogo (plus a few others on occasion) looking for sports projects.  Note that as always with crowd funded projects, assume the project will be late and will under-deliver on features.   Thus far, on the numerous products I've helped 'fund' (except a leather bike handle), that's been the case.
Siva Cycle Atom: USB power charging accessory using pedal power.  This will utilize the power generated off of your rear wheel to give you a USB charging port on your bicycle.  Cool project, but ultimately the unit looks really darn big for my tastes.  But for those doing long-haul bicycling (i.e. cross-country), I could see the significant value here.
Instabeat: This is a heads-up display that monitors your heart rate, calories, laps and turns during your swim.   The founders reached out to me, and hope to have a prototype at some point in May that I can get hands on with and give some opinions on.
Sports Technology Software/Firmware Updates This Week:
Each week I quickly highlight some of the new firmware, app, software and website service updates that I see go out. If you're a sports technology company and release an update – shoot me a quick note (just one liners is perfect, or Tweet it at me) and I'll make mention of it here. If I don't know about it, I won't be able to post about it. Sound good?
Site/Firmware Updates:
Garmin Fenix Firmware Beta: Version 3.16 builds on the skiing beta version, and a version 3.20 is the production version including the  skiing pieces   (3.16 was there for beta, 3.20 as well for production)

Motvio Training Update: Motivo Cycling v1.1 out now. Updates include new audio alerting for interval changes.
iPhone/iPad App updates this week:
Android App updates this week: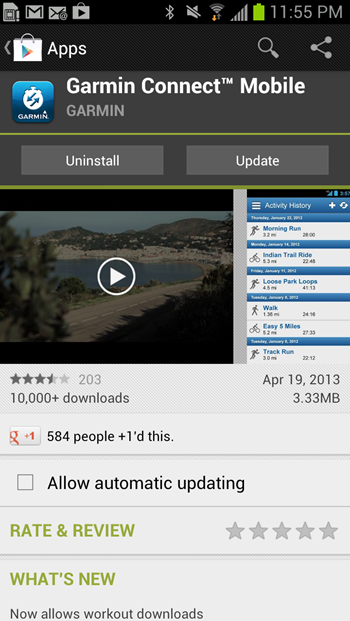 Windows Phone app updates this week:
(There were no WP updates this week that came across my phone)
—
Thanks for reading!