Given the Maldives are a collection of tiny islands in a vast ocean, you spend the majority of your time in or around the water.  The good news is…I like the water.  The bad news is that there isn't enough time in the day to explore it all…however that little issue can be fixed, we'll talk about that in a minute.
Many hotels in tropical beach settings have a 'house reef' – or essentially a coral reef right offshore their hotel/resort which guests can check out and get some close by snorkeling in.  In most hotels worldwide I've been at, this reef generally sucks.  Its often been rundown by guests and is usually to close too shore, so runoff and other man-made issues generally make it pretty lame – if not simply dead (remember, coral is a living thing).
So I wasn't quite sure what to expect when we made a little jaunt across the walking bridge to the other island to check out the house reef.  Turns out, it's pretty incredible.  Here's a couple of shots on the reef:
The reef extends perhaps 100-200 yards out from the beach, and then runs hundreds of yards along the island.  At the outer edge of the reef it drops down pretty quickly.

It's this drop-off where you get to see the good stuff.  The larger animals (mantas, ray's, sharks, etc…) and swarms of fish will hang out here.  If you're scared of the darker depths, this probably isn't the area for you to hang out.  But for me, I love it out here.  You never know what you'll see here – just last week a guy saw a massive whale shark sneak up on him while he was snorkeling.
Sometimes though we'd get little friends near the edge as well.  This little fish followed me for a really long time.  Always looking into the wide dome lens.  I think he was checking himself out.  He was a bit too close for me to get a sharp focus on him though, since he insisted on putting his mouth on the glass.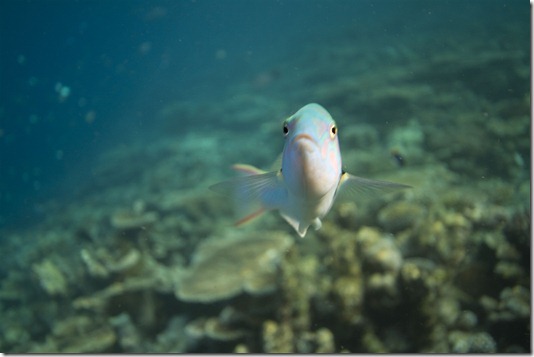 On our first trip out there while heading back to shore we saw quite a commotion in the water up ahead.   Lots of swirling and sediment getting kicked up.  Upon closer inspection we found a massive swirling frenzy of fish – hundreds (if not thousands) of them.  They were feeding on the coral – and you could actually hear the chewing sounds.  Crazy stuff.
Here's a little video I shot showing the circular motion.  It's as if they circled, took a chew, and then got back in the queue again.  Amazing.
Speaking of entertainment, sometimes we didn't have to go any further than our front doorstep.  These were literally right outside our villa.  The first is a small stingray that cruised on by: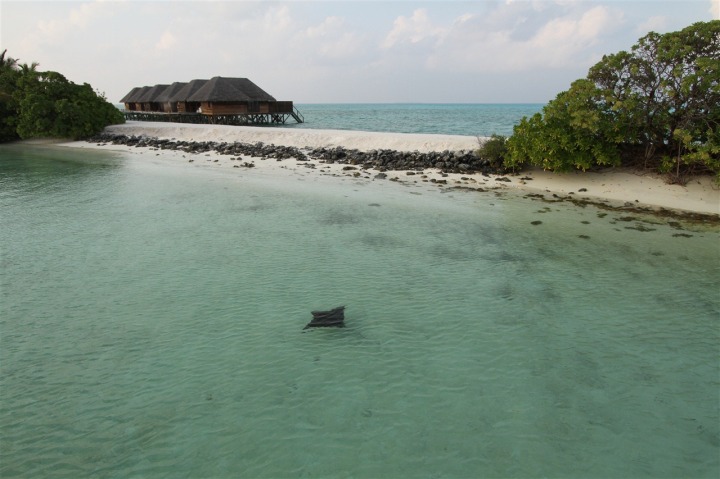 And the second would be the ever present baby black-tipped reef sharks: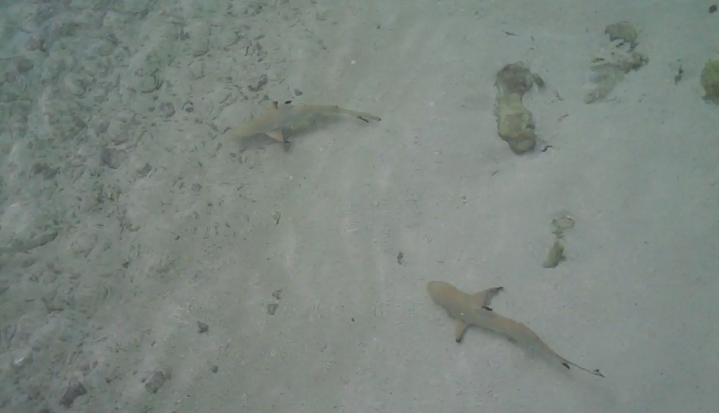 A few times I'd get down in the water and try and get them comfortable enough with me to get close to the camera for some good shots.  Though, I was generally not terribly successful.  With the water only being about 18" deep and sandy/silty, and the sharks only 18-24" long, it's fairly hard to get good clean shots.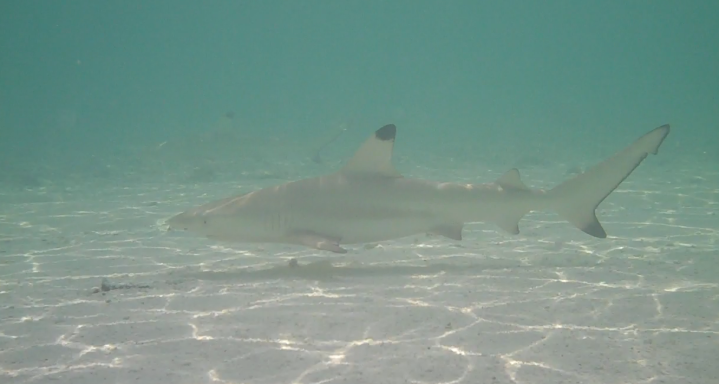 While the house reef and the stuff right outside our villa was impressive, in order to see different aspects of the ocean, you have to go deeper.  So we put our name on the list for a dive the next morning (there are 2-3 offered per day to an endless list of locations), and headed on out.
Once underwater my photos consisted primarily of a steady stream of little Nemo's.  There were plenty of other fish, though no big sea life sauntered by.  Oh, and we saw some lobsters too.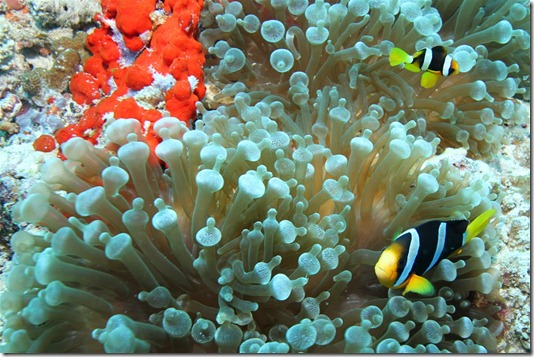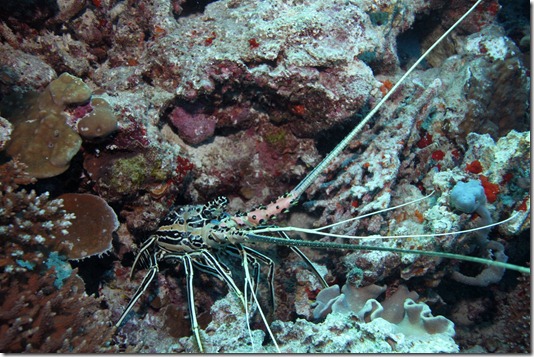 When we were signing up for the morning dive, we also noticed an option for a night dive later that night.  After chatting with the dive shop a bit about it, we decided to give it a go.  The dive would start at about sunset, and then the darkness would sorta set in around you slowly.  This would be much better than simply just jumping into the pitch black unknown.  Neither myself or The Girl had ever done a night dive before, but with about 40 dives behind me, I'm fairly comfortable in the water, and the dive shop agreed The Girl demonstrated pretty good control of herself underwater.
Here's when we started out:
Here's a little bit later: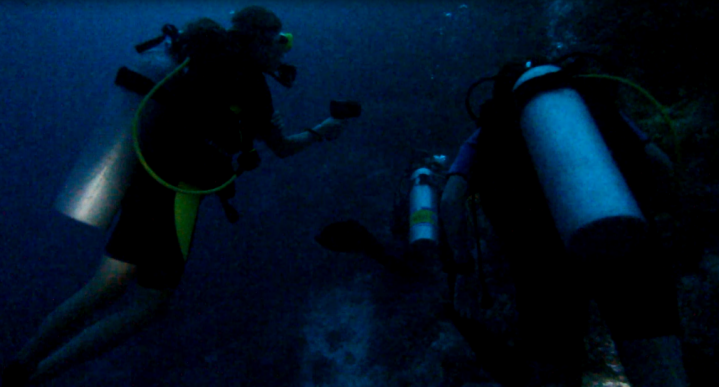 And then here's about half-way through the dive: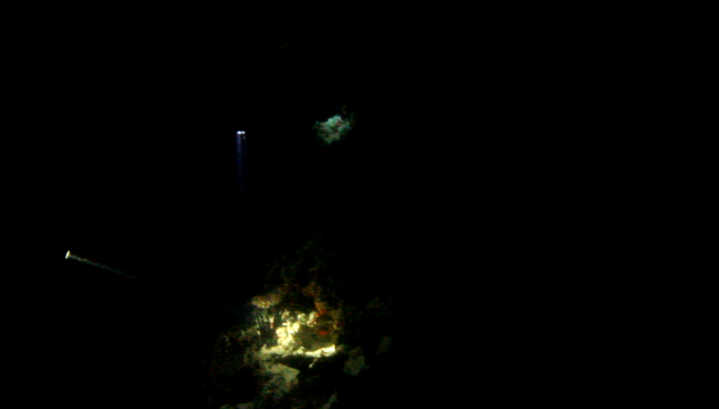 Along the way we saw two sting-ray's, one up in a cave, but the second one was down in the sand just trying to be all camouflage.  The 5' or so wide ray then just hovered on the sandy bottom.  Pretty cool.
Because wide-angle photos don't really come out that well at night, I got a few closer up shots.  But I found that video came out fairly well comparatively, so here's a quick little montage of the night dive – including shots of the hovering sting ray:
Anyways…night dives are pretty cool, even if incredibly eerie.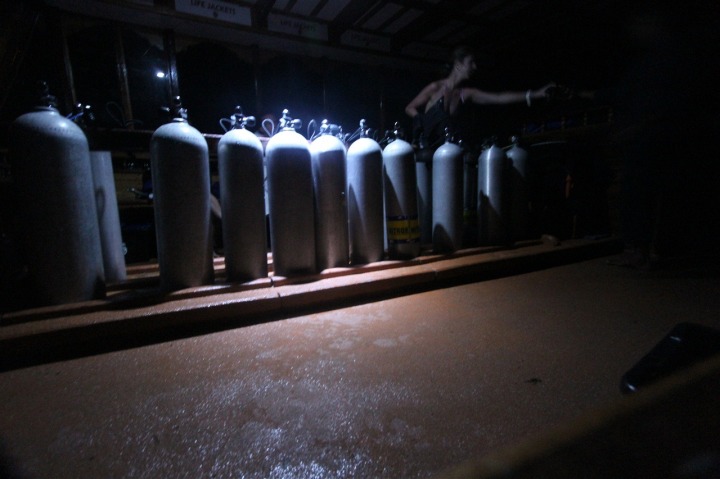 Finally, after our night dive (and most every night), we'd walk out on the bridge and check out the action below the lights.  Many fish – and larger animals are attracted to the lights.  So, once dark sets in the sting rays and huge manta rays come out to do slow easy passes under the lights in the crystal clear water.  Some of the manta rays were easily 6-8 feet across (and they get much bigger).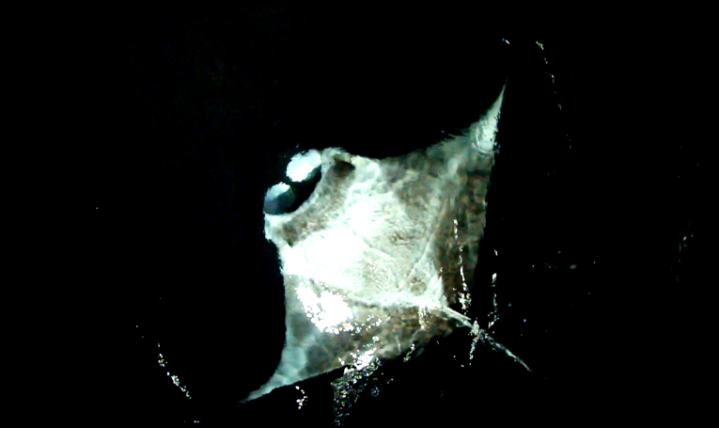 Here's a quick video of it doing continuous loop-de-loops below the surface lights:
Speaking of big items…here's a not-so-little preview of what's next…