Over the course of the night the boat moved a round a bit in an attempt to avoid some of the winds and swells that can make life on the boat uncomfortable.  But, by time the sun rose we were settling into our final anchor location for the day and the weather was looking fantastic.  With winds quickly dropping off to nothing, and with the water looking like glass – this day was shaping up to to be the best day of the trip.  It didn't take long for the cages to get deployed into the water, and before we knew it breakfast had been demolished and we were ready for some action.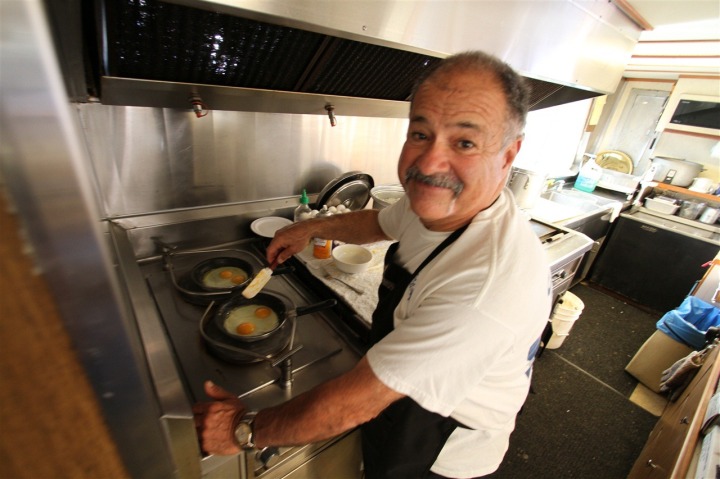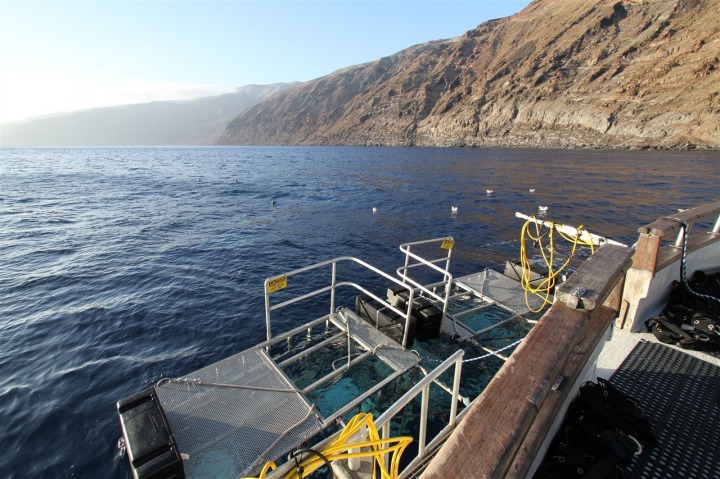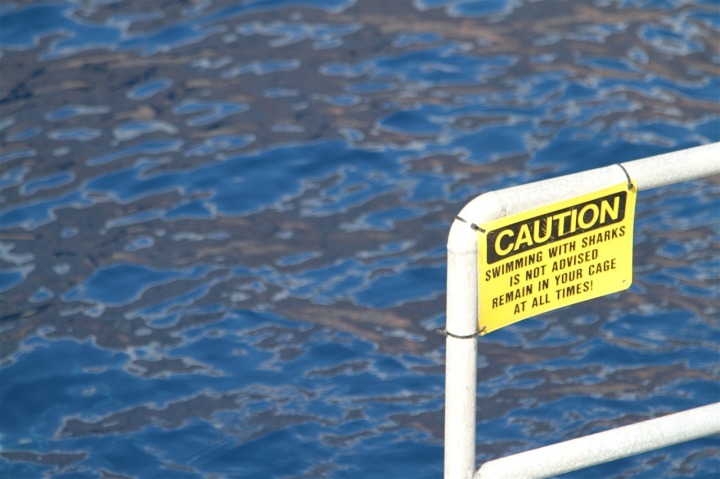 We got into the water just after 7:40AM, with the sun's ray's making the most picturesque lines I've ever seen.  The visibility also was shaping up to be unreal.  I could easily see the anchor off the front of the boat – from the back of the boat – some 89 feet away, as it dropped away into the deep sea just off the coast.
So we got into the business of looking for sharks.  Given this was our last day – and the weather astounding, we were hoping for an amazing day of shark watching.  After a bit of time though, it was pretty much back to the usual fish watching instead.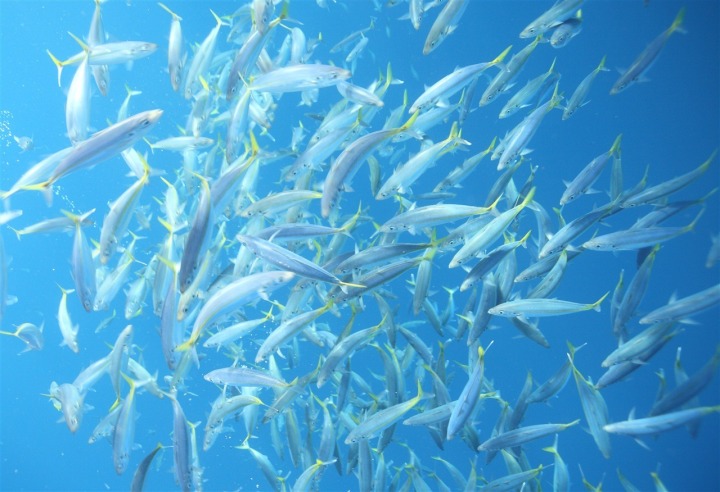 However, about halfway into our first hour-long rotation a shadowy figure arrived rather quickly.  A bit too fast (and small) to be a shark though.  Nope, it was a sea lion.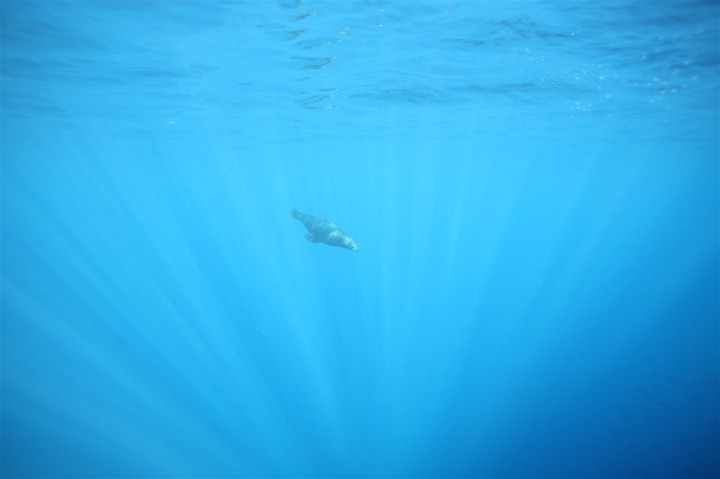 Not scared by the potential for great white sharks, he was much more interested in the shark bait.  I suppose his motives were no different than the little fish floating around – free food.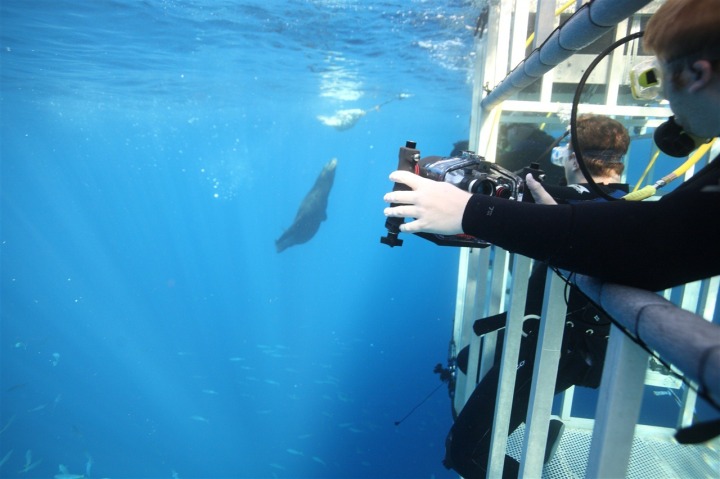 For the most part he never got too terribly close to the cages, instead opting to make occasional sweeping passes by.  Most of his (though perhaps it was a her…not really sure) time was spent either doing endless loop-de-loops or checking out the fish on a rope.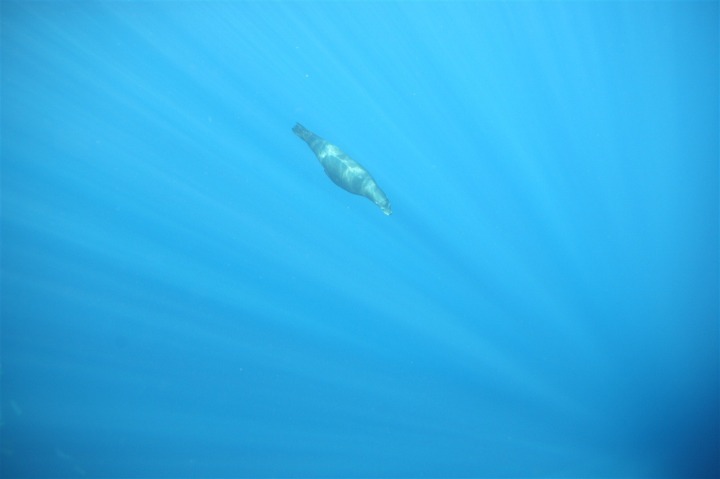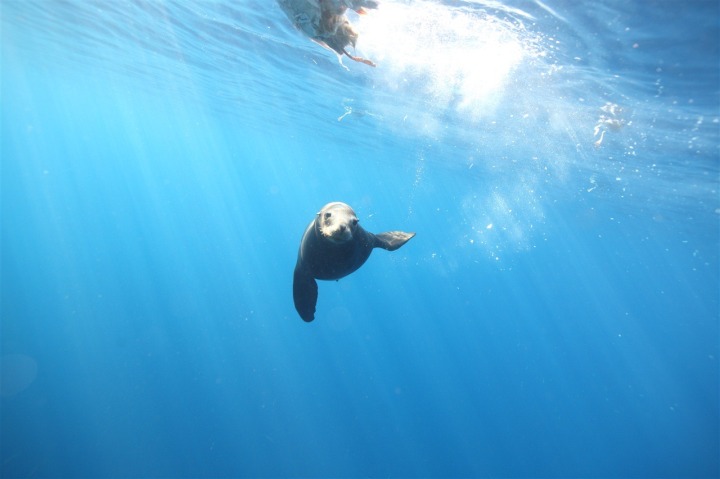 I think perhaps my favorite picture of the trip was actually the one below.  Just the inquisitive look on the sea lions face – kinda wondering 'Can I get away with it?' as it contemplates a little nibble on the fish on a rope above.  Clearly he had to be wondering if he was perhaps eating out of the bigger dogs food bowl and any potential consequences there.  Wouldn't want to anger any great whites, that's for sure.  It was also interesting how at one point he stopped, pointed straight down like a pencil and just hovered there frozen in time.  Afterwards I learned he was likely looking for sharks below.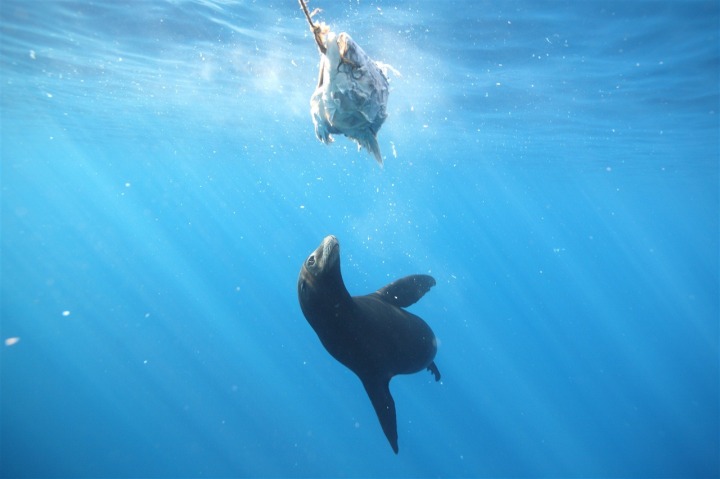 All too soon though, it was time to rotate out of the cages and up on deck.  At least that would give me an opportunity to take some more photos from above of Mr. Sea Lion.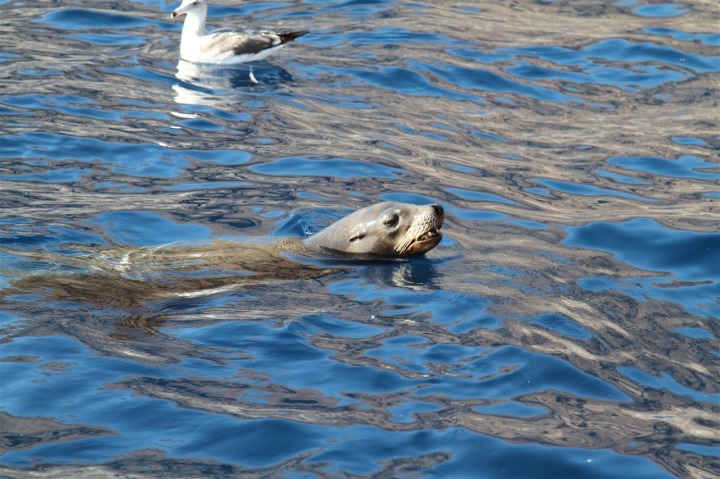 Turns out he was enjoying himself quite a bit.  Or rather, enjoying the company of the sea gulls.  Though, I don't think they were enjoying his company as he splashed about right next to them.  The next two less than photographically perfect pictures portray that a bit.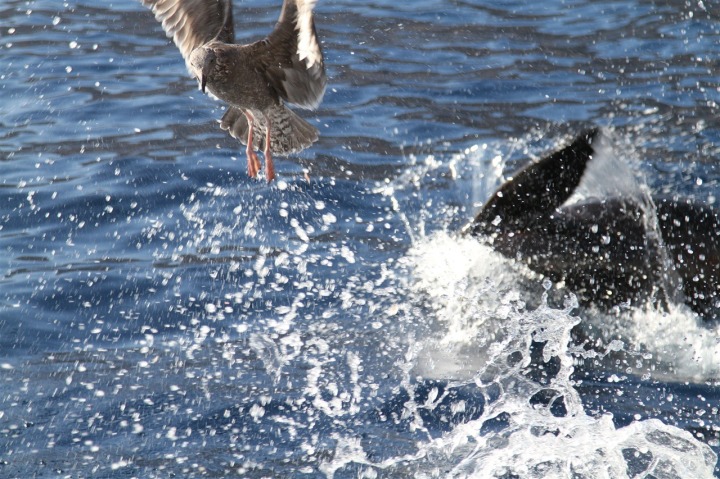 After our first successful dive of the day, we were pretty excited to get back in the water…however, that would pretty much result in a number of hours of emptiness as Mr. Sea Lion went away and nobody replaced him.
Oh, remember how on the first day I broke my Timex watch?  Well, I had the Garmin 310XT hanging out in my bag, so I used it instead to tell time (pretty useful underwater since I wanted to know how much time was left on my rotation).  I actually have one shot (second one below) that I took the second day with a great white in the background.  Unique shot I suppose.
So we were down to our last dive for the day and hoping something – anything – might show up.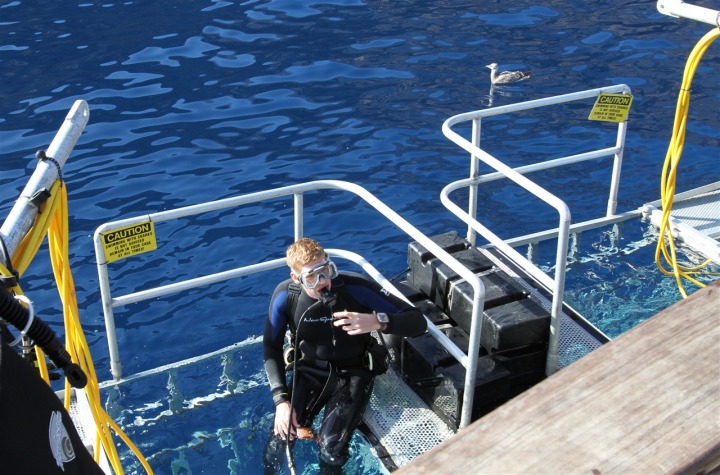 The film crew was also in the same boat (no pun intended) as they had setup some additional underwater cages for some final shoots.  One is a platform that they could film from – and another deeper cage where one could scuba down to and act as a home base per se.  You can see the main filming platform closest to me, and then off in the distance below the bow of the boat is the single smaller cage where Marine Biologist Luke Tipple was.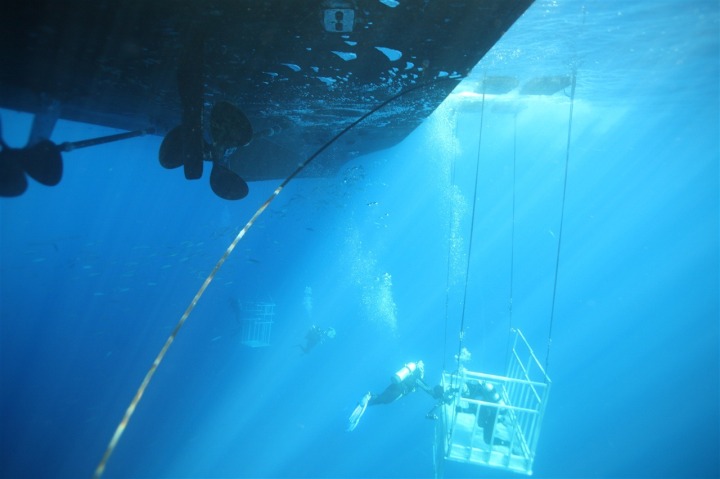 Oh, but one thing – he wasn't actually in the cage.  Nope, he was outside of the cage – in much the same manner as the three folks filming and taking photos down there (all pro's).  See, Luke has some experience in the past with swimming freely with great white sharks.  Now, this isn't to say he just goes out and hopes for the best.  No, he carefully studies the behavior of the sharks on that given day and then assesses the situation.
So, we're watching these guys down there and Luke's kinda wandered a bit off into the distance beyond the cage.  I then notice he's swimming a bit faster than normal back to the cage and think to myself "Hmm…that's interesting, wonder what's up" – only because the guys weren't really shooting at that point – so the action seemed rather unprompted and more hastened.  Then once Luke was safely back near the cage he signaled over to the camera crew that there be Great Whites in our midst.  And no more than a  few seconds later did one come into view – just ever so slowly sauntering down below – doing wide circles again.
Now, as with Luke this isn't the first time some of these guys have filmed in the open before with great whites.  One of the two camera guys down there – Richard Theiss – has filmed Luke before out in open water interacting with great whites.  You can check out some of those video's on his YouTube channel.  Richard's a fairly interesting guy with a deep background in filming for all the big names out there – Discovery, Animal Planet, National Geographic – you name it, he's done it.  We got to spend some time chatting later on with Scott (more in a bit on that) and you can tell not only does he have a way with a camera, but more importantly – really understands the issues the oceans face, and does his part in trying to bring awareness to the masses.
Oh…but back to Richard, Luke…and the circling shark…
Unfortunately, at this stage the shark was pretty far down and I couldn't get any pictures from where I was. Though, a bit later after they wrapped up filming the shark returned for a few goodbye passes before heading away.  It never came very close – just doing slow circles again.  But you can see it below in this photo I took, center of the screen almost at the bottom below the fish – very faint.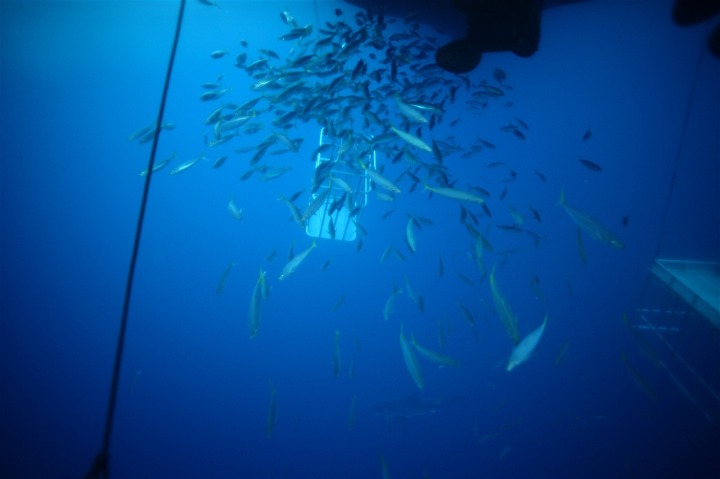 But, it was really interesting to watch everything unfold.  Very dramatic with everyone from the 6-8 of us in the main cages trying to see where the shark went to, to the three camera folks to Luke – all looking around as hard as we can trying to spot where the shark went to.  See that's the thing, they are really really really good at sneaking up on you.  One second they are right next to you – and the next they disappear into the deep, only to re-appear behind you just a few feet when you turn around at the last second.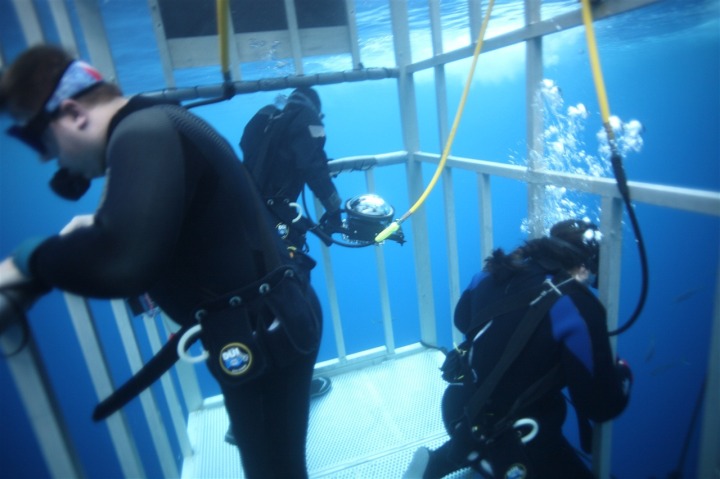 As we strained looking into the deep for one last glimpse we heard the tell-tale three time metal clanking on the cages, meaning it was time to get out…and head home.  The first cage emptied out, and then it was time for our cage.  This would not only wrap up our trip – but the 2009 season of great white shark diving in Isla Guadalupe, as it was the last boat of the season.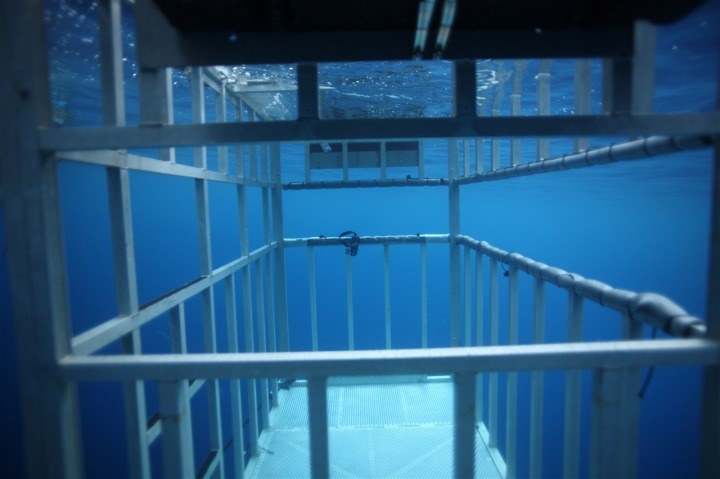 So as the light faded they packed up the cages, camera equipment and got everything ready to roll, and by 6PM we were slowly heading northeast again towards the mainland.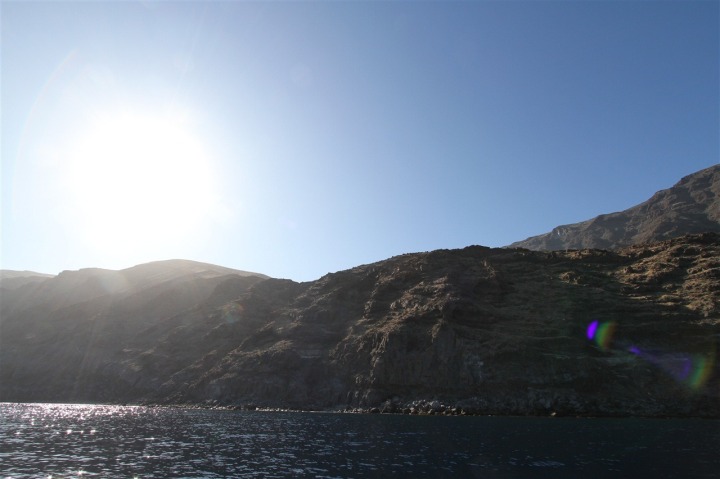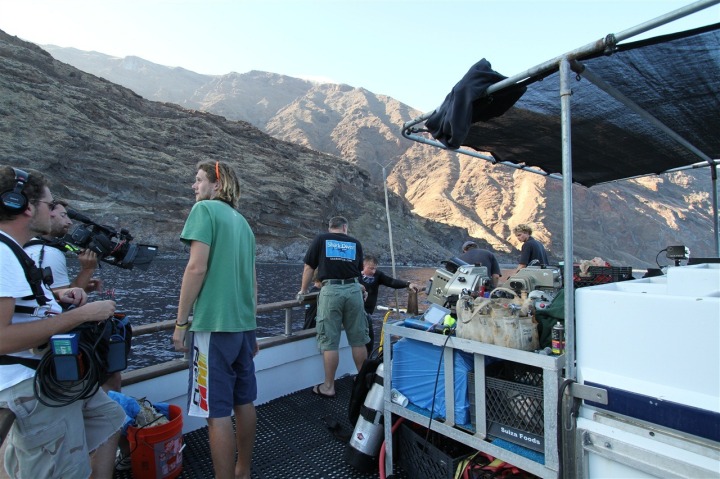 As has been the story for the entire trip, we once again got a great dinner – this time some perfectly done steaks.  Here's Luke serving us: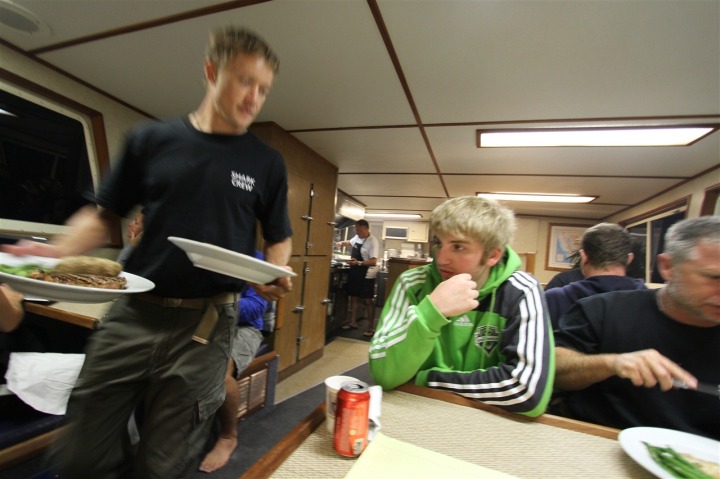 To the right there you see Scott Cassell (nice to have your bio page on Discovery, huh?).  After dinner we got to sit down and have him talk a bit about his research he's doing with the Undersea Voyager Project (he's the founder).  It's a really cool project where they are working to take a sub down to 1,000 feet and then circumnavigate the earth (27,000 miles).  But this isn't just a bunch of scientists scribbling away notes in the deep.  Nope, the goal is to educate and promote awareness – so as part of their travels they take down everyone from school children to educators to media and politicians.  Watching it on Discovery is one thing, but seeing it for yourself is another.  You're far more likely to understand the issues that the ocean face when you can partake in it, than just hearing about it on TV. Check out their site and consider helping their cause – with 98% of the oceans unexplored, they're going to find some damn cool stuff over the next few years.
He also went into depth on the fascinating research work he's doing with Humboldt squid.  One of the major side-effects with the massive tuna overfishing is that the Humboldt squid population has exploded.  You may be thinking – isn't species growth good?  Well…in this case – no.  See, aside from the squid population starting to destroy other fish populations (like our beloved Salmon) they also have a nasty history of taking out larger critters like humans.  That's because with their size at upwards of 14 feet, winning an argument with us isn't an issue.  Oh..and doing so in massive packs – like a group of hunting wolves.  Add to that the 1,200 sucker discs lined with razors and you've got a less than ideal little oceanic friend.  When he dives with them, he has to wear armor – but that hasn't stopped them from breaking his wrist 5 times.
So with visions of man-eating squids dancing in my head, it was time to head to bed for the long 20 hour crossing back to mainland Mexico.  Scott didn't help when he pointed out that it would be likely that given our location we're probably within 1 mile of a Giant Squid (up to 60ft long).  Hopefully no giant (or Humboldt) squid decide to launch an attack on the boat while I'm getting my beauty sleep, as we've got one final day left on this trip and I intend on getting the most out of it.  Calamari or otherwise…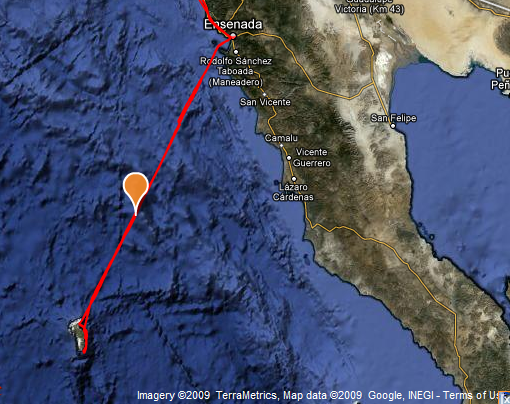 (Please note: All photos and text are copyrighted by me – Ray Maker – if you want to use a photo, just ask and e-mail me. Unlike the sharks, I don't bite.  Thanks!)
<< Back to Day 1, Day 2, Day 3 | Ahead to Day 5 >>