Over the last 8 weeks or so I've been jetting in and out of countries all over the place, mostly in Central America.  In the vast majority of the cases, I was there working for only 24 hours, sometimes up to 36 hours before I flew onto my next destination – but rarely more than that.  While that works well for countries that are relatively close to the US, it doesn't work so well for countries that are on the other side of the globe.
Further, despite all this travel – I haven't really got to see much of the many countries I'm visiting.  I typically arrive on airplane at night, work during the day, and then head to the airport – often at night.  So since I was going to start a slew of trips taking my butt half-way around the world towards to and around Asia, I decided that I'd go in for the weekend ahead of the workweek and check things out a bit.
And thus… Saipan.
Ok, not sure where Saipan is?  Well, here's a handy map.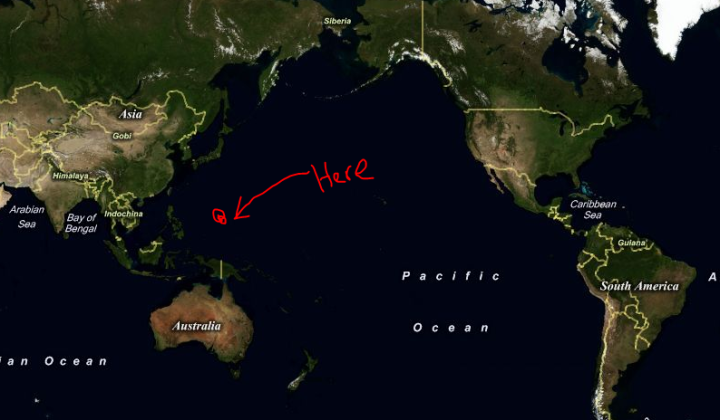 Saipan is about 90 miles north of Guam, in the middle of the Pacific Ocean.  Now technically Saipan isn't really a separate country.  It's a little confusing actually.  Saipan is part of the 'United States Commonwealth of the Northern Mariana Islands'.  Which was acquired following WWII.  In the 70's it became a 'Trust Territory', and only about a year ago they got some ancillary power in the house of reps (not outright voting though, just input).  Those born here are considered US citizens.  Interestingly, visa rules are different for here – for example certain countries that require a visa to go to the Mainland US, don't require a visa here (Philippines and China being examples…).
So – here's my whirlwind tour of Saipan.
First up, there's a ton of WWII related sites.  I drove out a bit on Saturday, and then picked up a bike on Sunday to check them all out:
The below is the Grotto – which is a cavern system that connects out to the open ocean.  It's just slightly inland, but is a popular place amongst tourists and locals as a swimming hole of sorts.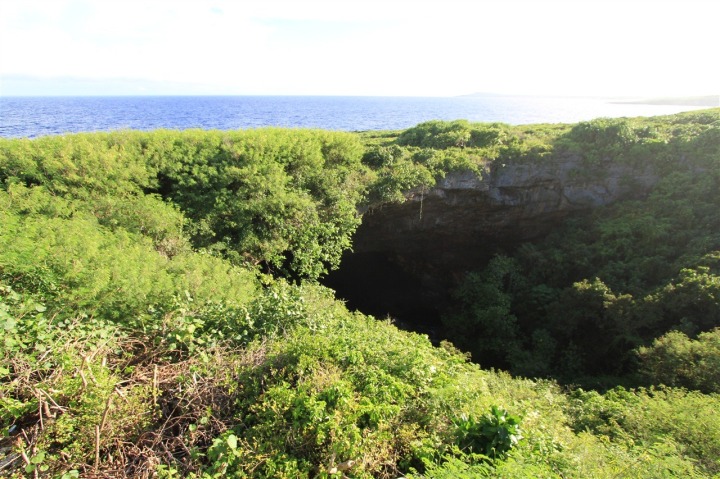 You take about a hundred steps down a very step descent:
And then you find the small area of water, where you can go for a swim.  Though, it's a bit tricky as the water surges through with incredible force on the side closest to me.
Next up is Bird Island – which is a sanctuary.  There's actually quite a few sanctuaries on Saipan.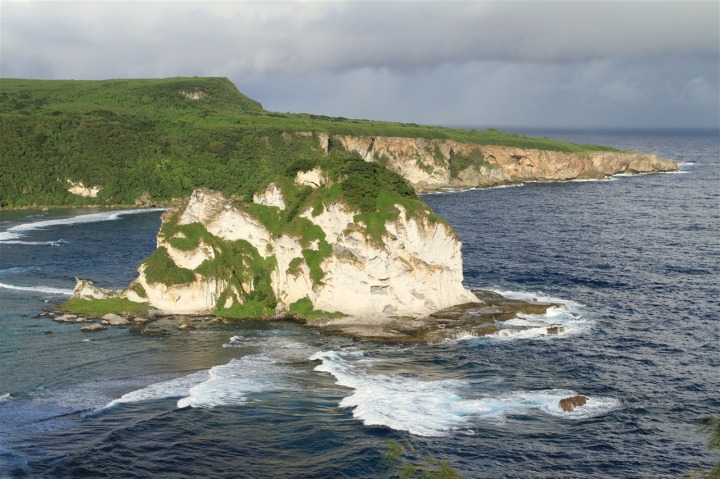 On Sunday during my bike ride I rode up the rather steep mountain rode to the top of Suicide Cliff – which overlooks vast chunks of Saipan:
You'll note that bike isn't mine.  Rather, it's a bike from the hotel.  Well..actually, not my hotel.  The hotel next store.  They had bikes, mine didn't.  The details of that are probably better left unsaid.
But, it only cost $10 for 4 hours.  Pretty sweet.
The bike had the rolling resistance of a brick, and probably had about 20psi of air in the tires.  At its peak, I was going 20MPH…downhill.  This would be the same hill that on a road bike I'd probably break 40-45MPH coasting.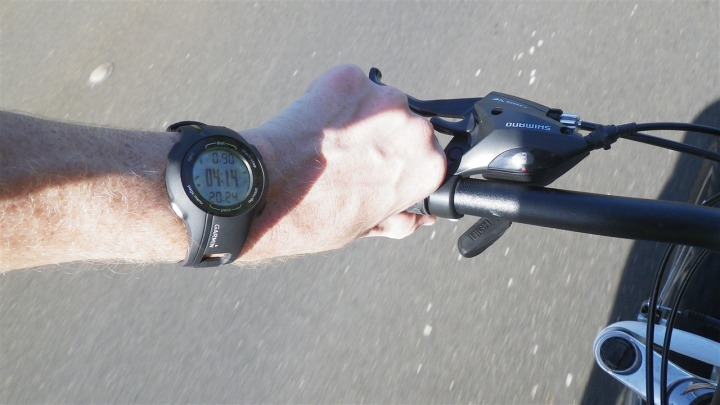 While there is plenty to see above ground, much of the real action is underwater.  Thus…I donned some scuba gear and got wet.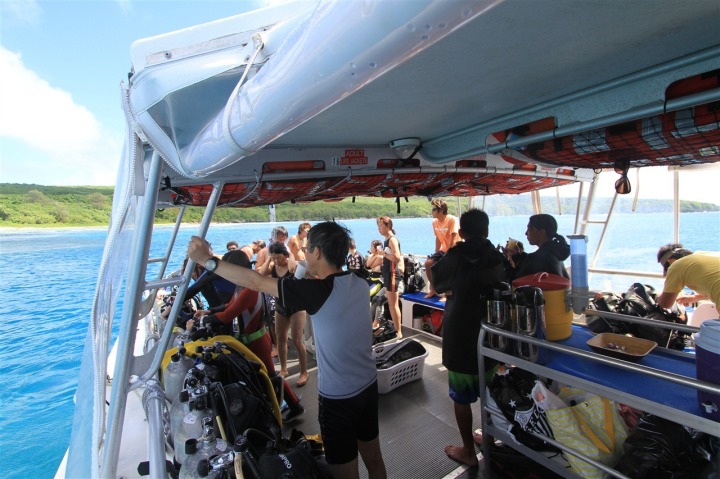 One interesting item of note is that the island pretty much caters to just Japanese and Korean tourists (as it's only about a 3 hour flight for them).  As such, finding an English speaking dive master actually takes a bit of work – so much so that I had to arrange my dives in advance before I even arrived here.  Nonetheless, it was worth it.
This is a piece of WWII ammunition, sitting on the seabed floor: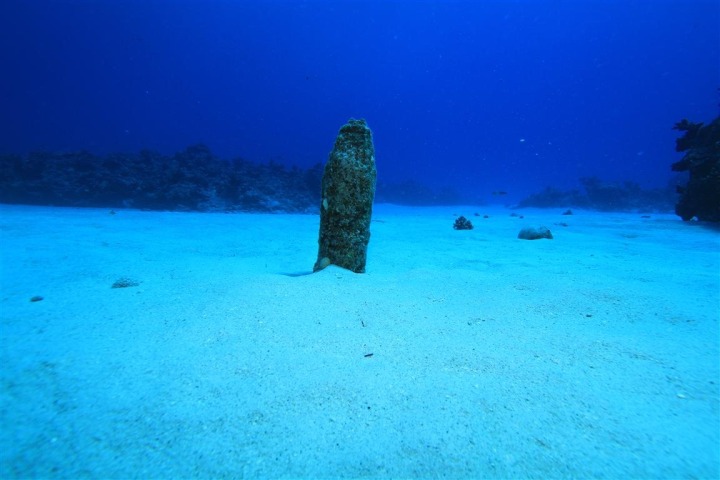 I followed around Mr. Jellyfish for a while.  I always enjoy taking photos of jellies, and ironically, I'm not too far away from Palau and Jellyfish Lake, which you may remember from my past posts.
The dive instructor blowing air rings: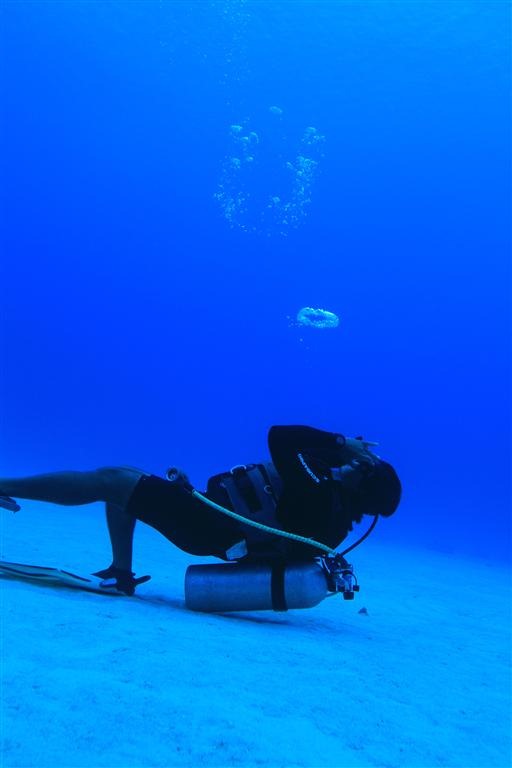 We then spotted Mr. Octopus, so again…I followed him around for a while too.
Finally, I spotted Mr. Spotted Eel.  I didn't really follow him around, I don't think he liked me very much.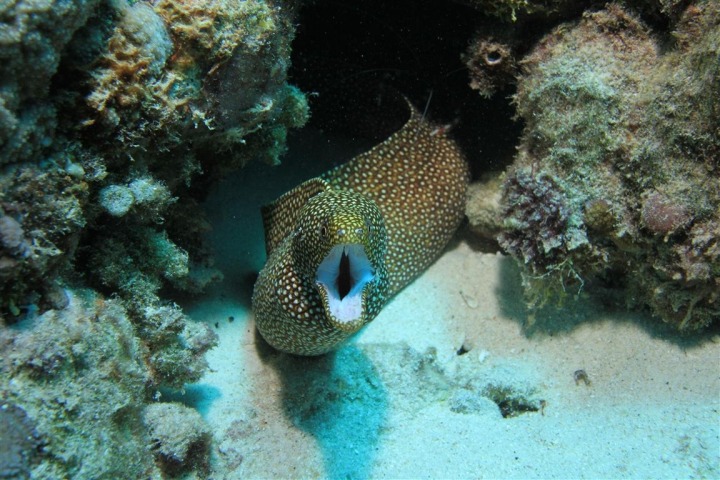 However, I found one little guy who loved me.  This little fish followed me around for quite some time, just looking into my camera lens.
And then it was time to head up… bye-bye little fishy!
I went out again on Sunday, and this time dove The Grotto – which is the cavern system I was mentioning earlier.  This of course required a bit of a tricky entrance, given the swells, but I made it out to the rock island and then into the calmer water: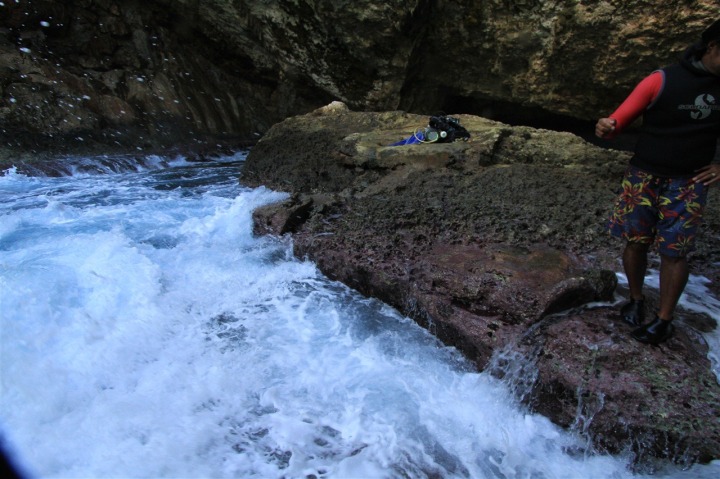 From there, we dove down into the depths of darkness.  In many ways it was kinda like the night diving I did in the Maldives.
While I was down there bumbling around, I took a short video – which is below, showing how dark and eerie it can be:
The Grotto, Saipan
After The Grotto, we headed to another dive – a beach dive after some trekking through the jungle:
Oh – here I am!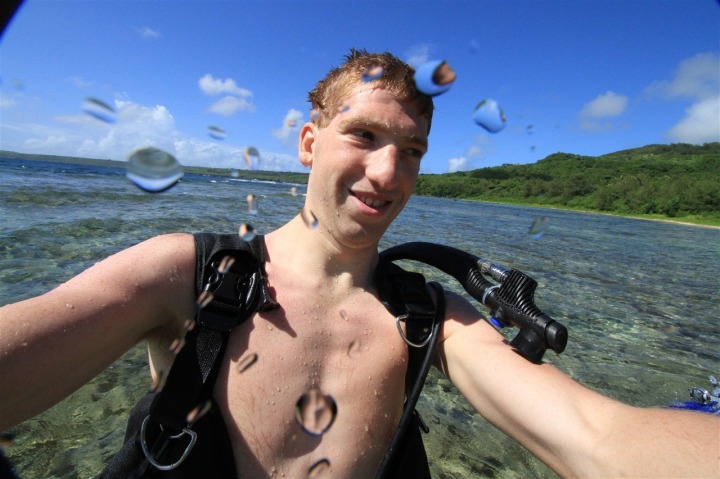 And don't worry – I was working out as normal the entire time.  See, I got in a run – a very hot, humid and painful run.  Oh, and they actually have a big XTerra event here, as well as a few other tri's.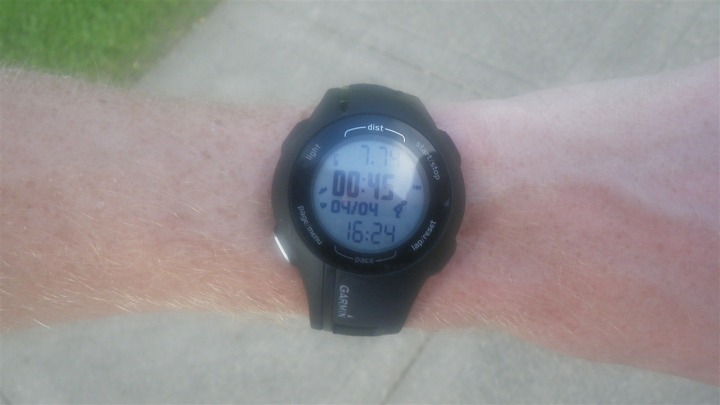 And the bike I mentioned earlier…and last but not least, a swim.
But I'll save the swim for tomorrow…something special there…Have a good week all!