Back a few months ago while following the Underwater Thrills blog, I saw a story about a Whale Shark research program in the Maldives.  After a bit of poking around, it turned out the program is partially supported by the Conrad Maldives – and thus based on the island where we were going.  I mentally made a note to try and catch up with these folks once we arrived.  As luck would have it, while we were waiting for our room to get ready, we stumbled into them and got to talking.
After a bit of negotiating with hotel management, they managed to get us on an unscheduled trip with the whale shark research team.  Unlike a traditional tourist trip, this would be all about their research efforts, and we were simply along for the ride.  Though, we were welcomed to take part and help out in any way we could, more on some of that later.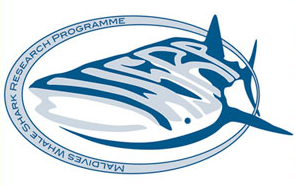 The Maldives Whale Shark Research Programme (with an 'e' at the end, British style…) was founded in 2006 by a group of marine biologists looking to setup a permanent facility in the Maldives to study whale sharks. Unlike many other areas of the world, it appears a bunch of the whale sharks actually stick around the Maldives year round, providing an excellent opportunity for long term research.  Though they don't quite yet have the financial resources to stay year round, the goal is to be able to rotate teams and individuals to the island for sustained continuous research.
We met them at the dock around 9AM for what was scheduled as an all day event.  Through an arrangement with the hotel, the team is able to use a very basic boat to perform their research from.
After boarding the boat we quickly got underway for the 1hr 30 minute journey to a reef where they most often frequent.  Like all animals, you can't guarantee they'll show-up on any given day.  Just two days prior the team went out and wasn't able to find any sharks…which is in polar opposite to a trip just a few days earlier than the last, when they counted 17 whale sharks.
Once underway, the team gave us a brief on their goals for the program, as well as an outline of rules and procedures when in the water.  Below the team is explaining to us how they (and we if possible) will measure the shark.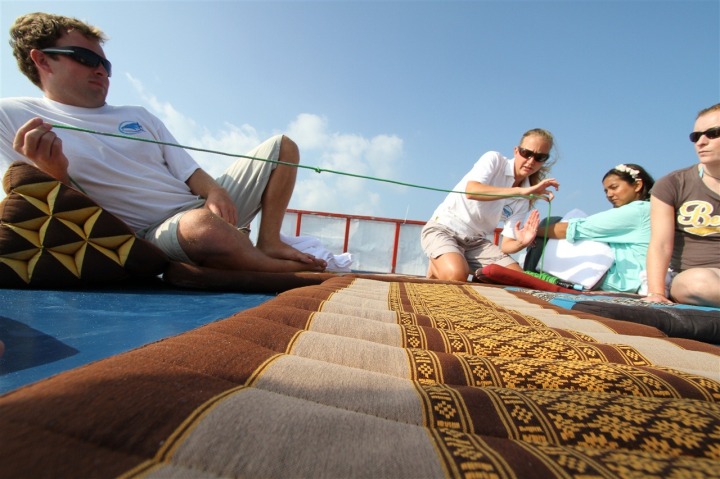 The team does a lot of work trying to assist the government in putting in place common sense regulations to keep the whale sharks safe and happy.  For example, ensuring that when boats are in the vicinity of a whale shark, they reduce their speeds.  They also look to assist in setting up protected areas that are most often frequented.
Whale shark tourism is big business in many areas worldwide – and this little portion of the reef is no exception.  As you'll see, when a shark is spotted, dozens of tourists pile into the water to try and catch a glimpse.  While in general eco-tourism is the best type of human interaction for the whales compared to a history of fining, there does need to be some very basic and easy to follow regulations to ensure the whales (and tourists) a safe environment.
Once we arrived at the reef, it was time to begin looking for whale sharks.  They explained how best to try and spot the school-bus sized creatures.  While it may seem easy to spot a school bus sized creature, in reality it can be fairly difficult.  Everything from coral blocks to sun reflections and even dolphins can lead to false calls.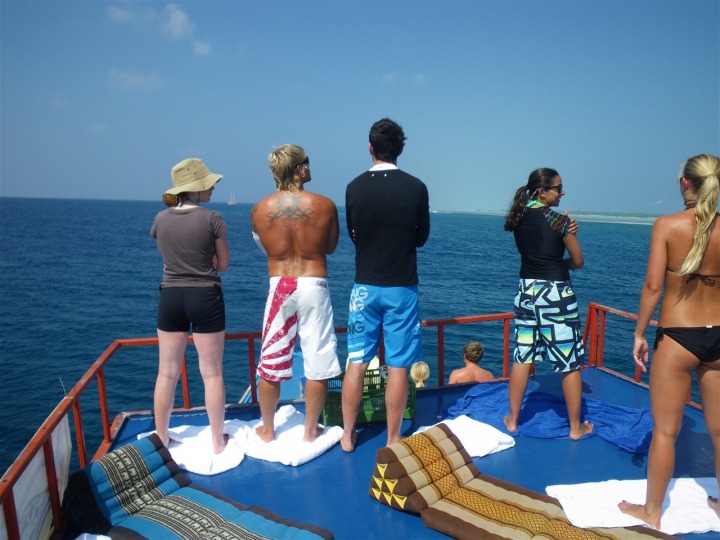 (Above…everyone on deck looking for whale sharks.  Below, the snorkel gear was always ready for quick entry into the water)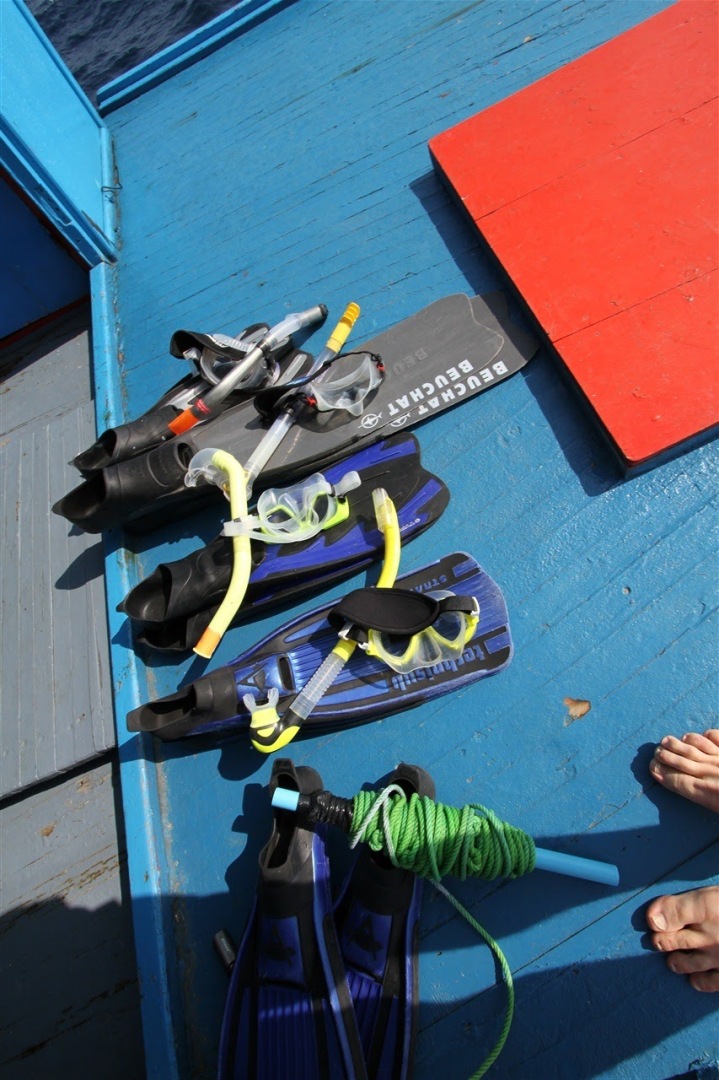 We'd slowly motor up and down a large many-mile section of reef – taking an hour in each direction looking for them.  Twice other boats around the area saw sharks, but the folks in the water scared away the sharks each time before we could get there.  The sharks are fickle, sometimes they hang around for hours on end with you nearby, and other times they bolt right away.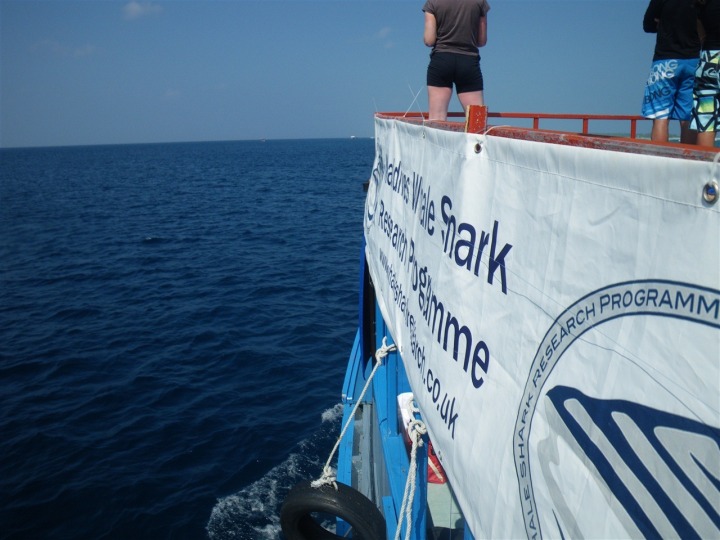 After about 2-3 hours of getting rather crispy on the deck, they offered to toss us in the water dragging behind the boat to look for them.  I thought they were kidding at first, sorta like a bit of newbie hazing…but after they tossed the two ropes off the back and donned snorkeling gear, I decided they were serious.
It turns out that depending on the water depth below the boat, this can actually be the most efficient way to look for them.  For example, when a big shelf drops off quickly, it's very hard to see deep enough from above the surface.  But by snorkeling we had incredible visibility.
While the boat was still cruising, they told us to jump in the water, grab the end of the rope…and hold on.  So we did…and it was pretty incredible.
Along the way we even saw some dolphins (we'd see quite a few dolphins during the day).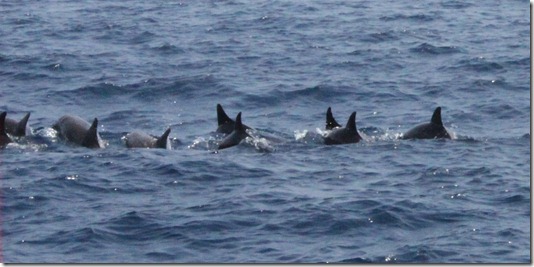 After we were done in the water we went back to looking from the deck…a few more hours passed.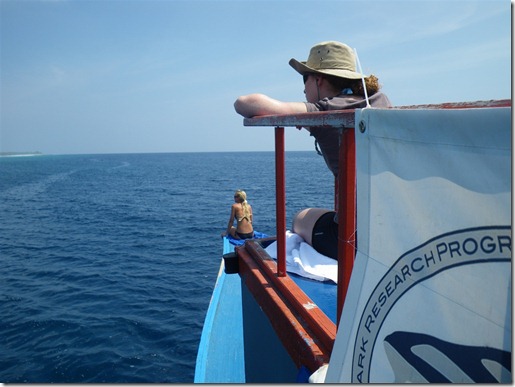 After what seemed like forever, early in the afternoon the team spotted our first whale up ahead.  In what was an event far more busy than an Ironman start, a burst of activity hit the boat as everyone prepared to jump in the water.  Sometimes they only have seconds to collect their data before the shark disappears – so time is of the essence.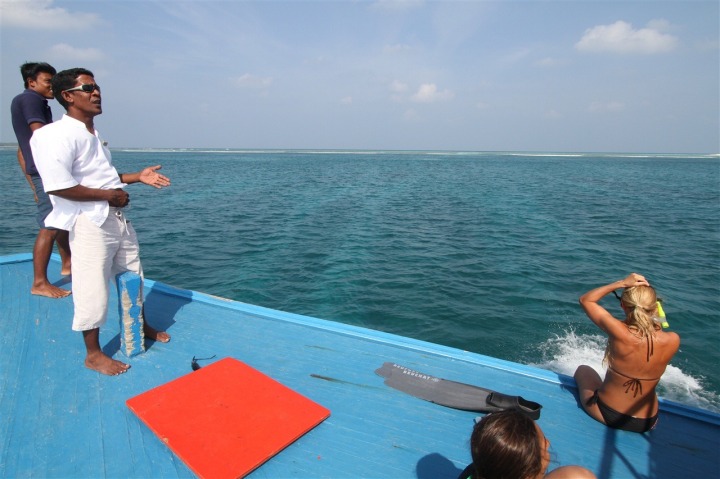 I've never seen so many people get on snorkel gear so quickly…and get off a boat so quickly.  No ladders here, jump and swim hard.  Below Rachel and Ben quickly set out.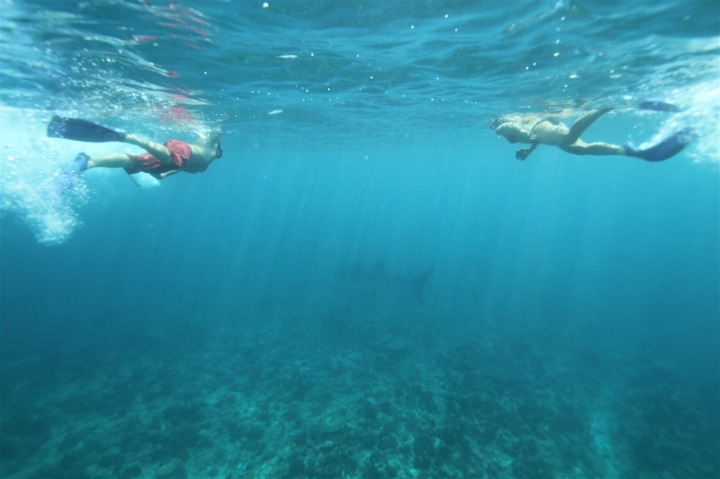 This might be an ideal time to point out that whale sharks are human-friendly.  Though larger than a great white shark (you remember my time with those, right?) they are completely harmless…and vegetarian.  Most times folks looking to have an encounter are able to simply snorkel on the surface, no diving equipment needed.
In this case, all we had was snorkeling stuff and our own swim prowess.  Soon we caught up with him (it's a him) and the team immediately set off to try and get key photos of the animals, as well as try and get it's current length.  Whale sharks can get over to 12.5m (40+ feet in length), which is just simply massive.  Compare that to Great White sharks which generally top out in the 16-18ft range (4-5 meters),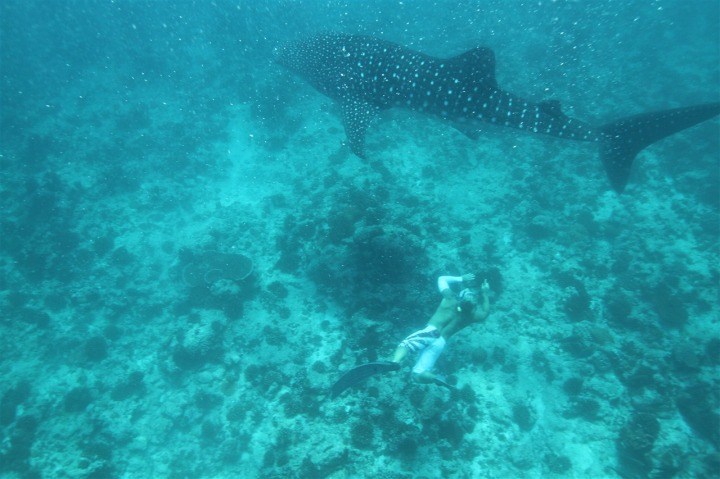 Unfortunately, Neptune (the shark's name), quickly disappeared down into the deep.  Likely caused by the horde of nearby tourists into the water after us.
But the team did get their measurements, which they write up on a board in the boat.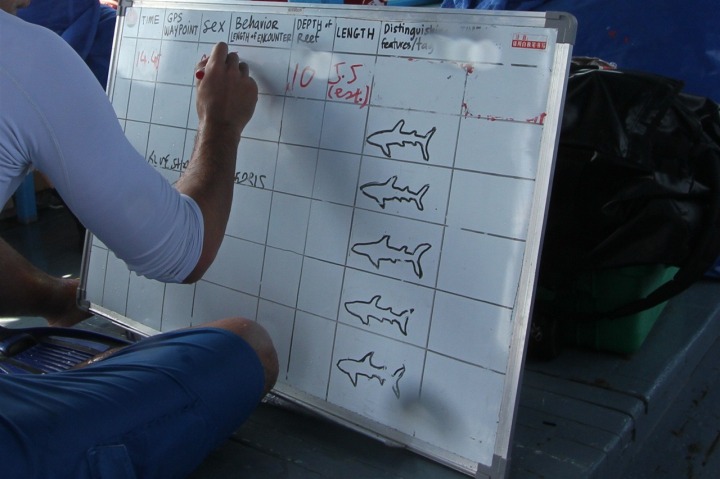 They also record GPS position, as well as everything from tides to swells to wind direction.  Though, their non-downloadable GPS could use a bit of upgrading.  Since I know your listening Garmin…how about sending them one of your marine and fish finding GPS's?  I think they'd greatly appreciate it…
After spotting our first shark we chatted a bit about one of the challenges facing not just whale sharks, but normal sharks as well – the practice of fining.  Fining is when a shark's fins are cut off, and the shark is left for dead in the water.  There's been cases on this exact reef where tourists went out one day to discover over a dozen sharks dead on the bottom with their fins cut off.
The shark fins are sold primarily to Asian markets (Japan/China mostly) for significant sums of money.  In fact, just a few days later while spending the night in China, we stumbled into numerous markets offering dried shark fins for sale, which are then used in Shark Fin Soup.  You can see them below in this photos along the upper shelf, as well as in the middle left.  Interestingly, when we casually asked what they were – none of the three shops would tell us, they'd just shrug and say "I don't know.".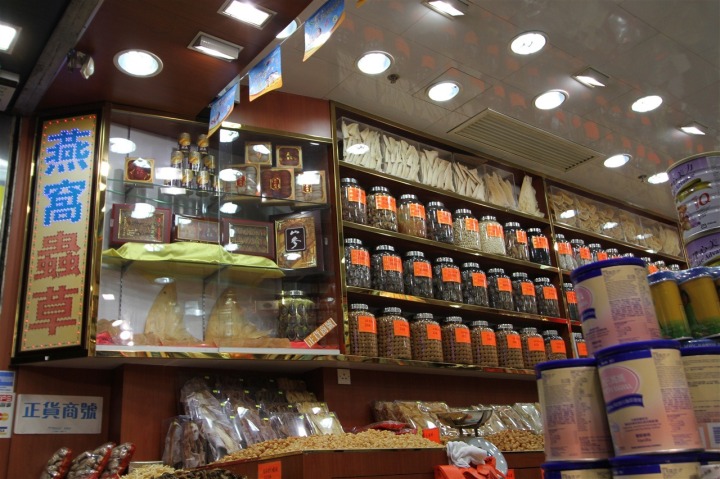 (Click the image for a larger view)
Anyways…back to our search for more sharks…
As the light started to wane, hopes for getting a good long time in the water with a whale shark were looking dim.  But a radio call from a dive boat a few islands away let us know they a shark was in the vicinity and being fairly friendly.  About 30 minutes later, the team was able to spot another whale in the vicinity of the original radio call, just off to the starboard side of the boat.  Can you spot the whale shark just under the surface in the image below?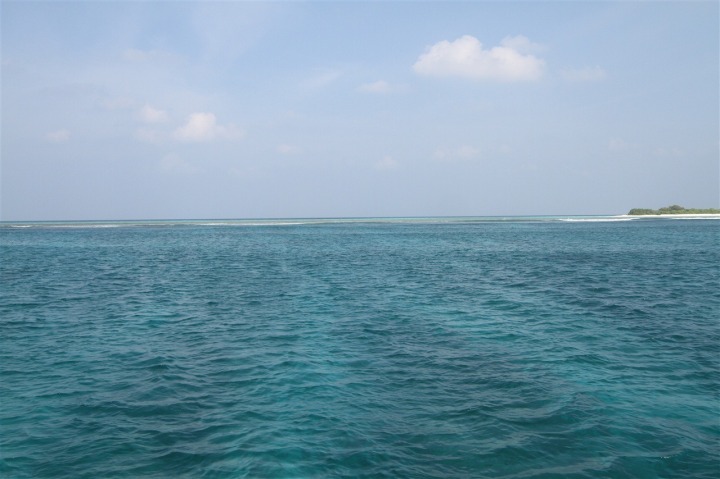 Just like the first time, within 20-30 seconds all hands on deck were ready to jump into the water…and a few seconds later we were off to the races again, trying to catch up to a wandering whale shark.  This time though no tourist boats could be seen, at least as far as the horizon allowed anyway.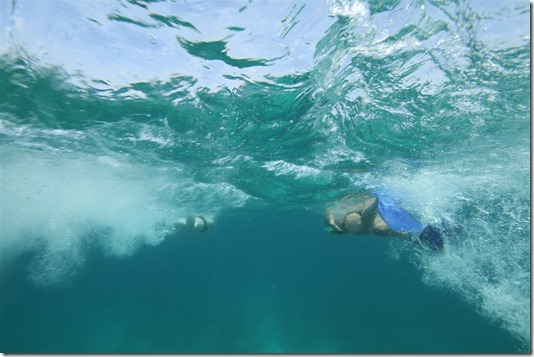 This would be a good time to point out a few tiny non-obvious things.  First off, while both The Girl and I are fairly good swimmers in the triathlon sense, the whole story is changed when you're dragging with you a very non-aerodynamic heavy underwater DSLR camera case.  Imagine trying to do the swim start of a triathlon race while dragging in one hand a ski boot.  Yeah, kinda like that. And we had to push pretty hard – or at least with the drag it felt hard.  Secondly, while we have the ability to hold a pretty solid pace in the water, that doesn't carry over to holding ones breath for any meaningful amount of time in comparison to a whale shark.  To explain – go swim a 200yard set at full tilt, and then without stopping between breaths go and dive down to the deep end of the pool (no, not the kiddie pool) and see how long you can hold your breathe.  But see, here's the kicker – some of the research team can go minutes underwater holding their breath.
For example…Adam.  Note below just how deep he is as well.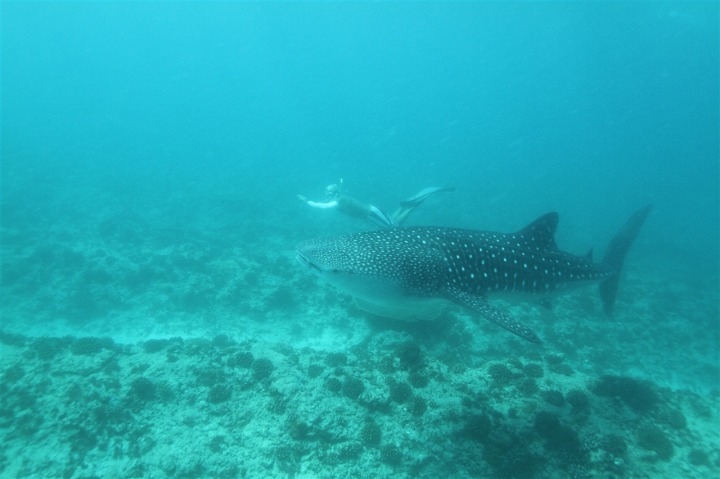 But before we get to pretty pictures, the team immediately got to work.  After all, the most import thing is getting length and identifiable photos.  First off, they set off to get the length: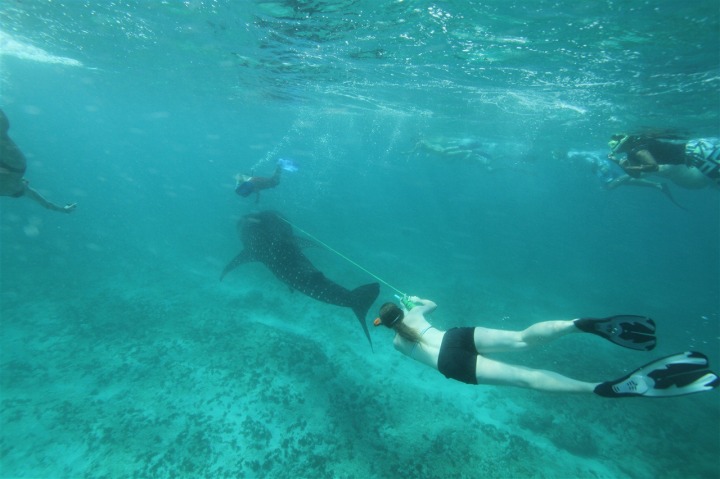 Meanwhile marine biologist Rachel dove down to get the key pectoral fin photos, sets on each side: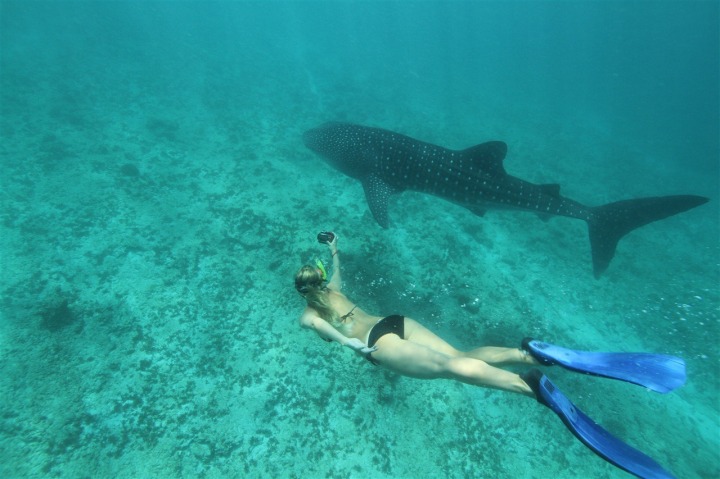 Finally, they got photos below the aft area of the shark to identify gender.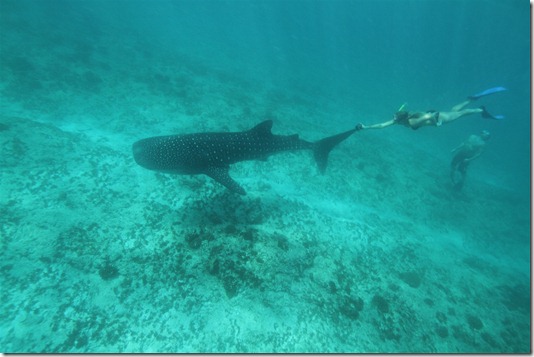 Once that was all set, it was time to observe the shark and note any new scars, or visible markings.  At one point they asked me to grab a few higher resolution photos of an area they wanted to look in more detail at on the tail: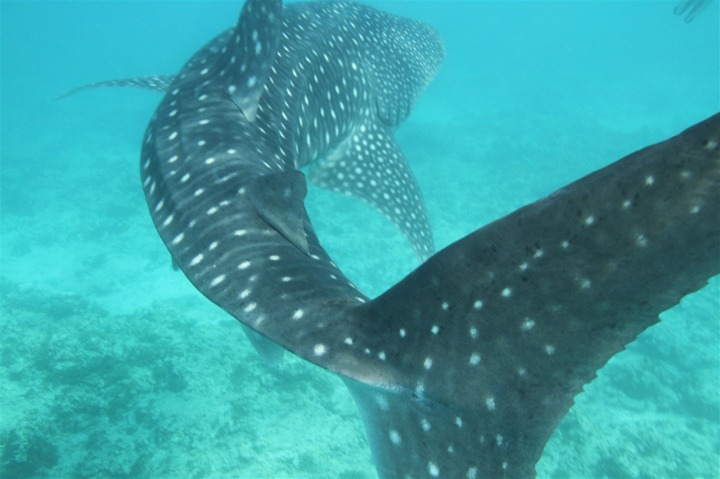 Around that time they noticed the whale had the remnants of an old tracking pop-up tag on it.  This particular tag is designed to release and float to the surface after a pre-determined period of time (as well as if the shark exceeds 1,300m in depth, as the tag would be destroyed otherwise).  In this shark's case, the tag had already been released, but the tether (holder) still needed to remove.  So Adam carefully went down and clipped it off with a pair of wire clippers.  Without even flinching, the shark simply ignored him (much to the relief of Adam, who prepares to be whacked by a potentially angry not-so-little shark).
At certain times the team also collections skin samples, but that requires time-limited permit from the Maldivian government.  Those same permits also allow the team to affix tracking devices, so usually the two activities are done together.  Btw, did you know that a standard pop-up tracking device costs between $3,000 and $4,000?  Yikes!  Here's just the little tether piece that was removed: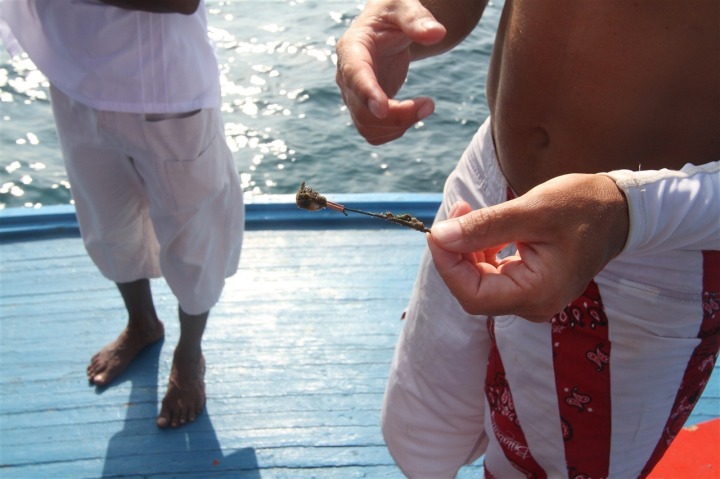 After all of the scientific data was collected, it was time to simply enjoy some time with the gentle giant.
In all, we'd spend about 30 or so minutes following him around before we tired and let him wander off into the blue.  A couple minutes later the research boat came and picked us up.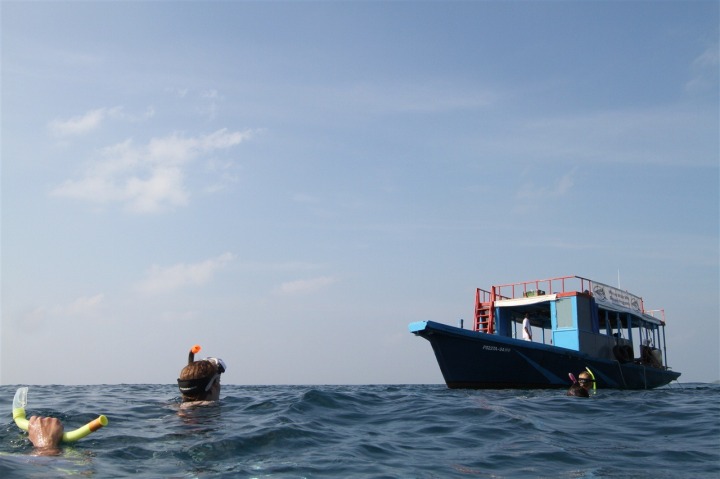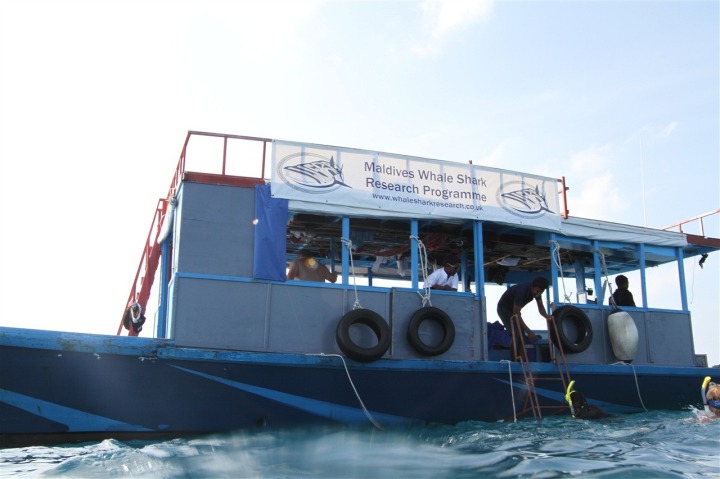 A couple minutes later, all the data was on the board and we were ready to roll.
(The length above is listed meters, along with the depth – so the second one was 5.9 meters, or about 18 feet, kinda small for a whale shark)
From there we set sail back to the home island – quite happy with the day's success in finding and getting useful data (and images) on two sharks.  The images are key to determining exactly which whale shark it was we saw.  While the team generally knows who is who just by looks, this helps to scientifically confirm it.  Further, it provides a way for other researchers around the globe to track the same animals when they migrate.
Later that night Rachel showed us the process they use.  We were surprised with how manual it is, given advances in current technology.  First, they take the images of the pectoral fin area and open them up in Photoshop.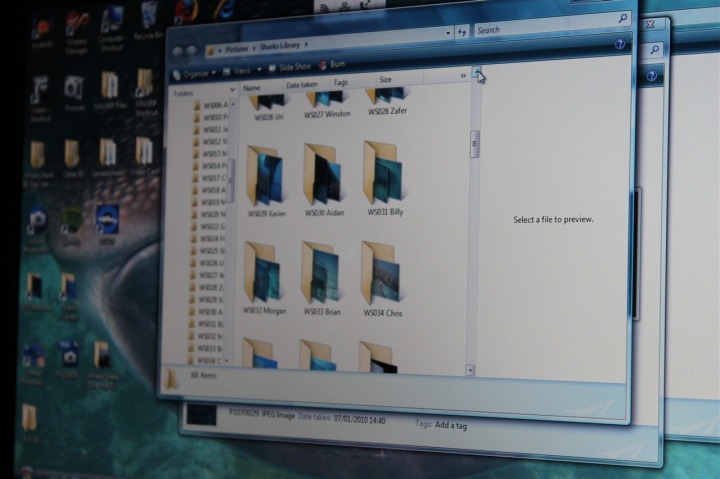 Next, they sharpen or increase contrast on the images to bring out the spot patterns and gills.  It's the spot patterns that allow them to identify unique animals.  From there they crop just that portion of the animal and save the image to a new file.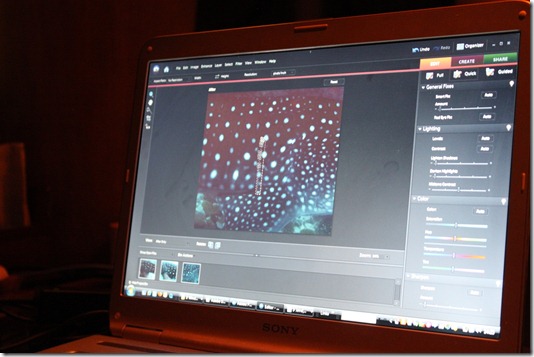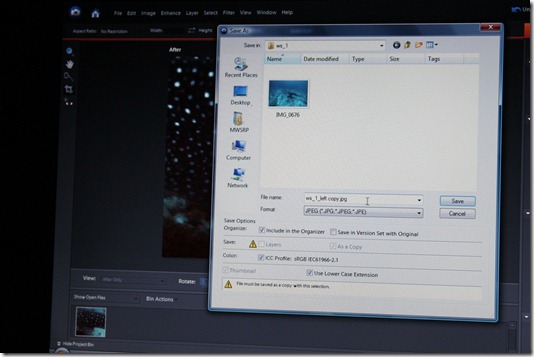 After that's set, they open up a program that matches spot patterns against previous images in their database.  This program was actually originally developed for star constellation tracking, but has been adapted for animal uses.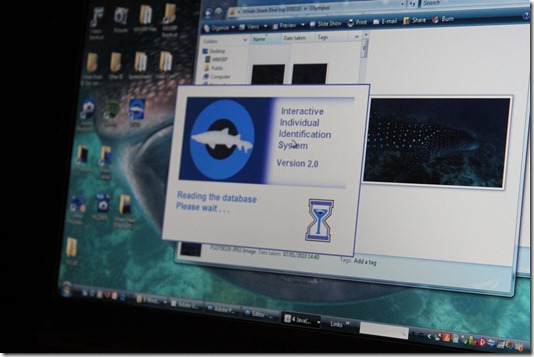 They specify a series of 12 spots on the shark for the computer to try and match, along with three control points.  You can see the tiny red dots on a bunch of the white spots in between the triangulated area.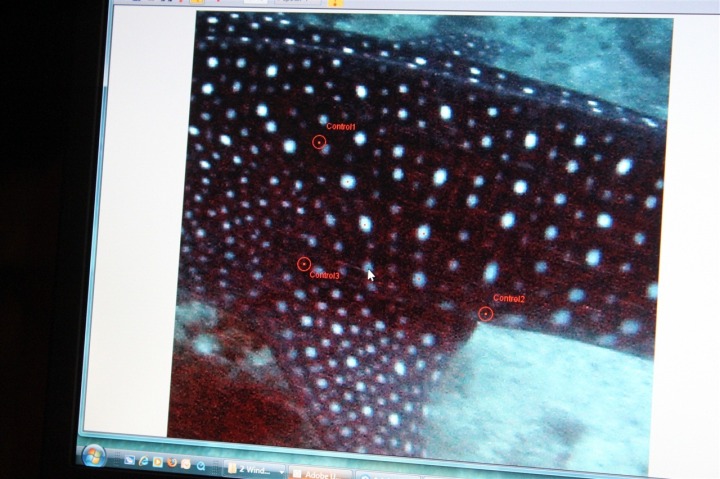 They then add the images and let the application go off and try and find a set of possible matches.  Once ready, it comes back with a list to sift through: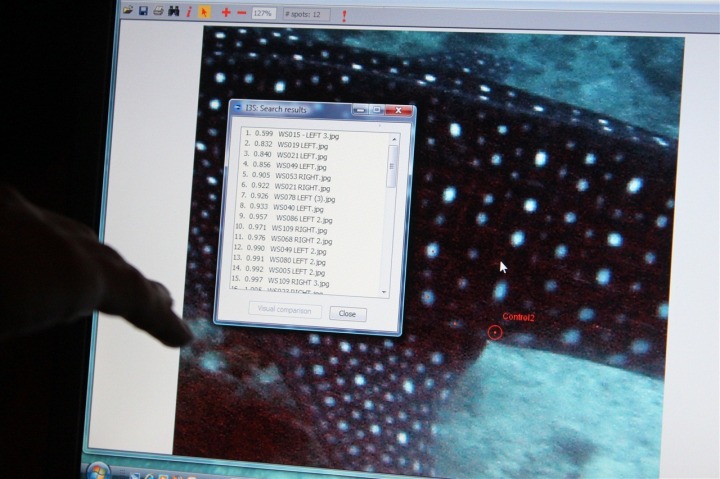 Finally, the team has to painstakingly view each match until they find the exact animal (or determine it's a new animal).
And last but not least, they then update a spreadsheet with the new information about the animal from that day.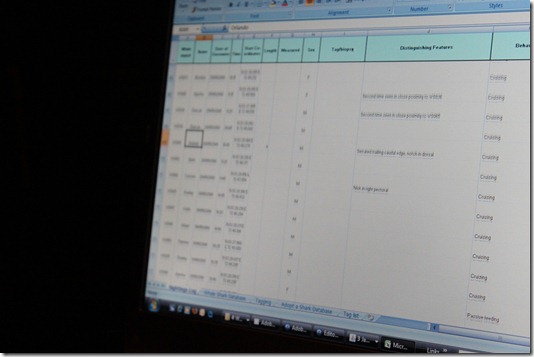 At the end of the day, all of this work requires both a core team of dedicated marine biologists as well as crucial volunteers.  Now here's the interesting part, you can actually volunteer and go spend some time in the Maldives (yes, this place) with the team contributing.  You have to cover your expenses in getting there, and a small donation – but after that, you too can enjoy whale sharks daily with a side order of paradise.  Oh, and they also have some charity London Marathon slots available too!
If you can't make it to the Maldives though, the next best thing is supporting them more indirectly.  While the program has some basic support from the Conrad Hotel in the way of a place to stay/base out of, they still desperately need help paying for everyday expenses such as boat fuel, and more long term expenses like new tracking tags.  And depending on how much you donate, you can even get a new whale shark named after you.  So consider donating to them…a little goes a long way.
Hopefully you found this all pretty interesting.  The team is doing some incredibly useful work, and they deserve a little bit of attention.  If you have any questions, you can post them here – or e-mail the team directly at the address on their site.  Also, if you're going to the Maldives and want to chat/meet up with them, just drop them a line.  They're very eager to go into as much detail as you'd like.
Thanks for reading!
Oh…PS.  If you found this interesting, you'll probably also find my post series on Great White sharks interesting as well.  You can start here…