A few weeks ago I was looking to add two Garmin FR60's to my infamous roller for some rolling pin comparison shots, like I usually do.
Except, both watches batteries had gone kaput.  I had noticed this back some time ago, but for whatever reason I was afraid that I'd kill the watches in the battery upgrade process.  So I kept putting it off.  But with the product review I needed these to be looking all ready for the main event, so I went ahead and bit the bullet.
Turns out, it's super easy.  So for the benefit of those with Garmin FR60's out there, here's how easy it is.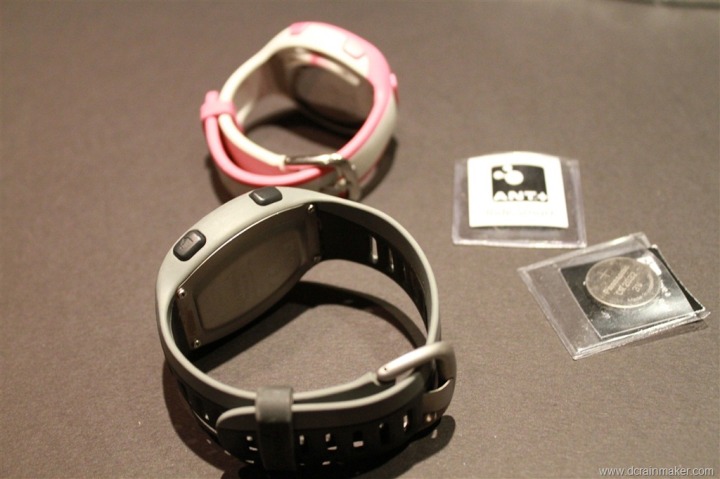 First, you'll need a spare CR2032 battery.  These are the main stay of any ANT+ device with a swappable battery.  So next time you're on Amazon, order a pack of 96 of them and just be set for life.  Me on the other hand, I happened to stumble by the ANT+ booth at Interbike where they had a giant punch bowl of them free for the taking.  Probably the one and only freebie I picked up at the show…and the best freebie in my opinion.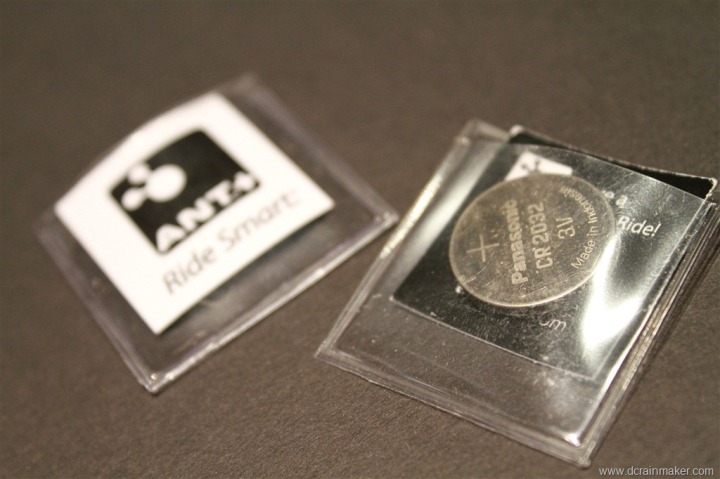 At any rate, now go find a tiny screwdriver.  Ideally Phillips Head (the one with the +), but a flat head will work too in a pinch.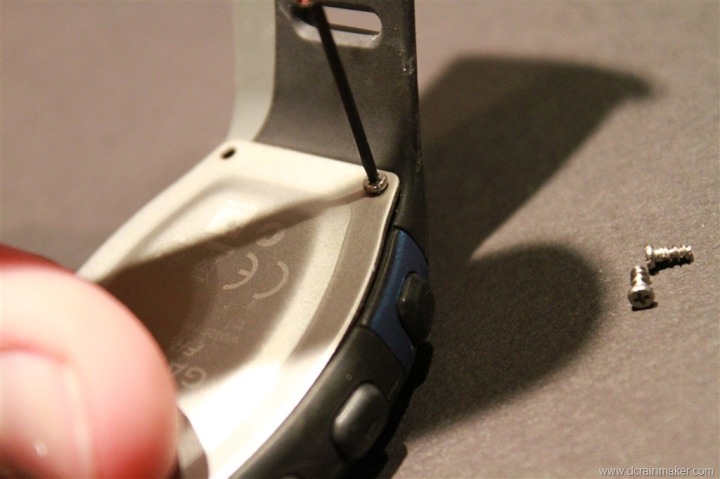 With that, you'll go to town unscrewing the four little screws on the back.  Do this somewhere that you've got full visibility into any situation which might result in a flying screw.  Don't want to lose any of these!
(Preemptive: Insert your own loose screw joke here)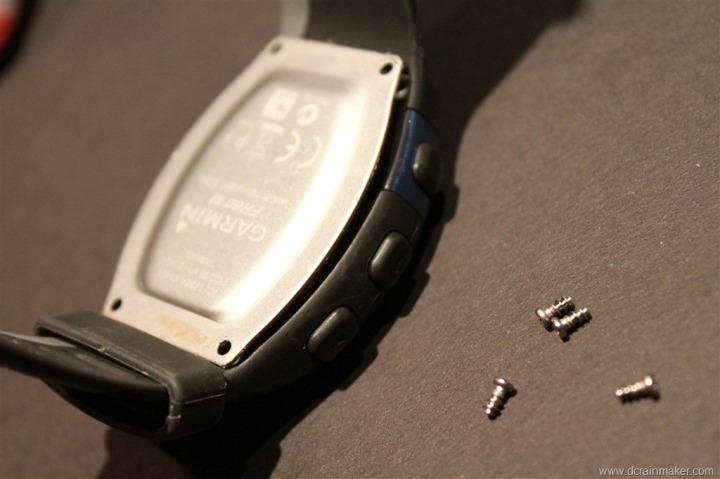 Once you've got the back undone you'll see the little orange rubber band around the perimeter.  That's the water sealing o-ring.  Don't go shooting it at your significant other.  If that gets messed up, your watch will eventually get messed up as well.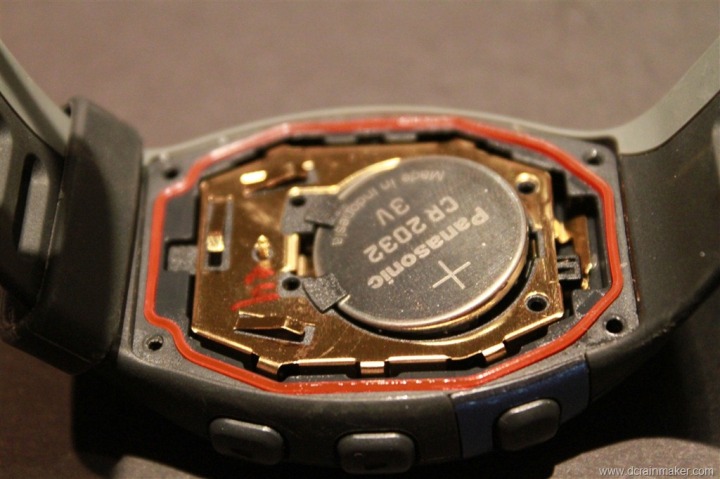 Next find go ahead and swap out the battery itself.  This is simply a case of removing one and putting the new one in.
Now you're ready to seal 'er up.  The one item to note is that if you leave the waterproofing ring stuck on the back of the watch backing, it's really hard to get it perfectly aligned.  Instead, carefully remove it and gently place it in the little outline on your watch.  Note that there's a correct 'up' way, which is usually easy to see in the outline left by the sticky stuff.  When in doubt note the little notch goes up, and up is defined by both the back plate and front of watch having the word 'Garmin' being written right-side up.
Ok, got it all situated?  Good.  Now simply screw the back cover back on.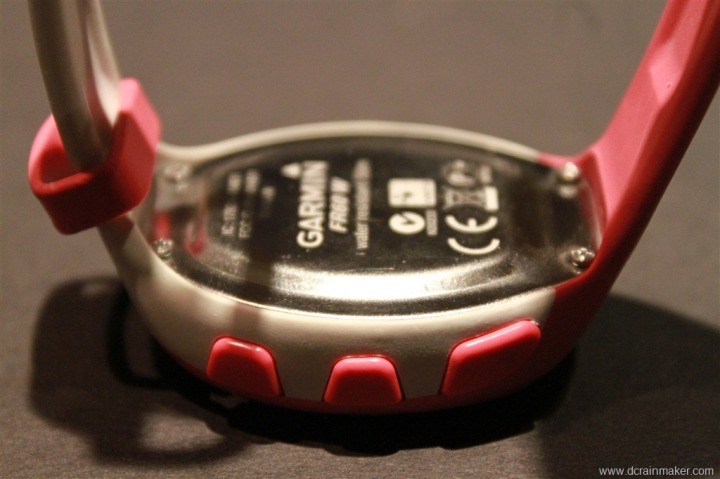 Make sure the screws are tight – we don't want any water leakage.  Or lose screws (secondary opportunity for loose screw jokes). With that – you're golden!
You'll need to set back up any sensor pairings as well as any settings you had, since those are lost.  But otherwise, it's just like new again – ready to go another year.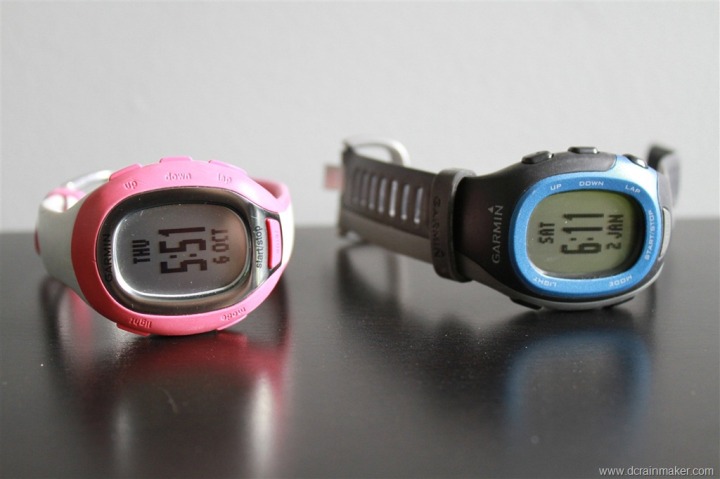 Oh, and don't forget you'll need to change the time/date as well.  Or, you can be like me and just be too lazy to do it… 🙂
Enjoy!