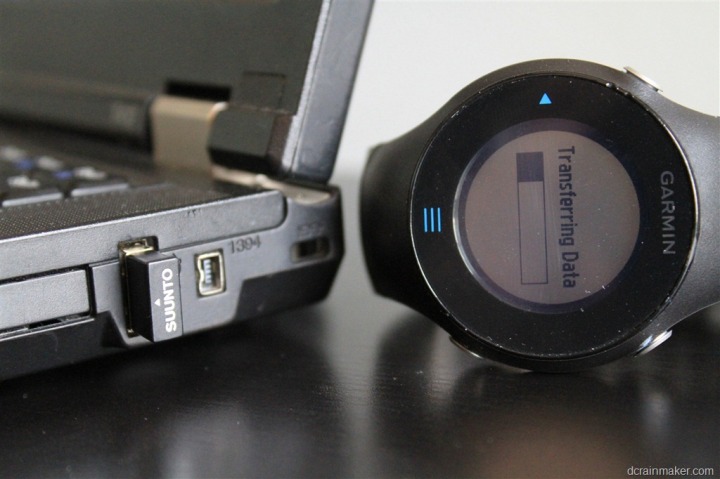 If you're like me and are constantly on a laptop – there are really two minor issues that I have with the Garmin USB stick that I use to download workouts from my Forerunner to my computer.  First up is the issue of simply losing the darn thing in my backpack or around the house.  But, I've since shared how I solved that problem.
Second, is the issue of it simply breaking off.  Having broken off various USB doo-dads from my computer before (as well as smart cards sticking out the side), breakage is a reality, and with it hanging off 1-2" into the wild blue yonder, it's a prime target for a grade-A fail.
And I suppose a third issue is The Girl stealing it.  Somehow that paint scheme she did on hers only works one way in attempting to prevent me from stealing her stick.  But it doesn't keep her from stealing my ANT stick.  And neither will this.  She'll still likely try to steal it while giving me that innocent 'I'm not guilty' smile.
An alternative
So back in January when I was alerted to a much smaller USB ANT+ stick that could replace your existing Garmin ANT+ USB stick that you use with your current Forerunners I was pretty jazzed to give it a whirl.  I immediately ordered one and waited for the horribly oversized box from Amazon to arrive.
But I don't think I was prepared for just how small it is once I got it all unboxed.  Just check it out in comparison to your normal ANT+ stick:
As you can see, it's tiny.  And the best thing is that with being so small, I can leave it in my laptop 24×7.  In fact, aside from a few tests in other computers – it hasn't left my laptop since the package arrived.  That includes plane flights, to and from work, and all assortment of wanderings around town.  Well ok, it left my laptop to take these photos: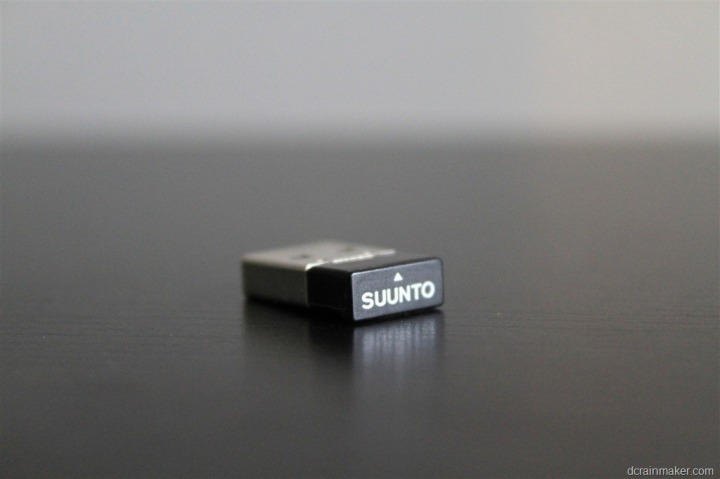 But, you may be asking how is it that a Suunto branded stick works with Garmin watches?  See, when it comes to ANT+ USB sticks, there are basically two flavors – ANT1 (USB1) and ANT2 (USB2).  You can see the flavors on the back of virtually all sticks in tiny writing – "USB2 Wireless USB Stick"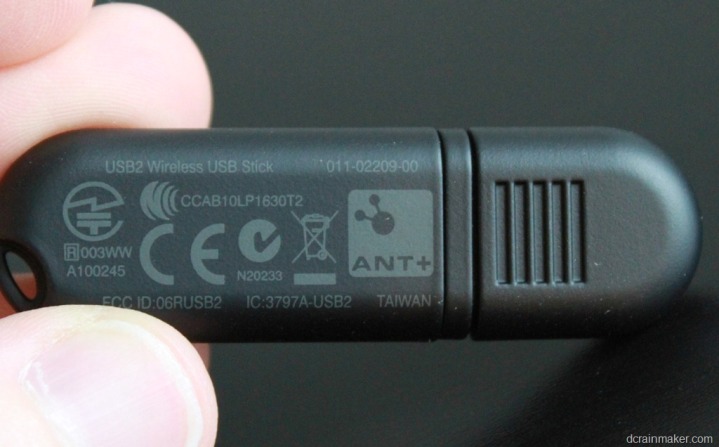 ANT1 had a limited number of channels (4), whereas the newer ANT2 stick has more channels (8).  In common scenarios like downloading your data, it doesn't really matter.  But when it comes to applications that may leverage the USB stick for real-time data transfer – such as TrainerRoad – the extra channels become really important if you have multiple ANT+ accessories (like Speed, Cadence, Power Meters, Heart Rate, etc…).  Or – if you've got multiplayer type applications taking advantage of it.  Each channel is limited to one ANT+ accessory.
So the Suunto stick is ANT2, which means that despite being Suunto it's really just like any other ANT+ stick under the covers.  Thus it doesn't look any different to the Garmin software than Garmin's own stick.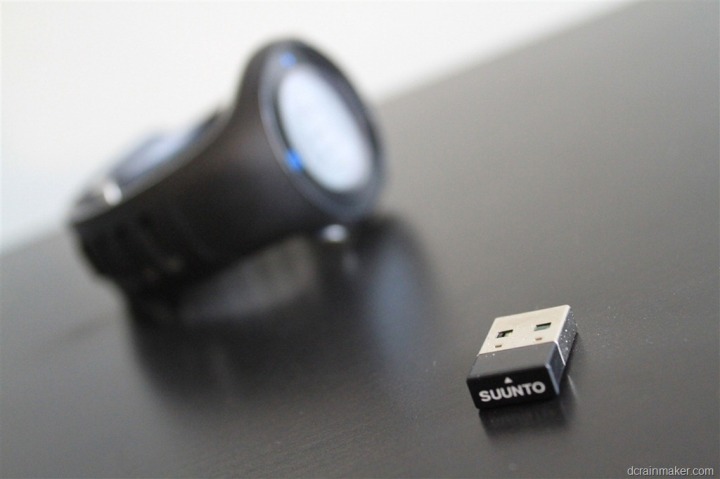 Using the mini-USB stick
All you do is simply plug in the stick, give it a few seconds to grab the USB drivers from Windows Update (I've tried it on Windows Vista and Windows 7) – and you're good to go!  You'll note that initially when it first starts looking for drivers, it calls it the Suunto Movestick Mini (it normally comes with the Suunto Quest watch).

Once it finishes up being installed – it's the same old ANT USB Stick 2 (ANT2).

For all you Mac folks, I was able to also download workouts without issue using the Garmin ANT Agent and in this case, a Garmin FR610 (but again, any Garmin watch will work).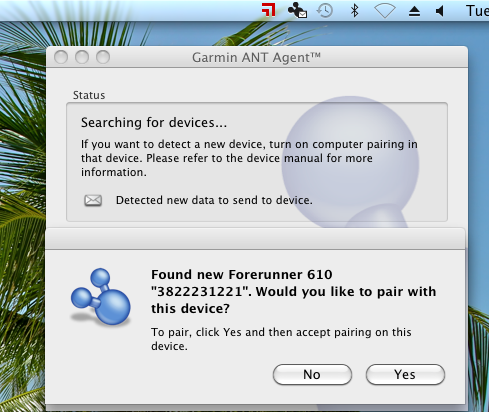 Like the Mac, on Windows once you've got the drivers automatically installed, you'll use the Garmin ANT Agent software just as you normally would.  It'll simply download from any device you have (i.e. FR610, FR310XT, FR910XT, FR60, FR405, FR410, FR70, etc… – no problems!).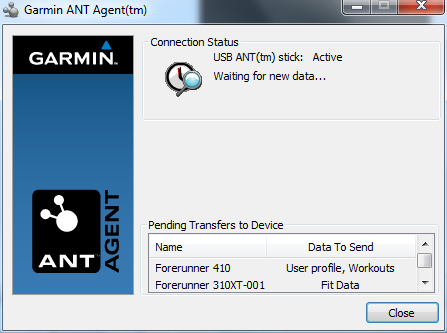 In short, plug it in, forget about it.
Now, I do want to point out that while this is a Suunto 'accessory', it's the only Suunto accessory that will work with other ANT+ devices (like your Garmin).  The remainder of the accessories (i.e. heart rate straps) are using Suunto's proprietary ANT variant which aren't compatible with anything else.  And, while I'm at it – since I know a few of you have asked about the new Suunto Ambit GPS integrated watch – yes, I will definitely be reviewing it and should have a unit in my hands as we get into the first week of March.  Looking forward to it!
3rd Party Compatibility:
Now the cool part with being the standard ANT2 stick is that all of the 3rd party applications that use the ANT+ USB sticks support it just fine.
Take for example TrainerRoad (where I heard about the stick, and yes, a review is coming) – it easily works with the Suunto Movestick Mini seamlessly – you'd never know the difference: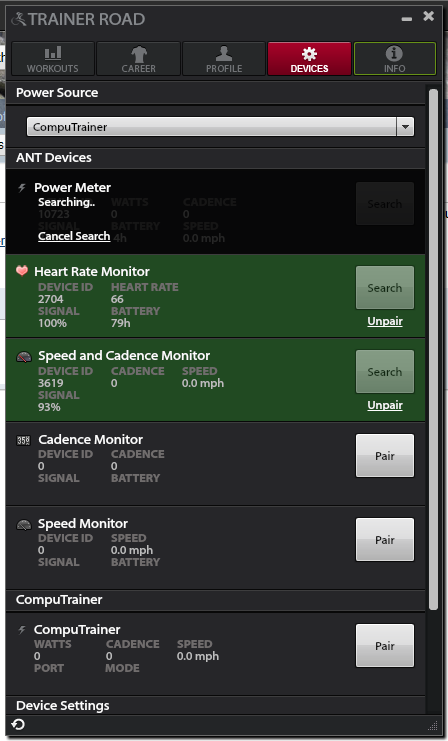 Next up we have the Tacx Trainer – which also works just fine.  Just be sure to be on software version 3.7 or 3.8 (latest versions) – which added support for the ANT2 USB sticks out of the box (prior to that you had to jump through some hoops).  If you're on the 3.5 or 3.6 – simply click the update button that's been blinking at you for the past month or so.
And for those developers/testers in the house – yup, it works with the ANT+ simulator perfectly fine too (you may remember this from my ultra-long battery tests).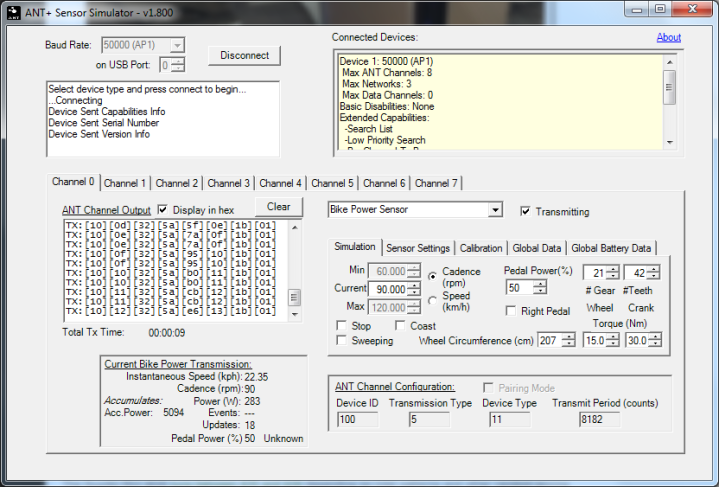 There are undoubtedly many more apps it works with, but these were just a few that I could think of that I had handy.
About the only downside I can think of is that if you do take it out of your computer and place it somewhere…there's probably a good chance you're going to have to search longer to find it since it's about 20% of the size of the original one.
But, that's a risk I'll take…mostly because it's never leaving my laptop.  Others have simply put a dot of epoxy on it to ensure it never leaves its home (though, it's pretty darn snug in the port already).
Pricing
The Suunto Movestick Mini stick runs between $35 and $39 depending on tidal patterns and other random pricing metrics. If you purchase the USB stick via Clever Training using the DCR reader coupon code of DCR10BTF then you'll get 10% off your cart, as well as support the site.
Enjoy, and thanks for reading!