There are many cases where I receive a new unit and work really hard to get a full in depth review out…and there are some cases where time just doesn't permit such an instance. And then finally, there are cases like today – where the watch is so similar to an existing watch that for now I wanted to give you a sneak peak at the most relevant portion of the product: What it looks like.
Garmin's new FR70 watch is essentially the same watch as the super-popular non-GPS FR60, just with an updated band and faceplate.  Why an updated band you ask?
Well, some folks had some troubles with FR60 watch bands breaking.  I actually happened to be one of those such individuals.  These new bands are designed to be far more resistant – and are what is actually used on the new FR910XT as well.  Really durable stuff, it's like the indestructible fruitcake you received…except in the form of a watch band.  And…oddly enough, almost as colorful.
Colorful you say?
Yes, colorful.
See, my dear friends in Kansas decided that my life didn't have enough pink in it already.  So they added some…via this FR70 unit:
And, pink isn't actually where it ends.  It's also got this very feminine front faceplate.  Swirly things and all.  If swirly's are anything like Slushies, then I need more swirly's in my life.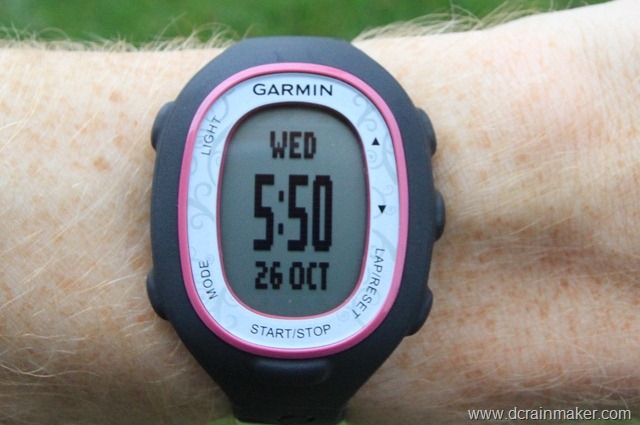 And the little strap holder thingy…ensure not to forget that.  Note the swirly's continue on the band.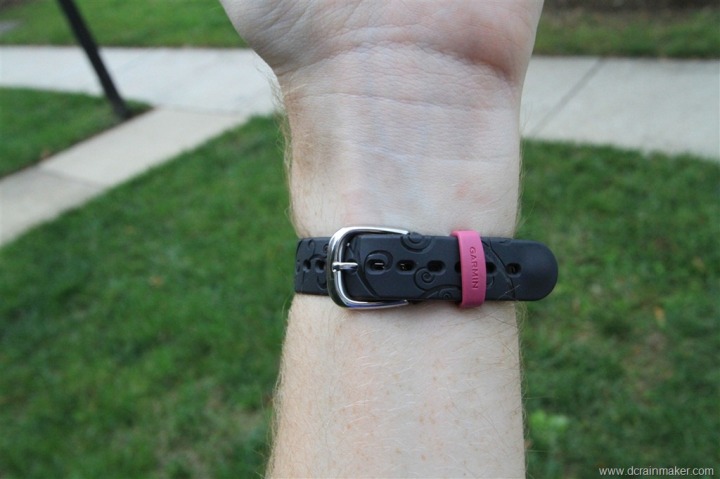 Now, just in case your curious what comes in the box – it's essentially the same contents as the FR60: Heart Rate Strap (classic edition), USB ANT+ stick, paper manuals:
Like the FR60, this watch (being technically identical) has a 1-year battery life.  Yup, one year.  No recharging.  And also like the FR60, it synchronizes your workouts straight from the watch via the ANT+ stick to the magical Garmin Connect site in the sky (yup, complete with Google Maps now).
For the guys: This watch also comes in a much more manly looking black and blue variant.  I saw some sample photos of it, and it actually looks pretty darn nice, a bit classier than the original blue FR60 (don't worry Little Blue, I still love you too).
So, about now, you may be wondering who's the target audience of this watch?  Well, it might actually surprise you.  For the FR60, the target audience was runners who wanted a very accurate footpod driven watch that had heart rate monitoring and all the advanced capabilities of the more expensive Garmin Forerunner watches.  And – it tied into Garmin Connect online (as well as any 3rd party site you can think of).  While the official retail price is $129US, the reality is this watch generally sells for about $90 in most places.
At $90 it makes for an awesome deal.
From a footpod accuracy standpoint, as I've shown in the past, I can actually go out for a 10 mile run – intervals, even in the snow – and get it to be EXACTLY on spot with a GPS watch, down to the 1/100ths of a mile (something I will admit was really darn lucky).
And – of most importance to many triathletes, the watch is fully waterproofed to scuba-diving depths (actually dived with it before down to 30+ meters).  Then on the bike it works with your ANT+ speed/cadence sensor (indoors or outside).  And, in the event you have one of them fancy ANT+ enabled scales like the BC-1000 or similar, it works with that too.
For those curious, I will indeed do a full in depth review at some point in the future – mostly because folks will continue to search for information on it, and I'd like to provide it for ya.  But, with all the other gear right now backlogged…I know you wanted some of the important details first.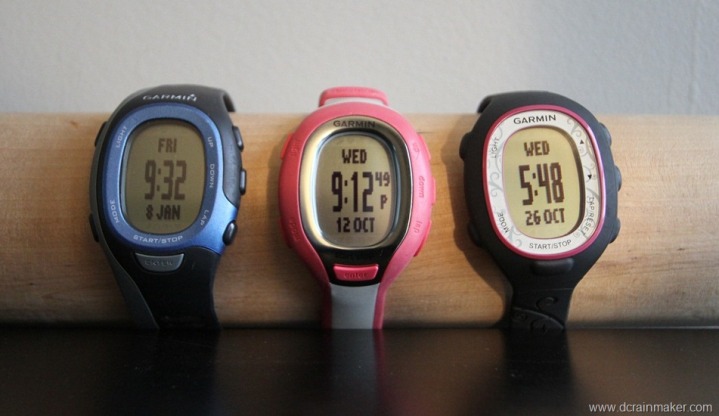 (Left to right: FR60 Blue Men's, FR60 Women's, FR70 Women's…the dates are off simply because I just changed the batteries and didn't have a chance to update them all)
So here's what you need to know about the FR70 in one paragraph or less:
If you have the FR60 – no need to upgrade.  If you're looking at the FR60…then simply grab the FR70 instead for the improved watch band.  If you have any other Forerunner watch, then you can kinda just keep on chugging with that – as you're pretty much good to go already.
Make sense?  Good.  Not make sense?  Post a comment below and I'll help ya out.
As far as a 'true' replacement for the FR60 goes…I'd suspect what we're seeing is a repeat of what we saw with the FR405 and FR410 last year.  The FR410 was essentially just a small refresh of the FR405, merely as a stopgap measure until the new FR610 came out in the spring.  I would also point out that timeline wise, the FR410 came out roughly this time as well last year.  I have no information that a FR60/FR70 refresh product is coming next year, and at $90, it's probably not worth waiting to find out.
If the FR60/FR70 meets your requirements today – then go forth and conquer!  If not, then consider the FR210 (if you want GPS), or the upcoming Timex Run Trainer (ships Monday).  And if you want full featured GPS, then the FR610.  And finally, failing everything else…the FR910XT.  If that doesn't work, I'd consider a laptop strapped in a backpack.
Two quick relevant resources:
Garmin Devices – The ANT+ Footpod – Read this post for anything and everything you ever wanted to know about how these foot pods work (this one specifically).  It has years of answers cultivated in it.

Garmin Forerunner FR60 – This is my In Depth Product Review of the FR60, which is identical to the FR70, except with a '7' instead of a '6'.  Just like the Annie Get Your Gun musical lyrics: 'Anything you can do, I can do better'.  Well, sorta.  More like 'Anything you can do, I can do with a pink band…and swirly's'.
Enjoy, and thanks for reading!