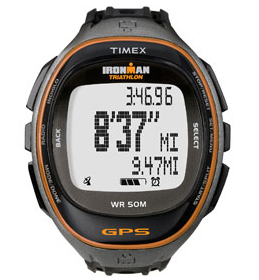 Since Timex's semi-announcement of their new GPS running watch last week, a number of folks have asked me what I've thought about it, and how it compares to others out there.  While at the moment I don't yet have a model on hand, there's plenty of technical and specification information posted from Timex, more than enough to formulate some thoughts and how this fight will turn out.
The latest addition to the Timex GPS family is the Timex Run Trainer (or TRT for short), which adds to the Timex Global Trainer (TGT) multisport product that was released last spring/summer.  Unlike the TGT which covered swim/bike/run, the goal of the TRT is primarily running.  And upon a closer look at the product you'll find that everything contained within it supports that goal.
Comparison between Garmin FR210 and Timex Run Trainer
When one looks at the GPS sport landscape, it becomes clear that the Timex Run Trainer was targeted purely at a single competitor: The Garmin FR210.  In virtually every single category the two watches go head to head with almost exactly the same specifications.  But in more than one category there is appreciable difference – differences that I believe could actually turn the tables on my recommendations going forward for running specific watches.  But first, let's get to the breakdown: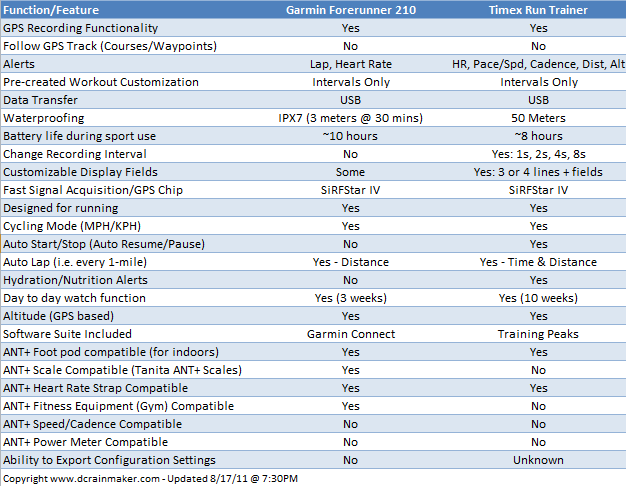 Now there are some features that aren't quite important enough to list where both watches contained  them (or didn't contain them).  For example, both watches contain simple clock alarms, and at the same time neither watch supports the ability to measure distance in a swimming pool. But everything else of interest is listed above.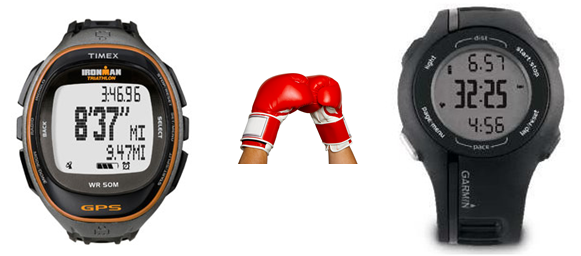 There are however five specific features that I believe differentiate the two watches, though not all of them are major purchasing influences.

Let's go line-by-line through each of the four on-watch differences, before we talk about the fifth difference, which is software:
Auto Lap: The Garmin Forerunner line originally pioneered the Auto Lap on a GPS watch concept, but the Garmin FR210 only allows one to configure Auto Lap using distance – whereas the Timex Run Trainer allows one to configure it by both time and distance.  Now, in most cases most of us use distance (either kilometers or miles) to truncate workout portions if we're doing it automatically (and for the most part, I don't actually use Auto Lap except on long runs) – but this does show a case of Timex just edging out Garmin a bit.

Customizable Data Fields: To understand the FR210's data screen you have to understand the brief history of the FR210.  Garmin developed the FR210 simply as a footpod enabled version of the Forerunner 110, and the FR110 was designed to be the most simplistic GPS watch out on the market – a user friendly version of its more advanced watches.  In doing so, Garmin tied themselves to a LCD screen that didn't allow a customizable display of information by the end user.  Meanwhile, Timex has selected a screen for their watch that allows data to be displayed in any configuration the end user chooses. Furthermore, you can display up to four pieces of information at a time, versus the FR210's three pieces of preselected information.

Hydration/Nutrition Alerts: The Polar folks initially started the trend here with their cycling watches, and I was surprised that nobody else followed their lead last year (especially Garmin with the FR610).  But appears Timex took note and included this handy feature to keep all of us from bonking midway through our races.

Waterproofing: When I look at all the feature differences, the biggest one that stands out to me is Timex sticking with a fully waterproofed watch.  See the FR210 is only IPX7 waterproofed, which is realistically only good for keeping it safe in the shower and on a rainy day.  But if you go for a swim with it (even just a casual swim), you'll pretty much kill it within 20 minutes. I've long ranted that if a $15 watch from Wal-Mart can be fully waterproofed, so too should a $200 high end sports watch.  Thus, major points to Timex for sticking with the waterproofing stance they've taken to date.
As you can see, the watches on the surface may look similar, with both being running focused GPS units. But upon deeper inspect Timex is bringing some rather worthy the additions to the table.  And in doing so they ever so carefully are pulling in some higher end features normally reserved for the more expensive sport watches.
Finally, I will point out that the Garmin FR210 does support both ANT+ fitness equipment as well as ANT+ scales – but realistically the chances of most people having either of those are so small that while they are appreciated, I don't find them a substantial reason to choose one watch over the other unless you have an ANT+ scale already. But since they are important to some, I did want to call that out specifically.
Software Differences
With GPS watches, perhaps just as important as the watches themselves is the software that accompanies it.  This is because while most of us will use the watch to judge efforts while training or racing, most of us will also download the data later on to some form of training log. And in this area, the two companies have taken two completely different tracks.
Like all Garmin sports/outdoor products, the FR210 ties into their Garmin Connect site – which offers the ability to review your workouts individually as well as across reports and training logs.  You install a small bit of software on your computer (a browser component in the FR210's case) and that in turn uploads workouts to the Garmin Connect site.  From there, you can drill into the details of your runs. This includes looking at lap paces/splits, your heart rate data, cadence information, etc… You can also track health information here as well as export the data out of Garmin Connect.  But the key concept behind Garmin Connect is simplicity and accessibility for the masses.  Garmin Connect is designed such that anyone from an experienced runner to a first time walker and internet computing novice can plug-in their watch, download their data, and easily make sense of it.

Timex meanwhile elected not to create their own software suite/site, but instead partnered with Training Peaks.  Training Peaks has historically catered to the more serious endurance athlete, but over the past year since signing on with Timex has been streamlining the interface while at the same time also balancing that with adding features that support the more serious athlete's devices and expectations. Like Garmin Connect, Training Peaks also includes a software component on the desktop (called the Device Agent) that uploads the data to the Training Peaks site.  Like Garmin Connect, Training Peaks has a wide assortment of health and reporting capabilities – even including a complete food logging system as well.
Comparing the two software suites, there's little question in anyone's mind that Training Peaks is a substantially more impressive product from a functionality and features standpoint.  They support many more devices than Garmin Connect does (which only supports Garmin products). TP supports devices from cycling to running to swimming to even sleep and scales (though Garmin Connect does support ANT+ scales via Garmin watches).
And while Timex may have an edge with Training Peaks, there are some advantages to the Garmin device lineup – and that's primarily compatibility. The Timex Run Trainer will likely use the same file format as the Timex Global Trainer, which while still an XML based file structure that can be parsed by 3rd parties, typically isn't.  Meaning that when other training log vendors add new devices, the Timex PWX file format typically isn't high on the list.  This can mean that if you're using a different log system (for example, RunKeeper), you'll need to consider that. And, due to the higher adoption rate of Garmin product file types, you can indeed use the FR210 with Training Peaks should you choose to do so, whereas you can't use the Timex Run Trainer with Garmin Connect.
And finally, note that users with access to the Timex variant of the Training Peaks site get a slightly higher level of access which includes zoom/splits on the workout viewer, and full access to the "Laps & Splits" pod.  Essentially it's a hybrid between the Free/Basic version and the higher end Paid/Premium version.
Pricing and Availability:
Last but not least, the clearest indicator that Timex is shooting directly across the bow of Garmin is the price point.  Timex selected $199 for the Timex Run Trainer – exactly the same as the Garmin FR210. Though I am seeing the Timex Run Trainer also listed for $189 and $199, so it's plausible the exact pricing is 'close', but not exactly the same. Both Timex and Garmin offer additional packages with a soft strap heart rate strap included, for $50.
Availability wise, Timex is aiming for October 2011 – ironically the same timeframe that Garmin plans to announce a new Garmin watch.  The details on that watch are unclear, though current indications are for a higher end watch than the Timex Run Trainer and FR210 given that the new Garmin watch has been confirmed by Garmin to be supporting cycling power meters – a feature I wouldn't expect on a lower end watch.  Though, that's not to say that Garmin isn't readying other units. For example, no replacement has been announced on the FR60 watch front, which if GPS was added could undercut the Timex Run Trainer given that aside from GPS it's virtually identical feature-wise (if not slightly better) to the TRT, though at half the price.
What about the Nike+ GPS Sportwatch?
While I see this primarily as a battle between Garmin and Timex, it's hard to ignore the fact that the Nike+ Sportwatch GPS is also $199 and also contains many of the same features.  In fact, if you look at the chart and include the Nike+ Sportwatch GPS, you'll find few differences.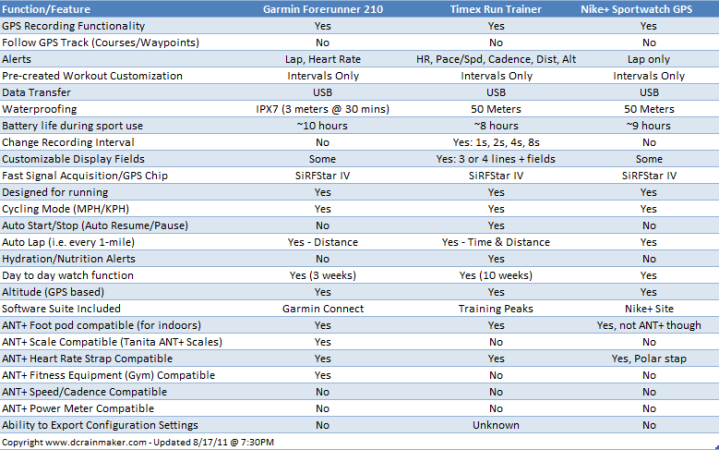 You may wonder why I don't see the Nike+ watch in the same exact fight as the other two, when from a spec-by-spec standpoint it's almost identical.  The reason mostly comes down to marketing and the online software side.  Nike has gone out of their way to market the watch primarily to entry level runs, whereas both Timex and Garmin have aimed at the entire running spectrum.  And both Garmin and Timex's products support that spectrum. Whereas on the Nike+ watch I see a focusing on the simplification of running via the Nike+ website and how it approaches runs in a more goal oriented fashion (prizes, etc…). There's nothing wrong with this approach, but as a result of it I just haven't seen the same widespread adoption of the Nike+ GPS product in the more advanced running market segments, as I've seen with the Garmin FR210 and the past Timex GPS products.
And for those curious about Polar or Suunto – neither has a GPS product in the sub-$200 market, or even the sub-$300 market.
Summary:
If Timex can deliver on a product that doesn't have any of the past GPS accuracy troubles that the initial Timex Global Trainer had, and can do so in a clean user interface – then I think they may really have a winner on their hands.  Sometimes it's little features that are the tipping points, and in this case, I really believe the full waterproofing is that feature. In almost every comment I've seen made to forums or sites since the announcement last week, I've seen reference to the waterproofing being a key reason that someone plans to pickup that watch over the FR210.
With that, I'm looking forward to seeing what shakes out over the next couple months – and especially looking forward to getting my hands on a unit – hopefully sooner than that.
Thanks for reading all!
[Update 8/17/11 @ 7:30PM EST: The folks from Timex e-mailed to help fill in a few of the blanks on the chart – all of them for the positive.  The Timex Run Trainer will indeed have the following options:
Changeable Recording Rate: 1s, 2s, 4s, and 8s. 
Alerts: Run Trainer has HR, Speed or Pace, Foot Cadence, Distance Goal and Altitude Goal as well as laps
Customizable Display: When in 3-line mode, the middle display numbers are larger, also still has 4-line display mode.
Cycling Mode: Included and will display both MPH and KPH
Auto Start/Stop: Included
I've updated the charts/tables accordingly. Thanks guys!]