I mentioned last week in my Garmin update post around Vector and new watches that I had one more item of note from Garmin, but needed to wait to more to discuss it.  So this is really more of a minor update to follow-up on that.
That item would be around Garmin Connect.  And while the updates are certainly interesting (and a few of them are really big), some of the discussion we had around the goal and direction of Garmin Connect was actually equally as interesting, if not slightly more.
During our discussion I led off with the question around where there were any planned updates to Garmin Connect (GC), noting that it's been about 18 months since we saw anything significant – with most of the work since largely being maintenance items.  Garmin's Justin McCarthy agreed, saying that "The emphasis lately has been placed on stability, the Connect team has done a great job ensuring stability compared to points over the last year and a half or so.  But they've definitely been working on improvements and listening to feedback from users".
This slowdown in new features was undoubtedly tied to a significant setback in staffing/resourcing when the vast majority of the Garmin Connect team (previously from Motion Based) elected not to move to Olathe, Kansas from the San Francisco area, instead choosing to leave Garmin.
However, he went onto say that the Garmin Connect team was "On the brink of a major set of changes – not necessarily aesthetics though, but rather focusing on features".  In other words, don't expect to see a shift in how Garmin Connect looks when you login, but rather the development time is being pour into adding new functionality and capabilities (as well as likely bug fixes).  Given that IT development is always a simple balance between functionality and cost, I think this is the right direction since I don't thing anybody has any real issues with how GC looks form a UI standpoint, but rather would prefer the features to be more advanced.
I prodded about whether they saw themselves adding more advanced features, noting that the majority of advanced athletes don't use Garmin Connect simply due to the lack of real analysis power behind it.  It turns out though that the Metrigear acquisition may actually be driving some changes in the future.  This is because as Garmin moves into offering products aimed at at more advanced users (the Vector power meter) it will by associate drive some of the changes we'll be seeing soon – "With rollout of Vector later this year expect some changes, more data fields and information – comparable to what other power systems have that are out there today."
Now, that's not to say that we should expect Garmin Connect to become the next Training Peaks or Golden Cheetah.  One of the challenges they pointed out is finding middle ground between a product that a non-technical beginner runner can easily use, with one that more advanced users might use.  They admitted that it's not always easy to provide heavy analytic information in a package that can be easily consumed by entry level users.  And this jives with the feedback I get from most of you around the different training program offerings out there.  There exists a fairly clear relationship between how complex the software is to understand with how much information it can provide to the end user.  Garmin Connect being on the easy end (but with less information being available for analysis), while programs like Golden Cheetah being on the opposite end with having incredible analytic capability, but at the same time being harder to get up to speed on.
So as for Garmin Connect, what's new today? Well, here's the rundown of the big things:
Ability to create courses: This has long been a major pain in the butt that required you to use other sites or the desktop tools.  Now you can create your magical maps online.  This is a pretty big add.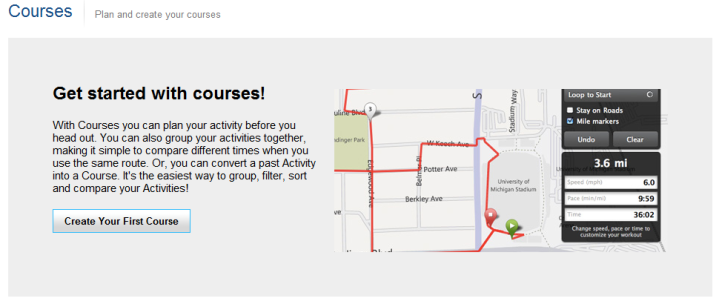 Ability to create workouts: Previously you had to create workouts on the desktop client, now you can create all sorts of customized workouts using the online version.  This includes creating repeats, intervals, based on HR, Speed, Pace, Power, Cadence, Distance and time.
Garmin Connect Explore page now opens to where you are: I was just thinking about this over the weekend and wondering when it would open up to some place other than the UK as the default.  Now it uses your geographical information based on your IP address to open up to your current location.  A minor thing sure, but a really handy one.

New Team Garmin Page: This shows all the activities of the Team Garmin folks.  This allows you to more easily see just how much they can kick our butts in a consolidated manner.

There appears to be a handful of other items as well out there, such as some changes around goals – though I haven't tracked everything down yet.  Also, you've now got a tiny bit more detail on some of the pages, with it showing the time in a decimal point:

Again, many times there will be lots of little changes that aren't mentioned that we'll probably never notice.  Some of these will have been bug fixes, while others will be subtle little adds to ease support calls or just simply thing that someone wanted added.
Clearly, the big ones here are the additions of Workouts and Courses – two major requests from users.  Usually within a few hours we'll see a full list of changes posted over in the Garmin Connect forums, so I'm looking forward to that shortly to see what else is out there.
Thanks for reading!