Note: Please see in depth post on Vector "Everything you ever wanted to know about the Garmin Vector pedal based power meter" posted here (it's a whole lot more detailed and in depth, and includes comprehensive Q&A with the Garmin Vector team). – Sept 16, 2011
Early yesterday morning I had the chance to catch-up on a conference call with the folks from Garmin.  The goal of the call was to get answers on a potpourri of different topics that you have asked questions on (or just areas that I was curious about).  The call centered around four major areas (listed below), plus a fifth topic area I'll discuss later in the week.
So let's get into it!
Garmin Vector Pedal Based Power Meter (formerly Metrigear)
Last summer/fall (September 2010) just prior to Interbike Garmin announced the acquisition of Metrigear, which was working on a pedal based power meter.  This new power meter would be easily swappable between bikes, while also giving left/right power data.  At the time of the acquisition announcement no specific timeline was given (in fact, they went out of their way to say nothing was decided).  You may remember my detailed discussion with the founder of Metrigear Clark Foy about the shift to Garmin.  About two months later during their earnings call they announced they were targeting "H2 CY2011" for availability.  Since then in each successive earnings call the statement has remained the same.
When asked yesterday morning they noted that they are still on track for H2 CY2011.  Garmin's Justin McCarthy noted that the Vector team has "met all internal dates specified with flying colors".
I asked whether or not Team Garmin-Cervelo was using Vector now, or had recently.  He said that "We had the team early on do some testing for us", however that as they've neared closer to release they "pulled back and kept it under wraps to avoid major leaks and having competitors grab data" on the units.
One might think this would be silly, but the competitive landscape for pedal based power meters is incredibly fierce.  While four companies have publicly announced plans (Garmin, Polar, O-Synce, and Brim Brothers – though Brim brothers is technically a cleat based power meter), there are others who have not yet announced plans.  There's little doubt within power meter manufacture circles that pedal based power meters will be a significant market driver a few years from now – and all of these companies (includes ones I've talked with that haven't publicly announced plans) are very protective of any information leaking out ahead of time.
I then moved onto whether or not the pedal type has been determined. I was told that while a pedal type has been selected for "the initial release", it remains to be publicly announced.

Speaking of pedals, I asked whether or not the team was still planning on committing to update older Garmin units via firmware to support Vector when it releases.  Justin noted that "we haven't come up with a finalized list as far as which devices we'll go forward with (for Left/Right power support)".  However he did continue to confirm that all devices that support ANT+ power meters today will still be able to read consolidated power information from Garmin Vector, it just wouldn't have Left/Right pedal data broken out separately.  The reason for this is that the industry wide ANT+ power meter device profile had to be updated to include the addition of left/right power, so older units wouldn't understand that data otherwise – but again, Vector will be broadcasting the generic power output measures that any ANT+ device can understand.  I would fully expect other 3rd party companies to implement support for Garmin Vector's Left/Right data shortly after release.
Finally, last but not least I asked what we'd see at Eurobike/Interbike as far as details on Vector goes and was told that we can "expect some sort of messaging", but exactly what will be released information-wise is still being decided.
New Garmin GPS Watch For Later This Year
Back about a month ago there was a tiny single sentence note at the end of a Velonews article mentioning that a new Garmin watch would be introduced this fall that would include power meter support.  Somewhat astoundingly almost nobody picked up on it (except the one person kind enough to forward it to me).  I stashed it away like a little squirrel until I got back from my honeymoon to catch up with the Garmin guys on.
They confirmed that a new watch is indeed planned for sometime this calendar year, but wouldn't go as far as to say it would be in the fall.  Specifically it was noted "no announcement data has been decided on yet internally".  Further, he confirmed that it was definitely not going to be out at Eurobike or Interbike (September).
I asked whether this was a FR310XT replacement and was told that "We've been looking at taking different aspects – the most positives aspects from all our other watches, specifically our running watches and cycling devices" and "combining things that like in different products and putting it into different packages."
It was noted that ultimately "we're always trying to take the great things and roll it into one package, much like the Montana recently – a do it all device that you can use for various activities" – in reference to the Garmin Montana series, which while not a cycling device – is a single device that attempts to bridge many other outdoor activities (Hiking/Marine/Geocaching) in the same way the Forerunner 310XT bridges across the different sports a triathlete competes in (Swim/Bike/Run).
Since inevitably you'll ask whether or not I think this is the FR310XT replacement watch, the answer is: I'm not sure. In many ways, if they take the FR610, add power meter support and then toss in waterproofing – then you've essentially got a FR310XT replacement.  As for whether or not to wait for it to come out (the most common question I get daily), I don't think you should.  The reason being that since it won't be announced until at least October (if not November, though I wouldn't expect them to want to miss the Holiday buying season), it really ends up being past the Northern Hemispheres triathlon and running season.  Thus it's five months till Christmas from now – that's time you could be using a watch versus not having one. Just my two cents though.
Firmware Updates
Firmware updates are always a popular subject amongst Garmin owners.  I had a few items that I was curious about, based on some recent updates that they've pushed out.  Specifically they were:
1-Second Recording: Over the past few months Garmin has gone back to a handful of devices and added in 1-second recording in cases where a power meter was previously required (such as the FR310XT).  Further signaling a shift in thinking, new devices like the FR610 came with the option to turn it on/off.  I asked whether or not this would extend back to the few remaining watches without it (FR110/FR210/FR405/FR410), and whether we should expect to see an update for those.  They commented that there are "No set plans, but we've had great feedback from introducing it to other watches – both new and old".
ANT+ Wireless Downloads for Edge series: You may remember back a couple months ago when I showed off how you can use the Wahoo Fitness iPhone/iPad/iPod dongle to wirelessly download your workout from the Garmin FR310XT/FR610/FR405/FR410 watches straight to the internet (Garmin Connect, Training Peaks, e-mail, etc…) – all without a computer involved.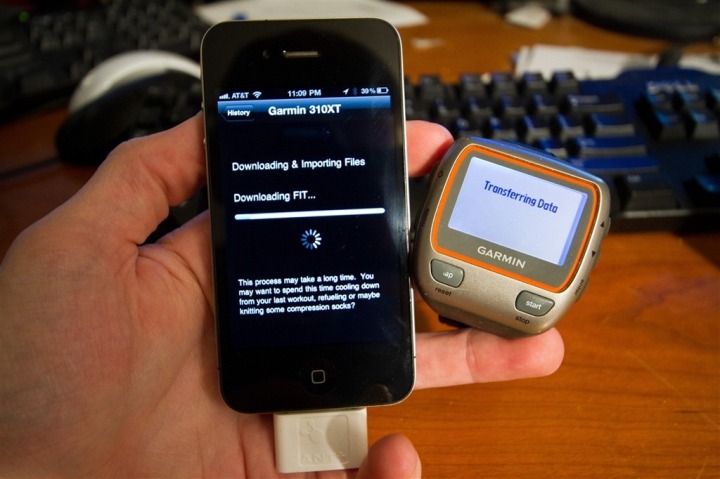 During some discussions with Garmin about it at the time I asked whether or not they considered adding support to download workouts from the Edge cycling series devices as well, which today require connection via USB.  This is because there's nothing technical that keeps them from adding in the feature for wireless downloads, it just would require a firmware update.  Given the huge pile of feedback that you provided in that post, I figured now would be a good time for an update.  They said that it's "definitely something that we've chatted about", though it' "most likely will not be in the next firmware update, but is still being discussed". So, there's still hope that we'll see it come to fruition.
Max Speed addition, and Clock removal for FR610: Finally, I asked about both of these feature requests, given I hear (and see) a ton of requests for both a Max Speed data field to be added, as well as the ability to remove the clock from the active data fields during an activity. Garmin noted that they were definitely very aware of both requests and are looking at implementing them and have had a fair bit of discussions around it, but didn't commit beyond that.
Garmin GTU Updates and Product Progression
Last but not least we've got the Garmin GTU10.  This is the tracking device that I used during Ironman Boise 70.3 where a surprisingly huge number of you tracked me in real time.  This is actually a bit of an interesting product from Garmin because as Justin noted, "The GTU10 wasn't market specific, we wanted to see how folks would really end up using it.  Now that we're nearing mid-summer we're seeing a lot of interest within the fitness and hiking markets".
He noted that it was somewhat of an unusual launch for them in that they really weren't sure how people would take the product, or how they'd ultimately end up using it.  They've since found that folks are doing a lot of interesting things with it, from tracking in athlete events like I did, to permanently installing them in cars as their own personal LoJack device.

I asked whether or not we'd see an website update to allow one to publicly share the tracking map – which would make it more competitive in cases where you wanted to share position with more than a handful of people.  He said that "It's a big one we've discussed, but there are no set dates at this time."
He did however note that "We are putting a lot of thought into the GTU, we think there's a lot of cool things that can happen within the product and that we evolve from" in future iterations.  That's good news, as I think with a little tweaking (and an ANT+ chip) this could be a blockbuster product for endurance athletes and live tracking, especially given it's very reasonable $180 price point.  While cell phone tracking programs are good in many scenarios, they don't work as well in race cases, or ones requiring significant battery life (the GTU10 can go weeks at a time).
–
That's all I've got for now, thanks for reading!