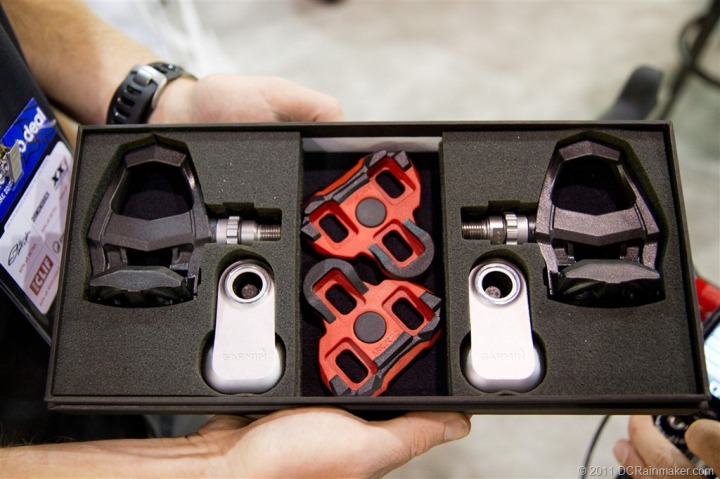 [Please Note: Garmin Vector has been released, you can see my first look at it here.  In the interest of keeping things clean, I've disabled new comments here, and all comments should head over to that post.  Thanks!]
Without question the most talked about sports technology product this year at Interbike is Garmin's Vector, which is a pedal based power meter.  There's been very little information about the device until a few weeks ago when final pricing and availability were announced ($1,500 and March 2012).
However, there's still been quite a few questions about how Vector will work.  So I sat down this morning for nearly an hour with the one person who knows all the answers: Clark Foy.  He heads up Garmin's Vector division, after they were acquired from Metrigear (which he co-founded with Dave O'Neill).  Between the time spent with him and then subsequently with Justin McCarthy from Garmin – there was almost 90 minutes of detailed goodness. You may remember my discussion with Clark last year at Interbike.
Crashes, Parts, and Repairs:
Probably the most common concern is around breakage during a crash, primarily due to the potential exposure of the pedal and/or Pedal Bod.  Clark started by explaining that Exustar (who makes this Look/Keo-compatible pedal) has virtually no issues with returns on this carbon fiber pedal (based on the PR2 platform) from a damage standpoint – or a failure standpoint.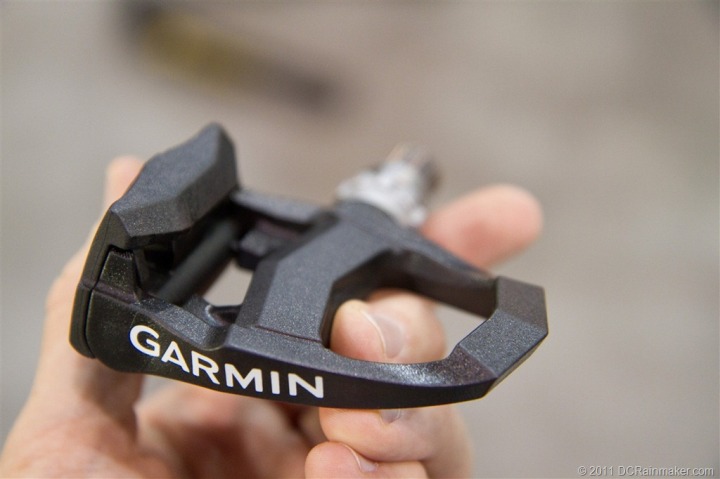 All moving parts for the pedal are covered under warranty from Garmin.  In the EU that'll be two years, and elsewhere (including the US) that decision is still be made.  Of course, one of the biggest concerns many have expressed is that if one managed to break the pedal itself, that the entire $1,500 setup would need to be replaced.
However, Garmin is going to take a parts and accessories approach to pieces of the Vector system (for issues not covered under warranty).  The following pieces will be offered as accessories:
A) Pedal Body (outside, the PR2 platform piece)
B) Pedal Cartridge (this is what the spindle lives in)
B) Cleats (both a 6-degree cleat and a fixed cleat)
C) Pedal Pod
There's still a bit of debate within the team on whether or not A & B above will be considered a single accessory.  You'll note that the spindle itself (where the strain gauges are) is actually not considered an accessory you can buy.  The reasoning being they are so confident with the structural pieces surrounding the spindle that should something manage to happen to the spindle itself, they're pretty much just taking the (customer friendly) stance of replacing it via support.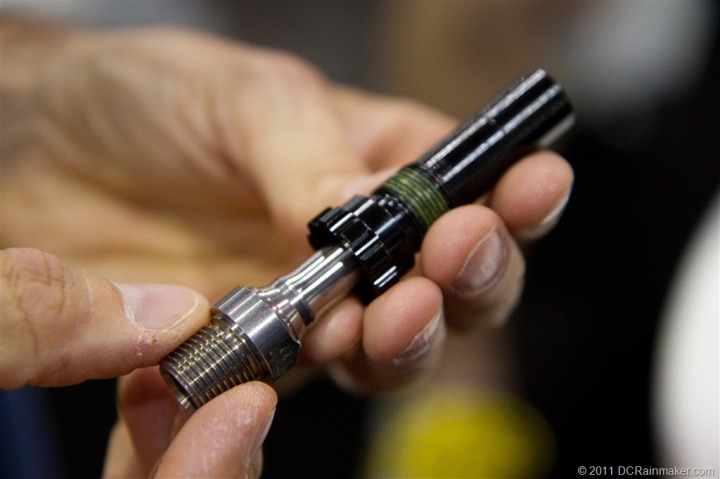 (Above is the spindle (silver) inside the pedal cartridge)
There's been a lot of attention paid to the 'vulnerability' around the pedal pod, which is the small silver piece that hangs below/off/against the pedal and ultimately transmits the data to the head unit (it's also where the battery sits).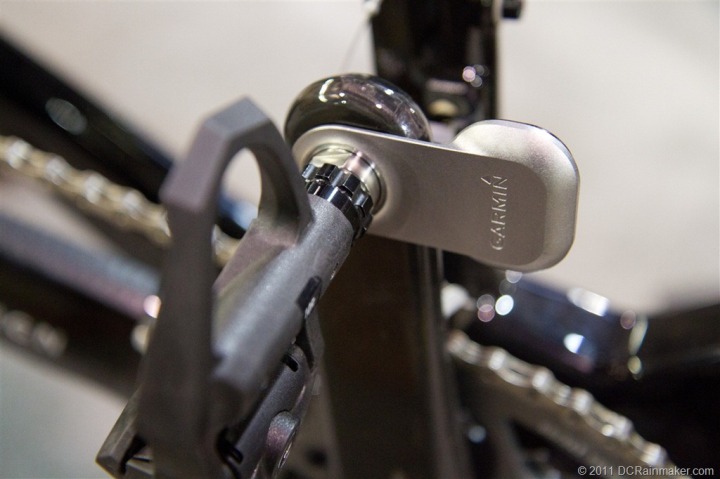 Many have commented that it seems like a rather susceptible part to breakage should a pedal clip the ground.  Clark noted that in some ways it's actually a bit of an optical illusion as to how close it hangs down to the ground in the event you bank the bike.  He said they have yet to actually clip one on the ground and that in every scenario the pedal itself clips the ground prior to the pedal pod – simply due to the angles being discussed.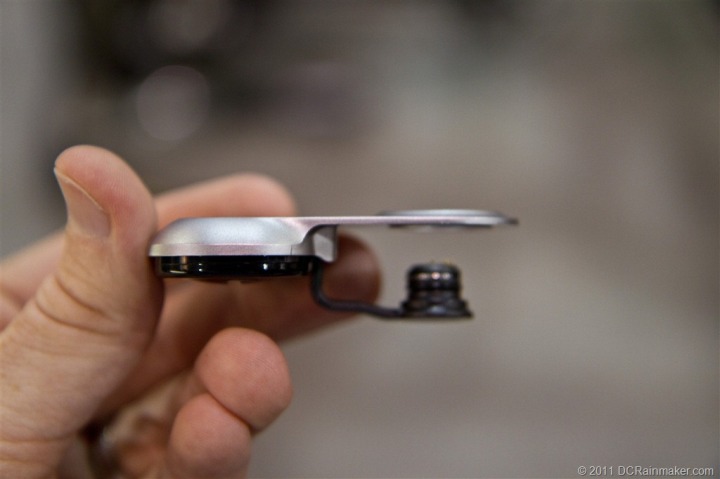 Nonetheless – should you break the pedal pod, the replacement part is available as an accessory per the above. And while pricing hasn't been determined – expect it to be in the rough range of $50 (again, rough estimate). He noted that part is in fact very similar to that of a typical Garmin footpod today (ANT+ transmitter, CR battery). These will be sold as pairs (two per pack). It should be noted that the design of the pedal pod is such that the flexible black rubber piece safely breaks away from the rest of the pedal where the spindle is.
Finally, now seems like a good time to let Clark walk through assembly and discussion of each of the different parts of the pedal.  So I had him go grab a wrench and disassemble the entire thing right in front of me – explaining each piece along the way.  Enjoy!
Garmin Vector being taken apart
Data Transmission, Reception and Head Unit Support:
The two pedals (left and right) that make up Vector work as a master/slave system.  The right pedal is considered the master, and the left pedal the slave.  From a data transmission standpoint, the left pedal sends data to the right pedal using a non-ANT+ proprietary  high speed multi-node network, which is then transmitted from the right pedal to the head unit using ANT+.
When transmitted from the right pedal to the head unit using ANT+, total power is transmitted alongside of % of power of the right pedal (which allows the head unit to do simple math for the left pedal).
In the event the left pedal is broken/removed/stolen/etc, the system will still transmit right pedal power.  However, if the unit loses the right pedal it will not transmit power.
From a parts standpoint the pedal pods will from the factory with no specific left/right setting.  The unit will automatically detect which side the pod is one upon first use, and calibrate the entire system accordingly.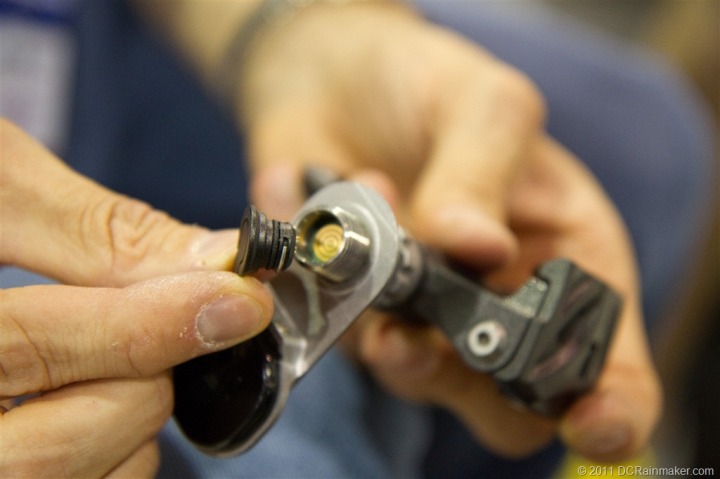 As noted above, the unit transmits power via ANT+, to all ANT+ head units that support the ANT+ Power Meter Device Profile (i.e. a Edge 705 the same as an Edge 800 the same as a CycleOps Joule).  However, only head units that have been updated to understand ANT+ Left/Right power will show Left/Right power.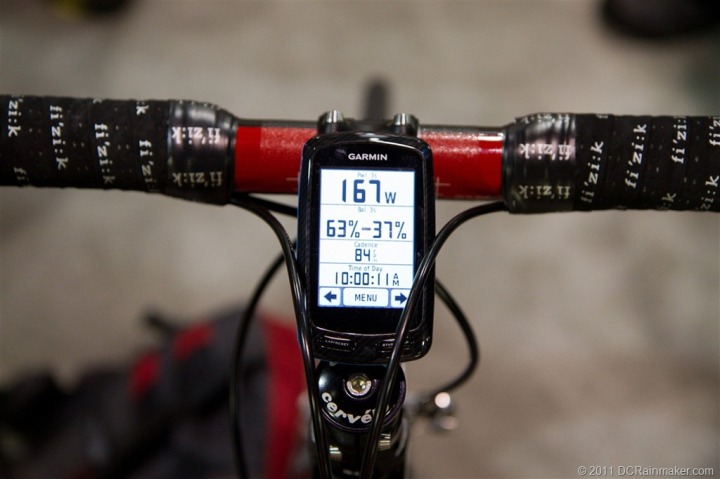 (Above you can see the Left/Right power displayed as a percentage of total power – above)
Garmin will release by the end of the month an update that will allow the Edge 800 to access this data stream.  Following shortly afterwards will be the Edge 500 and the Forerunner 310XT (note: updated this section). Additionally, a new Garmin Forerunner watch coming "this fall" will also have access to the left/right power values.  However, the older units such as the Edge 705 will not.  I asked why the Edge 705 was excluded and was told that the biggest issue was that the Edge 705 was running on a completely different codebase than the Edge 500/800.  This meant that it would have been  "a significant engineering effort" – and that from a resources standpoint they decided to focus on other functionality instead of going back to try and update the Edge 705.  Again Clark wanted it to be clear that the Edge 705 will display total power from Vector, but not left/right power.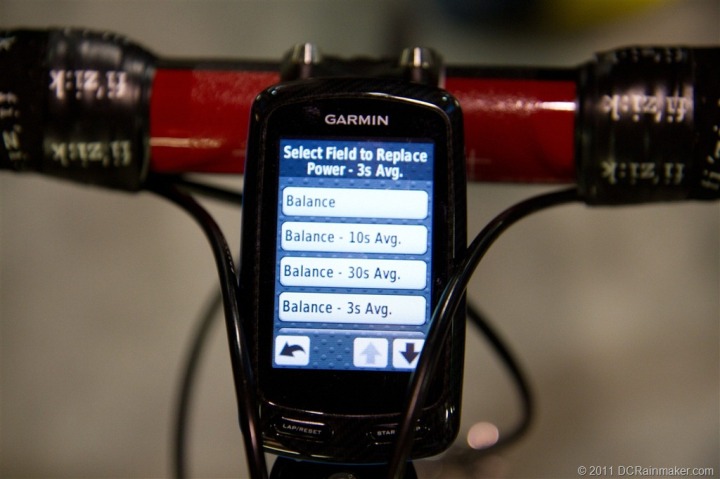 (Note above that the balance – Left/Right power – is shown as Instant, 10s Avg, 30s Avg, and 3s Avg)
Every Vector unit will ship with a Garmin ANT+ USB stick (just like those included in most Forerunners).  This will enable firmware updates to the pedals to be done.  Clark was rather excited about the prospect of seeing the data coming into Garmin Connect and then being able to optimize changes to the Vector firmware to better the product.
Additionally, he noted that there's quite a bit more that they can do down the road via firmware to the unit – including pedal stroke analysis, bike/pedal fit (i.e., how you fit left/right within a given pedal/cleat), and more in the areas of balance. He said that there is significant interest from  academic groups on studying fatigue, and developing a fatigue metric to see how one changes their left/right balance over time.  Today Garmin is already working with these groups in this area and how they can assist.
For those developers in the house, while the current .FIT file format 1.2 does not yet support Left/Right power, they are using an internal version that does and that will be released very shortly.  I should have an exact date/day later this evening (they're just tracking that down with the developer over that piece).
New TrainingPeaks Metrics:
Also note that previously announced – the Edge 500/800, FR310XT and the new Forerunner to be announced will all get the TrainingPeaks metrics of TSS (Training Stress Score), IF (Intensity Factor), and NP (Normalized Power) – on the same timelines as noted above.  These will be included within the same update as for left/right power.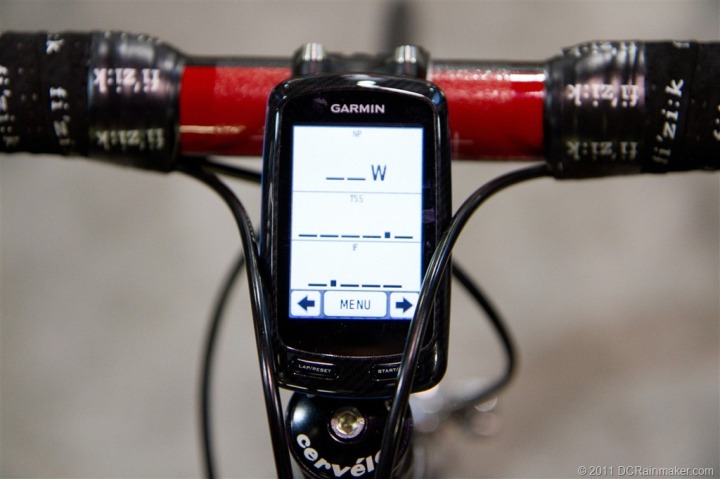 (You can see above NP on the top, TSS in the middle, and IF on the bottom)
These metrics will also start appearing shortly on Garmin Connect as they rollout new feature updates (started today for some features).  One of the key partnerships with TrainingPeaks was to ensure that the metric seen on TrainingPeaks is the exact same metric displayed on the Edge/Forerunner units, which is also the exact same metric shown on Garmin Connect.
He said that Garmin as a company recognizes that Garmin Connect isn't for everyone and that the more advanced/elite athletes will naturally go gravitate TrainingPeaks as a platform and that they want to ensure there aren't discrepancies across the two from a data standpoint.
Pedal Types and Plans
One of the areas folks have asked about is pedal type.  Initially Metrigear had planned to utilize Speedplay pedals.  Of course they ultimately ended up with rebranded Exustar pedals which are Look/Keo compatible.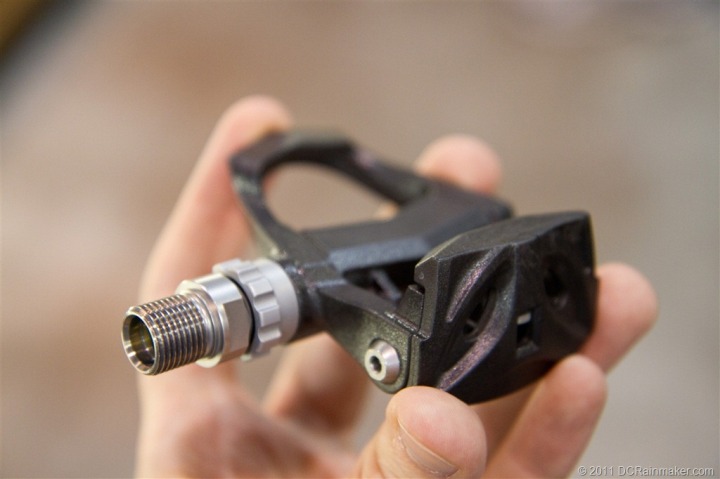 The primary reason for this was around their concern for end to end control of the system.  Had they gone with Speedplay's, they were concerned about the support structure due to the nature of Speedplay as a separate company wanting to own that service/support relationship.  This meant from a corporate standpoint, it could lead to warranty and support issues.  Whereas with the Exustar relationship they went to them with a specific set of requirements and specifications, and came out with a fully branded Garmin pedal – one where they (Garmin) owns the support and warranty chain from start to beginning.
But, this isn't necessarily the end of the road for other pedal types.  Clark let it be known that they're actively working on both a mountain bike variant and an indoor pedal.  He said that "indoor bikes are screaming for power", and that they hear constantly from companies that serve health and fitness clubs to "get us an indoor pedal for outfitting clubs".  He didn't have any details to share on the mountain bike side pedal type, though for the indoor bikes it would probably be some variant of a flat platform with an eggbeater built in – but that's all up for debate at this stage.
He did say from a timing standpoint he hopes to be at Interbike 2012 (this time next year) with both products out and already in the market (both mountain and indoor).
Calibration and auto-zero
There's been quite a bit of questions around what – if any – calibration procedure would be needed for Vector.  Clark noted that unlike most of the power meters today using foil strain gauges, these use silicon strain gauges mounted in glass on stainless steel.  With this change they've found that additional manual calibration doesn't need to occur once it leaves the factory.  From a product priority standpoint – it's been their goal that once it leaves, it's set.
During the factory the unit is calibrated using a dynamic test, as opposed to a static test.  This means that in a typical power meter calibration  scenario you might hang specific weights from it.  However, with Vector, the calibration occurs dynamically such that the weights are placed and the weights are spun around the pedal (with the pedal spinning) at an exact RPM by a machine. This ultimately allows them to measure the response across the entire rotation and then calibrate accordingly.  He said it's very unlikely one would have such capabilities in a non-factory setting.  Outside the factory the only other location that will contain such equipment will be Garmin's Factory Service Centers.
That said, you will as an end user definitely be able to do an auto zero of the unit – either manually or automatically.
Price Point
When Metrigear was first starting out, they were initially targeting a sub-$1000 unit.  However, since the announcement of pricing and availability a few weeks ago that has increased to $1,500.  He explained that a few things led to this increase.
First was the cost of some of the hardware pieces, and in particular a change to spindle components used that increased the cost.  Additionally, they weren't able to realize the price breaks at the volumes they were initially discussing.  He said they are very optimistic that will change in the future and that the savings from a component standpoint could be passed onto the consumers – but that would depend heavily on what the real world volumes looks like from a sales level.
The next factor that added to the price increase was that as a smaller company Metrigear had planned to sell directly to the consumer, whereas Garmin sells to distributors.  As a result, Clark notes that there becomes "a reality of stacked margins" – that in effect drives the price up rather quickly.
He noted that his team as as well as the larger Garmin is very aware that in order to move power forward as a more common concept within the cycling world – that Vector price point will have to decrease. And they believe that if volumes can be increased, then the price can be accordingly decrease.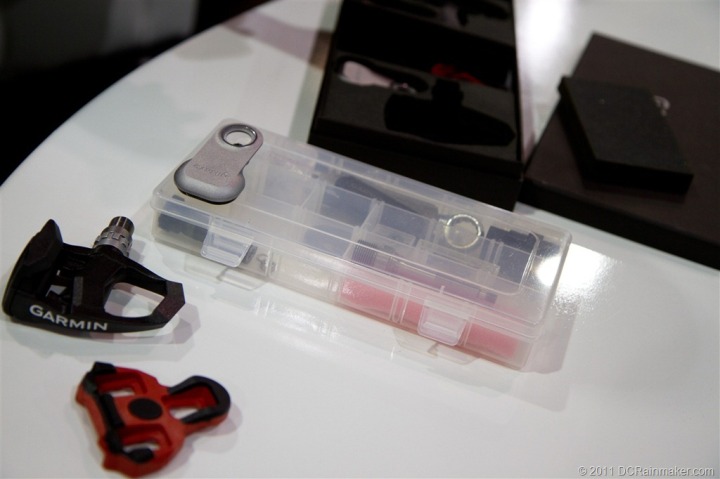 Some have asked if there plans to be a bundle of any sort with the Vector and an Edge device (like the Edge 800).  He said there's discussions about it, but nothing concrete at this time.  He did clarify that the rumors some had seen about the $1,500 price including an Edge unit were indeed incorrect. It does not.
Finally, last but not least he noted that we can expect to see Team Garmin using Vector publically going into the 'off-season' as well as into the new year.  As I noted previously, there is significant concern within the team to ensure that product development isn't disruptive during the peak of the racing season – hence why it wasn't shown at the USA Pro Cycling Challenge a few weeks ago in Colorado.
Update #1 (Sept 15th, 2011 12:10PM):
Based on the 25 questions that were left in the comments field (and on the Wattage Forums), I went back to Clark to get your answers.  Additionally, I also got two more videos, below. Finally, I've got the Garmin guys double-checking everything I write here to ensure it's 100% correct – that's always my goal to get it technically correct. Here's the answers:
Question: "How does heat affect the strain gauges – and should one be re-zeroing often (at all) during a long ride that may start off cool but get hot?"
Vector will dynamically compensate for temperature.  These particular silicon gauges have a very predictable response to temperature, in fact these particular gauges are often used in the automotive industry for the same reasons. While Vector does not have a temperature gauge, it has sensing elements.  However, the Vector team isn't detailing this particular piece since it's somewhat of "a secret sauce", but did note that it's "quite effective but unique".
Question: "What is the autozero trigger by default?"
While there is a clear manual zero process, they haven't published what the best scheme is as they are still deciding. They need to determine a creative way to catch a zero since there's always force on the pedal.  They have a few ideas but are trying to narrow down what makes the most sense in a broad commercial setting.
Question: "Will there be any way to check the torque value statically in a single orientation (i.e. horizontal with weight hanging to check the tangential force reading)?"
Definitely will do something there, as Team Garmin needs it as well.  They are working through the logic of creating a static torque test procedure that's easy to do in the field. Currently the line of thinking is indeed along the lines of putting the crank in the 3PM position, but still being finalized.  Note that Vector is not a torque meter, but rather a force meter.
Question: "To clarify, is it correct that there is just one bushing and one cartridge bearing?"
Yes, correct. One outer bearing, and one inner bushing.  I had Clark do a walk through of the full components of the cartridge for your viewing enjoyment:
Inside the Garmin Vector pedal cartridge
Question: "How heavy are the pedals?"
Clark provided the below screen for me to publish.  The last column indicates weight against common competitors.  A positive value means Vector is lighter, a negative value means Vector is heavier. Click to expand.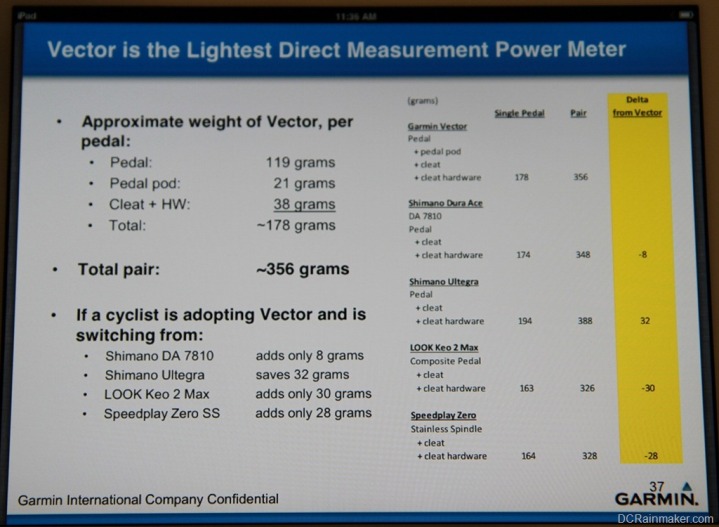 Question: "If a portion of the pedal is replaced (i.e. via accessories program) – is there a need/reason the entire thing would need to be recalibrated?
Their trying to determine sensitivity of it to a change like that, but it's the spindle that gets calibrated. If they determine that it will need some sort of calibration, then it will be handled via support via sending back to Garmin.  In other words, they're still deciding the procedure there.
Question: "Any limitation on crank lengths with the vectors (short or long)?"
None.
Question: "Any limitation on crank width? i.e. 30mm?"
15mm in width and 38mm in height
Question: "Can you detail out the pedal pod a bit more?"
Ok, I asked that question.  Yesterday the video file that covers the pedal pod demonstration that Clark did for me got corrupted – so I had him go through it again today:
Garmin Vector pedal pod overview
Question: "When will we see an In-Depth Review of the product here?"
Clark has committed to getting me a Vector unit by the end of the year (complete with a bow-wrapped on it), for testing.  Though while I will be free to talk about it – I'll as usual wait until final release for a full In-Depth review. I do this to allow companies to let me try their hardware while they are still in pre-production (beta) mode without fear of repercussions for publishing pre-production bugs. Once a product is deemed 'final', then a review like normal would occur.
Question: "What's the expected lifetime of the pedal (in particular, the spindle)?"
The goal is "5+ years easily", but they haven't published a specification yet. Obviously like all products.
Note on firmware release date
Note there was a slight change to the availability of the firmware dates (which I updated earlier this morning).  The Edge 800 will still be within the month, but the Edge 500 and FR310XT will be following shortly thereafter.  This includes the TrainingPeaks metrics as well (TSS/NP/IF).
—
As always, if you've got any questions (or if you just found this useful), feel free to drop a comment below.  Thanks for reading!
—
For the latest Interbike coverage, remember I'll be tweeting nonstop, so you can catch all the latest action there.  And here on the blog you can use this tag to see all the Interbike 2011 posts. Thanks for reading!