There's a ton of stuff I see each or hear while at Interbike that never makes it to a full scale post.  This year, that's even more so true with most of the major companies holding back from releasing new products at Eurobike/Interbike – which means that the majority of my Interbike posts were focused on newer entrants to the market.
But that doesn't mean I didn't spend time with everyone else.  On average I'll spend 30-45 minutes talking to almost every other company in the sports technology industry at the show – with meetings often going late into the night.  Thus, even if the company didn't announce a major project, I still have lots of little golden nuggets of information to share.  So with that, let's dive into it!
Garmin: Fenix, Tempe and Vector: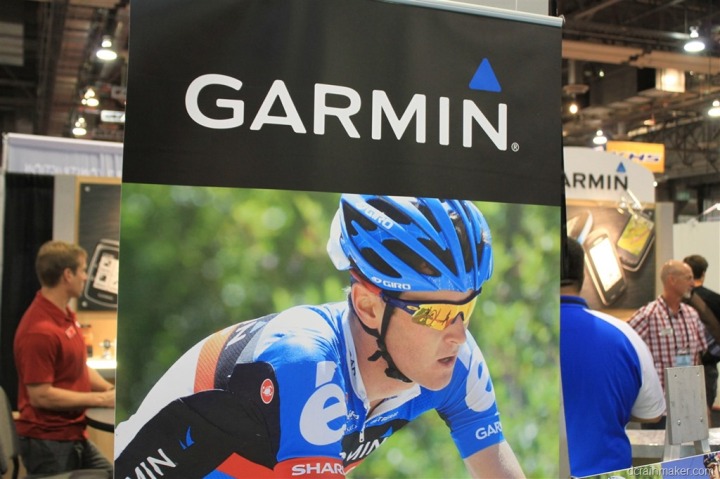 With the Garmin Fenix now shipping, the main Fenix related concern for Garmin is getting the backlog fulfilled.  The watch has sold extremely well for them, but particularly in Europe – where the numbers were far more than expected.
Tempe sensors (that's the wireless temperature sensor in a footpod) are starting to seep out at as well, and I was able to get ahold of a unit that's hanging out now in my bag for the flight back home.  Looking forward to starting to play with that this weekend.  You may also notice something of interest below (not the paper, that's a different company)…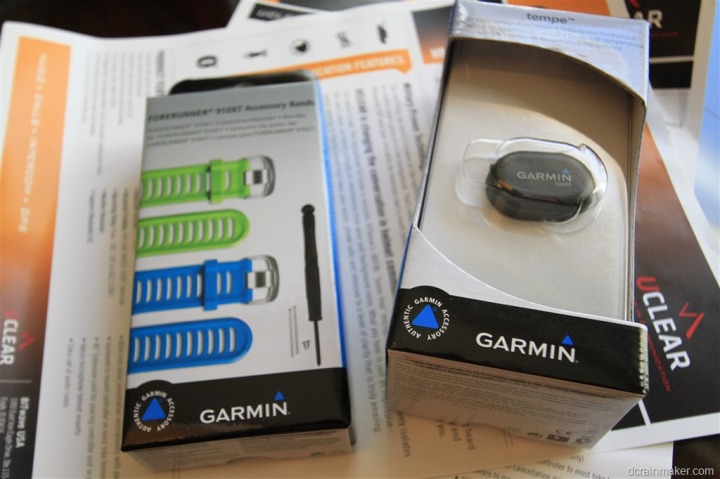 For those curious about the Fenix review, it's likely the week after next.  I want to do some altitude comparisons while up in the mountains outside of Calgary next week, and thus include those in my review.  While I've had a unit since July, that unit had very little functionality until mid-late August – as the firmware components just weren't there yet in the beta builds.  Now that things are released though, I've been finalizing the review.
Last but not least, Garmin Vector (their pedal based power meter).  I had a good conversation with Clark Foy (head of Garmin's Vector group), about the power meter and its delay.  As I've noted before, at this point everything around the delay is tied to manufacturing yield issues.  In other words, they aren't getting the quantity of functional units after the manufacturing process that they want.  It's like baking cookies, and having too many cookies being burnt each batch.
It was clear throughout the conversation that Clark was a bit humbled by the whole situation.  Obviously it's not how they envisioned the year going.  Like at Eurobike, Garmin was not showing Vector within the booth (unlike last year).
One interesting aspect is that they (Garmin) have no desire to follow the 'trickle out' approach of the Polar/Look Keo power meter.  As you may or may not know, Polar slowly released very small batches of their new pedal based power meter over the course of 6-8 months last winter through spring.  Effectively allowing them to ensure quality levels remain high, with minimal repercussions for anything that might involve a recall of units (which was required for some early units to legit retail customers).  By focusing on a high level of customer touch (possible with very low batch numbers) they were able to keep the overall customer base happy.
Garmin's stance is that they won't go into production until they can press and ship thousands of units at once.  And it was noted that they won't do that until the quality bar is there.  It's been clear talking to numerous Garmin folks at both Eurobike and Interbike that the technical and timeline stumbles with the FR910XT are still painfully fresh in everyone's mind.  There's no desire to reenact that again.
That all said, timeline wise the public stance is Q4 CY2012 (end of year).  I think we might see some more concrete info and display at CES (first week of January) around their distribution and release plans.  But I wouldn't expect to see a Vector under a Christmas tree this calendar year.
Polar: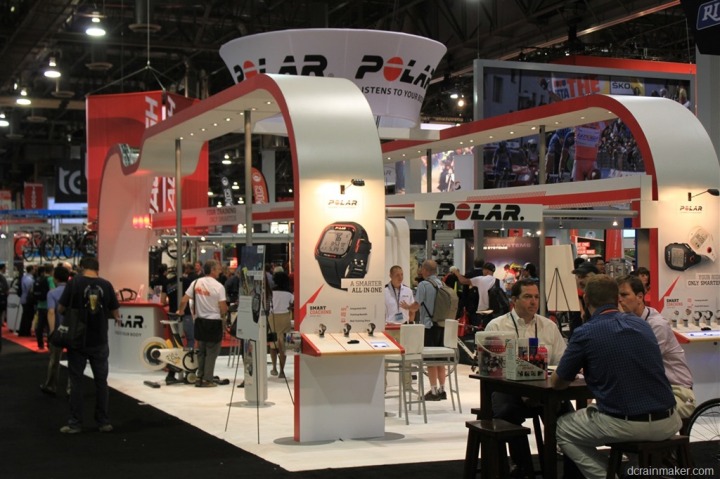 Polar's primary focus at the show was their newly released RC3 GPS wrist watch, which started hitting the channel about two weeks ago.  This is the next unit I'll be releasing my review on, next week (everything is done and ready on that).
My time with Polar was spent having a very constructive conversation with the President of Polar USA.  With him, and the VP of Marketing, we discussed the state of the industry (especially around Bluetooth Smart), and the state of Polar products.  It was a refreshing conversation, and at times rather frank about the current state of some of Polar's offerings.  He's new to the company, and I'm optimistic we'll continue to see some of shift towards more competitive offerings (like the new RC3 GPS watch).
Timex:
While Timex was at the show, they did not announce any new products this year there.  They have made updates recently to their Timex Run Trainer (firmware), but beyond that, most of the focus is on upcoming products.
I've got a meeting set with the their VP of Research and Development next week at the ANT+ Symposium in Canada, so I may (or may not) have more to share then.  So stay tuned on this one…I think there may be some good stuff here shortly.
TrainingPeaks and WKO+: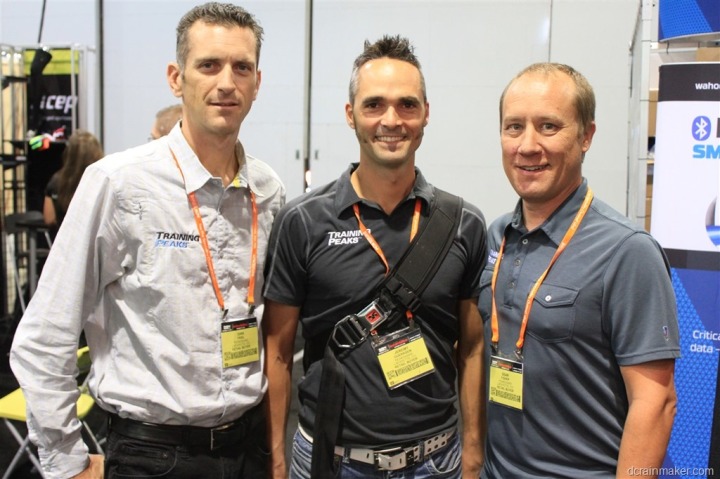 I had a chance to catch-up with the guys behind TrainingPeaks and talk about their announcement earlier in the week to fund development of a new version of WKO+, which will be available on both PC and Mac.  The plan currently calls for a "99% complete re-write" of the codebase.
In talking with Gear (founder of TrainingPeaks), he outlined his vision for the updated WKO+, which includes a significant focus on application speed (especially for users with large file/history collections).  They'll also be spending a fair bit of time revamping the UI to make it something applicable to this decade.  They've recently hired more user interface (UI) and graphical designers for the TrainingPeaks team at large, and those will be assisting here as well.
Additionally, expect to see better integration between WKO+ and TrainingPeaks.
Gear also noted that the Colorado company continues to grow at an incredible rate (revenue and employees) – as on Monday they announced they've opened up 10 new positions.  I'm looking forward to seeing these folks focused on integration with many of the new products shown off at Interbike (such as KICKR, TrainerRoad, and others…).
Kurt Kinetic, and inRIDE: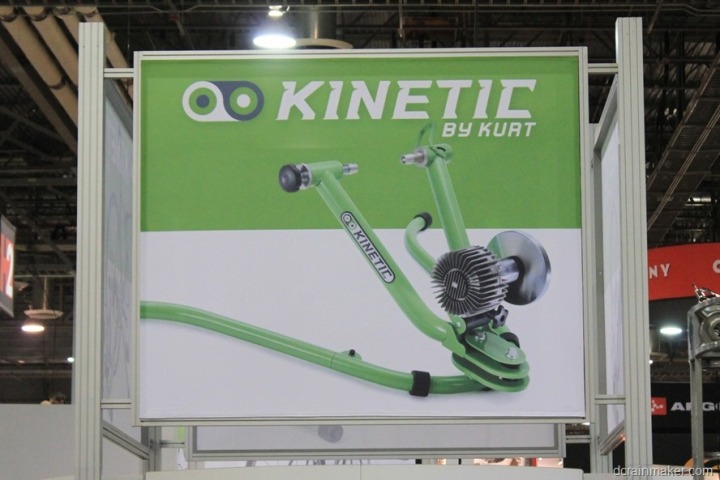 I spent a bit of time talking with the Kurt folks about the inRIDE – which I wrote about back in August at Eurobike.  The $200 inRIDE is a sensor you attach to the back of your existing Kinetic trainer to get power meter information transmitted over Bluetooth Smart.
The feedback I had received on the post was a bit surprising to me, primarily due to the significant number of folks looking for ANT+ compatibility (in addition to, or in place of the Bluetooth Smart functionality).  I've been talking with the inRIDE (and Wahoo) folks about this feedback for a number of weeks, trying to understand what the viability is for getting ANT+ added.
At this point though, it's not sounding like it's in the cards.
Additionally, I also talked to the other piece of feedback I heard – which was around the heart rate strap being bundled, and that many folks simply didn't want that.  While they may look at an unbundled offering down the line, they won't be doing that initially.
That all said, I am excited to try out the system at home, and I should have an accessory unit in the next week or two (I already have the Road Machine trainer).
VeloComputer and Metawatch: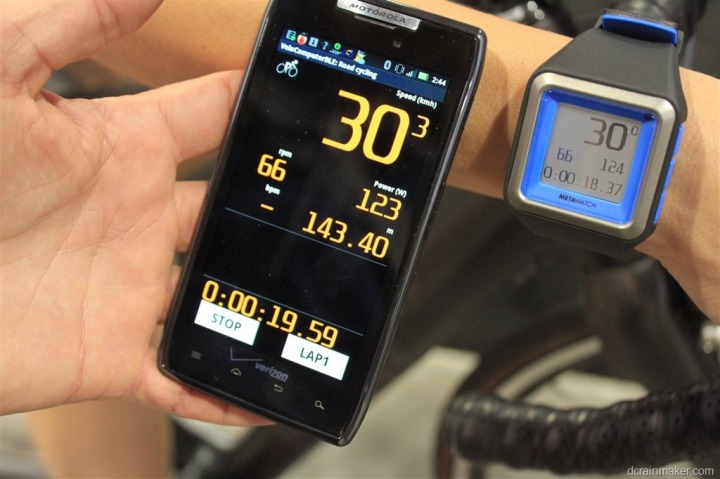 VeloComputer announced just prior to Eurobike a power meter of sorts that's the size of a typical speed/cadence sensor.  Now it does have some limitations, but within those limitations – it makes for an interesting experiment for me to try at $99.
While the VeloComputer folks didn't quite have a unit ready for me to take home with me, I did get to see the newly announced integration with Metawatch.  Metawatch is a wrist watch that's similar in functionality to Pebble, acting as a display for your cell phone apps to push data to and be easily glanceable.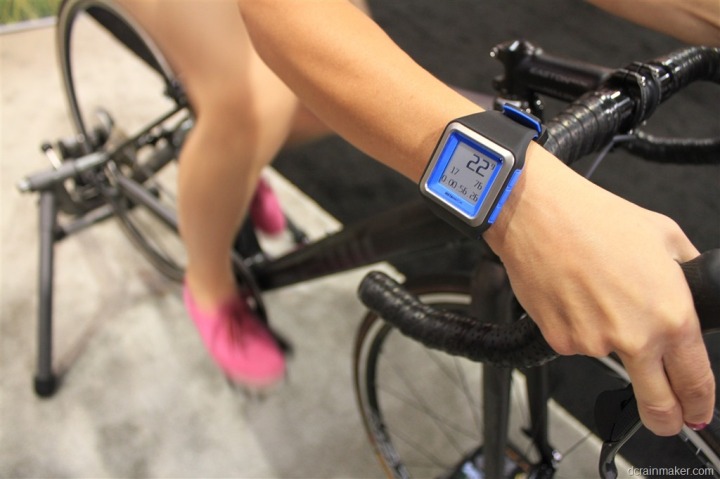 The goal here is to then be able to place your cell phone in your back pocket and then reduce the battery consumption significantly.  Similar in concept to Wahoo's new RFLKT.
I picked up a Metawatch on Kickstarter back a month or two ago.  So we'll see which of the two companies gets their unit to me first.  My current money is on VeloComputer (who thinks they're looking at a few weeks), but we'll see.  As a random side note, VeloComputer is also on Kickstarter now.  Though, given the gap their looking at – I think they'll likely need to continue with their existing distributionplans.
Pioneer Power Meter: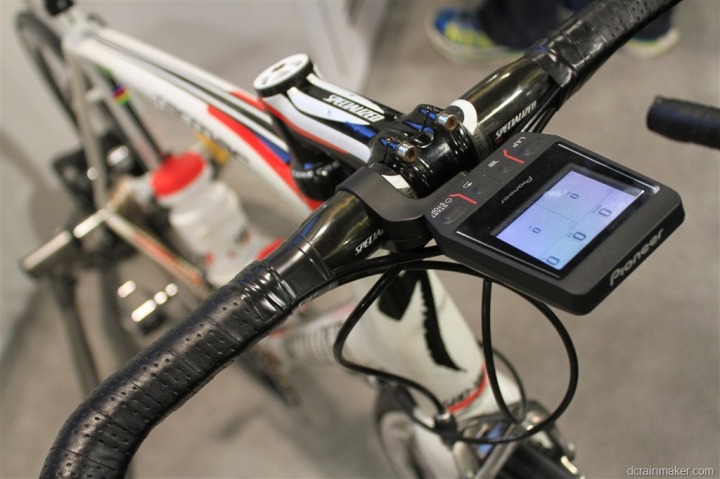 Nothing has changed here for the left/right power meter, except the price 'range'.  At Eurobike, the price range started at $2,600US and depending on which currencies you used, went upwards to $3,200US.
I swung by the booth to see if they had solidified a US price yet.  At present, they haven't, but they did note that currently that range is between $2,000US and $2,500US.  So, it seems we're making a little downward progress there.  Final pricing is of course still TBD.
Barfly adjustable Garmin Edge and Forerunner 310XT/910XT Mount:
I met up with the Barfly guys under a fake straw tiki roof island cantina bar in the middle of the showfloor to get a look at their latest mounts.  In particular, their newest mounts which solves the riddle of the FR310/910XT quarter turn mounts being offset 90 degrees from that of the Edge cycling series*.
Note above that the mount is positioned the same way in each photo AND that the Garmin units are also positioned the same way.  Simple sounding, I know.  Reality until this product, not so much.  Previously, the FR910XT would have been sideways.
The guys gave me a handful of mounts to take back – so I'll be trying them out.  It's a plastic mount, so I'm not going to overthink it from a review stand.  But I'll write-up something.
*In case you're wondering why these are offset 90* from the Edge units… I've never gotten an official answer from Garmin on this, but the current running theory is as follows.  The Edge units came first – by about a year (Edge 500).  At the time, the mount had the two little wing tabs to the left and right – which worked great.  However, when the FR310XT quick release came along, someone realized that if you put this wingtabs there on the quick release backing, they blocked the rounded charging connector for the FR310XT/910XT.  The solution – just rotate the whole thing 90*.  Since the mounts at the time were just rubber banded on, it wasn't a big deal.  Annoyance perhaps, but not a show-stopper.  Over time, folks have developed custom plastic mounts for various positions – and even ones built-in to aerobars.  Which meant that all of those ones that worked with the Edge, now failed hardcore with the triathlon focused watches.  Had the Edge units had the tabs at the top/bottom from the very start – there never would have been a problem.
The top four sports technology things I saw at the show:
Every person I talked to asked me: "So, what's the top four things you've seen?".  Thus I figured I'd share it with you as well, and my reasoning.  It's probably worthwhile noting that on the whole, there actually wasn't a ton of new sports technology announced or shown at the show (much of it done, as usual, at Eurobike).  But even including Eurobike, it was a bit of a quiet year in that manner.  But here's what stood out:
1) Wahoo KICKR trainer: No doubt, everyone was talking about this.  Yes, it was announced at Eurobike – but if you wanted to find the who's who of the cycling technology world – you could have just hung out at the Wahoo booth.  Everyone came by, competitors and partners alike.  Even some cycling media/publications that normally ignores sport tech of cycling was making mention of it.
2) Stages Cycling StageONE power meter: Another booth that was packed.  Every time I talked with anybody at any other company on the floor, the conversation always turned to "So, what do ya thing about the $699 StageONE?".  This is going to be popular, and in a big way.  I think you'll probably start to see some reactions from other power meter companies on the pricing front as we head into next year, assuming units get into peoples hands and there aren't unforeseen accuracy issues.
3) Wahoo RFLKT: Besides having a name that nobody can type easily or quickly, it's got a solid little buzz about it.  A cautious buzz though.  As it stands today, it's got enormous potential, but it's ultimately going to be up to phone app developers to take this from a blank slate to a Garmin Edge killer.  I think some can do it, and do some really amazing things there, but, it's still going to take someone. I suspect this might be a lot like when the Wahoo Fitness ANT+ iPhone Adapter came out, initially a bit slow in app adoption, and then that quickly built to a groundswell.  Today, that has 130+ apps that support it.  What if a year from now, you could run 100+ apps as your RFLKT bike computer?  One day you have a TrainingPeaks bike computer, the next a GoldenCheetah Bike Computer, or perhaps a Strava bike computer.  Huge potential, but it's up to the rest of the industry to make it happen.
4) 4iiii's Viiiiva  – ANT+/Bluetooth Smart Consolidator/Bridge HR Strap: This product wasn't widely known until I posted about it Thursday morning.  However, I started hearing a bunch more buzz following that.  The general reaction when I talked with folks about the unit was first "Holy crap", then followed by a silent moment of pondering of all the things they could do.  Which was usually then followed by "Dang, that's gonna open up a whole bunch of opportunities".  Indeed, I think it will as well.  However, there are still some technical hurdles to overcome there around device profile translation (i.e. getting an ANT+ power meter conforming to the ANT+ power meter device profile, to getting functional Bluetooth Smart power meter profile compliant data).  It'll be solved – but it's not all final yet.  And I think the unit will probably find some competition down the line.  So the sooner they get on the market, the more partners they can secure.  Overall, I think there's huge potential here.
—
As far as other sports tech, there were lots of other newly announced power meters (most announced at Eurobike, rather than here at Intebike), but everything is either still in the 'sometime in the future' realm, or within the 'really darn expensive' realm.
The notables who weren't notable (or here) this year:
Just a quick rundown a few companies that many of you might ask about.
Motorola:
They weren't here.  Now, they weren't here last year either – but they had been making the rounds at every other trade show, including even small local 5K's.  Everything I've heard from multiple retailers and distributors confirms what I've already stated: The Motoactv is dead.
There's a tiny sliver of a chance that Google may change their mind, but at this point things are being spun down.  Yet interestingly, everyone I talked to (including numerous other competitors) thought that the Motoactv could have really made a solid dent in the space with a few minor tweaks (and time).  There's no question it drove forward progress within the industry in certain ideas and concepts.  It's just unfortunate it didn't get a chance to really grow up.
Suunto:
Suunto actually was quite notable, but they weren't here (which is normal).  People are paying attention again to them though.  Which isn't to say consumers didn't pay attention previously, but within the industry, there actually wasn't a lot of people that saw them as a true competitor in the GPS and connected devices space.  They were kinda a third wheel.  But the recently announced Suunto Ambit updates have absolutely changed that.
Ironically, the introduction of the Garmin Fenix has also driven some of that attention back to Suunto to see if we might end up getting a good competitive battle between the products going over the next year or two.  Both products have the sensor technology inside them (accelerometer (Ambit only), GPS, and long battery life) to be expanded on significantly more than they offer today – so it's a bit of a race as to who's going to make the next moves.
Random Thought Paragraph:
I was going to put this above in one of the companies sections, but I decided to put it down here instead and make it more general.  I got the sense there's definitely a bit of frustration amongst the sports tech companies about the reality of distribution margins.  With the focus of frustration around their inability to get lower prices to consumers.  The distributors and retail stores are pushing harder than ever for an increase in margins.  The margins are simply how much each of the players along the line from factory to you takes in (such as 30-40% to distributor middleman, 30-40% to retail store, and the remaining to the actual company making the product).  In effect, this is driving the cost of some of these products further out of touch with reality.  Especially for many of the mass produced sensor-style products.  And, I think this pricing will ultimately kill some of the products I've written about this week.  But of course, it's also a double-edged sword, since distribution gets higher volume.  Anyway, food for thought.
—
With that – thanks for reading!  I've got a few more items that I've taken home with me that I'll write about in the coming weeks and days.
As always, thanks for reading!