Important Note: I've published a full-scale Garmin Fenix In-Depth review (13,000 words!) over here at this link. The below were initial thoughts on beta hardware with highly beta firmware. Specific hardware changes were made since then to address some altitude concerns, as well as a slew of firmware updates. In other words, check out the in-depth review for details on the final product. Thanks all!
Friday I flew out to Seattle ahead of a week of meetings here.  My flight route was a bit non-direct via Houston, bit I didn't mind since I got plenty of sleep that way.  Plus, as we descended into Seattle, I was treated to this nice little view of Mt. Rainier: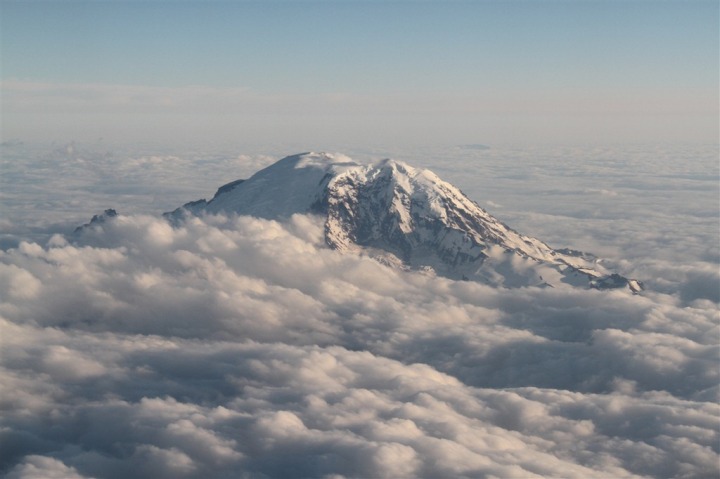 After getting to my hometown and parents place north of Seattle (near Mukilteo), I found a small pile of boxes – including one from Garmin with the new Garmin Fenix (now technically it's spelled with a lower-case 'f', but honestly, that just looks stupid in everything except fancy marketing junk – thus, I'm capitalizing it, mmkay?).
The next morning I unboxed it and compared it to the Suunto Ambit.  Without question, the Ambit is the nearest non-Garmin competitor to the Fenix.  Beyond that, there are really no other non-Garmin devices that realistically compete with it (interestingly, there are a handful of other Garmin devices that do compete with it, mostly in the hand-held category).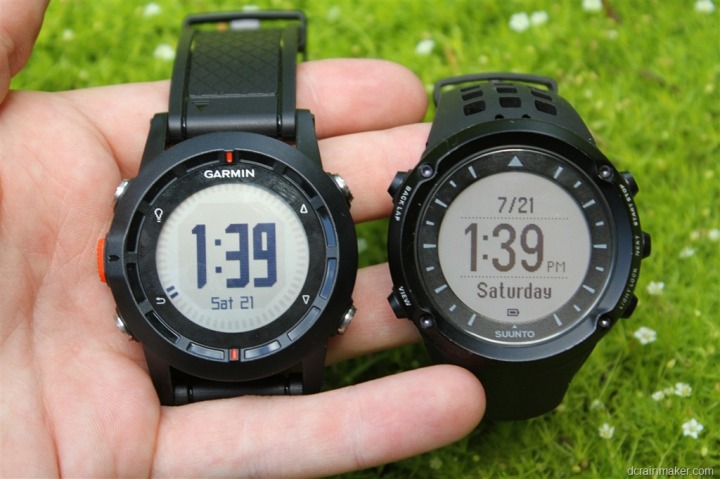 For the most part, the two are actually fairly similar to size, weight, and build quality.  They both have that ruggedized feel to them.  And they both have approximately a 50hr battery life in GPS-enabled recording mode.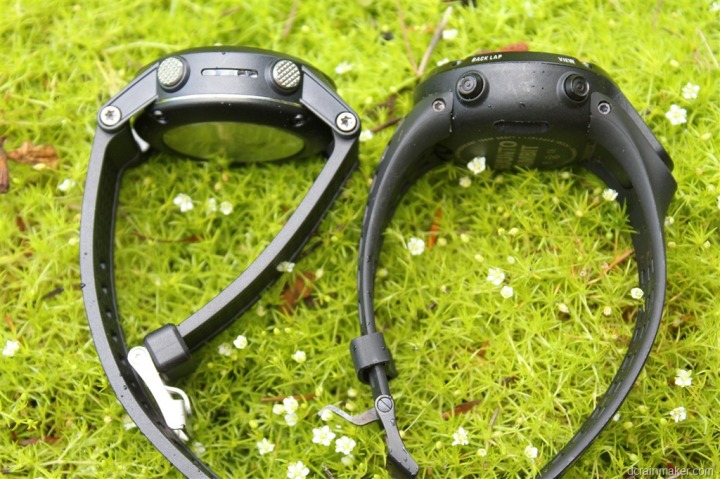 The Fenix is a bit of a blend between the Garmin handheld hiking units, and the Forerunner.  A marriage of two different product lines.  Thus, if you have a history coming from the endurance (Forerunner) side (like me), you'll find all sorts of new things in the unit.  And the same is likely true if you came from the opposite handheld unit side.  For example, in addition to all the usual running fields, you'll also find data aviation fields like Glide Ratio and Ambient Pressure.  Or as another example, you'll find a very rudimentary basemap (I can't overstate the rudimentary part):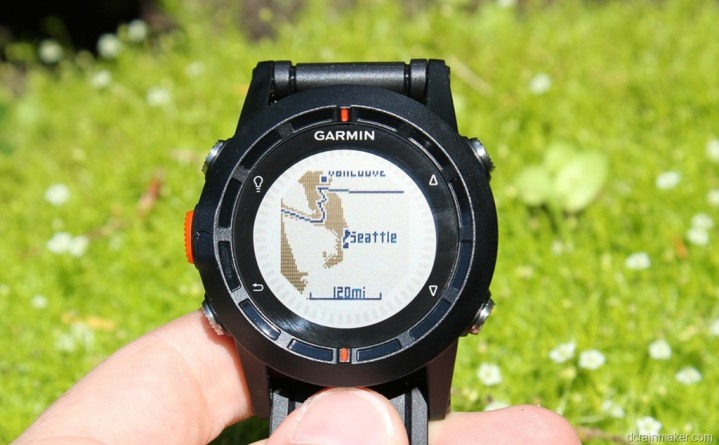 What you won't find though are some of the more advanced running features – for example, interval training or workout creation (but there are alerts and auto lap functionality).  Speaking of comparing it to the Forerunner series, here's a quick shot between the Fenix, Ambit and the FR910XT: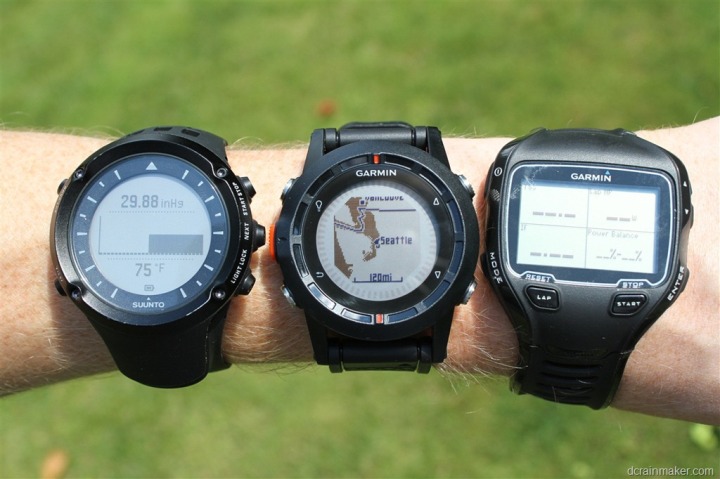 I spent the rest of the day in meetings, but I kept the unit on to try and figure it out a bit as I drove around the region.  Mostly just recording random data.  That way come Sunday morning I'd be in good shape for understanding the basics of how to work it.  There's definitely a little bit of a learning curve to the watch compared to a normal Forerunner.  I'll give some of my feedback to the Garmin Fenix team, perhaps they'll be able to change some of the defaults to make it a little more 'natural' for us runners looking to cross-over.
Come the next morning my first 'activity' was that of a bike ride with my Mom and Dad.  I still have my trusty old Fuji Newest 3.0 bike out here in Seattle, so I rocked that.  I just didn't feel like dragging my triathlon bike all the way from France for only a ride or two.  Before we set off I mounted the new Joule GPS on the included forward mount that it has.  It includes both the forward mount as well as the rubber band mount, both using the quarter-turn release system (though, incompatible with the Garmin quarter-turn mounts…I've tried).  I love that companies are using mounts that I can quickly install (and uninstall) on a bike in a matter of seconds with no zipties required.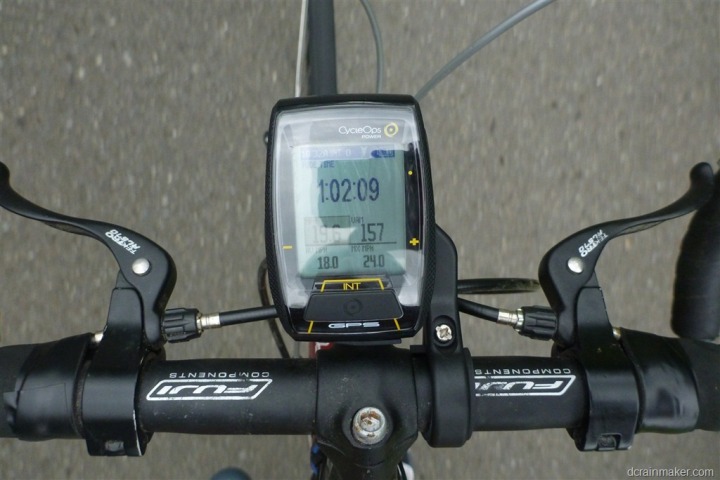 And then up was the Fenix: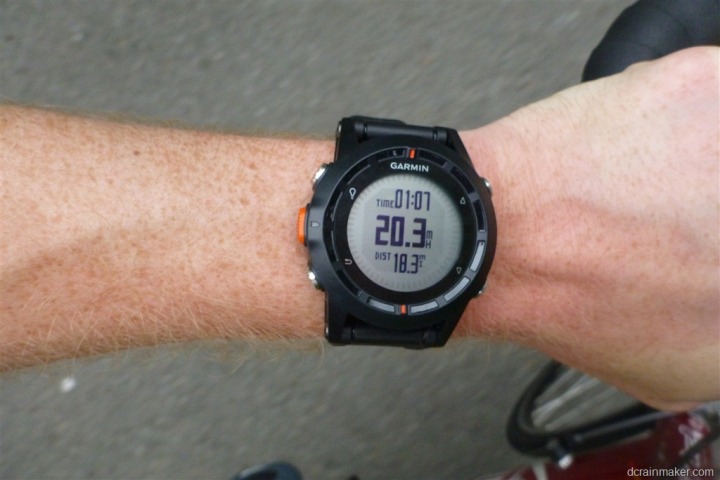 The Fenix can pair with an ANT+ cycling speed/cadence sensor, as well as an ANT+ heart rate monitor.  Additionally, it'll pair with the ANT+ Tempe, which is their external temperature sensor that's in the same casing as the ANT+ footpod.  Of most interest though is that this is the first Garmin unit to include Bluetooth Smart (aka, Bluetooth Low Energy, via Bluetooth 4.0) in it.  This is huge, and can't be overstated.  It also opens up tons of integration options to phones as well.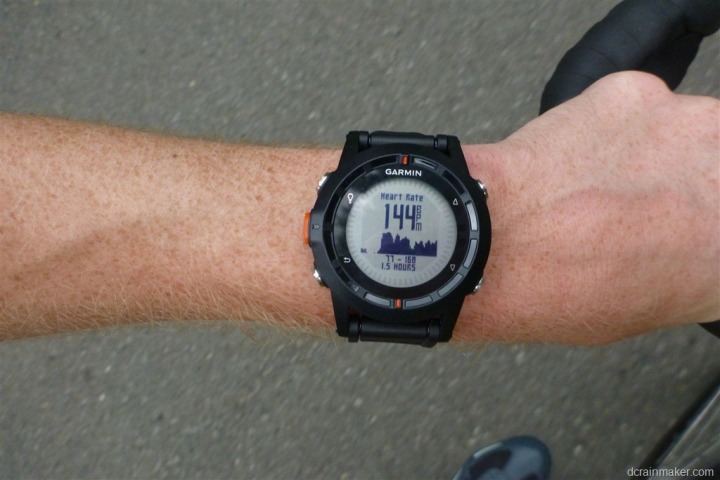 As for my ride, it was nice.  A wee bit cool out, but not bad.  Plus, once we got up to speed, it worked out temperature wise on the Centennial Trail.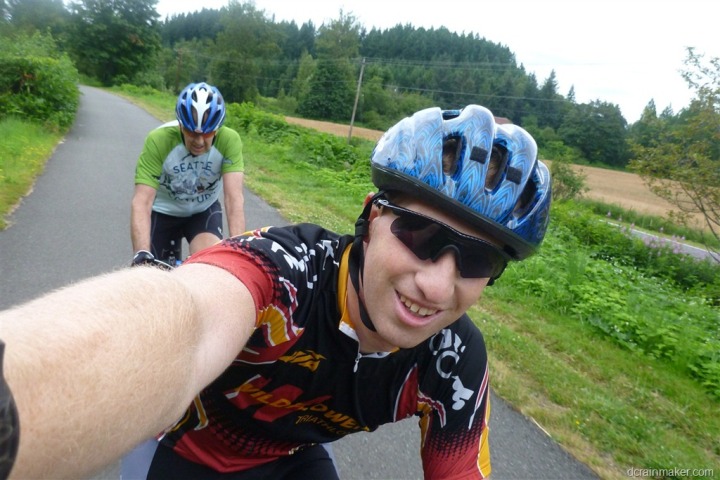 The only catch to this trail is they must have gotten a bulk deal on posts to stick in the middle of the trail.  Holy cow, endless posts – just rearing to plunk you when you're not paying attention.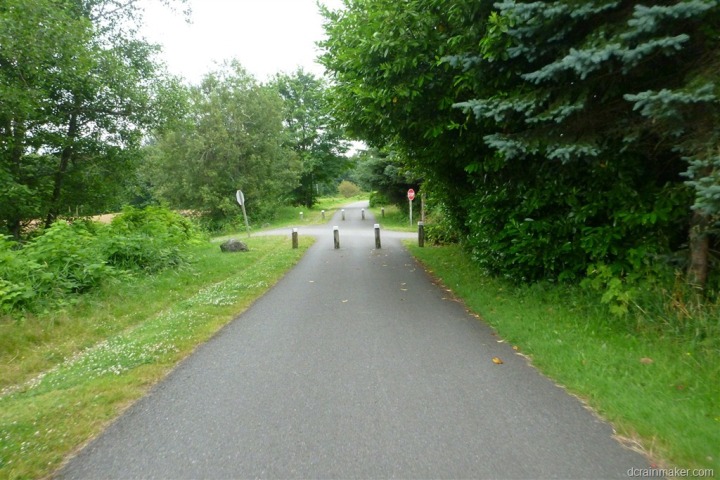 Thankfully, this ride I avoided any postal issues.
With our ride complete, we headed back to the house where I'd change quickly and then head out with my brother down to Mt. Si to go for a hike. Mt. Si is a short distance away, but has some nice vertical – topping out at just over 4,000ft (well, there's conflicting information on this, some put it at under 4,000ft, either way, it's not a total molehill).  It's about 8 miles round trip.  I decided to let the Ambit and Fenix battle it out.  I put one on each wrist and began the hike: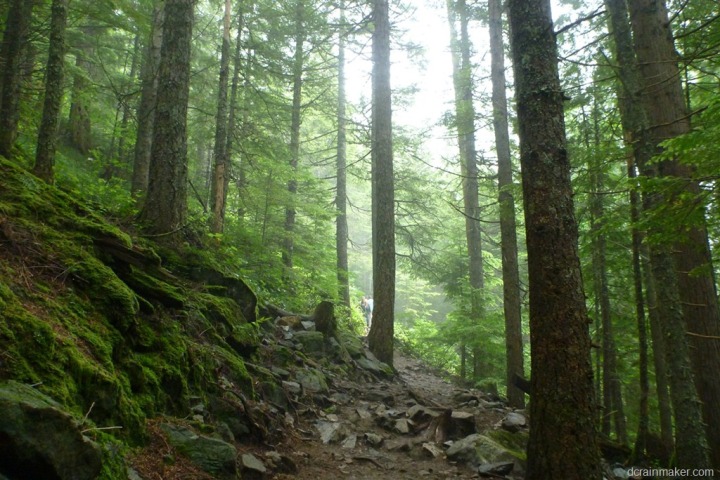 At about the 3.5 mile marker, the distance results were mixed.  Now keep in mind that very often trail markers are incorrect – so there's no guarantee this particular one is correct in anyone's favor (Ambit: 3.03, Fenix: 3.73):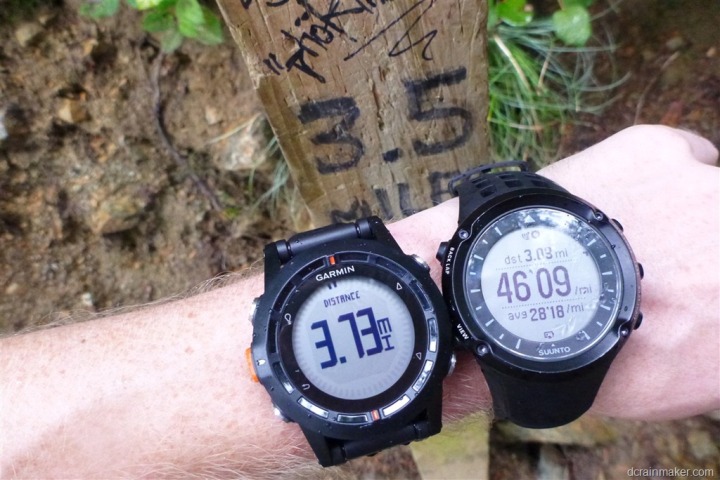 As we continued heading up, the elevation readings stayed pretty close to each other.  Virtually the entire time ascending, they were within 50ft.  Fairly solid.  At the top, they weren't too far off!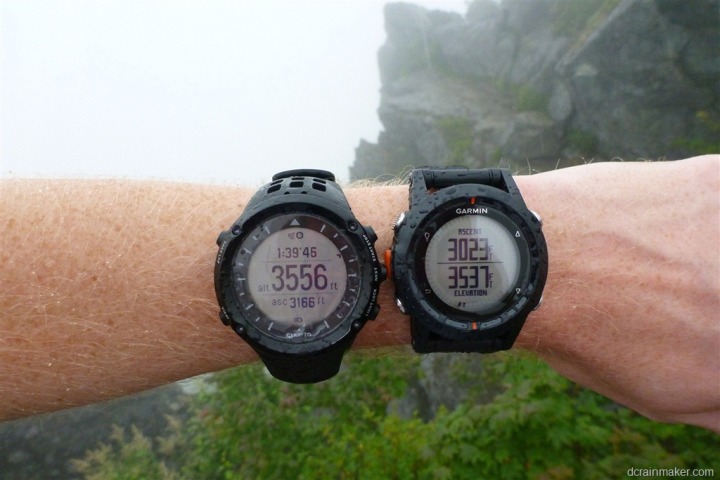 Now, I say 'top', because due to the rain and wind, it wouldn't have been safe to go any higher up the rock climbing portion, due to the wet rocks.  So, for us, the top was roughly 3,500 feet.  The two units reported a difference of elevation of only 19 feet, while an ascent difference of 143 feet.
Oddly enough, as I took these photos, the sun broke out.  From rain and wind, to a brief hole in the clouds – all in about a 5 minute gap.  Therefor of far more importance are photos of me and my brother:
Always kinda cool to look down on the valley below: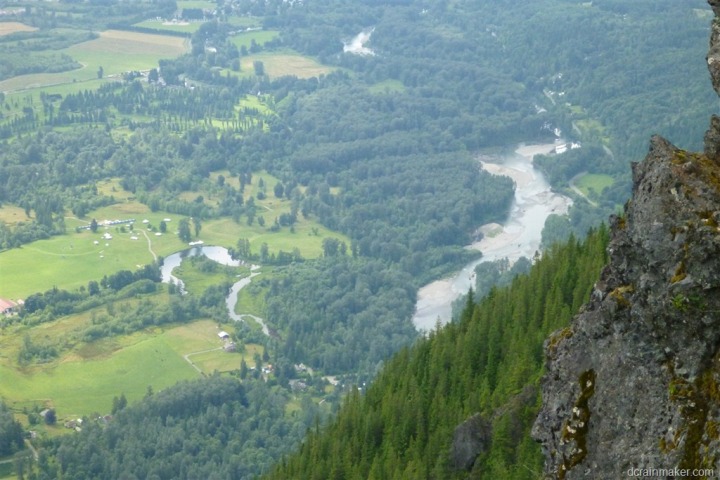 With our fingers starting to get a wee bit cold (it was cold out!), we headed on down: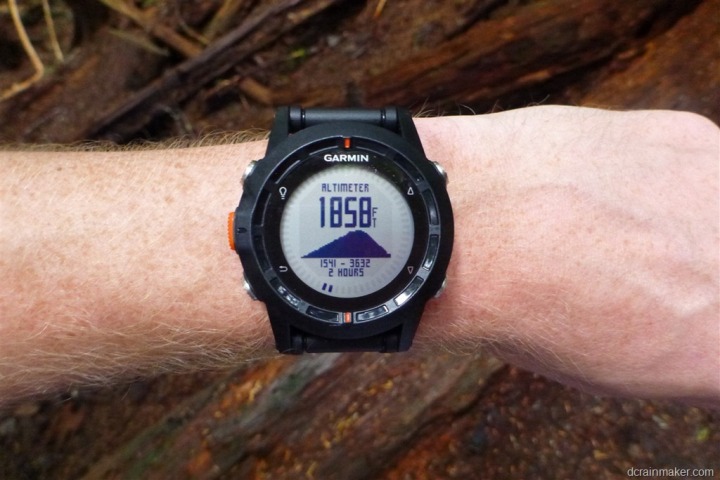 As we descended the units tracked fairly closely initially.  A short bit later we started trail running our way back down.  I paid less attention to the units then, and more attention to not tripping and falling off the side of the trail (which would be considered poor form).
But I noticed as we got closer to the bottom that the Fenix did take a small detour in the track, which showed up in Garmin Connect.  Of course do keep in mind though that this unit is running a beta software, and is not scheduled to be released until someone in August (which could mean more than a month away).  So it's something I'll keep an eye on.  I didn't see the track detour in my bike ride though, nor have I seen it on all my random driving around with it.
Even with that noted variance on the track, it's still a heck of a lot closer than the Ambit was (to the 'listed' distance of 8.0 miles):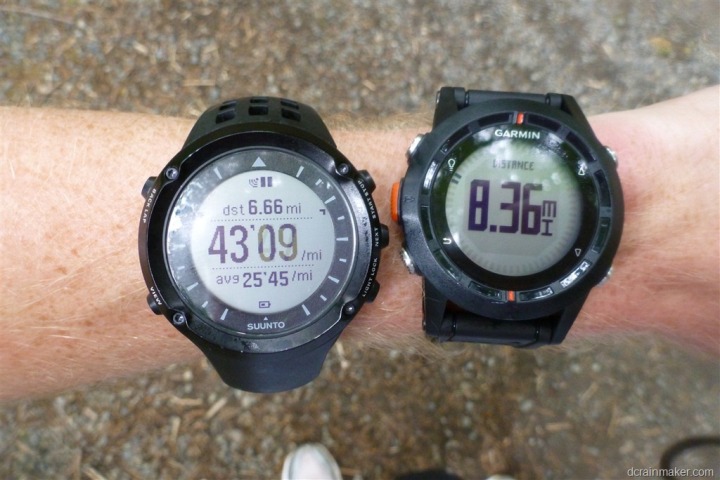 With that, we headed on home (via Dairy Queen of course), and then had a great home cooked meal – complete with an awesome tasting cake for a certain event next weekend.  But more on that later on in the week.  Don't want to be getting ahead of ourselves.
Speaking of later this week, we've got the Polar/Look Keo Power Meter review coming up on tap too – so plenty of good things on deck.  Thanks for reading, and hope everyone has a great week ahead!
Oh, and as for when a Fenix review – probably in a couple weeks or so, more like mid-September, based on current progress towards final (non-beta) firmware.  Once we get closer to release and some more of the pieces come together on features like smartphone sharing, Tempe integration and what not (not currently in this beta firmware version).  Make sense?